The global catheter stabilization devices market was valued at USD 1,203.4 million in 2019 and is expected to grow at a CAGR of 10.0% over the forecast period. Due to increasing preference for minimally invasive surgeries; rising incidence of lifestyle diseases, namely cardiovascular diseases, renal failure, and carcinomas with increased numbers of surgical procedures that could involve such tools for post-operative care have been increasing. The ageing of communities further leads to a growing need to utilize such tools.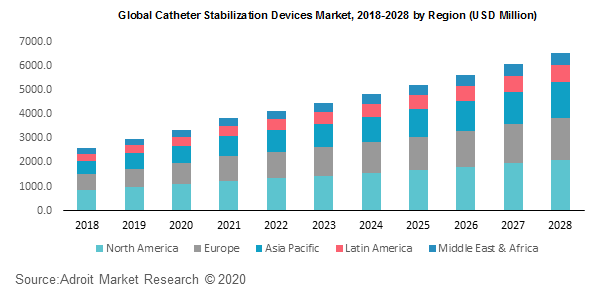 The usage of intravascular catheters is an important aspect of contemporary global healthcare. They have been an important part with a increase in their usage in hospitals & clinics. 3 M is one of the posts, according to which hospitals and clinics buy over 150 million of these instruments annually for drugs, IV fluids, parenteral care and hemodynamic condition tracking. This also reports that over 5 million intravascular main catheters are mounted annually. The incidence of urinary complications such as cystitis, urinary obstruction, urinary incontinence, benign prostatic hyperplasia, kidney stones and other diseases and disorders contributing to bladder dysfunction is continuously growing
Key players serving the global market include Baxter, Centurion Medical Products, 3M, Smiths Medical, TIDI Products, LLC, among other prominent players.
Key segments of the global catheter stabilization devices market
Technology Overview, 2018-2028 (USD Million)
Arterial Securement Devices
Central Venous Catheter Securement Devices
Peripheral Securement Devices
Urinary Catheter Securement Devices
Chest Drainage Tube Securement Devices
Other Securement Devices
End-Users Overview, 2018-2028 (USD Million)
Hospitals
Homecare Settings
Others
Regional Overview, 2018-2028 (USD Million)
North America
Europe

Germany
United Kingdom
France
Spain
Rest of Europe

Asia Pacific

China
Japan
India
Rest of Asia Pacific

Central and South America

Brazil
Mexico
Rest of Central and South America

Middle East & Africa

GCC
Rest of Middle East and Africa
Reasons for the study
The purpose of the study is to give an exhaustive outlook of the global catheter stabilization devices industry
The overall segmentation of catheter stabilization devices market, especially key segments are thoroughly studied.
Presence of major players and their wide product portfolio across developed countries is anticipated to further boost the growth of catheter stabilization devices market
What does the report include?
The study on the global catheter stabilization devices market includes analysis of qualitative market indicators such as drivers, restraints, challenges and opportunities
Additionally, the market competition has been evaluated using the Porter's five forces analysis
The study covers qualitative and quantitative analysis of the market segmented on the basis of technology and end user. Moreover, the study provides similar information for the key geographies.
Actual market sizes and forecasts have been provided for all the considered segments
The study includes the profiles of key players in the market with a significant global and/or regional presence
Who should buy this report?
The report on the global catheter stabilization devices market is suitable for all the players across the value chain including raw material suppliers, Breast imaging device providers, medical device manufacturers, distributors, suppliers and retailers
Venture capitalists and investors looking for more information on the future outlook of the global catheter stabilization devices market
Consultants, analysts, researchers, and academicians looking for insights shaping the global catheter stabilization devices market
Medical catheters are tubing that may be placed into a body cavity, pipe, or channel, typically to enable medicines, drugs, or gasses to be delivered, or to remove medicines or urine from the body. Definitions with other forms with catheters include intravenous catheters, vaginal catheters, and channels for chest drainage. To the application of medical medicine intravascular catheters are important. Although technical advancements have rendered these instruments healthier, catheter-related infections remain a major concern. Within U.S. intensive care facilities, an additional 16,000 catheter-related bloodstream infections are reported annually in patients.
Catheters are responsible for delivering intravenous fluids and medications. A small, narrow tube is placed into the vein for providing the patient with fluid or medicine. Infusion pumps are attached that catheters that administer drugs to people, such as for the administration of radiation to patients with cancer or insulin to patients with diabetics. Central venous catheters are large tubes that are mounted in the neck or atrium of the heart that inject drugs or fluids directly through broad veins. A umbilical cord can be established for supplying drugs and fluids in ill newborns.
Non-communicable diseases kill 41 million worldwide annually, which is equivalent to 71 per cent of global death, according to the new research citation issued by the World Health Organization (WHO). Securement devices for catheters are widely used to prevent infection of the blood veins and arteries of patients receiving medical intervention to diagnose and treat lifestyle disorder.
The global catheter stabilization devices market has been bifurcated based on technology and end users. Based on end users, the global catheter stabilization devices market is segmented into hospitals, home care settings, and others. In the year 2019, hospitals dominated the global catheter stabilization devices market with over 60% market share. The dominance is attributed high rate of consumption and hospital admissions across the globe.
Based on technology, in 2019 the category of arterial securement devices had the largest market share. Arterial catheters are commonly used in conventional daily healthcare procedures around the world. This group holds most market share due to the widespread use of arterial catheters in a large number of cardiovascular disease-related procedures and cancer therapies. The wide use of these devices makes securement important to reduce their use-related complications.
Arterial catheters are commonly used worldwide for ICU treatments. In its August 2014 issue, the Rhode Island Medical Journal reported that an estimated 6 million arterial catheters are inserted each year in the US. According to the Australian Vascular Access Society, up to 25 per cent of arterial catheters fail due to dislodgement, unintended displacement, occlusion, or infection during care.
Based on regions, the global catheter stabilization devices market is segmented into North America, Europe, Asia Pacific, Central and South America and Middle East & Africa. North America currently holds the majority of the market share.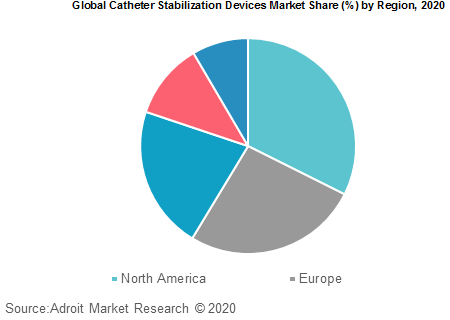 Because of a large patient pool, increasing target population, high unmet needs and developing infrastructure in the region, the Asia Pacific is projected to show the fastest growth over the next few years. Growing demand for various surgical procedures, improving health care facilities and increasing public and professional awareness are expected to boost growth in this region.