Global cat ownership growth and rising pet spending are both anticipated to have a beneficial effect on the market expansion. In 2020, there were more than 110 million cats living in 88 million households in Europe, according to the European Pet Food Industry Federation (FEDIAF). Most cat lovers do not like to allow their cats outdoors due to various issues, such as human hostility and unfavorable weather. We expect these factors to drive product demand over the forecast horizon.
The market is driven by cat litter products since they are essential for sustaining the health of the household's cats and occupants. The owner and the cat are both involved in the decision to purchase cat litter. While some cats enjoy silica gel litter but do not like a scented litter, the majority of cats dislike the crystal shape of the litter items. Manufacturers of kitty litter products are given the chance to launch new products as a result.
For starters, everyone in the household, including the cat, will be safer. Made entirely of plant fibers and devoid of any additives, 100% plant-based litter is completely free of toxins and hazardous dust. Environmentally friendly: The average cat uses 220 kilograms of litter a year, and the vast majority of litter available today is not biodegradable. Additionally, it is simpler to get rid of because the litter is completely biodegradable, ensuring an environmentally acceptable disposal method. Soiled clumps can be disposed of simply and safely in the bathroom or on a compost heap.
The main elements influencing consumers' purchasing decisions are cost, material, and usefulness. The increasing popularity of high-tech litter boxes may potentially have an impact on consumer choice. Due to frequent purchases, the product price for an ordinary household is between USD 25 and USD 30.
The global market for cat litter products is expected to grow from its current value of USD 11.78 billion in 2021 at a CAGR of 5.1% between the years 2021 and 2031.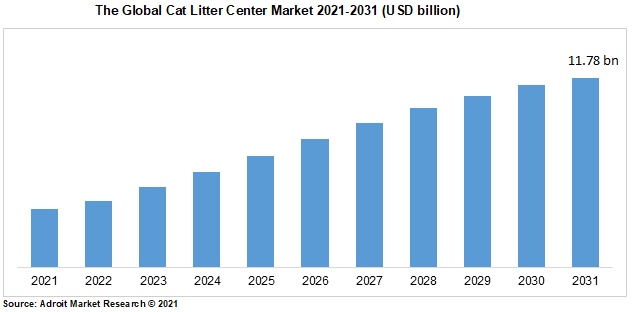 Cat litter is now a very popular product among cat owners, especially those who have multiple cats. However, the product's high price and some pet owners' reluctance to spend a lot of money on their animals' needs could serve as market restraints. Additionally, this leads to a circumstance in which the market fails to introduce premium products, hence impeding market expansion.
The market for cat litter is fragmented worldwide, with the big players holding a small portion of the industry under study while others hold the lion's share. Mars Inc., Nestle SA, Church & Dwight Co Inc., Oil-Dri Corporation of America, and The Clorox Company are the leading market participants. To grow their market shares, manufacturers are relying on tactics like mergers and acquisitions.
SEGMENT ANALYSIS
By Product Type:
In terms of sales, the clumping product type led the market in 2021 with a market share of 69.9%. Consumer interest in clumping litter is rising as it is simple to eliminate cat waste without having to empty the litter box. Additionally, the growing popularity of clumping cat litter is expected to attract customer attention and increase product sales over the projected period due to its practicality and numerous advantages.
The CAGR for conventional product types is anticipated to be 4.0% between 2021 and 2031.
The desire of more consumers to completely eliminate the smell of cat urine and excrement is what is driving the market for traditional litter products. The popularity of low-cost litter products among consumers is growing as a result of their frequent use, which is raising the need for traditional.
By Raw Material:
With an 83.6% market share in terms of sales in 2021, clay raw material was the market leader. This is due to clay's expanding use in cat litter production, as clay's high absorbency and solid-formation properties have been driving the segment's growth. Additionally, because clay-based goods are less expensive than other materials, middle-class and multi-cat houses frequently choose them. Additionally, these things have no smell and no dust, which reduces the possibility of respiratory issues. From 2021 to 2031, silica is expected to see a CAGR of 5.7%.
Crystals of silica gel, which are found in silica cat litter, are frequently employed as preservatives in packaged foods, medicines, and other goods that can be quickly harmed by too much moisture. Silica is likely to be in high demand as a raw material for cat litter products since it is dust-free, moisture-absorbent, and odor-controlling. Recycled paper, wood, corn, walnut shells, coconut husks, and grass are some of the additional raw materials included in this category.
By Distribution Channel:
Retail and supermarket distribution channels dominated the market in 2021, accounting for 76.3% of market revenue. This can be attributed to the rising consumer preference for one-stop shopping. Because it is widely accessible and has a big presence on such outlets, the majority of customers choose to buy kitty litter from major retailers and supermarkets like Walmart. The CAGR for the online distribution channel is predicted to be 5.8% during the projection period. Technology developments and consumers' increasing preference for the online distribution channel, particularly those with hectic schedules, can be credited with the segment's growth. Additionally, a wide selection of international brands, steep discounts, free shipping, and convenient return policies are enticing customers to choose online retailers for kitty litter items.
By Region:
In 2021, Europe had the majority of the market, with a share of 40.27%. This is a result of consumers adopting cats. Additionally, many households now need more than one cat due to the rise in the number of cats over the past few years in Europe. According to the European Pet Food Industry Federation (FEDIAF), 88 million European households were home to more than 110 million cats in 2020.
Asia Pacific is projected to see a CAGR of 6.7% between 2022 and 2031. An increase in nuclear households and an increase in discretionary income are mostly blamed for the expansion. Furthermore, over the course of the forecast period, the market is anticipated to benefit from rising pet ownership in the region as well as rising expenditure on pet food, healthcare, and litter.
The COVID-19 pandemic had a favorable effect on the market's expansion.
To keep homes hygienic and tidy throughout the epidemic, there was a spike in the demand for pet and human hygiene products. Additionally, businesses had a difficult time fulfilling orders during COVID-19, particularly in states where there was mandatory stay-at-home advice and nonessential firms had to close. Additionally, the industry was experiencing interruptions in the supply chain on a global scale. However, pet food and kitty litter are considered necessities and are big market drivers.
Smart home gadgets are not just well-liked by human users; they also provide dogs with some fun conveniences. Consider Catlink, which sells intelligent cat-themed things. Signyal is a color-changing litter box created by the Japanese business Threes that uses urine analysis to identify irregularities in a cat's health. If the urine is unusual, the color of the cat waste will change. For instance, green signifies possible feline diabetes while light blue implies a high alkaline concentration. Protein levels that are excessively high can contribute to this. Cat owners can mix the litter back together after the initial usage and use it again for a month before replacing it with a fresh batch.
Cat Litter Market Scope
| | |
| --- | --- |
| Metrics | Details |
| Base Year | 2022 |
| Historic Data | 2021-2022 |
| Forecast Period | 2022-2031 |
| Study Period | 2021-2031 |
| Forecast Unit | Value (USD) |
| Revenue forecast in 2031 | USD 11.78 billion |
| Growth Rate | CAGR of 5.1% during 2021-2030 |
| Segment Covered | Type, Application, By End-use, Regions |
| Regions Covered | North America, Europe, Asia Pacific, South America, Middle East and Africa |
| Key Players Profiled | Mars Inc., Nestle SA, Church & Dwight Co Inc., Oil-Dri Corporation of America, and The Clorox Company |
Key Segments of the Global Cat Litter Market
By Type Overview, 2021-2031 (USD Billion)
• Clumping,
• Conventional,
By Raw Material Overview, 2021-2031 (USD Billion)
• Clay,
• Silica,
• Other,
By Distribution Channel Overview, 2021-2031 (USD Billion)
• Retail and Supermarkets,
• Online Platform,
By Regional Overview, 2021-2031 (USD Billion)
North America
• U.S
• Canada
Europe
• Germany
• France
• UK
• Rest of Europe
Asia Pacific
• China
• India
• Japan
• Rest of Asia Pacific
South America
• Mexico
• Brazil
• Rest of South America
• Middle East and Africa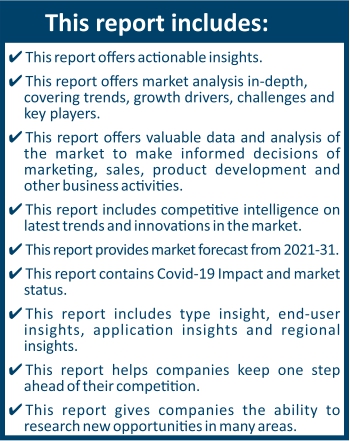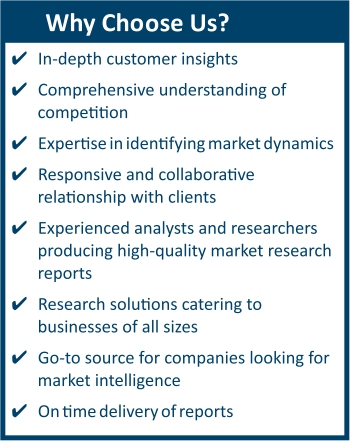 Frequently Asked Questions (FAQ) :
The global Cat Litter Center market size projected to reach USD 11.78 billion by 2031.