Rapid urbanization, changing lifestyles, and rising spending power are some of the key factors driving cat food consumption in emerging nations.
Covid-19 Impact & Market Status
The application of the lockdown limitation had an impact on various players' manufacturing facilities throughout the world. The ability to store cat food for a certain amount of time protected the firms from the destruction of current inventories. The coronavirus-induced lockdown contributed to an increase in pet adoption, which clearly resulted in increased demand for pet food. This has given the cat food business a boost, and makers are now aiming to maintain the trend. Despite the lockout, the cat food industry and the pet food sector as a whole had outstanding growth, thanks to e-commerce development and science-based offerings.
Food Segment is Likely to grow with the Majority of Share
In terms of value, the food segment held the greatest market share in 2020, accounting for over 89.2 percent of the market. The worldwide cat food market is divided into two primary segments: dry food and wet food. Various cat meals feature vegetable-based proteins rather than meat, which carnivorous cats prefer. While natural and grain-free cat snacks and mixers are utilized as an appetizer or topping in cats with health concerns such as obesity, diabetes, gastrointestinal disorders, and allergies.
The Supermarkets/Hypermarkets Segment is Likely to Grow with the Majority of Share
In 2020, the supermarkets/hypermarkets category accounted for the largest share and produced more than USD 13.07 billion in sales. As supermarkets offer cat food with a range of other items, it has become a generally recognized distribution method across the world, giving pet owners several possibilities to evaluate various brands alongside the purchase of conventional grocery products. Various supermarkets with various outlets/stores, such as Kroger, Walmart, Tesco, and Carrefour play an important part in such a distribution chain.
APAC is expected to be a High Growth Potential in the near Future
Increasing pet humanization and cat ownership, expanding private label store brands, and rising urbanization are some of the primary reasons driving the Asia Pacific cat food market's expansion. As more individuals buy cats for companionship and security, the cat population is rapidly rising. It is also seen as a status symbol in metropolitan regions. Cat adoption has surged due to space restrictions in nations such as Japan and China, as well as pet owners' fast-paced lifestyles.
The growing demand for cat owners to offer wet cat food to their cats propels the global cat food market forward.
Cat food is made with the minerals, amino acids, and vitamins that cats require to stay healthy. Cats have special dietary nutritional needs since they must ingest 40 nutrients every day. A label suggesting that food is complete and balanced suggests that it has all of the required nutrients at acceptable levels. One of the primary elements boosting the global Cat Food market demand is pet humanization. Pet owners are offering their pet's specialty diet options, including some that focus on certain health advantages. This tendency is expected to continue, increasing the market substantially throughout the forecast period. The global cat food market is estimated to reach 66 USD billion at a CAGR of 5% throughout the estimated timeframe.
Cats are the second-largest pet food users. They are classified as obligate carnivores, requiring high-quality proteins and amino acids derived mostly from meat. Carbohydrates are not required in their diet; however, they can be used if properly prepared. Cats have an increased need for sulfuric amino acids such as methionine, as well as a nutritional need for the amino sulfone taurine. As a result of the specialized requirements of cats, corporations have been able to specialize in the market through greater expenditures.
Owners treat their dogs as if they were their child, which has elevated humanization to the forefront of the global pet food business in general. In addition, pet food makers have taken note and are offering a variety of dishes that are comparable to human cuisine. Pet food marketing and labeling likewise mirror the idea of humanization, with photographs of delectable pink salmon, steaks, broccoli, and carrots used to entice pet owners.
To expand market share, players utilize a number of marketing tactics, such as releasing high-quality items, offering low pricing in the economy-medium pet food segment, and transitioning to the premium pet food category to earn better profits. Overall, the cat food industry will continue to perform strongly, particularly in the premium class. Though the business provides opportunities for market entrance, there are a number of challenges that must be addressed in order to avoid risks.
The growing pet population and increased awareness of pet health, particularly in developed countries such as South Korea, the United States, as well as Europe, are driving the cat food business. In addition to this, growing demand for cat snacks and mixtures such as beef jerky, chicken breast, sausage, and chicken ribs will drive overall market growth. Furthermore, rising pet demand in nations such as the United States and Europe is likely to enhance the entire Cat Food sector in the future years.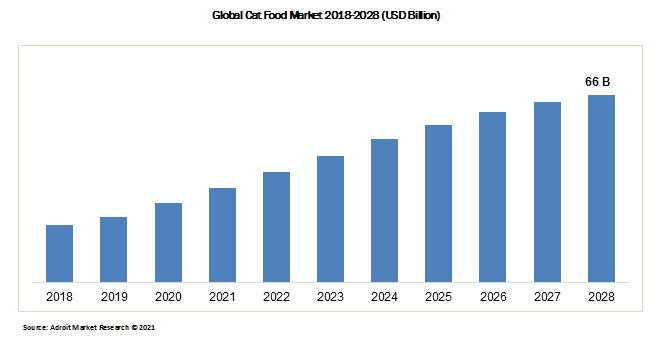 The global cat food market participants are concentrating their efforts on broadening their product offerings in order to improve their company skills. Major businesses are boosting their presence in emerging markets to meet the growing demand for cat food and treats. Nestle, Mars Inc., Foods and Harringtons, WellPet LLC, Schell & Kampeter, Inc., The J.M. Smucker Company, Colgate-Palmolive, Blue Buffalo Pet Products Inc, Spectrum Brands, Beaphar, PetGuard, General Mills, and Diamond Pet are among the prominent producers.
Latest Innovations in the Global Cat Food Market: a Snapshot
In February 2020, Nestle Purina will expand its Clinton, Iowa factory. Purina anticipates that the 140 USD million investment will assist it in meeting the growing demand from pet owners for the science-based dog, nutritious, cat foods created with high-quality and trustworthy ingredients.
In November 2021, The Honest Kitchen, a manufacturer of natural pet meals, treats, toppers, and vitamins, has launched a 100% human-grade cat portfolio. The new range of goods includes dehydrated, dry, and wet feeds that are full and balanced, as well as toppers, snacks, and a hydration booster.
The market analysis aim is to deliver an accurate research of the cat food market across the globe. The analysis simplifies complex data and displays the industry's current and historical condition, as well as expected market trends and size. The study investigates all aspects of the industry, including a thorough evaluation of important businesses such as market investors, leaders, and new players.
Cat Food Market Scope
| | |
| --- | --- |
| Metrics | Details |
| Base Year | 2020 |
| Historic Data | 2018-2019 |
| Forecast Period | 2021-2028 |
| Study Period | 2018-2028 |
| Forecast Unit | Value (USD) |
| Revenue forecast in 2028 | USD 66 billion |
| Growth Rate | CAGR of 5% during 2021-2028 |
| Segment Covered | Type, Distribution Channel, Regions |
| Regions Covered | North America, Europe, Asia Pacific, Middle East and Africa, South America |
| Key Players Profiled | Nestle, Mars Inc., Foods and Harringtons, WellPet LLC, Schell & Kampeter, Inc., The J.M. Smucker Company, Colgate-Palmolive, Blue Buffalo Pet Products Inc, Spectrum Brands, Beaphar, PetGuard, General Mills, and Diamond Pet |
Key Segments of the Global Cat Food Market
Type Overview, 2018-2028 (USD Billion)
Distribution Channel Overview, 2018-2028 (USD Billion)
Supermarkets/Hypermarkets
Online
Specialized Pet Food Shops
Others
Regional Overview, 2018-2028 (USD Billion)
North America
Europe
Germany
France
UK
Rest of Europe
Asia Pacific
China
India
Japan
Rest of Asia Pacific
South America
Mexico
Brazil
Rest of South America
The Middle East and South Africa