The market's expansion is fuelled mostly by rising consumption of different packaged foods and drinks.
The global Canned Tune market size is expected to reach close to USD 15.0 Bn by 2029 with an annualized growth rate of ~ 4.4 % through the projected period.
Covid-19 Impact & Market Status
The worldwide market and economy have been impacted by the COVID-19 epidemic. The demand for packaged food with an extended shelf life is increasing. Consumers are buying food in large quantities, which is causing challenges for retailers. Due to a paucity of supply from the manufacturer and shipping restrictions, retailers are experiencing difficulties. Due to a disturbance in the supply of raw materials and a shortage of labor, manufacturers are unable to make the product. The ban on imports and exports might also cause logistical network disruptions. Companies are only concerned with meeting domestic demand.
Analysis on the basis of Type
Because of the multiple health benefits connected with canned light tuna, it has the biggest market share in the market. Canned light tuna is made from skipjack or yellowfin tuna, and it has a light tan pink coloured flesh, a soft texture, and is more flavourful than white tuna, making it a popular fish meat choice. Essential elements such as omega 3 and 6 fatty acids, a significant amount of protein, and vitamin D are abundant in canned light tuna. To improve the taste and flavour of the meal, several food chains and restaurants use canned light tuna in a variety of culinary specialties such as pasta and tuna casseroles.
In addition to this, canned light tuna is easy to store and use since it eliminates the need for pre-cooking preparation time. Exotic fishes are preferred by the younger generation since they increase the flavour and texture of the cuisine while also being extremely healthy. Because of the strong demand, several manufacturers are producing canned light tuna and expanding their manufacturing facilities.
On the other hand, because to its cheap availability and low-calorie content, the canned white tuna industry is predicted to rise significantly in the coming years. White tuna is made from albacore tuna, and it has a whiter look and firmer meat than light tuna.
Analysis on the basis of Region
Because of the widespread use of processed foods and drinks, the worldwide market is seeing an increasing trend. North America is a mature market with a sizable customer base. The number of working professionals in the region is increasing dramatically. Market expansion would be aided by the established supply network and rising demand for convenience foods. Many multinationals are expanding their manufacturing units, particularly in the region's key markets such as the United States, Canada, and Mexico, resulting in cooperation with a variety of local players. The existence of a big migrant community in the area encourages the consumption of real food and the establishment of businesses that provide it. The region's growing cross-cultural food consumption trend has resulted in widespread eating of Japanese and Indian cuisines such as tekkadon, sushi, and curries. The global breakout of the COVID-19 pandemic has caused a precipitous drop in the market, owing to an increase in the number of COVID-positive patients in the area, particularly in the United States. The production of canned tuna has been discontinued as a result of the closure of many canned food manufacturing enterprises. The expansion of the regional market is being hampered as a result of this.
Canned foods are meats, fruits, vegetables, and fish that have been precooked or are ready to prepare for convenience. Convenience food consumption has increased in recent years as a result of busy lifestyles and an increase in the working population. This immediately contributes to the market's expansion.
The worldwide COVID-19 epidemic, however, is projected to have an impact on the present market condition. Because numerous industrial units have been shut down as a result of the lockdown in most nations, the availability of food goods has decreased, lowering customers' purchasing power. The sales of processed food goods have suffered as a result of this. New laws and restrictions for the purchasing of food and drinks have been established by several governments. Product price increases and lower stock levels of numerous food goods have become a market concern in many emerging nations. However, the industry is gaining traction as customers turn to different packaged and canned food items for convenience and ease of access. The cleanliness quotient of canned foods also contributes significantly to market expansion. It is also predicted to rise in the next years due to the widespread usage of packaged food goods.
The market has benefited from the introduction of allergen-free and gluten-free bakery products. Marketers are concentrating on improving the contemporary trade and retailing sectors in order to provide consumers with a simple and economical shopping experience. Because of the wide exposure of customers to numerous product purchase platforms on the internet, the online retail industry is also growing prominence. Online retail provides a varied assortment of items from a variety of brands at lower prices, as well as the convenience of doorstep delivery.
Tuna consumption has increased as more high-nutrition foods are incorporated into regular diets to support healthy functioning. Tuna is popular among consumers since it is a good source of protein and easy to prepare. Tuna includes essential fatty acids for growth and development, and it is frequently suggested to pregnant and lactating mothers to meet their nutritional needs. Tuna's widespread availability and rising consumption present the industry with several developments potential.
Because of the convenience of preparing that ready-to-cook and ready-to-eat food products provide, consumers are extremely reliant on them. Because of the growth in the number of working women and the reduction in time spent cooking, canned tuna is now widely used. The millennial demographic is particularly fond of convenience foods since they are simple to make, healthy, and save time in the kitchen. Many firms are working on the introduction of new goods and certifications in order to give quality items to consumers and better serve them.
For example, Chicken of the Sea developed a new resealable, single-serve recyclable cup of wild-caught tuna in February 2019 to meet the increased demand for on-the-go cuisine among millennials.
The rise of the canned tuna market has been assisted by the expansion of the e-commerce channel and the improvement of the supply chain. In recent years, online food purchase platforms have expanded in popularity as the availability of processed food goods has improved. As people get more comfortable with the internet, new avenues for e commerce have opened up. Because of the simplicity of shopping, the millennial demographic is very tech-savvy and loves to buy things from numerous online platforms. Many new malls and convenience stores have opened in recent years, attracting the interest of consumers. As a result, the supply chain has been tightened, and sales of tuna and other processed foods have soared. The global canned tuna market is expected to reach USD 9.8 billion by 2029, growing at a CAGR of 2.26 percent over the forecast period.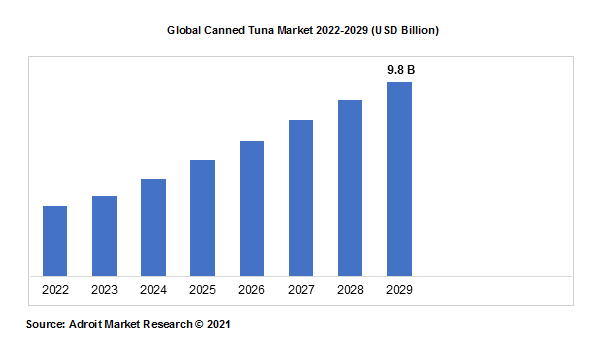 Latest Innovations in the Canned Tuna Market: A Snapshot
In April 2022, the AKA West Palm will be built by Electra America Hospitality Group, a joint venture between Electra America and AKA, which has bought a new site in downtown West Palm Beach, Fla. EAHG paid $84 million to developer Transwestern Development Company for the new six-story structure
Canned Tune Market Scope
| | |
| --- | --- |
| Metrics | Details |
| Base Year | 2020 |
| Historic Data | 2018-2019 |
| Forecast Period | 2021-2028 |
| Study Period | 2018-2028 |
| Forecast Unit | Value (USD) |
| Revenue forecast in 2028 | USD 9.8 billion |
| Growth Rate | CAGR of 2.26 % during 2021-2028 |
| Segment Covered | Type, End-User, Regions |
| Regions Covered | North America, Europe, Asia Pacific, Middle East and Africa, South America |
| Key Players Profiled | Yara International ASA, Rural Liquid Fertilizers (RLF), Agrium, Haifa Chemicals, GFS Chemicals, and Swiss Formulations. |
Key Segments of the Canned Tuna Market
Type Overview, 2022-2029 (USD Billion)
Canned Skipjack Tuna
Canned Yellowfin Tuna
Canned Albacore Tuna
Others
End-User Overview, 2022-2029 (USD Billion)
Regional Overview, 2022-2029 (USD Billion)
North America
Europe
Germany
France
UK
Rest of Europe
Asia Pacific
China
India
Japan
Rest of Asia Pacific
South America
Mexico
Brazil
Rest of South America
Middle East and South Africa
Frequently Asked Questions (FAQ) :
The market value of canned tune market in 2029 was USD 9.8 billion.
The canned tune market is growing at a CAGR of 2.26% over the forecast period.
North America dominated the market for canned tune market and accounted for the largest revenue share.
The top companies that hold the market share in canned tune market are Yara International ASA, Rural Liquid Fertilizers (RLF), Agrium, Haifa Chemicals, GFS Chemicals, and Swiss Formulations.
To get latest version of canned tune market report can be obtained on demand from the website.