Due to the rapidly expanding use of cannabis for both medical and recreational uses, the market for cannabis packaging is experiencing an increase in demand. Additionally, during the projection period of 2021 to 2031, the legalization of cannabis use by a number of nations, particularly in North America, will have a significant impact on the market for cannabis packaging. Due to the aforementioned factors, the market is expected to expand significantly over the forecast period due to the rising demand for cannabis products intended for medicinal and recreational use as well as the introduction of novel active packaging solutions for cannabis. Additionally, the market for medical cannabis packaging is predicted to rise quickly over the course of the aforementioned projection period due to the rapid proliferation of cannabis in the medical sector and the resulting high demand for safe packaging.
The primary functions of packaging are the cover of the item and the purchaser, as well as the direct and indirect marketing of the product to potential buyers. Everything that could materially or environmentally affect the goods must be safeguarded by the packaging. Additionally, it needs to be sealed to avoid theft or opening by someone who might be harmed by the items, like a child. Security is the foremost responsibility. Packaging has always been a concern for brand owners, but with new goods arriving almost weekly and each requiring a box that provides dependable protection and efficient marketing, the challenge is more essential in the quickly developing cannabis business. The choice between the various packing techniques is made much more challenging by the fact that these new commodities come in a range of forms, including dried, concentrated powders and liquids, meals, medications, and so on.
Among cannabis manufacturers, the growth of personalized cannabis packaging solutions to preserve brand positioning and the rising need for high-quality, compliant packaging have gained prominence. This is the main benefit that actively drives the market demand for cannabis packaging. Similarly, during the projection period of 2021 to 2031, the increasing recreational use of cannabis and the quick rise of novel tamper-proof and child-resistant cannabis packaging solutions will provide several business opportunities for the cannabis packaging market.
These pouches will certainly become more well-liked in the cannabis packaging market as marijuana legalization gets momentum. On the other hand, placing the contents in the pouches is merely the first stage of packing.
For effective distribution, it's equally crucial to take those pouches and properly put them into additional packaging and shipping cases. The type of product is the primary factor in determining the packaging that is utilized. From dried flowers to sublingual tongue strips, cannabis is already available in a bewildering variety of forms, each with its own wrapping style. Typically, a child-resistant plastic jar with a screw-top or push-top lid is used to manually fill the jar with dried flowers. Concentrates are best packaged in small cups.
Cannabis creams, balms, and salves are often packed in glass or plastic jars that are child-resistant, with a paperboard box serving as supplementary packaging. These designs frequently include flexible tubes as well, particularly for CBD products that are offered in stores.
By 2031, the cannabis packaging market is predicted to reach a size of USD 8.5 billion and expand at a CAGR of 26.74% over the five-year forecast period. The market value was projected to be USD 1.3 billion in 2021.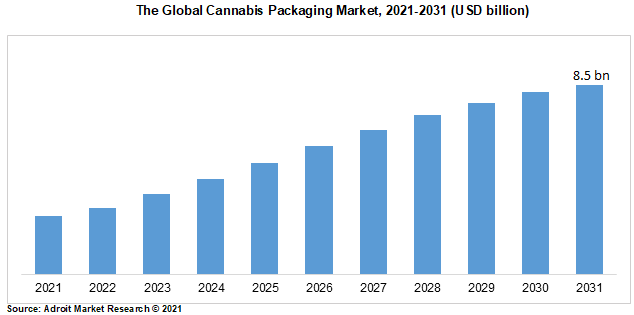 Regulation and strict packaging standards are major obstacles to the market's expansion in terms of income. States in many nations have their own laws governing cannabis packaging. However, different geographical areas have varied cannabis regulating rules. For instance, the Canadian Cannabis Act and Cannabis Regulations impose a variety of limitations on the labelling and packaging of cannabis and cannabis-related goods. Unless otherwise permitted by the Act, these restrictions apply to all cannabis and cannabis products. The standard cannabis symbol, the required health warning, and specific product information, such as the cannabis product's brand name, category, information about delta-9-tetrahydrocannabinol (THC), cannabidiol (CBD), and license holder details, must all be present on the packaging of cannabis products.
Among other domestic companies, the major players in the cannabis packaging market report include Cannaline, MMC Depot, Cannabis Creative Group, Dixie Brands, Origin Pharma Packaging, Shatter Labels, N2 Packaging Systems, Berlin Packaging, Global Printing, Calyx Containers, Cannasupplies, a division of PharmaSystems Inc., Dymapak, Pollen Gear, and Sana Packaging.
SEGMENT ANALYSIS
Material Insights
The plastics category dominated the market in 2021 with a revenue share of 52.7%, and it is anticipated that it will do so throughout the forecast period. Demand for plastic will be fueled by its advantages over other materials, including its low cost, ease of molding and other operations due to its flexibility, and its ability to withstand harsh environments while shielding the contents from moisture, oxygen, dust, light, and scents. There are several plastic cannabis packaging products easily available, including blisters and clamshells, bottles and jars, pouches, caps, lids, dropper pipettes, vials, containers, and more.
Product Insights
The bottles & jars segment dominated the market in 2021 with a revenue share of 46.3%, and it is projected that it would maintain its dominance throughout the forecast period. The segment's expansion is being aided by the accessibility of a large selection of products in this market with a range of sizes, forms, qualities, and transparency. The advantages of glass jar packaging are propelling industry expansion. Glass is a transparent, environmentally friendly, inert material that is 100% or endlessly recyclable, reusable, and refillable. Additionally, the glass container offers the packaged goods a great moisture and gas barrier. For example, Marijuana Packing offers stylish and secure transparent 1.7oz Straight-Sided Glass Jars for packaging edibles or flowers.
Application Insights
Over the forecast period, the recreational application category is expected to grow at the quickest rate, with a CAGR of 34.8%. The legalization of the substance for recreational use by the American government has increased the demand for cannabis packaging for such uses. The legalization of cannabis products for adult use for personal enjoyment rather than medical reasons is known as the recreational usage of cannabis. Dry marijuana products for recreational use are packaged as cannabis. These products are made of shredded green and brown combinations of leaves, stems, flowers, and seeds.
Regional Insights
Based on regional analysis, it is anticipated that among all regional markets throughout the projected period, North America would account for the biggest revenue share. The third-largest cannabis grower in the world is Canada. The European market is expected to grow steadily during the projection period. A considerable shift in the public's preference for cannabis products is the result of a growing public understanding of the drug's beneficial effects. For instance, Epidyolex, a cannabis-based medication that can be used to treat childhood epilepsy, has been approved by the European Medicines Agency (EMA) and the European Commission. Additionally, decriminalization and legalization have made it possible for the government to tax cannabis goods.
Demand for cannabis products soared when the COVID-19
epidemic was declared to be national and a lockdown was declared. Numerous retail locations observed a surge in customer activity as the general idea of stocking up on cannabis products out of concern for shortage took center stage. According to pertinent figures, the retail sales of cannabis goods increased significantly in March of last year, spurring a secondary market for cannabis packaging items.
The listing of "cannabis smoke" and THC as reproductive poisons under Proposition 65 was accepted by California's office of environmental health hazard assessment (OEHHA) last year. In one year, cannabis retailers in the state will be required to label their products with a Prop 65 warning label.
Cannabis Packaging Market Scope
Metrics

Details

Base Year

2022

Historic Data

2021-2022

Forecast Period

2022-2031

Study Period

2021-2031

Forecast Unit

Value (USD)

Revenue forecast in 2031

USD 8.5 billion

Growth Rate

CAGR of 26.74% during 2021-2031

Segment Covered

by Type, By Application,

By Product

, Regions

Regions Covered

North America, Europe, Asia Pacific, South America, Middle East and Africa

Key Players Profiled

Cannaline, MMC Depot, Cannabis Creative Group, Dixie Brands, Origin Pharma Packaging, Shatter Labels, N2 Packaging Systems, Berlin Packaging, Global Printing, Calyx Containers, Cannasupplies, a division of PharmaSystems Inc., Dymapak, Pollen Gear, and Sana Packaging.
Key Segments of the Global Cannabis Packaging Market
By Material Overview, 2021-2031 (USD Billion)
• Plastic,
• Paper,
By Product Overview, 2021-2031 (USD Billion)
• Bottles & Jars,
• Blisters & Clamshells,
By Application Overview, 2021-2031 (USD Billion)
• Recreational,
• Medical,
By Regional Overview, 2021-2031 (USD Billion)
North America
• U.S
• Canada
Europe
• Germany
• France
• UK
• Rest of Europe
Asia Pacific
• China
• India
• Japan
• Rest of Asia Pacific
South America
• Mexico
• Brazil
• Rest of South America
Middle East and Africa
Frequently Asked Questions (FAQ) :
Cannabis Packaging Market is projected to reach USD 8.5 billion by 2031, growing at a CAGR of 26.74
The Cannabis Packaging market is estimated to grow at a CAGR of 26.74%
Key companies covered in the Cannabis Packaging market are Cannaline, MMC Depot, Cannabis Creative Group, Dixie Brands, Origin Pharma Packaging, Shatter Labels, N2 Packaging Systems, Berlin Packaging, Global Printing, Calyx Containers, Cannasupplies, a division of PharmaSystems Inc., Dymapak, Pollen Gear, and Sana Packaging