The worldwide cannabidiol (CBD) cosmetics market was valued at USD 588.64 million in 2018 and is anticipated to grow at a CAGR of 31.3% over the forecast period. The main factors driving the growth of CBD Cosmetics market are numerous skin benefits, growing skincare market in Asian countries and changes in regulatory scenarios across the globe.
The Cannabidiol (CBD) Cosmetics market is expected to grow at a CAGR of 47.49% to reach 55797.3 in 2028.
In the recent times, one of most talked and discussed topics in the cosmetics industry is cannabis derivatives in skincare and its benefits thereof. With countless cosmetic goods marketed as balms, oils, lotions, creams, and facial serums, their use has developed into a significant skincare trend. Unfortunately, there is a lot of confusion about the quality of cannabis derivatives and what they can legally contain.
Products based on cannabis can be classified as cosmetic/industrial or medicinal and recreational substances. These include hemp oil (low in THC and CBD), cannabis/marijuana oil (THC enriched oils) and CBD enriched oil (high in CBD). THC is the cannabis psychoactive fraction, and CBD is the non-psychoactive, medicinal fraction. The cannabis plant belongs to the genus of Cannabis, of which three species are found i.e. indica, sativa, and ruderalis. Cannabis indica strains, Cannabis sativa strains, and the two hybrids (e.g. Blue Dream, Kandy Kush, and Cherry OG) make up the bulk of recreational drugs. Cannabis ruderalis is a naturally low THC wild species. Cannabis contains 483 known compounds, including at least 65 additional cannabinoids. There is very little THC or CBD in the oil which is used in cosmetics.
Hemp oil and CBD composition
Typical hemp plant oil includes < 25 ppm CBD but may contain 4-8% CBD in the flower extract. Crude hemp oil is yellow greenish in color and is renowned for its nutty flavor. It includes 75% unsaturated oils in a 3:1 proportion, respectively, such as omega-6 and omega-3. Hemp oil is one of the few plant oils that includes both omega-6 and omega-3 and has one of the largest polyunsaturated fatty acid (PUFA) levels of all natural oils. There is little taste in the refined oil and low concentrations of natural antioxidants and vitamins. Hemp oil is used mainly in skincare items, soaps, and shampoos as an emollient. In lubricants, paints, inks, diesel, and plastics, the industrial hemp seed oil often finds applications.
How CBD impacts skin
In 2012, more than 1,200 genes impacted by CBD were recognized by Israeli researchers: Approximately 524 gene transcripts were down regulated and 600 gene transcripts were up regulated by CBD. The expression of 491 genes, 165 in the skin, has also been shown to control CBD. It has been shown that CBD activates both the cannabinoid and PPAR Gamma receptors in the body, which are likely accountable for their claimed skin advantages. The reported skin advantages include enhanced moisture content, enhanced skin barrier, skin soothing / anti-inflammatory, antipruritic, acne / oil control, and psoriasis / atopic dermatitis treatment, among others.
Cannabidiol (CBD) Cosmetics Market Scope
| | |
| --- | --- |
| Metrics | Details |
| Base Year | 2020 |
| Historic Data | 2018-2019 |
| Forecast Period | 2021-2028 |
| Study Period | 2018-2028 |
| Forecast Unit | Value (USD) |
| Revenue forecast in 2028 | USD55,797.3 million |
| Growth Rate | CAGR of 47.49 % during 2021-2028 |
| Segment Covered | By Product, By Source Type, By Application, Regions |
| Regions Covered | North America, Europe, Asia Pacific, Middle East and Africa, South America |
| Key Players Profiled | nc. (Wayland Group Corporation), Tilray, GW Pharmaceuticals, plc, ABcann Medicinals, Inc., Organigram Holding, Inc., Tikun Olam, The Cronos Group, ENDOCA, Isodiol International, Inc., MEDICAL MARIJUANA, INC., Cannoid, LLC, Elixinol, Folium Biosciences, NuLeaf Naturals, LLC, and Pharmahemp d.o.o. |
Key Segment Of The Cannabidiol (CBD) Cosmetics Market
By Product, 22021-2028 (USD Million)
• Oil
• Tinctures
• Suppository
• Transdermal Patches
• Vape Oil
• Isolates
• Creams and Roll-on
• Capsules
• Tablet
• Others
By Source Type, 2021-2028 (USD Million)
• Hemp
• Marijuana
By Application, 2021-2028 (USD Million)
• Medical
• Chronic Pain
• Others
Personal Use Pharmaceuticals Wellness, 2021-2028 (USD Million)
• Food & Beverages
• Nutraceuticals
• Others
By Distribution Channel, 2021-2028 (USD Million)
• Hospital
• Pharmacies
• Online Stores
• Retail Stores
Regional Overview, 2021-2028 (USD Million)
North America
• US
• Canada
Europe
• Germany
• France
• UK
• Rest of Europe
Asia Pacific
• China
• India
• Japan
• Rest of Asia Pacific
South America
• Mexico
• Brazil
• Rest of South America
Middle East and South Africa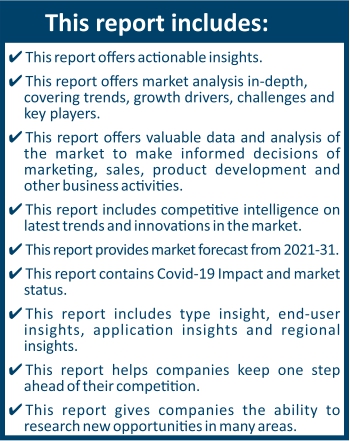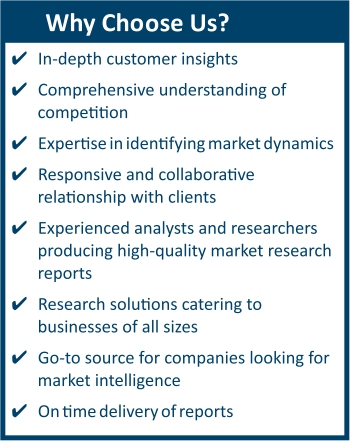 Frequently Asked Questions (FAQ) :
The cannabidiol cosmetics market is growing at a CAGR of 31.3% over the forecast period.
North America dominated the market for cannabidiol cosmetics market and accounted for the largest revenue share.
The top companies that hold the market share in cannabidiol cosmetics market are Lord Jones, Green Growth Brands, Canuka, LLC, Kiehl's LLC, Josie Maran Cosmetics, The CBD Skin Care Company, CBD For Life, Ildi Pekar Skin Care & Spa, Kana Skincare, Leef Organics, L'eela CBD BodyCare, FAB CBD & among others.
The global cosmetics industry is emerging as the most promising end user for CBD in skin care. Apart from the medical field, CBD oils are finding widespread use in skin care products. Under the CBD beauty sector, various cosmetic products are being manufactured, ranging from make-up to lipsticks, facial cream, perfume, body baths, moisturizers and shampoos.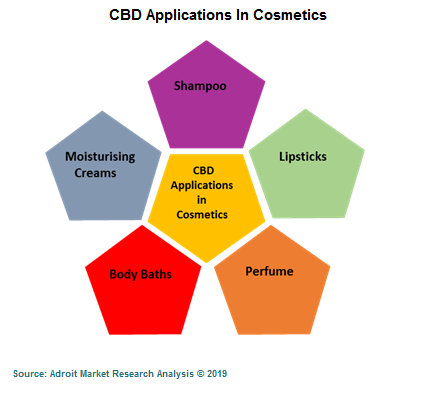 Inside the skin, the endocannabinoid system regulates the production of several hormones and proteins signifying that cannabinoid receptors in the skin aids epidermal differentiation and development. CBD is also known to produce lipids regulating acne and seborrhea, along with its anti-inflammatory and moisturizing properties.
In Israel, scientists have identified more than 1200 genes affected by CBD. Of these, 600 transcripts were upregulated by CBD while 524 genes were downregulated. Furthermore, CBD has also been shown to regulate the expression of 491 genes of which 165 are of the skin. Additionally, CBD also activates both the cannabinoid and PPAR Gamma receptors in the skin, which is possibly responsible for its stated skin benefits including skin soothing, improved skin barrier, antipruritic, improved moisturization and oil control. Moreover, it is also finding application in the treatment of psoriasis/atopic dermatitis.
The gigantic potential of the CBD beauty market is amply visible, as many products could be sold OTC and some with the need for a prescription. This will simplify the access to many consumers. From 2018 until now, many big names in the beauty retail are proactively seeking market potential and have started their ventures into the emerging space. Sephora, owned by The LVMH Moet Hennessy Louis Vuitton SE, came up with an individually curated section wholly devoted to the CBD products in its stores. Ulta Beauty, recognized for its chains of beauty stores for unisex cosmetics and skincare products, is also anticipated to be going in this direction. Some luxury retailers are also moving towards CBD-infused product line. For instance, Originals Hemp Mask from Estee Lauder Companies, Kiehl's Cannabis Serum from L'Oreal and the Murad's Hemp Serum from Unilever.
Infused with cannabidiol, one of the most common cannabinoids found in cannabis and hemp, CBD cosmetic products are lotions, creams, oils, and balms. Unlike tetrahydrocannabinol (THC), CBD is not psychoactive, so CBD alone does not induce any of the infamous cerebral effects. The benefits of CBD products in the cosmetic industry are immense such as anti-oxidant, anti-ageing and anti-inflammatory to name a few. It offers a missing particle in terms of an antioxidant on the skin, with which a free radical can bind, preventing it from causing DNA damage. As for anti-inflammatory properties, CBD helps to fight oxidative stress.
In sunscreens, CBD is beneficial as it is absorbed directly through hair follicles, epidermis and skin pores. In order to boost the endocannabinoid system and encourage equilibrium, it interacts with neighboring receptors of the sensory nerve fibers and subcutaneous tissue of the skin. CBD is becoming increasingly recognized for its anti-inflammatory characteristics, making it a particularly good tool to maintain healthy skin when in hot temperatures. Sunburn is an inflammatory response to the sun's ultraviolet rays causing damage. As these rays jeopardize the health of our skin, the defenses of our cell are impaired. The damaged skin cell may not be able to correctly repair itself, resulting in lethal skin cancers.
Benefits of using CBD sunscreens
The cannabis sativa plant that extracts CBD has an endless list of medical benefits. Some of these are comparatively well recognized, such as its capacity to alleviate pain or boost appetite. The ability to protect skin from photoactivity, however, is one of its hidden miracles. This is because cannabis crops are rich in essential fatty acids which, owing to their capacity to nourish and hydrate the skin, are prevalent components in many skin care products. They also assist safeguard the skin from the sun by establishing a natural SPF layer on the skin surface.
Due to their capacity to control sebum manufacturing, which is the main cause of breakouts and pimples, CBD oil products are also outstanding in combating acne. CBD also slows the growth of fine lines and wrinkles, sagging skin, and other signs of aging. Due to its anti-inflammatory properties, it also reduces redness and swelling, and it is gentle enough to be used on the most sensitive skin.
Dixie Botanicals, a subsidiary of Medical Marijuana, Inc., has partnered with Surface Products Corp. to market a sunscreen infused with CBD. Dixie Botanicals + Surface CBD-Infused SPF50 Sheer Touch sunscreen is formulated with 100 mg of all-natural CBD. It protects the skin against UVA and UVB rays and for 80 minutes it is water-resistant.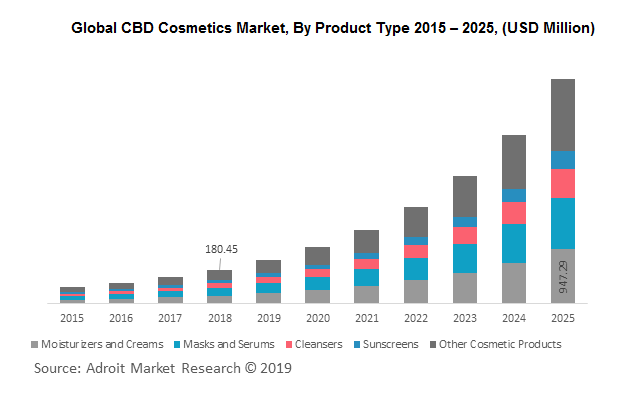 Asia is one of the biggest hemp oil producers, and most of it comes from China. China is the world's leading powerhouse in hemp production today, cultivating, processing, manufacturing and exporting. Chinese local hemp sales were approximately USD 1.1 billion in 2017, more than one-third of the global market. South Korea, Asia's cultural center has a booming market for beauty and personal care that accounted for more than USD 8.5 billion in 2016 revenues. Australia's MCG Pharmaceuticals has entered into supply agreement to provide approximately 15,000 kg of CBD skin care products per month to Korean business Varm Cosmo for 3 years.
Other markets in the region are also loosening of industrial hemp and medical cannabis constraints, including Malaysia, Thailand, Japan, and other nations. The possibilities in these areas which is home to 60% of the world's inhabitants, are infinite for hemp-based products and technology development. As the international community is increasingly addressing cannabis reform and engaging with the legalized cannabis industry, there will be many opportunities where such activity seemed unimaginable a long ago.
Hemp will play a major role throughout several Asian countries in the coming years.
China is the world leader in growing, processing, manufacturing and exporting hemp. It has a significant textile hemp sector and a booming CBD market ready for drastic development as customers become more acquainted with the applications and versatility of the product.
Legality around CBD in China is still in question, while clarity is on the increase in the United States around hemp-infused products. Set for use in its Urban Juve Wellness and brands Wright & Well, Yield Growth has created for its products a patented formula obtained from completely legal hemp root oil, unlike the formulas of rivals that do not use the root.
Two of the 34 areas in China today are quietly leading a boom in manufacturing of CBD. Local companies have already been provided approval in southern China to extract cannabidiol, with Hanma Investment Group becoming the first in 2017.
Hemp root oil products from Urban Juve are now accessible through the famous WeChat app via e-commerce sales in China, the U.S., Japan, South Korea and Germany. The product line has also lately become accessible in Greece and Cyprus, while the brands are signed on to sell at more than 110 retail outlets in North America.
South Korea, with its flourishing beauty sector, is also starting to see CBD-infused cosmetics entering its domestic market. Once CBD personal care products establish their niche, this region is anticipated to generate a substantial market opportunity for CBD cosmetic players.