Rapid industrialization and the growing need for testing and measuring instrument is the key factor driving the growth of the calibration services market
The global Calibration Services market size is expected to reach close to USD 2.2 billion by 2029 with an annualized growth rate of 9.4 % through the projected period.
Covid-19 Impact & Market Status
The disease has expanded to almost 100 countries around the world since the COVID-19 viral outbreak in December 2019, prompting the World Health Organization to declare it a public health emergency. The global effects of the coronavirus illness 2019 (COVID-19) are already being seen, and the infotech industry will be considerably impacted in 2020.
COVID-19 has the potential to have three major effects on the global economy: directly impacting production and demand, causing supply chain and market disruption, and having a financial impact on businesses and financial markets.
Flight cancellations travel bans, and quarantines; restaurants closed; all indoor events restricted; over forty countries declared states of emergency; massive supply chain slowdown; stock market volatility; falling business confidence, growing panic among the population, and uncertainty about the future have all been impacted by the COVID-19 outbreak.
According to our findings, there was a favorable impact on market growth during and after the COVID-19 era. Although issues such as high investment costs may stifle market expansion, the need to improve corporate efficiency is pushing the Calibration Services market. Our analysts analyzed historical data to determine the primary market drivers and the impact of the COVID-19 pandemic on the Calibration Services industry. The comprehensive examination of the drivers will aid in determining end goals and fine-tuning marketing strategies to acquire a competitive advantage.
The global Calibration Services market report study through in-depth research offers a comprehensive market outlook with analysis of Covid-19 impact. The report examines the impact of a pandemic on the economic growth of the market, developments, applications, and regions operating in the global crypto market. Recovery strategies implemented by market players during the covid-19 pandemic are studied. A detailed study of the Calibration Services market documented in this report helps market players make well-informed decisions.
The electric Calibration segment is anticipated to dominate the market during the forecast period
The market is divided into Electrical, Mechanical, Thermodynamic, Physical/Dimensional, and Other Calibration Types. Electric Calibration has the biggest market share of all of them. This market is increasing at a faster rate due to high client demand and sophisticated technologies.
The electronic manufacturing segment is expected to lead the market during the forecast period
The market is divided into Electronic Manufacturing, Communication, Aerospace and Defense, Automotive, and Others based on End-User Industry. Out of all industries, the electronics manufacturing industry is expected to contribute the most to the calibration services market. This market is growing as a result of advanced production processes.
Europe is anticipated to lead the market growth
The European market for calibration services has the largest market share. The region's expansion is being fueled by the availability and acceptance of new technology for improved transit infrastructure. On the contrary, Asia-Pacific is estimated to hold the highest CAGR during the forecast period. The growth of the market in this region.
Rapid industrialization and the growing need for testing and measuring instrument is the key factor that drives the growth of the calibration services market.
Calibration services are critical for testing and measuring instruments. Such gadgets must function with a high level of accuracy and precision. Calibration services are used to record and correct discrepancies in testing and measuring equipment performance from their standard performance. Over the next few years, the calibration services market is likely to increase at a moderate pace. The calibration services sector has grown to include areas such as petrochemicals, aerospace & defense, power generation, water, electronics manufacturing, communication, semiconductors, and industrial & automotive, driven by a requirement for precise and reliable information.
The focus on preventative maintenance, tight government requirements, and growing quality concern among consumers have all been cited as major factors for the calibration service market's growth. Certain obstacles are limiting the market's growth, such as a scarcity of skilled personnel, intense rivalry due to price sensitivity, and increased standard complexity. Overall, the calibration service market is predicted to increase at a modest rate throughout the forecast period, owing to the growing adoption of calibration services to make existing or new equipment work more efficiently.
One of the primary reasons driving the market's growth is rapid industrialization, which is accompanied by an increase in the demand for testing and measuring instruments. Furthermore, increased public awareness of the importance of protecting and maintaining instruments and machinery is boosting the market growth. Calibration services are frequently used by organizations for in-house equipment standardization and by original equipment manufacturers (OEM) to ensure the efficiency of their goods, following. Outsourced calibration services have also spawned a slew of third-party calibration providers, which is fueling industry expansion. Other growth-inducing variables include technological breakthroughs such as improvements in 3D printing technology and the availability of tissue-mimicking 3D phantoms. These enhanced services are used to calibrate automotive, aerospace, electronics, defense, and medical devices and components on electrical, thermodynamic, mechanical, and physical levels. Other elements, such as intensive research and development (R&D), are expected to play a role.
Some obstacles, such as a scarcity of qualified labor, fierce competition due to price sensitivity, and increasing standard complexity, are also limiting the market growth. During the last few months, Covid-19 has harmed most sectors around the world. This can be attributed to significant disruptions in their respective manufacturing and supply chains as a result of various precautionary lockdowns and other restrictions implemented by governments around the world.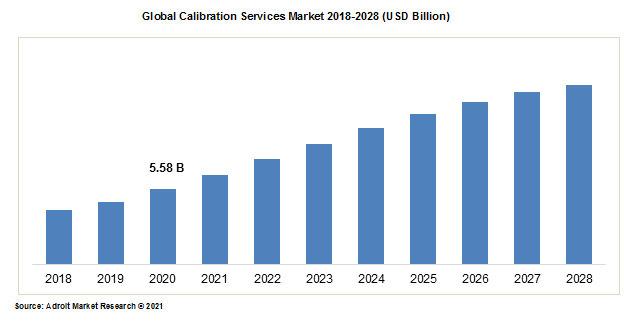 The top companies proving Calibration Services are General Electric, Siemens AG, Danaher Corporation, Endress+Hauser, Trescal Inc., Transcat Inc. among all the emerging and well-established players.
These companies to stay ahead of the competitive edge are undertaking strategic initiatives such as mergers and acquisitions, and expansions for research and development in Calibration Services.
Latest Innovations in the Global Calibration Services Market: a Snapshot
Calibration Services Market Scope
| | |
| --- | --- |
| Metrics | Details |
| Base Year | 2020 |
| Historic Data | 2018-2019 |
| Forecast Period | 2021-2028 |
| Study Period | 2018-2028 |
| Forecast Unit | Value (USD) |
| Revenue forecast in 2028 | USD 2.2 billion |
| Growth Rate | CAGR of 9.4% during 2021-2028 |
| Segment Covered | Service, End-user, Regions |
| Regions Covered | North America, Europe, Asia Pacific, Middle East and Africa, South America |
| Key Players Profiled | Tektronix,,Fluke Biomedical,,Biomedical Technologies Inc.,,NS Medical Systems,,Transcat, Inc.,,JM Test Systems,,JPen Medical,,TAG Medical,,Hospicare Equipment Services Corp. |
Key Segments of the Global Calibration Services Market
Calibration Services by Service Overview, 2018-2028 (USD Billion)
Electrical, Mechanical
Physical/Dimensional
Thermodynamic
Calibration Services by Type Overview, 2018-2028 (USD Billion)
In-House Laboratories
OEM
Third-Party Services
Calibration Services by End-User Overview, 2018-2028 (USD Billion)
Electronics Manufacturing
Communication
Aerospace & Defense
Industrial & Automotive
Others
Calibration Services Regional Overview, 2018-2028 (USD Billion)
North America
Europe
Germany
France
UK
Rest of Europe
Asia Pacific
China
India
Japan
Rest of Asia Pacific
South America
Mexico
Brazil
Rest of South America
The Middle East and South Africa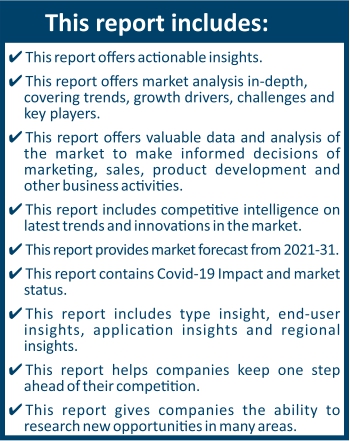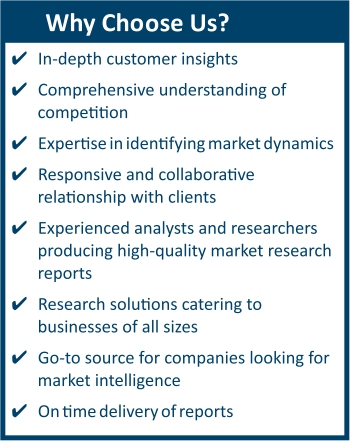 Frequently Asked Questions (FAQ) :
The global calibration services market have aimed to meet a CAGR of 6.99% for the forecast period.
Asia-Pacific is growing at the highest CAGR over 2021- 2028.
The calibration services market is studied from 2019- 2028.
Top players serving the global calibration services market include General Electric, Siemens AG, Danaher Corporation, Endress+Hauser, Trescal Inc., Transcat Inc. among other prominent players.