Increased aesthetic awareness among the population, rising disposable money, increasing social media impact, and technical improvement in the realm of aesthetics is boosting the market for buttock augmentation.
Covid-19 Impact & Market Status
The sudden break out of the Covid-19 virus has restricted the overall industry development owing to the SARS-Co-V-2 as several industries have been experiencing mellowed growth which have in turn affected the growth and development of the global buttock augmentation market.
The Buttock Implants Segment is Likely to Hold for Maximum Share during the Prediction Period
In 2020, the buttock implants segment led the market for buttock augmentation, accounting for more than 40.0% of total revenue. Buttock implants are a surgical technique in which artificial augmentation material, often silicone implants, is surgically implanted in the buttock to reshape or improve its shape. Buttock implants, lifts, and fat grafting augmentation are the most common buttock implant operations.
The Hospital Segment is Likely to Grow with the Greatest Share throughout the Forecast Period
The buttock augmentation market witnessed marvellous growth led by the hospital segment. Owing to large scale adoption of minimally invasive treatment procedures in recent times, minimally invasive cosmetic procedure is likely to emerge strong throughout the forecast span.
The Middle East Region is Likely to be Elevated Growth Potential Market for the Market in the near Future
Owing to an increase in the number of people choosing for treatments included in the industry as well as the technological advancements across the region, North America dominated the buttock augmentation market and accounted for the greatest revenue share of 43.0% in the previous years. Further, aesthetic awareness is also becoming highly popular as more and more consumers are inclining towards its adoption, making the region a growth hub.
Furthermore, fat grafting operations have a high success rate, few problems, and great satisfaction, is also a significant factor that is projected to grow the market even further.
Buttock implants are devices specifically designed to be placed within the buttocks to enhance the volume in the buttock area. The practice is also known as gluteal augmentation and comprises several procedures such as fat grafting, implantation, and buttt lifts. Availability of novel materials to fit within the butt area and create volume has been furthering growth in the global buttock augmentation market lately.
Buttock implants are available in a range of sizes and forms to accommodate the specific demands of each patient. The global buttock augmentation market was valued at 12 USD million, at a CAGR of 22% during the forecast period.
Factors propelling the market for buttock augmentation include strong social media impact, an increase in aesthetic consciousness among the public about their physical appearance, technical advancements in the field of aesthetics, and an increase in disposable wealth. Similarly, growing instances of buttock abnormalities along with surge in the geriatric populace is likely to bolster growth in the global buttock augmentation market. Fat grafting procedures, for example, have a high success rate, high satisfaction, and minimal complications, and are projected to drive the market throughout the projection period.
Appearance and image consciousness are increasing, as is knowledge of beauty care products and treatments available throughout the world. Social media plays a crucial role in influencing rapid ownership of skin care and cosmetic products thereby augmenting favorable business outcome for players in the global buttock augmentation market. Furthermore, the healthcare business in emerging nations is growing rapidly, owing to an increase in demand for aesthetic operations and the growth of the medical tourism industry in these countries.
Likewise, new technical advances and enhancements in current silicone butt implant devices for buttock augmentation and repair will drive market expansion. However, elective treatments such as buttock augmentation were among the most severely impacted at the start of the COVID-19 epidemic. Surgical procedures were suspended all throughout the world. Several cosmetic clinics faced unexpected issues due to a lack of patient visits and decreased profits.
Buttock augmentation services are reopening because of the ease of lockdowns in most nations; nonetheless, adhering to stringent procedures has increased the costs for numerous cosmetic professionals. In order to restart clinics and offer infection control procedures, the International Society of Aesthetic Plastic Surgery has established tight regulations.
Growing social media impact, high awareness of aesthetic appearance, and its relationship with an individual's self-confidence and self-image are some of the factors driving market expansion. The market was affected as a result of COVID-19 when patient appointments for surgical procedures were temporarily halted. However, now that the government in several nations has permitted the resumption of elective surgical treatments, clinics have resumed buttock lift and grafting procedures. Furthermore, the BBC network reports that inquiries and appointments for numerous surgical and non-surgical cosmetic procedures have increased as a result of the epidemic, and this is projected to fuel the market development.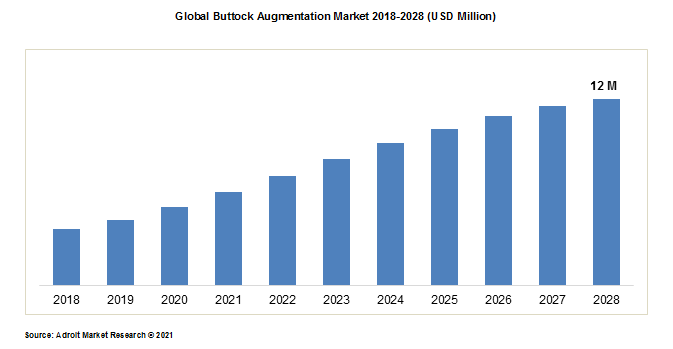 The competitive environment is bolstered by service quality and experience in performing difficult cosmetic treatments. Sientra, Inc., Allergan, POLYTECH Health & Aesthetics, Sebbin, Silimed, Spectrum Designs Medical, Merz North America, Inc, Implantech, and others are among the major competitors operating in the market.
This section provides a comprehensive perspective of the competitive environment, including important future capabilities, mergers and acquisitions, partnerships, new product launches, collaborations, financial overviews, new product developments, and other developments. The analysis also includes an in-depth look at the worldwide competitive landscape as well as completes profiles of the market's top competitors.
Latest Innovations in the Global Buttock Augmentation Market: a Snapshot
Thus, Akerman has been named the first Allergan Aesthetics body contouring partner in support of both CoolToneTM, the newest treatment in the portfolio utilized to tone, strengthen, and firm the buttocks, abdomen, and thigh muscles, and CoolSculpting, the most prominent non-surgical fat reduction treatment among doctors.
For instance, Polytech Health and Aesthetics announced a large investment and expansion plan to transfer its whole headquarters to a state-of-the-art building near its existing site in Dieburg, Germany. This will help the company's objective of boosting implant manufacturing capacity.
The market environment, technological innovation, competitive landscape, current market trends, government policy, historical data, technical progress in related industries, and upcoming technologies, as well as market opportunities, challenges, risks, and market barriers, are all investigated in the research report. The data collecting process begins with the gathering of data from various sources, followed by data analysis, and finally, the data acquired is synthesized and transmitted for data validation.
Buttock Augmentation Market Scope
| | |
| --- | --- |
| Metrics | Details |
| Base Year | 2020 |
| Historic Data | 2018-2019 |
| Forecast Period | 2021-2028 |
| Study Period | 2018-2028 |
| Forecast Unit | Value (USD) |
| Revenue forecast in 2028 | 12 USD million |
| Growth Rate | CAGR of 22% during 2021-2028 |
| Segment Covered | Product, End-Use, Region |
| Regions Covered | North America, Europe, Asia Pacific, Middle East and Africa, South America |
| Key Players Profiled | Sientra, Inc., Allergan, POLYTECH Health & Aesthetics, Sebbin, Silimed, Spectrum Designs Medical, Merz North America, Inc, Implantech, and others |
Key Segments of the Global Buttock Augmentation Market
Product Overview, 2018-2028 (USD Million)
Buttock Implants

Fat grafting
Silicone Gel implants

Buttock Injections

PMMA Butt Injections
Hydrogel Butt Injections
Silicone Butt Injections
Poly-L-lactic acid

Others
End-Use Overview, 2018-2028 (USD Million)
Hospitals
Aesthetic Clinics
Others
Regional Overview, 2018-2028 (USD Million)
North America
Europe
Germany
France
UK
Rest of Europe
Asia Pacific
China
India
Japan
Rest of Asia Pacific
South America
Mexico
Brazil
Rest of South America
The Middle East and South Africa
Frequently Asked Questions (FAQ) :
The global buttock augmentation market is poised to grow at a CAGR of around 22% by 2028.
The verticals assessed in the market research report are aesthetic clinics, hospitals, and others.
The key manufacturers are Sientra, Inc., Allergan, POLYTECH Health & Aesthetics, Sebbin, Silimed, Spectrum Designs Medical, Merz North America, Inc, Implantech
Middle East Region is projected to rank higher in terms of market share than other regions of the global market for buttock augmentation.