Rising number of people who are interested in travel in a bus charter for their planned or unplanned vacations to propel further growth in the Global Bus Charter Services Market
Covid-19 Impact & Market Status
The Covid-19 pandemic has remained quite instrumental in driving the growth of the global bus charter services market. Due to the resulting travel restrictions as well as the downturn in demand among tourists, the COVID-19 pandemic has had a significant impact on the tourism industry. The coronavirus outbreak has greatly affected the tourism industry, as many countries have imposed travel restrictions in an effort to curb its outbreak. The United Nations World Tourism Organization estimated that global international tourist arrivals could drop by 20–30% in 2020, leading to a potential loss of US$ 30–50 billion. In many cities around the world, planned travel dropped by 80–90%. Conflicting and unilateral travel restrictions occurred regionally and many tourist attractions around the world, including museums, amusers, etc.
This research report offers a detailed market outlook of the global bus charter services market depending upon the current economic situation and developments in the application, type, and regional segments.
It does a deep analysis of the impact of covid-19 on the market and recovery strategies applied by market players to restore the growth trends and maintain market competitiveness. The in-depth insights documented in the report enable well-informed investment decisions by for the new payers, aspirants, and also the well-established ones in the global bus charter services market.
Long-distance Charter Services Bus Charter Services Type to Emerge as the Most Lucrative Segment
Global bus charter services market is classified into long-distance charter services and local charter services type segments. Among these, the long-distance charter services type bus charter services is poised for substantial market growth in the years ahead. Chartered long distance bus services include bus types which are intended for heavy duty travel. Coach buses are usually used mostly for long-distance travel. Usually, these coaches are fitted with individual high-backed reclining seats, seat belts, toilets and audio-visual entertainment systems, so they can run at higher speeds with more luggage space. Coaches may be single or double-deckers, articulated and also have under the passenger floor a dedicated luggage compartment. Busses are fitted with technology to help them to work in specified guide ways, allowing managed alignment at bus stops and less space for driven lanes than traditional roads or bus lines. Mostly these coaches or any other chartered buses are hired by groups of people such as office journeys, official meetings, religious tour, long distance wedding destination, and many more. Therefore, the demand for long distance-chartered bus services holds the largest share; as such services are usually used for long distance rather than comparatively for a short trip by travellers.
Group Charter Services Applications to Ensure Revenue Maximization
Global bus charter services market is classified as Private Charter Services, and Group Charter Services type applications. Among these, the group charter services type bus charter services application segment is poised for substantial market growth in the years ahead. Group charter services comprise of bus or buses that are chartered by certain group of people for various purposes like official trips, meetings, site-seeing, events, and many more other reasons. These tours may be of a short distance in the local area, or even for long-distance travel. There are number of benefits of group charter services like:
The market of group charter services for bus thus holds the largest share as compared to private charter services market does. The major reason behind this is, there are large share of people that use group charter services in comparison to private charter services where a single person charters the bus.
Backed by Immense Development Potential North America Bus Charter Services Market to Sail Ahead
Performance analysis of global bus charter services market based on regional segmentation states that North America is the most mature market for bus charter services adoption and investments. The region is likely to garner maximum revenue share of global bus charter services market in the years ahead, mostly from 2021 to 2028.
This is evident from rapid investments in new digital technologies, shift in user preferences, applications in various industry verticals such as gaming, content creation, group charter services media, and conference across leading countries in the region such as Canada and United States.
A thriving economy and low fuel prices helped boost demand for charter bus services across the U.S. and other parts of North America, with the industry expected to increase steadily. So it's inevitable that passenger travels on motor bus routes constantly logged the largest number of passenger miles in North America compared with other modes of road transportation such as light rail, heavy rail, trolley bus, passenger train, ferry boat and others. In 2018, buses also had the largest share of unlinked public transit passenger trips in North America. One of the market's driving factors is the increasing number of buses addition to the national transport grid since the beginning of the century. There had been over 980,000 buses in the United States in 2017 with New York having the biggest number of applications, accompanied with Ohio, Illinois, Pennsylvania and California. 
Growing initiatives from companies and individuals to accept bus charter services in developing countries has paved new growth opportunities, thus furthering the inclusion of Bus Charter Services
Traveling by bus is pretty convenient. The drivers are excellent, and if during the travelling any work is needed to be done on the go, it can be easily and calmly done. So there is no contest compared with walking. Having one bus driven by a professional driver is far preferable to having multiple people driving a long distance. A regular bus can hold 57 passengers so 20 and 50 cars are removed from the road by loading up a bus for a road trip. These are both pollutants which are excluded from the atmosphere and CO2. Charter buses actually release the least amount of carbon per passenger into the atmosphere than almost any other vehicle, and are six times more fuel-efficient than passenger cars. Renting a chartered bus through a professional service and shuttle service means one gets an appealing, advanced bus with a DVD player, surround sound, TVs, reclining seats and, of course, bathrooms. If a large gathering whatsoever is planned, hiring a private chartered bus is a pleasant and convenient solution to the travel needs.
These are some key factors bringing thumping growth of global bus charter services market, ensuring market size growth of approximately 18,886.3 USD million by 2028 at a CAGR of 9.93% from 2021 to 2028.
The market for charter bus services is anticipated to expand during the forecast period due to increasing use of charter buses (party bus) for leisure activities. Such buses are used for recreational purposes and are equipped with additional capacity and amenities. It allows travel experience to be enhanced due to facilities such as laser light, dance floors, theatre system and disco lights. Also, the sound system is better in these buses than standard buses. Charter bus trips are advantageous, as travellers can plan a route in a short period of time to the most popular tourist places without being reliant on any conditions and hurdles outside. Travelers may then go wherever they want, and spend lots of time as they like at different places. Besides this, there is no need for the tourists to schedule every detail of the route, a transport company specialist will do everything they can to organize a bus hire with driver and take care of the entire business. Each passenger is assured and therefore safe travel is ensured. With the proliferation in the usage of such buses, charter bus service market is projected to grow during the forecast period.
Although it is convenient for a road trip to hire a private bus, it is also an excellent choice as an airport shuttle service that eliminates the need for people to look for parking or take a car. And, if people tour is to be organized, only a bus will carry everyone from place to place without breaking up the party.
However, developing nations are the ones that are in progress with stabling their economy and the people living there sometimes even struggle to earn a two-time meal for their families and themselves. Not all of the population earn or is financially stable as those are, thus many of such financially weak people cannot charter vehicles and travel around the world or even locally. Thus, in such developing and economically unstable regions the bus charter services market lacks in performance. Nevertheless, Number of companies and higher authorities of such organizations are taking initiatives to plan timely, every quarter, some events and tours for the whole organization. In addition to this, various official trips and meetings take place leading to rise in bus charter services. There are several benefits of charter services for bus due to which people and organizations opt for it. Like having safe and secure travel, ease and comfort while travelling, less expense for large number of people to travel from place to place, and many more.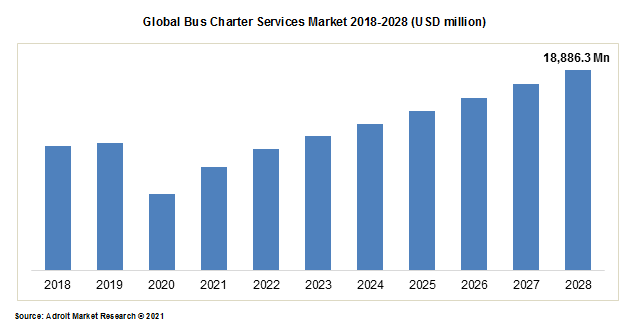 The major players of the global bus charter services market are Bergkvarabuss AB, Golden Touch Transportation, US Coachways Inc., Firstgroup PLC, The Fullington Auto Bus Company, FlixMobility GmbH, Stagecoach Group PLC and Fisher Bus, Inc.
Among all other established and emerging companies and investors. These market players are spread across the world and are aggressive in developing new technologies to lead the market and improve revenue growth. Furthermore, the market players to stay ahead of the competitive landscape are unravelling strategic initiatives like mergers and acquisitions, new product portfolios, and technological innovations.
Bus Charter Services Market Scope
| | |
| --- | --- |
| Metrics | Details |
| Base Year | 2020 |
| Historic Data | 2018-2019 |
| Forecast Period | 2021-2028 |
| Study Period | 2018-2028 |
| Forecast Unit | Value (USD) |
| Revenue forecast in 2028 | 18,886.3 USD million |
| Growth Rate | CAGR of 9.93% during 2021-2028 |
| Segment Covered | Type, Application, Regions |
| Regions Covered | North America, Europe, Asia Pacific, Middle East and Africa, South America |
| Key Players Profiled | Bergkvarabuss AB, Golden Touch Transportation, US Coachways Inc., Firstgroup PLC, The Fullington Auto Bus Company, FlixMobility GmbH, Stagecoach Group PLC and Fisher Bus, Inc. |
Key Segments of the Global Bus Charter Services Market
Type Overview, 2018-2028 (USD million)
Long-distance Charter Services
Local Charter Services
Application Overview, 2018-2028 (USD million)
Private Charter Services
Group Charter Services
Regional Overview, 2018-2028 (USD million)
North America
Europe
Germany
France
UK
Rest of Europe
Asia Pacific
China
India
Japan
Rest of Asia Pacific
South America
Mexico
Brazil
Rest of South America
Middle East and South Africa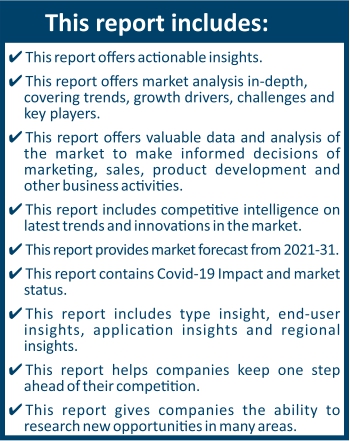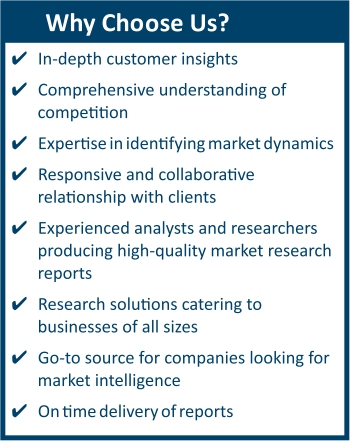 Frequently Asked Questions (FAQ) :
global Bus Charter Services market is expected to grow at a compound annual growth rate of 9.93% from 2021 to 2028 to reach USD 18,886.3 million by 2028.
Long-distance Charter Services Bus Charter Services Type segment accounted for the largest Bus Charter Services market share.
Bergkvarabuss AB, Golden Touch Transportation, US Coachways Inc., Firstgroup PLC, The Fullington Auto Bus Company, FlixMobility GmbH, Stagecoach Group PLC and Fisher Bus, Inc.