The benefits of the Brand Licensing Market are Increased Revenue, Increased Visibility, Improved Brand Reputation, and Reduced Risk. furthermore, Brand Licensing Market also helps Strengthening Brand Equity, Expansion into New Markets, and Increased Customer Loyalty.
The need of the Brand Licensing Market is to enable companies to protect their brand and ensure that the products or services they are selling are of high quality. Brand licensing also helps companies to increase their revenues through the sale of branded merchandise, as well as to expand their customer base. By having a single point of contact for all licensing matters, companies can easily manage their brand and maintain strong relationships with licensees. This in turn reduces costs and ensures that the company is well-represented in the marketplace.
Additionally, brand licensing can help a company build trust with consumers by demonstrating its commitment to quality control and safety standards.
Various advantages of the Brand Licensing Market can help to increase brand recognition and visibility, as it provides companies with the opportunity to associate their products or services with a well-known and reputable brand. This can be especially useful for smaller companies that may not benefit from traditional forms of advertising. Brand licensing can provide significant cost savings for companies looking to expand their product range without having to invest in research and development, manufacturing, and marketing costs. By partnering with a trusted brand, companies can improve customer loyalty by providing customers with products they are already familiar with. Brand licensing provides companies with an additional revenue stream which can help them remain competitive in a crowded marketplace. Brand licensing offers the opportunity for companies to easily expand into new markets and target different customer segments without needing to establish themselves from scratch in those markets.
The Global Brand Licensing Market was valued at USD 200.7 billion in 2019 and is anticipated to increase at a CAGR of 7.4% from 2019 to 2029 to reach USD 325.3 billion.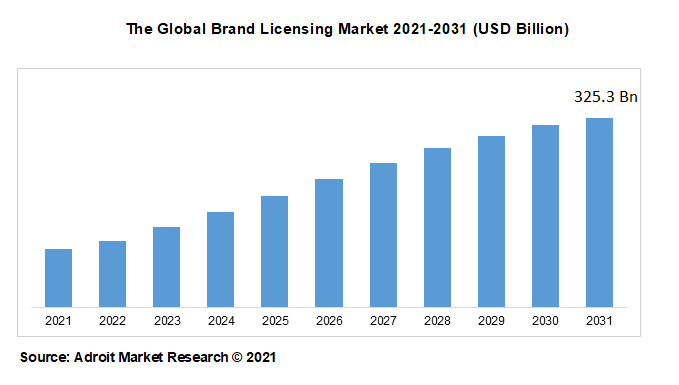 Brand licensing is the process of granting permission from one business to another for the use of its trademark, logo, or other proprietary rights. It is a long-term agreement between two parties that allows for the commercialization and exploitation of intellectual property rights (IPR). Brand licensing agreements are used to generate revenue from licensing fees or royalties paid by the licensee as well as from increased sales resulting from association with a well-known brand name. In addition, brand licensing can be used to increase customer loyalty and manage customer relationships through exclusive offerings of the licensee's products or services.
Brand Licensing Market is the process of granting permission to use a company's brand name, logo, slogan, or other proprietary rights, by another firm for its own products or services. It is an agreement between two parties that allows one to use the brand assets of the other in exchange for a fee. The license may be limited to specific regions and countries, as well as types of products or services that can be sold under the licensed brand.
The increasing popularity of e-commerce platforms has given a boost to the brand licensing market. Online stores allow brands to expand their reach and increase their customer base. With the help of e-commerce, customers can easily browse and purchase licensed products from various categories such as apparel, accessories, toys, home décor, and many more. This has led to an increased demand for branded products in the market. Consumers are increasingly preferring to buy licensed products over generic ones. This preference is primarily driven by factors such as quality assurance and better product design offered by licensed brands.
Additionally, the introduction of new characters and themes in children's merchandise has also been creating a great demand for brand licensing agreements among consumers. The emergence of social media platforms such as YouTube and Instagram have provided a huge platform for brands to reach out to potential customers in an innovative manner. With the help of these platforms, companies can create brand awareness through promotional activities like contests, campaigns, etc., which further leads to an increased demand for branded products in the market.
There are several factors that are restraining the Brand Licensing Market from growing Predicting consumer demand is difficult due to the ever-changing nature of consumer behavior and tastes. Licensing agreements are thus difficult to make since there is no way to guarantee the success of a product or its potential profits. The costs associated with setting up and sustaining a licensing agreement can be very high, which deters many companies from entering into such agreements. This includes upfront payments, royalty fees, advertising fees, research and development expenses, etc., which can add up quickly and impact the overall profitability of a product launch or licensing agreement.
There is intense competition amongst different brands in the market today, which makes it difficult for any one brand to dominate the market through licensing agreements alone. Companies have to continuously innovate their products and services in order to remain competitive in today's market. Brand licensing agreements involve a lot of legal paperwork that needs to be agreed upon by both parties involved in an agreement before it is finalized. This involves a lot of back-and-forth negotiations between the two parties over terms such as royalties, copyrights, trademarks, and patents.
Several Key players/ Manufactures/ Vendors of the market are profiled in the Report some of them are Disney Enterprises Inc., Warner Bros Entertainment Inc., Sanrio Co Ltd., Hasbro Inc., Mattel Inc., Dreamworks Animation LLC, Hachette Book Group USA (LB Kids), Universal Studios LLC, HarperCollins Publishers
Software/Video Games are growing faster
On the basis of type, the Brand Licensing Market is segmented into Apparel, Toys, Accessories, Home Decoration, Software/Video Games, Food and Beverage, and Others. Among this segment, Software/Video Games is the fastest growing segment in terms of revenue. It is expected to grow at a rate of 8.5% from 2020 to 2027 and is anticipated to reach a market size of US$125.7 billion by 2027. This growth can be attributed to the increasing popularity of online gaming and rising internet penetration across the globe.
The entertainment segment is boosting the market
On the basis of application Brand Licensing Market is segmented into Entertainment, Corporate Trademarks/Brands, Fashion, Sports, and Others. Among these the Entertainment segments is expected to dominate the Brand Licensing Market. This can be attributed to increasing demand for licensed products with character-based designs such as toys, apparel and accessories, books, and home decor items among others. In addition, growing collaborations between brand licensors and licensees to launch new products in the market are further propelling the growth of this segment.
North America is dominating the market
On the basis of a regional analysis of the Brand Licensing Market, North America has the highest revenue in 2019 and it is expected to hold its dominant position during the forecast period. Europe was second in terms of revenue, followed by Asia Pacific, Latin America, and Middle East & Africa respectively. North America accounted for the largest share of the market in 2019 due to the presence of a large number of brand licensing companies in countries such as the United States and Canada.
In addition, the rise in demand for branded products among consumers and digitalization are some of the major factors driving the growth of this region. Europe was another prominent region for the brand licensing market with significant contributions from countries such as Germany, the UK, France, and Italy. The increasing demand for quality products among consumers has triggered growth in brand licensing agreements between manufacturers and licensors in this region. Furthermore, high disposable income provides ample opportunities for market players to expand their business operations in Europe.
COVID-19 Impact and Market Status of the Brand Licensing Market
The outbreak of COVID-19 has had a significant impact on the brand licensing market. Many brands have seen a decline in sales and an overall reduction in demand for their products. However, some brands have been able to adapt and even thrive in the current market conditions. The entertainment industry has been hit hard by the pandemic, with many film and television productions being canceled or postponed. This has had a knock-on effect on the brand licensing market, as many licensed products are based on popular franchises. However, some brands have been able to capitalize on the increased demand for streaming content and home entertainment.
The fashion industry has also been impacted by the pandemic, with many designers putting their collections on hold or canceling them altogether. This has led to a decrease in demand for branded apparel and accessories. However, some brands have been able to pivot to produce face masks and other essential items that are in high demand during the pandemic. The sports industry has also been affected by the pandemic, with many events being canceled or postponed. This has had an impact on licensed sports merchandise, as fans are unable to purchase products for their favorite teams. However, some brands have been able to find success by selling team-branded face masks and other health-related products.
Recent Development in the Brand Licensing Market
• In 2020, the global brand licensing market was estimated to be worth $258.9 billion and is predicted to grow at a CAGR of 8.2% between 2021 and 2022. The growth of the market is mainly driven by an increase in demand for branded products, such as apparel, accessories, toys, video games, music, movies, and other licensed merchandise.
• In 2020, North America dominated the global brand licensing market due to the presence of large brands such as Disney, Nike, and McDonald's. The United States accounts for a majority of revenue share in this region as it has strong intellectual property laws that protect the rights of content creators and owners.
Brand Licensing Market Scope
| | |
| --- | --- |
| Metrics | Details |
| Base Year | 2022 |
| Historic Data | 2020-2021 |
| Forecast Period | 2022-2030 |
| Study Period | 2020-2030 |
| Forecast Unit | Value (USD) |
| Revenue forecast in 2030 | USD 325.3 billion |
| Growth Rate | CAGR of 7.4 % during 2021-2030 |
| Segment Covered | Type, Application, Regions |
| Regions Covered | North America, Europe, Asia Pacific, South America, Middle East and Africa |
| Key Players Profiled | Disney Enterprises Inc., Warner Bros Entertainment Inc., Sanrio Co Ltd., Hasbro Inc., Mattel Inc., Dreamworks Animation LLC, Hachette Book Group USA (LB Kids), Universal Studios LLC, HarperCollins Publishers |
Key Segments of the Brand Licensing Market
By Type Overview, 2021-2031 (USD Billion)
• Apparels
• Toys, Accessories
• Home Decoration
• Software/Video Games
• Food and Beverage
• Others
By Application Overview, 2021-2031 (USD Billion)
• Entertainment
• Corporate Trademarks/Brand
• Fashion
• Sports
• Others
By Regional Overview, 2021-2031 (USD Billion)
North America
• U.S
• Canada
Europe
• Germany
• France
• UK
• Rest of Europe
Asia Pacific
• China
• India
• Japan
• Rest of Asia Pacific
South America
• Mexico
• Brazil
• Rest of South America
Middle East and Africa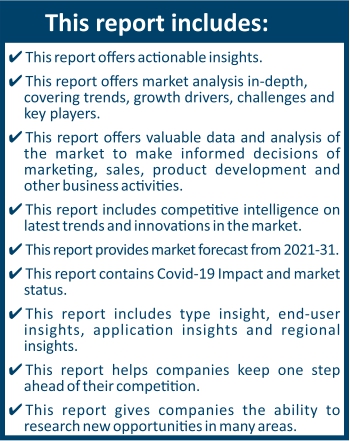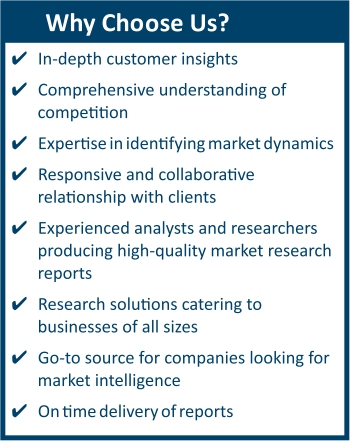 Frequently Asked Questions (FAQ) :
Brand Licensing Market is projected to reach USD 325.3 billion by 2029, growing at a CAGR of 7.4