Global boric acid market accounted for a market revenue of USD 6.62 billion in the year 2019 and is projected to grow at a CAGR of more than 4% over the forecast period. A key factor driving the global boric acid market is the increase in demand for boric acid from developing countries. In developing countries, demand for boric acid is growing, owing to factors such as low transport costs and easy access to land and labour, as well as the change in processing units to those areas.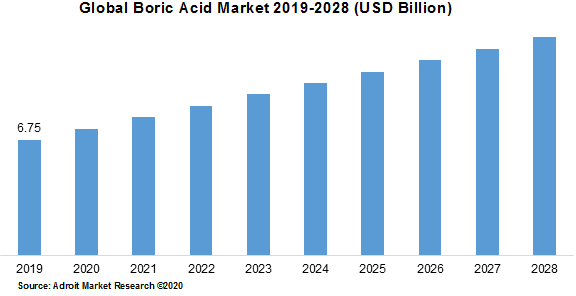 Rising population and purchasing power in emerging economies are driving rising investments in the glass manufacturing, cosmetics and construction industries. A main factor in the global boric acid market is the increasing demand from the renewable energy sector. Renewable energy, such as solar energy, has risen quickly as a result of falling prices and a promise of a more carbon-controlled future for solar technology.
Key segments across Boric Acid market
Application Overview, 2019-2028, (USD Billion)

Fiberglass Industry
Building and Construction
Ceramics
Pharmaceuticals
Others
Regional Overview, 2019-2028, (USD Billion)
North America
Europe

Germany
UK
France
Rest of Europe

Asia Pacific

China
India
Japan
Rest of Asia-Pacific

Central & South America
Middle East & Africa
Reasons for the study
The purpose of the study is to give an exhaustive outlook of the global Boric Acid. Benchmark yourself against the rest of the market.
Be prepared for how Metal industry investments and Boric Acid will be impacted by socio-political and economic factors over the next few years
Ensure you remain competitive as new innovations by existing key players boost the market.
What does the report include?
The study on the global Boric Acid includes qualitative factors such as drivers, restraints, and opportunities.
The study covers the competitive landscape of existing/prospective players in the industry and their strategic initiatives for the Form development
The study covers a qualitative and quantitative analysis of the market segmented on the basis of derivative and application. Moreover, the study provides similar information for the key geographies.
Actual market sizes and forecasts have been provided for all the above-mentioned segments.
Who should buy this report?
This study is suitable for industry participants and stakeholders in the global Boric Acid. The report will benefit:
Every stakeholder involved in manufacturing and distributing components or solutions.
Managers within financial institutions looking to publish recent and forecasted statistics pertaining to the global Boric Acid.
Government organizations, regulatory authorities, policymakers and financial organizations looking for T&D investment trends in global Boric Acid.
Analysts, researchers, educators, strategy managers, and academic institutions looking for insights into the market to determine future strategies.
Boric acid has a broad range of different uses in the medical field as antiseptic and as a pH buffer for swimming pools. It is also used in producing lubricants for ceramic and metal surfaces with oils. The rising demand for boric acid is expected to drive the growth of the boric acid market in energy efficient devices such as residential and commercial buildings. Macroeconomic factors, such as growing income and jobs per capita, and rapid industrialization, are possibly contributing to business growth.
In terms of application the global boric acid market is segmented into Fiberglass Industry, Building and Construction, Ceramics, Pharmaceuticals, Others. Among which fiberglass and ceramic industry is projected to show major growth over the forecast period.
In terms of geography, the global Boric Acid is segmented into North America, Europe, Asia Pacific, Central & South America, and Middle East & Africa. Asia Pacific is projected to lead the global market owing to advancement in the technology and presence of key industrial players.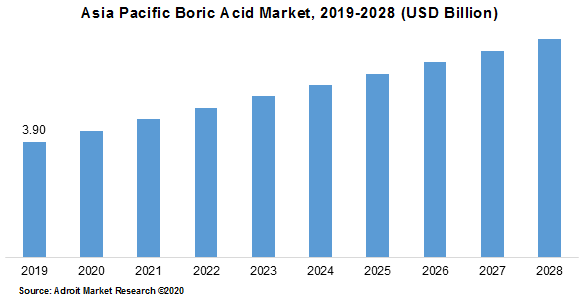 Key players include Minera Santa Rita S.R.L., Gujarat Boron Derivatives, Eti Maden, Avantor Performance Materials, LLC, 3M Company, Organic Industries Pvt. Ltd., QUIBORAX S.A., Russian Bor Concern OJSC, TOMIYAMA PURE CHEMICAL INDUSTRIES, LTD., U.S. Borax