Biofuels will be used as a cost-effective and reliable aircraft fuel. Researchers and scientists working on biofuels have identified a method for easily producing jet fuel from biomass. Furthermore, technological improvements in the biofuel business have lowered the cost of biofuels, which is one of the most important aspects in replacing fossil
The global market for the Biofuel from Sugar Crops is anticipated to develop at a compound annual growth rate (CAGR) of 4.61% throughout the course of the forecast, to reach $134.5 billion by 2031.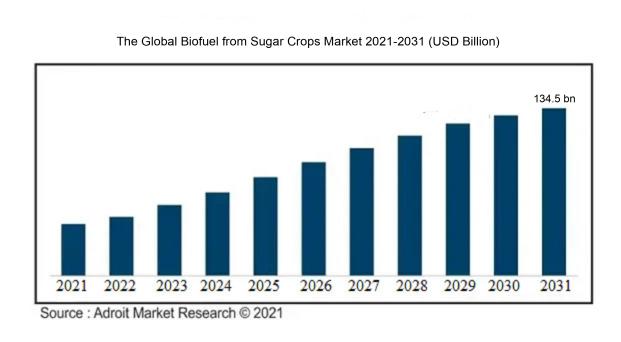 COVID-19 Impact
The global taxifolin industry trends comprehensive analysis of the present market situation, including the effect and developments brought together by the COVID-19 outbreak and the emergence of virus variants. The global corporate landscape and operations were seriously disrupted by the viral spread and social isolation norms and prohibitions.The paper examines both the bad and positive effects of the COVID-19 epidemic and provides specifics. Several countries have shut down airfields, ports, and residential & commercial transportation due to the COVID-19 pandemic and lockdowns.
Market Segmentations and Scope of the Study:
Due to increased consumer demand towards greener vehicles and favourable government laws, the market for biofuel in the automotive industry is predicted to rise fast in the forecast period, with up to 70% less emission from automobiles compared with conventional fuel automobiles.Reduced tariffs on biofuel-based cars in countries like Brazil and the United States have resulted in a quick surge in sales, paving the way for biofuel for sugar crops to gain traction in the automotive sector.
Vegetable Oil are Projected to Dominate the Feedstock Segment of Biofuels Market Revenue
The global industry is fragmented into coarse grains, sugar crops, vegetable oil, jojoba, and molasses segments based on feedstock. Over the projection period, the vegetable oil source segment is anticipated to lead in terms of revenue. The benefits of vegetable oil, such as low production costs and ease of processing due to its low high fat content, are credited with the growth. These variables are principally responsible for vegetable oil's higher market share in the biofuel's feedstock segment. Even though ethanol production is far higher, biodiesel production has grown at a quicker rate since 2010, more so than doubling between 2010 and 2015. Biodiesel currently accounts for approximately 3% of any and all diesels sold. Ethanol makes up 10% of today's gasoline.
Latest Technology Advancements in Biofuels
Petroleum oil is among the world's most important energy sources. The transportation industry consumes more than 70percent of all petroleum fuel. The world is expected to run from out petroleum by 2070–2080 due to the rise in petroleum use. Overuse has created concerns about health and global warming due to emissions (GHG), which also include CO2 and other hazardous chemicals such as methane, monoxide, and chlorofluorocarbons. Greenhouse emissions are predicted to surpass 43 billion metric tons ( mt by 2040. As a result, alternative power sources must be simple to obtain, renewable, and available. Because biofuels are harmless, sulfur-free, and recyclable, and they originate from renewable sources, they are being explored as a substitute for petroleum. Based on the feedstock, biofuels are divided into four categories: first, second, third, and fourth generation biofuels. Hydrocarbon plants, sugar, and carbohydrate yields make up the first wave of biofuels. Since their debut in 1996–1997, the advancement of genetic modification yields has accelerated. The first age of biofuels adds to the nutrition and energy debates, but the 2nd generation biofuel products from renewable lignocellulosic biomass reduces food safety problems. Non-food outputs obtained mostly from agricultural or woodland wastes make up second-generation biofuels. Algae-based third-generation biofuels can be mass-produced, absorb CO2, and thus are relatively easy to process.
During the forecast period, the sugar crop segment would grow at a considerable CAGR. Sugarcane produces twice as much gasoline than maize, at 800 gallons per acre.
During the projected period of 2022–2029, the biofuel form sugar crops demand is anticipated to increase at a CAGR of above 5%. Rising environmental concerns about conventional fuels' greenhouse gas emissions, as well as greater economic prospects over traditional fuels, are projected to be important market drivers. The market for biofuel using sugar crops is predicted to rise as availability of clean energy grows due to worries about the environmental effect of energy production from traditional energy including such coal and gas. However, the market's expansion has been impeded by a lack of infrastructure, an overall lack of information about the benefits of biofuel, and a lack of biofuel-producing crops in certain nations.
Due to numerous factors such as favourable government laws on biofuel compatible automobiles due to increased concerns about greenhouse gas emissions, the automotive industry is likely to drive global biofuel using sugar crops market is expected. Sugarcane is the most commonly used primary source of biofuels from sugar crops, and countries like India produce a lot of it. Due to the stated factors, the region has a high possibility for biofuel using sugar crops market, given the country's expanding energy needs and worries about pollution from energy generation from traditional energy and automobiles.
Some of the companies that are profiled in this report are:-
BTG International Ltd
Renewable Energy Group, Inc.
Abengoa Bioenergy S.A.
Cargill
DowDuPont, Inc.
Wilmar International Ltd
POET, LLC
Biofuel from Sugar Crops Market Scope
| | |
| --- | --- |
| Metrics | Details |
| Base Year | 2022 |
| Historic Data | 2021-2022 |
| Forecast Period | 2022-2031 |
| Study Period | 2021-2031 |
| Forecast Unit | Value (USD) |
| Revenue forecast in 2031 | $134.5 billion |
| Growth Rate | CAGR of 4.61 % during 2021-2031 |
| Segment Covered | By Type, By Application, Regions |
| Regions Covered | North America, Europe, Asia Pacific, South America, Middle East and South Africa |
| Key Players Profiled | BTG International Ltd, Renewable Energy Group, Inc., Abengoa Bioenergy S.A., Cargill, DowDuPont, Inc., Wilmar International Ltd, POET, LLC & among others. |
Key Segments of the Biofuel from Sugar Crops Market
By Type
Sugar Beet
Sugar Cane
Energy Cane
Sweet Sorghum
By Application
Conventional Biofuels
Advanced Biofuels
Regional Overview(USD Billion)
North America
Europe
Germany
France
UK
Rest of Europe
Asia Pacific
China
India
Japan
Rest of Asia Pacific
South America
Mexico
Brazil
Rest of South America
Middle East and South Africa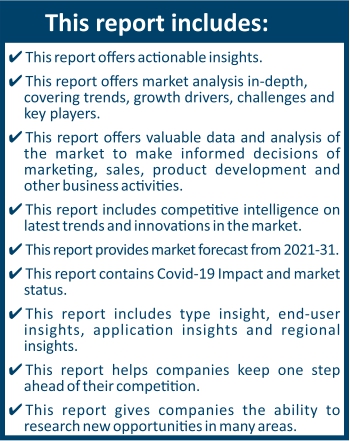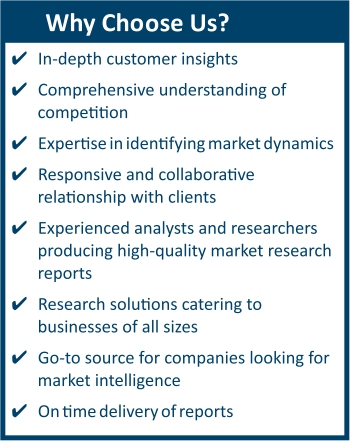 Frequently Asked Questions (FAQ) :
The biofuel from sugar crops market is growing at a CAGR of 5% over the forecast period.
North America dominated the market for biofuel from sugar crops market and accounted for the largest revenue share.
The top companies that hold the market share in biofuel from sugar crops market are BTG International Ltd, Renewable Energy Group, Inc., Abengoa Bioenergy S.A., Cargill, DowDuPont, Inc., Wilmar International Ltd, POET, LLC & among others.
To get latest version of biofuel from sugar crops market report can be obtained on demand from the website.
The base year for the report is 2021 in biofuel from sugar crops market.