The global biobanking market was valued at USD 1,233.2 million in 2018. Factors driving the growth of the biobanking market include increase in population genetics studies, advances in biobanking with ongoing research on stem cells and public opting for its preservation, uptake of personalized medicine, government & private funding to provide regenerative medicine research, and the use of genetic information in food safety, forensics, and disease surveillance. Moreover, concerns related to biospecimen sample procurement may hinder the market growth.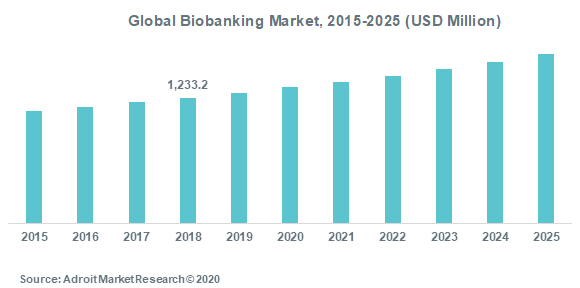 Biobanking has evolved from an activity that, in the past, essentially every scientist in biomedical research had to manage individually to a highly professional field today. Increasing demands on quality of biosamples have to be addressed in order to exploit the analytical capacities of modern omics technologies and guarantee reliability of molecular data generated. Furthermore, data management is becoming more and more relevant in biobanking, and biobanks are developing from repositories of biosamples (containing finite raw material) to data- and knowledge banks providing a reusable resource. These developments go hand in hand with an increasingly more complex ethical and legal environment which requires professional expertise to support scientists in performing research compliant with regulatory requirements.
The global biobanking market is categorized based on sample type, storage type and application. Based on sample type, the market is segmented into blood products, solid tissue, cell lines and others. Since, blood products are the usual sources for isolating DNA and RNA, it dominated the global biobanking market in 2018.
Regionally, North America accounted for the largest market share of the global biobanking market in 2018, which was closely followed by Europe. The industry players are adopting advanced systems, to sustain with the growing industry standards, tighter regulatory requirements, increased workloads, and data analysis needs. Leading players include Hamilton Company, Thermo Fisher Scientific Inc., Brooks Automation and Panasonic Healthcare Holdings Co. Ltd.
Biobanking Market Scope
| | |
| --- | --- |
| Metrics | Details |
| Base Year | 2022 |
| Historic Data | 2021-2022 |
| Forecast Period | 2022-2032 |
| Study Period | 2021-2032 |
| Forecast Unit | Value (USD) |
| Revenue forecast in 2032 | US$ 43.9 Billion |
| Growth Rate | CAGR of 7.2 % during 2022-2032 |
| Segment Covered | by Storage, by Product, by Biospecimen, Regions |
| Regions Covered | North America, Europe, Asia Pacific, South America, Middle East and Africa |
| Key Players Profiled | Thermo Fisher Scientific, Inc.; Merck KGaA; QIAGEN; Hamilton Company; Avantor; Tecan Trading AG.; Danaher Corporation; Becton, Dickinson and Company (BD); BioCision; Taylor-Wharton; Charles River Laboratories; Lonza; STEMCELL Technologies Inc.; Biovault Family; PromoCell GmbH; Precision Cellular Storage Ltd. (Virgin Health Bank) |
Key Segment Of The Biobanking Market

Biobanking by Storage, 2022-2032 (USD Million)
• Manual Biobanking
• Automatic Biobanking
by Application, 2022-2032 (USD Million)
• Biobanking for Therapeutics
• Biobanking for Clinical Diagnostics
• Biobanking for Drug Discovery & Development
• others
by Biospecimen, 2022-2032 (USD Million)
• Biobanking for Blood Products
• Biobanking for Human Tissues
• Biobanking for Cell Lines
• Biobanking for Nucleic Acids
• Biobanking for Others
by Product, 2022-2032 (USD Million)
o Biobanking Equipment
• Temperature Control Systems
• Freezers & Refrigerators
• Cryogenic Storage Systems
• Thawing Equipment
o Biobanking Incubators & Centrifuges
o Biobanking Alarms & Monitoring Systems
o Biobanking Accessories & Other Equipment
o Biobanking Consumables
• Cryovialsand Cryomolds
• Tubes
• Others
Regional Overview, 2022-2032 (USD Million)
North America
• US
• Canada
Europe
• Germany
• France
• UK
• Rest of Europe
Asia Pacific
• China
• India
• Japan
• Rest of Asia Pacific
South America
• Mexico
• Brazil
• Rest of South America
Middle East and South Africa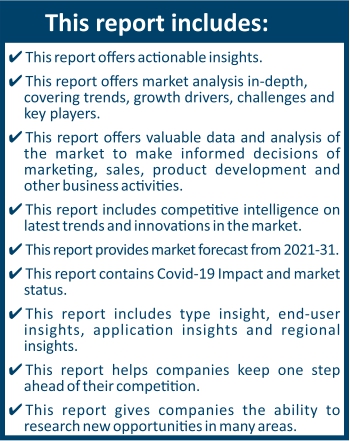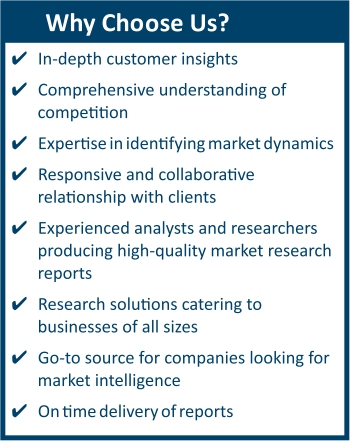 Frequently Asked Questions (FAQ) :
The market value of biobanking market in 2025 was USD 1,801.7 million
North America dominated the market for biobanking market and accounted for the largest revenue share
The major contenders in the global biobanking market Thermo Fisher Scientific Inc., Tecan Group Ltd., Qiagen N.V., Hamilton Company, Brooks Automation, TTP Labtech Ltd., VWR Corporation, Promega Corporation, Worthington Industries, Chart Industries, Becton, Dickinson and Company, Merck KGaA and Micronic among others.
Biobanking has the potential to have a critical impact across several industrial sectors and future success will depend on satisfying the differing need of each group. For continued success, biobanks must have a clear understanding of the needs of researchers, and ensure that the samples and data collected are in line with future research goals. In order to achieve this, researchers both from the industry and academic sectors have to each have their unique needs represented in the biobanking sector, and there is a growing need for greater collaboration. The growth of biobanks will continue to serve biomedical research and it is critical that their ability to serve the research community is not limited by a lack of harmonization and insufficient representation of researchers' needs.
If the involvement of industry and academic researchers is not sought by biobanks to create conditions that support an effective use of resources, there is a risk that samples will accumulate unused, and opportunities to improve health care will not be created to the best advantage. It is evident that commercial industries can play a vital role in the innovation process of biobanking, both in terms of the collecting and processing methods and giving direction to the nature of samples collected. With this feedback, biobanks will not be in danger of becoming archival libraries and samples will be utilized effectively to advance research to the benefits of all and to best advantage.
On the basis of applications, the market is segmented into regenerative medicine, life science research, and clinical research. Regenerative medicine had the largest market share in 2018, however clinical research is expected to show promising growth in the near future.
Clinical research companies undertake research projects on behalf of clients; sometimes these studies are outsourced for reasons of confidentiality, especially for rare disease areas where it might be preferable for a company not to deal directly with the collecting site. As projects are performed on a project-by-project basis, it can be more difficult for clinical research companies to build an in-house resource or biobank due to the variability of the projects. Some companies adopt a strategy where they source samples directly for rare diseases and purchase the more common samples from a biobank. As outputs from these trends, biobanks have experienced an increasing demand for more highly annotated samples. End users have become more 'demanding' in their request in terms of their tissue requirements. For example, a sample of lung tissue is no longer enough; the tissue must come from a specific disease group such as COPD donors, be related to smoking-induced disease, and conform with very specific donor inclusion/exclusion criteria such as the number of packs per day/week and how many years a donor has smoked. Often these collections have to be undertaken as custom collections to these specific requirements.
Given the diversity of medical and health research institutions, Asia Pacific is projected to grow at a highest CAGR during the forecast period. North America dominated the global biobanking market in 2018, and was closely followed by Europe.
The Biobanking market is expected to grow at a CAGR of 7.2% to reach US$ 43.9 Billion in 2032.
BBMRI-ERIC, a European research infrastructure for biobanking and many of the most important Patient Organizations in EU have joined forces since April 20, 2016 for an Engagement Process. The stakeholders include the European Institute of Women's Health, European Cancer Patient Coalition, EURORDIS - Rare Diseases Europe, Genetic Alliance UK, Alzheimer Europe, and Dutch Genetic Alliance VSOP. Among the most pressing challenges identified by the Patient Organizations were data (over) protection and the issue of informed consent, reciprocity and re-contacting the patients, as well as personalized medicine. BBMRI-ERIC is currently formulating a strategic vision and guideline of how large privacy-sensitive data sets can be made available within the wide research community. Particular focus is towards an approach that not only maximizes material sharing but the actual reuse of data for the benefit of personalized medicine. An open-source software platform that covers security, ethics and regulations for personal data protection, storage and analysis of big data have been developed in the FP7 project Biobank Cloud. BBMRI-ERIC is involved in creating the legislation to support the big data use such as GDPR (General Data Protection Regulation) and providing its translation and interpretation for the research community.