The market for bio-based butadiene is expected to develop as a result of rising demand for bio-based goods, strict environmental restrictions, and limited fossil fuel supply. Thermoplastic elastomers, synthetic rubber, fine chemicals, nylon, styrenic plastics, epoxy resins, and other products are among the principal uses of bio-based butadiene. Further predicted growth drivers for the market include the growing number of government programmes to encourage the usage of bio-based goods. Additionally, a rise in major manufacturers' R&D expenditures for the creation of cutting-edge bio-based butadiene products is anticipated to fuel the market's expansion during the forecast period.
The growth of renewable and sustainable energy sources depends on the bio-based butadiene market. The usage of bio-based butadiene could result in less reliance on petroleum-based resources since butadiene is a crucial feedstock for the creation of synthetic rubber and other industrial chemicals. Additionally, because it is not made from fossil fuels and emits fewer pollutants than conventional petrochemical sources, bio-based butadiene is anticipated to have a less negative impact on the environment. Additionally, bio-based butadiene can aid in supplying the expanding need for green chemicals across a range of industries.
A sustainable resource that can be utilised to make synthetic rubber, plastics, and other materials is bio-based butadiene. It is produced via a fermentation and dehydration process from biomass, like corn or sugar cane. In comparison to its petroleum-based equivalent, bio-based butadiene has a variety of benefits, including being more environmentally friendly and leaving a smaller carbon footprint.
According to a new analysis by Market Research Future, the global Bio-Based Butadiene Market is expected to reach a value of USD 32.9 billion by 2031. (MRFR). The market is anticipated to expand at a respectable CAGR of 6.5% from 2021 to 2031.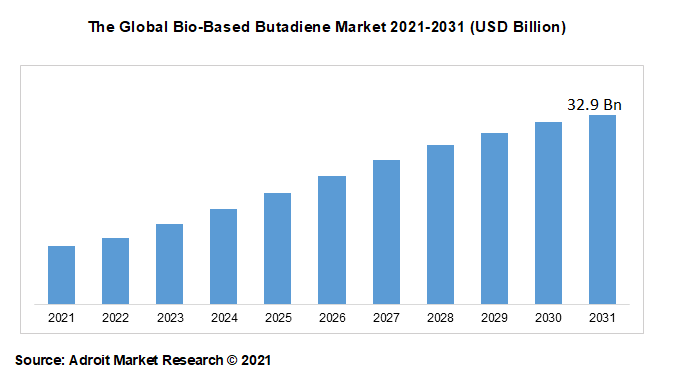 The need for bio-based butadiene is rising across a range of industries, including thermoplastic elastomers, synthetic rubber, fine chemicals, nylon, styrenic plastics, epoxy resins, and others.One of the key constraints restricting the market for bio-based butadiene is feedstock prices. Manufacturers' costs have increased as a result of the recent volatility in the price of raw materials like ethylene and propylene. The manufacturing sector's need for bio-based butadiene has decreased as a result. Another significant factor limiting the growth of the market for bio-based butadiene is strict restrictions. The use of benzene and other cancer-causing compounds in rubber goods is subject to stringent restrictions set by the European Union.
One of the main industries using bio-based butadiene has seen a decrease in demand as a result, including the tyre sector. The market for bio-based butadiene is also severely constrained by the lack of awareness among end users. The advantages of adopting bio-based products over synthetic ones are generally unknown to customers. The market's expansion is being hampered by this lack of knowledge. But it's anticipated that rising consumer knowledge of the financial and environmental advantages of bio-based products will ultimately drive the market.
The leading producers of bio-based butadiene are BASF SE (Germany), Royal Dutch Shell plc (Netherlands), ExxonMobil Chemical Company (US), SINOPEC Corporation (China), and LyondellBasell Industries N.V. (Netherlands). Ineos Group Holdings S.A. (Switzerland), DuPont de Nemours, Inc. (US), The Dow Chemical Company (US), and RadiciGroup SpA (Italy) are some other significant participants in this sector.
Segment Analysis
The One-step Methods Segment emerged as the Most Lucrative Type
The market for bio-based butadiene is divided into two groups based on types: one-step methods and multi-step methods. The one-step techniques category is anticipated to hold the greatest market share for bio-based butadiene among these segments. One-step solutions' decreased energy usage and cost-effectiveness are some additional elements promoting the expansion of this market.
The Most Prominent Application is the Thermoplastic Elastomers Category
The market for bio-based butadiene is divided into Thermoplastic Elastomers, Synthetic Rubber, Fine Chemicals, Nylon, Styrenic Plastics, Epoxy Resins, and Others on the basis of application. During the forecast period, the segment of the thermoplastic elastomer is anticipated to hold the greatest share of the market. This is due to the rising demand for bio-based polymers in a variety of end-use industries, including the automotive, building, and electronics sectors.
The Automotive Segment to emerge as the Most Promising End-user Industry
The market for bio-based butadiene is divided into categories for automotive, construction, electronics, textiles, adhesives & sealants, and others based on the end-use industry. During the projected period, the automotive industry is anticipated to hold the greatest share of the global market. Because they perform better than traditional plastics, bio-based polymers are becoming increasingly popular for use in vehicle components such as interior elements.
The Asia Pacific Region to render Ample Financing Opportunities
The market for bio-based butadiene has been segmented globally by region into North America, Europe, Asia Pacific, Middle East & Africa, and South America. Due to rising industrialization in China and India, as well as high demand from numerous end-user sectors, Asia Pacific currently accounts for a significant portion of the global market for bio-based butadiene.
COVID-19 Impact and Market Status
The worldwide economy has been significantly impacted by the COVID-19 epidemic, with the chemicals and materials sector being one of the hardest hit. The market for bio-based butadiene is no exception, with prices and demand both significantly falling since the outbreak started. The slowdown in the automotive industry, a significant user of butadiene-based products, is mostly to blame for the decline in demand. Vehicle production and sales have fallen precipitously as a result of the widespread lockdown measures, with many factories completely ceasing operations. In addition to affecting costs, this has had a knock-on effect on the demand for butadiene. Despite the difficulties caused by the pandemic, it is anticipated that the market for bio-based butadiene will rebound in 2021 as economic conditions improve and demand from the automobile industry starts to increase once more.
Recent Developments in the Bio-Based Butadiene Market
• The automotive and medical industries have been driving up demand for bio-based 1,3 butadiene (BDO) in March 2021. This is brought on by the increased emphasis on renewable resources and green fuels in manufacturing.
• Shell Chemicals declared in March 2021 that the BDO factory it was building in Geismar, Louisiana, had been finished. The plant would produce a million tonnes of BDO annually and be used to make bio-based butadiene and other products that are related.
• A biobutadiene facility will be built in Tarnów, Poland, by the Polish chemical company Grupa Azoty S.A. by 2022. The company's investment is anticipated to cost the neighbourhood $200 million.
• With the help of Airbus Group SE and Daimler AG, LanzaTech reported substantial advancements in the development of low-carbon fuel solutions in October 2020. The businesses want to produce bio-based butadiene from waste feedstocks such as steel mill emissions and industrial off-gases using LanzaTech's carbon capture technology.
• Mitsui Chemicals Inc. declared in August 2020 that it will devote $148 million to the construction of a new bio-based butadiene factory in Osaka, Japan. The plant would manufacture up to 10,000 tonnes of butadiene annually from sustainable feedstocks once it is operational in 2023.
• Kraton Performance Polymers Inc., a manufacturer of speciality chemicals, declared plans to increase the amount of bio-based BDO it can produce in June 2020. The expansion will be finished by 2021, according to the firm, which is investing about $50 million.
Bio-Based Butadiene Market Scope
| | |
| --- | --- |
| Metrics | Details |
| Base Year | 2022 |
| Historic Data | 2020-2021 |
| Forecast Period | 2022-2030 |
| Study Period | 2020-2030 |
| Forecast Unit | Value (USD) |
| Revenue forecast in 2030 | USD 32.9 billion |
| Growth Rate | CAGR of 6.5 % during 2021-2030 |
| Segment Covered | Type, Application, Regions |
| Regions Covered | North America, Europe, Asia Pacific, South America, Middle East and Africa |
| Key Players Profiled | BASF SE (Germany), Royal Dutch Shell plc (Netherlands), ExxonMobil Chemical Company (US), SINOPEC Corporation (China), and LyondellBasell Industries N.V. (Netherlands). Ineos Group Holdings S.A. (Switzerland), DuPont de Nemours, Inc. (US), The Dow Chemical Company (US), and RadiciGroup SpA (Italy) |
Key Segments of the Bio-Based Butadiene Market
Type Overview, 2021-2031 (USD Billion)
• One-step Methods
• Multi-step Methods
Application Overview, 2021-2031 (USD Billion)
• Thermo-plastic Elastomers
• Synthetic Rubber
• Fine Chemicals
• Nylon
• Styrenic Plastics
• Epoxy Resins
• Others
Regional Overview, 2021-2031 (USD Billion)
North America
• U.S
• Canada
Europe
• Germany
• France
• UK
• Rest of Europe
Asia Pacific
• China
• India
• Japan
• Rest of Asia Pacific
South America
• Mexico
• Brazil
• Rest of South America
• Middle East and South Africa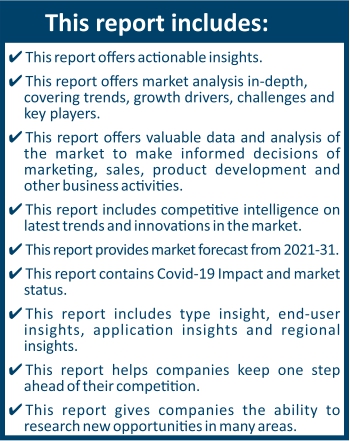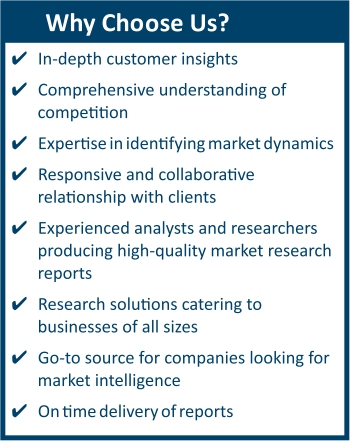 Frequently Asked Questions (FAQ) :
Bio-Based Butadiene Market is projected to reach USD 32.9 billion by 2031, growing at a CAGR of 6.5%