By 2100, the world's population is predicted to exceed 11 Million people. A parallel increase in food production is required. To fulfil demands for food in 2050, agricultural output will need to grow by 48.6%. Globally this is one of the major drivers of Global Bifenthrin Market.
Covid-19 Impact and Market Status
As the COVID-19 virus grows, regulatory agencies throughout the globe are being required to undertake strict shut downs and travel restrictions. Moreover, this has had a huge influence on the Bifenthrin industry's growth.
The COVID-19 pandemic disrupted supply chain systems, since a number of fundamental equipment and consumables are significantly reliant on foreign imports. Moreover, the strict demand of governmental bodies to adhere to social distance requirements pushed businesses to function with a basic minimum of workers, resulting in a decline in the efficiency rate of the sectors. As a result, all of these problems harmed the Bifenthrin business.
0.95 bifenthrin Will Propel The Global Bifenthrin Market Growth
Since, bifenthrin can be harmful when consumed or used in the most purest form hence 0.95 bifenthrin is widely used for production of insecticides and pesticides. Bifenthrin is a pesticide that is used on a variety of agricultural crops as well as in residences. The United States Environmental Protection Agency (US EPA) initially approved the use of bifenthrin in 1985. aerosols, Sprays and granules are all examples of bifenthrin-containing products. In the United States, there are approximately 600 bifenthrin-containing products. When insects ingest or come into contact with bifenthrin, it disrupts their neurological systems. Since insect possess reduced body's temperature and smaller bodies, it is more hazardous to them than it is to humans.
Major uses driving the growth of the bifenthrin market include increased usage of pesticides to boost agricultural output and rising demand for home items containing pyrethroids or bifenthrin, including such as pet sprays and shampoo, insect repellents, and lice treatment treatments.
When bifenthrin comes into contact with the skin, it might induce burning, tingling, itchingor numbness. Within 48 hours, the feelings normally subside. Bifenthrin may result in irritation, throat, and lungs when inhaled. People who consumed excessive doses of bifenthrin quickly developed a sore throat, nausea, stomach discomfort, and vomiting.
Single-episode vomiting or diarrhoea, decreased activity, ear twitching, paw flicking, and increased drooling may occur in exposed dogs. Hyperactivity may be followed by incoordination and diarrhoea, as well as sadness and dilated pupils. Additional symptoms such as gnawing, head bobbing, facial paralysis, and tremors have been described by certain vets.
The Fruit Tree Will Be The Leading Segment Due To Growing Demand Of Fruits In Food & Beverage Industry.
Bifenthrin is a pesticide used to control borers and termites in wood, as well as pest insects in agricultural crops apples, pears, bananas, ornamentals. Numerous investigations on the half-life of bifenthrin in soil, water, and air have been undertaken under various settings, such as aerobic or anaerobic, and at various temperatures and pH levels. It prefers to stay in the soil rather than in water (it is hydrophobic) as well as in the atmosphere (it is highly unlikely to volatize because of its physical properties). Because of bifenthrin's insolubility in water, it will not quickly contaminate ground water. However, some pollution of surface water by soil-bound bifenthrin may occur as a result of runoff.
APAC Region Is Dominating The Bifenthrin Market Growth.
In the Bifenthrin market, especially Asia Pacific region (APAC) is now the global leader. This is due to a strong agricultural foundation that requires chemical intervention to boost yield. Because of the strict laws on the use of chemicals in these regions, North America and Europe are projected to have limited development in this market. Furthermore, healthy solutions to food concerns are sought here, and chemicals are generally avoided by the populace. With about 95% of the market, China is the most important.
Because of the strong need for bifenthrin pesticides and the expanding market for insect repellent goods, Asia Pacific is the fastest market for pyrethroids, particularly bifenthrin. India reported over 64,000 instances of chikungunya in 2016, within the southern area leading the way.
These factors have resulted in a large increase in the market for insect repellent goods, owing to increased regulatory efforts to combat such illnesses. Furthermore, as a result of such incidents, insect repellent producers are investing much in research and development to develop new and novel solutions for their customers in order to meet their evolving needs and preferences. These reasons are mostly responsible for the pyrethroids market's expansion in India, which is in turn fueling the market's expansion in Asia Pacific.
Crops are grown on 12 percent of the land. As the amount of arable land available is declining, increasing productivity from the available land has become increasingly important. This has increased the need of drugs such as Bifenthrin. This is resulted into remarkable progress of global bifenthrin market.
In the forecast timeframe, 2022-2029, the global bifenthrin market is expected to increase at a CAGR of 7.2%, from USD 201.5 million in 2021 to USD 332.4 million in 2029.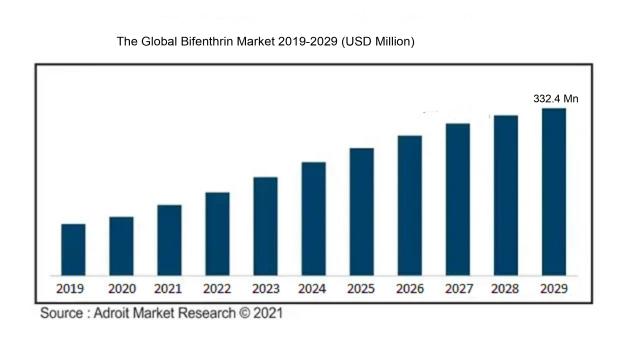 Bifenthrin is a kind of pesticide known as a pyrethroid. By altering the neurological system of ants, notably the aggressive red fire ant, it is commonly employed to combat infestations. It is extremely harmful to aquatic species.
Bifenthrin is insoluble in water and is frequently found in soil. It has a residual half-life of 7 to 8 months in soil, based on the soil type, having minimal movement in most soil types. Bifenthrin does have the greatest known residual duration in soil among currently available insecticides. It's a waxy white substance with a mild pleasant odour. It is chemically manufactured as powder, granules, and pellets, among other forms. It does not, however, occur in nature.
Bifenthrin is a kind of pesticide known as a pyrethroid. Pyrethroids is a synthetic compounds that are manufactured to look like the pyrethrins present in chrysanthemum flowers. Bifenthrin is indeed a broad spectrum pesticide that acts by jamming open small gates on nerve cells which need to pop open quickly to transmit the message.
Increasing agricultural production, which is vital for raising living standards, necessitates the use of a range of compounds, including pesticides, to minimise losses to cultivated plants, food, and feed reserves. Because of their great efficiency, low toxicity, and simple biodegradability, pyrethroids are chosen over organophosphates, carbamates, and orga-nochlorines. Bifenthrin is a type-I pyrethroid that comes in eight stereoisomers, with the cis-isomer being the active element. The sodium channel of nerve sensory neurons is the principal site of action for pyrethroids. Pyrethroids cause a longer sodium tail current by slowing the shutting of sodium channelgates after an initial inflow of sodium during the depolarisation stage of an action potential.
Key players operating in the global Bifenthrin market include Yangnong Chemical, FMC, Jiangsu Huifeng Agrochemical, Jiangsu Chunjiang Agrochemical, and others are among the companies that produce agricultural chemicals in Jiangsu. FMC Corporation was the first to discover and produce bifenthrin.
These companies have used a range of strategic planning to improve their position in the market. These companies' main growth strategies include expansion, and increasing reach by attaining supply chain efficiency in order to improve their product range and geographical presence to address the rising demand for Bifenthrin from emerging nations.
Latest Innovation in the Global Bifenthrin Market: A snapshot
Bifenthrin, a pyrethroid insecticide commonly used in agriculture, was tested in the lab versus vulnerable versus pyrethroid resistant mosquitoes as a possible pesticide for mosquito net treatment. Anopheles gambiae s.s. Giles, the predominant malaria vector in Africa, plus two laboratory strains of Culex quinquefasciatus Say, a common nuisance mosquito in urban areas, were employed.
FMC's operations and business in Russia has come to an end. The company's lone crop insurance packaging and formulation factory in Cheboksary, Russia, has been decommissioned and is being securely shut down. FMC took significant steps early in the conflict to decrease its activities and operations in Russia. New major investments, advertising, and marketing were halted, as were R&D operations, all product imports were halted, and new product and business development was halted.
Bifenthrin Market Scope
| | |
| --- | --- |
| Metrics | Details |
| Base Year | 2022 |
| Historic Data | 2019-2020 |
| Forecast Period | 2022-2029 |
| Study Period | 2019-2029 |
| Forecast Unit | Value (USD) |
| Revenue forecast in 2029 | USD 332.4 million |
| Growth Rate | CAGR of 7.2 % during 2019-2029 |
| Segment Covered | Type, Application, Regions |
| Regions Covered | North America, Europe, Asia Pacific, Middle East and Africa, South America |
| Key Players Profiled | Yangnong Chemical, FMC, Jiangsu Huifeng Agrochemical, Jiangsu Chunjiang Agrochemical, and others |
Key Segments of the Global Bifenthrin Market
Type Overview (USD Million)
Application Overview (USD Million)
Cotton
Rice
Fruit Tree
Others
Regional Overview (USD Million)
North America
Europe
Germany
France
UK
Rest of Europe
Asia Pacific
China
India
Japan
Rest of Asia Pacific
South America
Mexico
Brazil
Rest of South America
Middle East and South Africa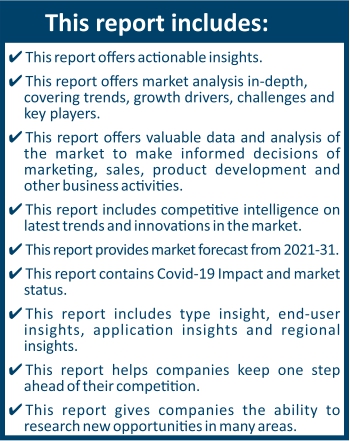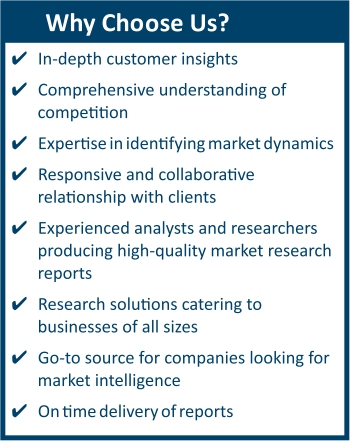 Frequently Asked Questions (FAQ) :
The market value of bifenthrin market in 2029 was USD 332.4 million.
The bifenthrin market is growing at a CAGR of 7.2% over the forecast period.
Asia Pacific region dominated the market for bifenthrin market and accounted for the largest revenue share.
The top companies that hold the market share in bifenthrin market are Yangnong Chemical, FMC, Jiangsu Huifeng Agrochemical, Jiangsu Chunjiang Agrochemical & among others.
The base year for the report is 2022 in bifenthrin market.