Beryllium discovered by Nichlolas in 1797 stand of much importance in the present-day modern scenario where in this element has proven its place making its stance of being crucial, firmer and steadier.
Covid-19 Impact & Market Status
The COVID-19 outbreak had a huge influence on the market's overall downwards growth . This outburst didn't let anything go untouched when it came to slowing down the economy around the globe with maintenance industry being no exception to it.
Restrictions on investments due to the pandemic caused much loss and sank the maintenance market making it suffer.
Spreading its Roots in Different Sectors
The primary application for beryllium is aerospace and military, which is predicted to rise by 5.5% due to its exceptional qualities, such as high tensile strength and lightness. As a result of military jets' increased manoeuvrability and better targeting possibilities thanks to its alloys, the industry for beryllium nanocomposite is anticipated to expand over the coming years.
Beryllium is frequently employed in cable, raised television, and the production of connections used in smartphones and computers due to its superior solid insulation and remarkable heat conductivity. The request for metal in consumer technology is anticipated to rise as a result of new developments, such as the shrinking of electronic components, which is also anticipated to boost market expansion.
The market has benefited greatly over the past few years from the surge in demand for the chemical from the aerospace and defence and automotive industries, and this trend is expected to continue in the coming years. Due to their exceptional strength, beryllium alloys are frequently employed in various industries as structural materials. Furthermore, as the perks of the substance become more well known, opportunities are opening up for its expanded use in industries like telephony, electronic goods, energy, and others. These elements are projected to boost its business during the forecasted timeframe.
Evident to have an edge over the Industries
Due to strong supply from the automotive, electronic goods, and defence areas, North America was responsible for almost 90% of world demand in 2016. The U.S. defence & aerospace sector's rising need for beryllium combined with high funding is anticipated to fuel the beryllium market for the foreseeable future.
A small amount of beryllium is consumed in Mexico and Canada because to the lack of a strong commercial industry foundation. However, because of the booming solar industries in the US and Canada, it is predicted that the use of beryllium-based goods in solar energy-harvesting systems would experience growth.
This element in the periodic table with its atomic number 4 along with its unique features has been successful in contributing to the market growth.
In light of the growing industrialization that is generating a major increase in the requirement for the component, notably in the automotive and aerospace & defence industries, the worldwide beryllium trade is predicted to rise rapidly in the upcoming years. The consumption for beryllium is anticipated to accelerate in the near future due to increased state expenditures on military aviation and a rise in consumer for automobiles.
This alkaline earth metal which is steel grey in colour is tough, lightweight and brittle. It is a divalent element that only contains organic in minerals when combined with other elements. Beryl (aquamarine, emerald) and chrysoberyl are well-known gemstones with high beryllium content. It is a pretty unusual element in the cosmos and is often produced when larger atomic nuclei clash with cosmic radiation and spallate. As it is synthesized into transition metals, beryllium is consumed within the centres of stars.
The price of the product is going to be driven by elements like outstanding qualities like ultralight, elasticity & heat dispersal, low density, high melting point, coefficient of thermal expansion, high - temperature capacity, and ductility at various temperatures. It is also projected that alloy properties like conductivity, chemical inertness, and lengthy springs will affect consumption.
Despite beryllium having several uses, its high price and negative health effects are the main reasons why its demand is projected to experience constrained growth. Berylliosis, a pulmonary fibrosis illness that involves breathing problems, congestion, and respiratory embolism, can be brought on by continuous exposure to beryllium. This is mostly seen at manufacturing facilities where there is a high risk of breathing in the structure's dust or mist. Such harmful impacts may to some extent limit market expansion.
Stars produce both deterministic and stochastic beryllium isotopes, but the radioisotopes are short-lived. Most of the stability beryllium in the cosmos is thought to have originated in the cosmic microwave background when cosmic rays caused heavier elements present in interstellar clouds to fission. The single radioactive isotope of original beryllium is 9Be, making it a monoisotopic and mononuclidic element.
The market for beryllium was valued at USD 95.1 million in 2020, and by the end of 2029, it is anticipated to have increased to USD 214.3 million, with a CAGR of 8.5%.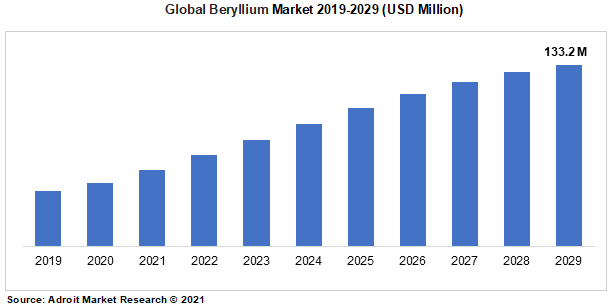 The major players covered in the beryllium market report are Materion Corporation, Texas Mineral Resources Corp., American Beryllia Inc., Advanced Alloys, Ningxia Orient Tantalum Industry Co. Ltd, Belmont Metals, Hunan Shuikoushan
Latest Innovations in the Global Beryllium Market: A Snapshot
Early scientists engaged in the extremely risky practise of recognising beryllium and its different compounds by tasting them. Today, identification is carried out using secure advanced diagnostic methods. As part of an internationally accepted consensual standard known as ASTM D7202, a reliable test for beryllium in atmosphere and on substrates has been created. The process makes use of diluted ammonium bifluoride for fluorometric and beryllium bonded to sulfonated hydroxybenzoquinoline for fluorescent solubility, enabling up to 100 times more rapid identification than the safe beryllium threshold concentration at employment.
Beryllium Market Scope
Metrics

Details

Base Year

2021

Historic Data

2019-2020

Forecast Period

2022-2029

Study Period

2019-2029

Forecast Unit

Value (USD)

Revenue forecast in 2029

USD 214.3 million

Growth Rate

CAGR of

8.5

% during 2021-2029

Segment Covered

Application, End User Regions

Regions Covered

North America, Europe, Asia Pacific, South America, Middle East and Africa

Key Players Profiled

Materion Corporation, Texas Mineral Resources Corp., American Beryllia Inc., Advanced Alloys, Ningxia Orient Tantalum Industry Co. Ltd, Belmont Metals, Hunan Shuikoushan
Key Segments of the Global Beryllium Market
Application Overview, 2019-2029 (USD Million)
Alloy
Metals
Ceramics
Other products
End User Overview, 2019-2029 (USD Million)
Industrial components
Automotive
Healthcare
Aerospace
Defence
Oil and gas and other energy?
Electronics
Telecommunication
Regional Overview, 2019-2029 (USD Million)
North America
Europe
Germany
France
UK
Rest of Europe
Asia Pacific
China
India
Japan
Rest of Asia Pacific
South America
Mexico
Brazil
Rest of South America
Middle East and South Africa