There are several factors that are driving the global badge printer market. The first is the growing need for organizations to have a way to quickly and easily identify employees, visitors, and other individuals. Badge printers provide an efficient way to do this. Additionally, the use of badge printers is becoming more commonplace in schools and government institutions as a way to track attendance and ensure security. Furthermore, the declining cost of badge printers is making them more affordable for small and medium-sized businesses, which is another driver of market growth.
The primary factor driving the growth of this market is the increasing demand for security and identity management solutions in various verticals such as healthcare, BFSI, government, and commercial organizations.
Badge printers offer various advantages such as easy deployment, cost-effectiveness, secured system, and portability. These factors are expected to fuel the growth of the badge printer market during the forecast period.
A badge printer is a type of computer peripheral that creates and prints identification badges. Badge printers are used in a variety of settings, including schools, businesses, and government organizations. There are three main types of badge printers: dye sublimation printers, retransfer printers, and inkjet printers. Dye sublimation printers use heat to transfer dye onto a substrate, such as a plastic card. Retransfer printers print an image onto a film which is then transferred onto the substrate. Inkjet printers spray ink onto the substrate to create the desired image. Badge printers can be used for a variety of applications, such as creating employee ID badges, student ID cards, visitor passes, and event credentials. Badge printing systems typically include software that allows the user to design the badges and manage data associated with the badges (e.g., employee information, student records).
The global badge printer market is expected to be valued at USD 1.02 billion by 2031, growing at a CAGR of 5.2% during the forecast period (2016-2031).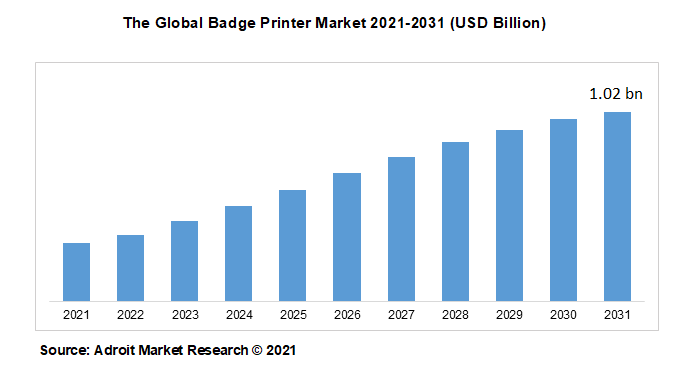 There are several restraining factors of the badge printer market which include:
-High initial investment cost: The initial investment cost for setting up a badge printing facility is quite high. This makes it difficult for small and medium enterprises to enter the market.
-Stringent government regulations: There are several government regulations regarding the production and use of badges. This makes it difficult for manufacturers to produce badges without following these regulations.
-Lack of awareness: There is a lack of awareness about badge printers among end-users. This limits the growth of the market to some extent.
However, the increasing demand will boost the market in forecast period.
Some of the major players operating in this market are Brady Worldwide Inc., CIM USA Inc., Danaher Corporation (Honeywell International Inc.), Evolis SA., Fargo Electronics Inc., Magicard Ltd., Nisca Corporation , Polaroid Corporation (Zebra Technologies Corp.) and Zebra Technologies Corporation among others.
Segment Analysis
The dye sub printers Segment to be on top of the market
The dye sub printers segment is anticipated to dominate the badge printer market throughout the forecast period. The growth of this segment can be attributed to its ability to print high-quality images and texts on badges. Moreover, dye sublimation printers are capable of printing on a wide range of materials such as PVC, paper, metal, and others.
The enterprise application segment to hold the most market share
The enterprise application segment is expected to grow at the highest CAGR during the forecast period. The growth of this segment can be attributed to the growing need for identification and authentication in enterprises. Moreover, badge printers are widely used in enterprises for employee time and attendance tracking, visitor management, and security purposes.
North America to dominate the market
The North American region is expected to be the largest market for badge printers during the forecast period owing to the presence of a large number of key players operating in this region. Moreover, this region has witnessed a significant growth in end-use industries such as enterprise and government owing to factors such as increased security concerns and stringent regulations regarding employee identification and visitor management.
Covid-19 Impact & Market Status
The Coronavirus Disease 2019 (COVID-19) pandemic continues to have a significant impact on the global economy and business operations. The outbreak of COVID-19 has caused a decrease in demand for badge printers due to the closure of businesses and organizations. The market is expected to recover in 2021 as businesses resume operations and the global economy improves.
Latest Innovations in the Global Badge Printer Market: A Snapshot
1. In September 2019, China's National Development and Reform Commission (NDRC) proposed to add transmission lines for power in China's central government work report for the first time. This marks that transmission lines for power have become an important part of China's strategic development layout. The move is expected to provide strong support for the construction of new energy base, grid connectivity and cross-regional grid interconnection in the western region.
2. In July 2019, State Grid Corporation of China (SGCC) signed a Memorandum of Understanding (MoU) with the Ministry of New and Renewable Energy (MNRE), India on technical cooperation in smart grid technologies and clean energy. With this partnership, both the organizations aim to promote mutual technical exchanges, share experiences on clean energy integration and smart grid technologies, as well as jointly develop relevant technology standards.
3. In February 2020, ABB launched its digital substation solution based on ABB Ability platform at CIGRE Session 2019 held in Paris, France. The solution assists in reducing commissioning time by up to 60% and reduces life-cycle costs by up to 30%. It offers remote monitoring and diagnostics capabilities that enable users to increase operational efficiency
Badge printer Market Scope
| | |
| --- | --- |
| Metrics | Details |
| Base Year | 2022 |
| Historic Data | 2021-2022 |
| Forecast Period | 2022-2031 |
| Study Period | 2021-2031 |
| Forecast Unit | Value (USD) |
| Revenue forecast in 2031 | USD 1.02 billion by 2031 |
| Growth Rate | CAGR of 5.2 % during 2021-2030 |
| Segment Covered | by Type, Application, Regions |
| Regions Covered | North America, Europe, Asia Pacific, South America, Middle East and Africa |
| Key Players Profiled | Brady Worldwide Inc., CIM USA Inc., Danaher Corporation (Honeywell International Inc.), Evolis SA., Fargo Electronics Inc., Magicard Ltd., Nisca Corporation , Polaroid Corporation (Zebra Technologies Corp.) and Zebra Technologies Corporation |
Key Segments of the Badge Printer Market by Type
• Dye Sub Printers
• Retransfer Printers
• Inkjet Printers
By Application Overview, 2021-2031 (USD Billion)
• Mining Industry
• Oil
• Gas Industry
• Others
North America
• U.S
• Canada
Europe
• Germany
• France
• UK
• Rest of Europe
Asia Pacific
• China
• India
• Japan
• Rest of Asia Pacific
South America
• Mexico
• Brazil
• Rest of South America
Middle East and Africa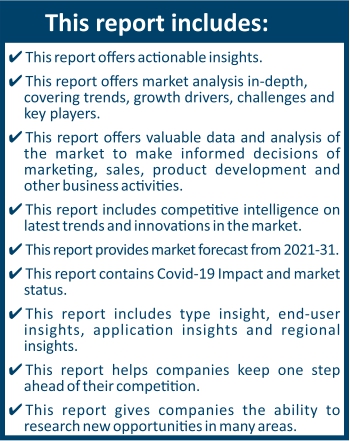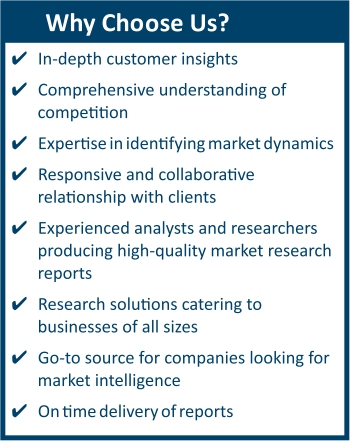 Frequently Asked Questions (FAQ) :
Badge Printer Market is projected to reach USD 1.02 billion by 2031, growing at a CAGR of 5.2
The Badge Printer market is estimated to grow at a CAGR of 5.2%
The top leaders analyzed in the Badge Printer market study are Strata Worldwide, Respirex Ltd., J&S Franklin Ltd., GfG Europe Ltd., Safe T Systems, Fives Group, and Keshev Technologies