The Autosamplers market is expected to grow at a CAGR of 6% to reach US$ 140 Million in 2032.
The global autosamplers market was valued at USD 1,042.4 million in 2020 and is projected to grow at a CAGR of 7.2% during the forecast period. Factors driving the growth of the autosamplers market include mounting significance of chromatography in drug approvals, growing usage of mechanization in laboratories and increasing funds for R&D activities in healthcare activities.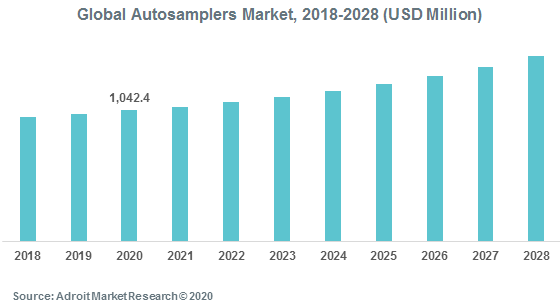 The global autosamplers market is segmented based on product and end user. Product is further split into, autosampler systems and autosamplers accessories. The autosampler systems segment dominated the market and is also projected to grow at a highest CAGR. On the basis of end user, the market is segmented into pharmaceutical and biopharmaceutical industry, oil and gas industry, food and beverage industry, environmental testing industry, and other end user. The pharmaceutical and biopharmaceutical segment was the largest market of the autosamplers market in 2020 due to increasing significance of chromatography tests in the drug approval process.
Regionally, North America accounted for the largest market share of the global autosamplers market due to massive investments in R&D and hi-tech developments in analytical techniques. Leading players of the global autosamplers market include Agilent, Shimadzu, Waters, PerkinElmer, Merck, Thermo Fisher, Bio-Rad, Gilson, Restek, JASCO among others.
Key Segment Of The Autosamplers Market
By Product Type,2022-2032 (USD Million)
o Manual
o Autosampler
o Other Types
• Manual Valves
• Priming
By Technology,2022-2032 (USD Million)
• Partial Loop Filling
• Complete Loop Filling
• Reverse Loop Filling
By Application,2022-2032 (USD Million)
• Gas Chromatography
• High Pressure Liquid Chromatography
• Thin Layer Chromatography
By End User,2022-2032 (USD Million)
• Pharmaceutical Industry
• Research Institutes
• CROs and CRMs
• Others
By Technology,2022-2032 (USD Million)
• Partial Loop Filling
• Complete Loop Filling
• Reverse Loop Filling
Regional Overview, 2022-2032 (USD Million)
North America
• US
• Canada
Europe
• Germany
• France
• UK
• Rest of Europe
Asia Pacific
• China
• India
• Japan
• Rest of Asia Pacific
South America
• Mexico
• Brazil
• Rest of South America
Middle East and South Africa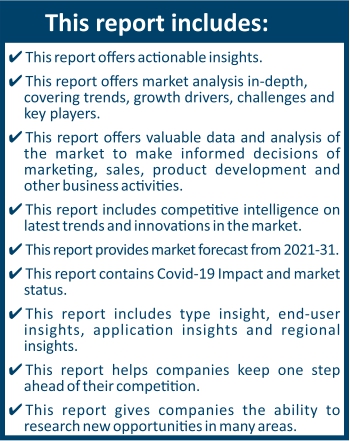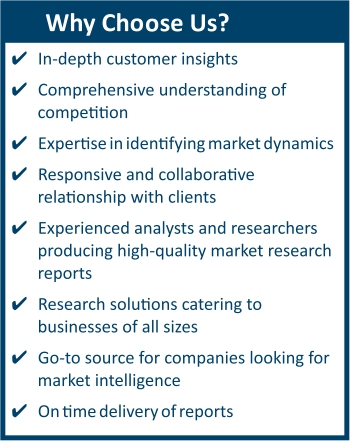 Frequently Asked Questions (FAQ) :
The Global autosamplers market is Segmented on the Product, End User, Regions
The major contenders in the global market Accenture, Agilent, Shimadzu, Waters, PerkinElmer, Merck, Thermo Fisher, Bio-Rad, Gilson, Restek, JASCO among others.
The autosamplers market is growing at a CAGR of 7.2% over the forecast period.
In the modern laboratory, basic sample handling tasks, including standard or stock sample dilutions, internal standard addition and derivatization, require manual pipetting of precise amounts of products before any dilution or chemical reaction occurs. To accurately automate all of these steps, the autosampler offers new and innovative capability. An autosampler can collect multiple samples before it must be restocked with empty bottles. The autosampler also can be refrigerated or stocked with ice to minimize sample degradation. After collection, samples from the autosamplers are retrieved and analyzed at a laboratory for the constituents of interest. Autosamplers can be programmed to collect samples at prescribed intervals of time or flow, and can be triggered by specific conditions. Used together, a continuous monitor can trigger an autosampler during an event and can thereby document conditions at the time of sample collection. Despite these advantages, continuous monitors and autosamplers are subject to mechanical malfunction, sampling bias, or both, and require a certain degree of quality control to assure that the resulting data are accurate and representative of conditions.
On the basis of end user, the pharmaceutical and biopharmaceutical segment held the largest market share. Today's pharmaceutical laboratories are tasked with providing a wide array of analytical analyses for every stage of the production process, from ensuring the cleanliness of process equipment and raw ingredients to quality control analysis of finished products. With ever increasing demands for higher production at lower costs, laboratories need equipment that they can rely on to perform reliably and with low maintenance costs. At the same time, budget pressures and resource consolidation continue to intensify, forcing manufacturers to do more with less in a meticulously regulated environment. Faced with these demanding pressures, manufacturers are turning to simple technologies to improve output when it comes to validating or verifying cleaning samples. The autosampler gives the way to bring a sample automatically into the channels. Manual insertion of the sample is possible but no more common. Programmed insertion gives good reproducibility and time-improvement.
North America dominated the market for autosamplers in 2020. Management of water quality in streams of the United States is becoming increasingly complex as regulators seek to control aquatic pollution and ecological problems through Total Maximum Daily Load programs that target reductions in the concentrations of certain constituents. Sediment, nutrients, and bacteria, for example, are constituents that regulators target for reduction. These constituents require laboratory analysis of discrete samples for definitive determinations of concentrations in streams. Recent technological advances in the nearly continuous, in situ monitoring of related water quality parameters has fostered the use of these parameters as surrogates for the labor intensive, laboratory-analyzed constituents. Automated samplers are used to supplement the monitoring data and a detailed quality assurance program is used to assess the accuracy and representativeness of samples collected using autosamplers.