The development of driverless vehicles, strict emission regulations, and the rise of electric and hybrid vehicles are some of the key drivers propelling the market for automotive EMC test equipment. Governments in numerous nations have enacted higher emission regulations for cars in response to growing environmental concerns. In order to effectively test emissions, this has increased the demand for complex electronic components, which has also raised the need for automotive EMC test tools. Additionally, it is essential to make sure that autonomous vehicles adhere to EMC regulations as they grow. As a result, there has recently been an upsurge in demand for automobile EMC measuring instruments.
To make sure that vehicles adhere to the emission criteria established by regulatory organisations, the automotive EMC test equipment market is used. Manufacturers must put their vehicles through extensive testing and electromagnetic interference (EMI) emissions analysis in order for them to pass strict requirements. These EMC test methods are used to gauge a vehicle's emissions level and enhance its quality and safety. Moreover, the demand for environmental protection is increasing globally, which drives up the price of EMC test equipment in the automobile sector.
Measurements of a vehicle's electromagnetic compatibility (EMC) are made using automotive EMC test equipment. It aids in figuring out whether a vehicle complies with the necessary regulations for controlling and reducing interference from outside sources, such as radio frequency (RF), electrical noise, lightning, and other environmental factors. The EMC in automobiles automobile EMC testing apparatus.
The market for automotive EMC test equipment is anticipated to grow at a CAGR of 7.14% from 2021 to 2031, from an estimated USD 2.01 billion in 2021 to USD 3.27 billion by 2031.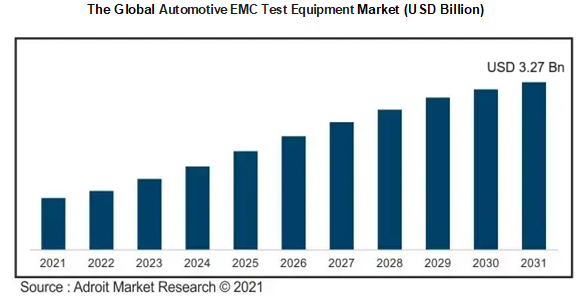 Stringent emission regulations, rising demand for electric and hybrid vehicles, and the advancement of autonomous vehicles can all be credited with the expansion of this market.
Increasing component complexity and escalating testing costs are two issues that the industry for automotive EMC test equipment is now dealing with. There may be more electromagnetic wave interference as the number of parts utilised in automobiles rises. This may result in inaccurate test findings, incorrect readings, and potentially inaccurate data. In addition, the cost of testing is rising as the more sophisticated and expensive test equipment is required. As a result, testing becomes more expensive overall, making it harder for small-scale automakers to support such experiments. Likewise, there may not be any uniformity in the parameters utilised by various manufacturers of test equipment. To address these issues, numerous businesses are releasing cutting-edge technologies and providing affordable solutions. This will probably stimulate the market in the ensuing years.
Segment Analysis
The Immunity Generators Type emerged as the Most Booming Segment
According to types, the automotive EMC test equipment market is anticipated to experience the quickest type growth over the forecast period. Due to their capacity to produce high-frequency power signals required in functional tests and product development, electric and hybrid vehicles are expected to see an increase in demand globally, which would likely support the segment's progress.
The Most Prominent Application is the Passenger Cars
The passenger automobiles application is anticipated to account for the largest revenue share contributor in the market. The expansion of this market is being driven by the rising demand for electric vehicles and strict pollution regulations. The passenger automobile market is expected to be driven in the near future by technological developments like self-driving cars.
The European Region to render Ample Revenues
Europe is anticipated to dominate the automotive EMC test equipment market in terms of volume and value for the entire anticipated period. The presence of well-known automakers and strict pollution regulations are anticipated to fuel this region's growth. The development of electric vehicles, which promotes the usage of EMC test equipment in this region, is also anticipated to be fueled by government programmes like the European Green Deal.
COVID-19 Impact and Market Status
The COVID-19 epidemic has hindered the expansion of the automotive sector. The income for this market has decreased as a result of supply chain instability, fluctuating raw material prices, and diminishing customer demand. The increasing demand for OEMs to save costs connected with testing facilities for automobile EMC test equipment might also be linked to lower manufacturing capacities. The need for automotive EMC test equipment is anticipated to increase throughout the projected period, nevertheless, as the industry is beginning to recover from the epidemic.
Automotive EMC test equipment is dominated by companies like Mermet Corporation (US), Intertek Group plc (UK), M+W Instruments GmbH & Co KG (Germany), Keysight Technologies (US), SGS SA (Switzerland), Rohde & Schwarz GmbH & Co KG (Germany), National Instrument Corporation (US), Anritsu Corporation (Japan), Teseq AG (Switzerland), and EM Test (Switzerland). As a result, this research includes a detailed analysis of the market shares held by these main competitors, their strategies, and their most recent advancements.
Recent Developments in the Automotive EMC Test Equipment Market
• The R&S ESEC 30 is a new iteration of the EMC test receiver introduced by Rohde & Schwarz in 2020. This tool is made to handle problems with automobile interior EMC testing and provides quick, precise results for the development and validation of automotive electronics.
• The 2020 acquisition of UltraFLEX, a supplier of automotive electronics and test systems, by Teradyne Inc. Teradyne is anticipated to be able to provide solutions for testing highly complex semiconductor devices utilised in the automobile industry as a result of the acquisition.
• A range of tools, including the N9912A EMI Scanner, N9913A RF Cable and Antenna Analyzer, N9937A Radiated Immunity Solution, N9935A Power Integrity Solution, and others, are included in Keysight Technologies' Automotive EMC Test Package, which was introduced in 2022.
Automotive EMC Test Equipment Market Scope
| | |
| --- | --- |
| Metrics | Details |
| Base Year | 2022 |
| Historic Data | 2021-2022 |
| Forecast Period | 2022-2031 |
| Study Period | 2021-2031 |
| Forecast Unit | Value (USD) |
| Revenue forecast in 2031 | USD 3.27 billion |
| Growth Rate | CAGR of 7.14% during 2021-2031 |
| Segment Covered | by Type, by Application, Regions |
| Regions Covered | North America, Europe, Asia Pacific, Middle East and Africa, South America |
| Key Players Profiled | Mermet Corporation (US), Intertek Group plc (UK), M+W Instruments GmbH & Co KG (Germany), Keysight Technologies (US), SGS SA (Switzerland), Rohde & Schwarz GmbH & Co KG (Germany), National Instrument Corporation (US), Anritsu Corporation (Japan), Teseq AG (Switzerland), and EM Test (Switzerland) |
Key Segments of the Global Automotive EMC Test Equipment Market
Type Overview (USD Billion)
Immunity Generators
RF Amplifiers
EMI ReceiversOthers
Application Overview (USD Billion)
Passenger Cars
Commercial Vehicles
Regional Overview (USD Billion)
North America
Europe
Germany
France
UK
Rest of Europe
Asia Pacific
China
India
Japan
Rest of Asia Pacific
South America
Mexico
Brazil
Rest of South America
Middle East and South Africa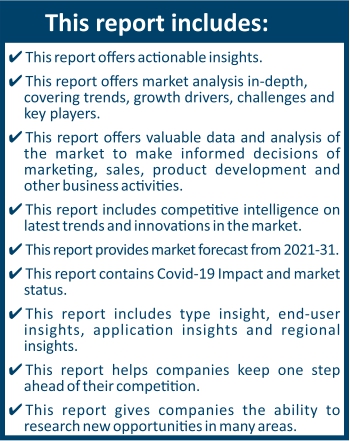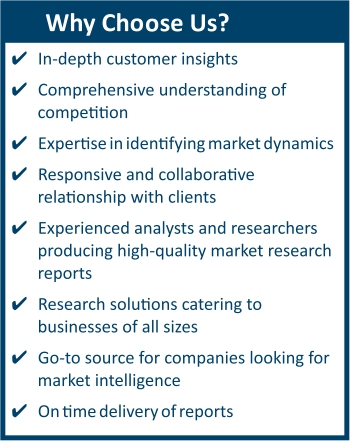 Frequently Asked Questions (FAQ) :
Automotive EMC Test Equipment Market is projected to reach USD 9.27 billion by 2031, growing at a CAGR of 7.14%
The Automotive EMC Test Equipment market is growing at a CAGR of 7.14% during the projection period
The key market players listed in the Automotive EMC Test Equipment report are Inalfa Roof Systems Group BV (Netherlands), AISIN SEIKI Co. Ltd (Japan), CIE Automobile SA (Spain), Magna International Inc. (Canada)