Covid-19 Impact
Due to economic recovery in most developing countries, the automotive digital cockpit market is rapidly approaching pre-COVID levels, with healthy growth expected during the forecast period. Frequent public transport disruptions and high virus transmission have increased the demand for passenger cars and created the demand for digital cockpit products for automobiles.
However, the unprecedented situation resulting from the expected third and subsequent waves of the pandemic cast a dark outlook.
Competitive Landscape
Visteon (USA), Continental (Germany), Robert Bosch (Germany), Denso (Japan) and Clarion (Japan) are major players in the digital car cockpit (Japan) market. Visteon is expected to become the dominant player in this market. To maintain leadership in the digital vehicle cockpit market, Visteon leveraged new product development, partnerships, and mergers and acquisitions. By strengthening customer relationships, the company was able to expand its product portfolio and expand its global footprint.
The automotive digital cockpit market is reasonably fragmented and has a large market share with multiple players. The automotive digital cockpit market is dominated by companies like Robert Bosch, Denso, Visteon, Aptiv, Hyundai Mobis, and others. Large corporations are heavily investing in product research and development as well as the implementation of new technologies.
Faurecia announced in July 2019 a partnership with Microsoft to develop a destructive and connected personalized cockpit service. This type of technology is unique and luxury automakers want to integrate this technology into their vehicles to improve the driving experience for their customers.
The Digital Smart Cockpit is a sophisticated system that includes a large LCD panel, advanced information entertainment system, virtual assistant function, cloud interactivity, automatic parking system, intelligent vehicle terminal system, intelligent voice, and other features. It may also be a car, integrated with the communications infrastructure, and equipped with an integrated HUD or augmented reality system. The intelligent cockpit is divided into hardware and software on a technical level. Hardware includes central controls, LCD devices, head-up displays (HUDs), backseat entertainment, and other information displays.
Software includes operating systems and software services that virtualize hardware and enable interactive technologies such as voice recognition and gesture control. In the digital cockpit, you can take advantage of an infotainment system with a cluster of digital devices and one or two digital screens. The digital cockpit consists of three or more displays and buttons mounted on the vehicle according to the needs of passengers and drivers. The digital cockpit enhances the driving experience by incorporating HMI applications, infotainment platforms and wireless connectivity into the vehicle.
During the forecast period, the automotive digital cockpit market is expected to be driven by an increasing number of connected vehicles around the world. Electronic components are abundant in Hyundai Motors. In addition, the automotive digital cockpit market is expected to be driven during the forecast period by the adoption of IoT in telematics and the increasing use of connected vehicle navigation, information, security and remote diagnostics. In addition, the growing demand for intelligent transportation systems and the effective use of advanced technology are expected to enable safer connected cars and drive the connected car market and thus the digital cockpit market for automobiles during the forecast period. Will be done. Increased sales of electric vehicles are expected to boost the digital cockpit market for vehicles over the forecast period.
The Automotive Digital Cockpit Market is expected to grow at a CAGR of around 13% over the forecast period (2021-2028). The market size is expected to surpass over 39 billion by 2028.
Telematics assumption, things, safety and pollution sensors, navigation and infotainment systems will be the most important factors that promote the growth of automotive digital cockpit markets. Luxury car segments provide end-user advanced comfort and convenience, and segment's most important stakeholders include digital cockpits to their vehicles to increase demand for their vehicles.
Most approved comfort and safety functions. During the forecast period, a luxury car segment is increased by 6%, and it is expected that it needs a need for fuel needs. With further development of technology, interconnected cars and autonomous vehicles are part of the future technology. Digital Cockpit is very useful to capture details of all connected cars and autonomous cars while driving a street.
Human Machine Interface (HMI) applications, infotainment platforms, and wireless connections in vehicles all improve the overall driving experience. By including a digital cockpit system, it is expected that the total cost of the car will increase significantly. The digital cockpit replaces the traditional device cluster with the digital screen. It is mainly used to provide digital experiences for vehicles across multiple screens, speech assistants, and other input methods. Digital Cockpit Systems are hardly popular with end users in non-independent regions such as India, high needs of vehicles.
During the forecast period, the camera-based driver surveillance segment is expected to grow at a considerable rate.
From 2018 to 2028, the fastest-growing segment of the automotive digital cockpit market is expected to be camera-based driver monitoring. The growing popularity of human-machine interfaces in vehicles could be attributed to this segment's growth. Many accidents are caused by driver fatigue and drowsiness. A camera-based driver monitoring system records the driver's condition in order to detect drowsiness. As a result, the growth of camera-based driver monitoring could drive the digital cockpit market. The passenger car segment is expected to be the largest market in terms of value in the automotive digital cockpit market. The passenger car segment is expected to account for the greatest share of the market. The market for connected car capabilities in passenger cars is expected to grow due to increased demand and the introduction of semi-automatic and self-driving cars. OEM pressure to provide customers with a better user experience is driving demand for digital cockpits.
During the forecast period, the rest of the world is expected to be the fastest growing digital car cockpit market.
The automotive digital cockpit market is expected to grow at the fastest rate in the rest of the world during the forecast period (RoW). In developing countries such as Brazil and Iran, consumer demand for advanced in-vehicle experiences is increasing.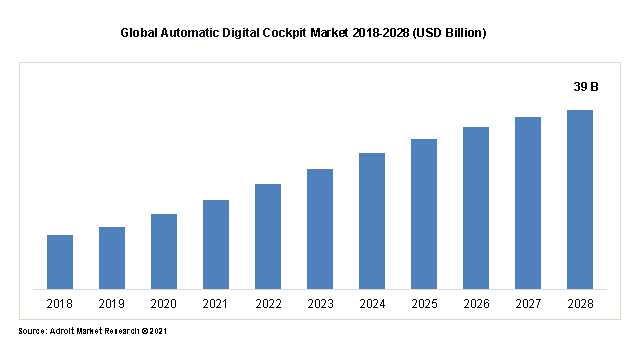 Recent Development
Visteon debuted its next-generation digital cockpit technology platform at CES 2020 in January 2020. The system includes an Android connected car infotainment system with seamless integration with Android Auto and Apple Car Play smartphone projection technologies. Android Connected Car Infotainment Solution is a seamless connectivity Android infotainment solution.
The A6 model was launched in India in October 2019 with Audi's signature virtual cockpit with Full HD resolution and steering wheel control. A 10-inch touch screen, an audio system, and wireless charging for smartphones are all included in the vehicle. Both Apple and Android smartphones are supported by the infotainment system.
Samsung Electronics announced Digital Cockpit 2019 in April 2019. This is a revised version of the platform that incorporates research and customer feedback.
Automatic Digital Cockpit IT Service Market Scope
| | |
| --- | --- |
| Metrics | Details |
| Base Year | 2020 |
| Historic Data | 2018-2019 |
| Forecast Period | 2021-2028 |
| Study Period | 2018-2028 |
| Forecast Unit | Value (USD) |
| Revenue forecast in 2028 | USD 39 billion |
| Growth Rate | CAGR of 13 % during 2021-2028 |
| Segment Covered | By Equipment, By Vehicle Type, By Electric Vehicle Type, Regions |
| Regions Covered | North America, Europe, Asia Pacific, Middle East and Africa, South America |
Market Segmentation
Digital Instrument Cluster
Advanced Head Unit
Head-Up Display
Camera Based Driver Monitoring
Passenger Vehicle
Commercial Vehicle
Battery Electric Vehicle
Hybrid Electric Vehicle
Plug-In Hybrid Electric Vehicle
North America
Europe
Asia Pacific
RoW
Frequently Asked Questions (FAQ) :
The global automatic digital cockpit IT service market size is expected to reach USD 39 billion by 2028
The automatic digital cockpit IT service market is growing at a CAGR of 13% over the forecast period.
The base year for the report is 2020 in automatic digital cockpit IT service market.
To get latest version of automatic digital cockpit IT service market report can be obtained on demand from the website.