The expanding packaging needs in the food and drink, pharmaceutical, and personal care industries present growth prospects. The market size may increase as a result of the employment of various strategies through sophisticated processing processes and packaging materials to prolong the shelf-life of commercially packaged food and beverage goods.
The increasing desire for non-perishable exotic fruits and vegetables has also played a major role in this trend. As a result of the aseptic packaging market's increased expansion, this packaging offers thicker outer packaging with many layers that provides heat resistance, leakage and contamination prevention, and chemical resistance while maintaining product freshness. A finished product that has been manufactured for sale and preserved in sterile containers under aseptic conditions before being sealed in the aforementioned containers to prevent contamination is known as aseptic packaging. The product is shelf-stable under ambient circumstances thanks to the packaging.
These packaging's beneficial qualities include chemical resistance, thermal stability, lower levels of microbial contamination, and resistance to ionizing radiation.
A type of flexible bag known as an aseptic flex bag guarantees that food, medicine, and other items stay sterile and free of germs or other hazardous microbes.
Both developed and emerging nations are experiencing a significant economic expansion, and the demand for high-quality food products is rising as a result of customers' more affluent lifestyles. Superior packaging is required to keep the goods clean and fresh for a longer period of time. Additionally, the introduction of new varieties of aseptic packaging is opening up new opportunities in the value chain thanks to intensive R&D and cutting-edge products. Convenience Since customers now have busier schedules and less time to cook, they have increased their food intake. This results in more spending on food and beverages combined with higher disposable income among consumers. Brand preference for foods with high-quality components and organic ingredients is a result of the shifting trend.
The market for aseptic flex bags is anticipated to be worth USD 49.5 billion in 2021 and USD 71.2 billion by 2031, with a CAGR of 4.2% over the study period.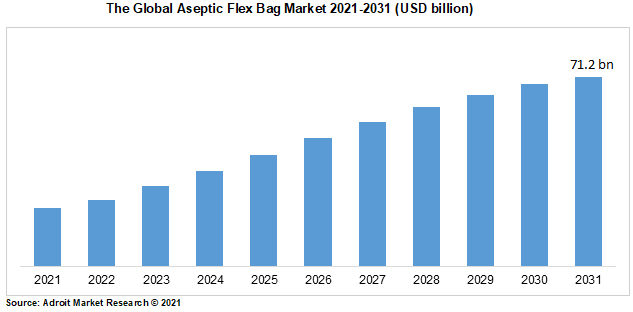 The significant investment needed for the design, as well as during different stages of production and marketing, is a market restraint. Additionally, the shipment of food and beverage products is made complicated by regional variances in plastic rules. Inadequately developed technology also puts the market at risk because it costs more to conduct research and development and create new products. Also, the majority of this packaging is composed of plastic, which has negative environmental effects and pollutes land and water. These variables have the long-term impact of reducing the demand for this kind of packaging.
Amcor, Bemis, Sonoco Products, Mondi Group, and Sealed Air are a few of the major aseptic flex bag producers in the world. The top four players in the world hold a revenue share of more than 40% in 2021.
The market is divided into food, drinks, pharmaceuticals, and other categories based on application. Beverage packaging is expected to grow at the fastest CAGR because of rising demand from the fast-moving consumer goods (FMCG) sector. Fruits, jellies, dairy goods, and sauces are packaged using these products. Prior to packaging, sterilizing preserves product quality and extends shelf life. A crucial food processing technique is aseptic-type packaging, in which food products are packaged inside pre-sterilized vessels to improve shelf stability. With this method, the food remains sterile outside of the container. Increasing food consumption in emerging markets is driving demand for the item. Growth in the pharmaceutical industry may be traced back to the rising demand for glass and plastic packaging in the medical industry, which is essential for keeping drugs in a sterile condition. The packaging provides protection against contamination and bacteria, which is essential in the medical sector to prevent infections. There is a growing demand for sterile drug packaging due to the increase in contagious diseases in recent years. Creams for the face and body are among the cosmetic goods in the other area. Cosmetics can harm skin barriers if the packaging is not sterile since they come into close touch with the skin. Additionally, because customers want high-quality items, the demand for luxury cosmetics has contributed to the segment's growth.
By Region:
Asia-Pacific, Europe, and America are the three main consumption regions for aseptic flex bags. In terms of market value, the Americas held a 48% market share of the global market in 2021, ahead of Europe and Asia-Pacific.
The impact of COVID-19 on the world has been unprecedented and astounding, and the pandemic has had a detrimental effect on demand for aseptic packaging in every region. Our research shows that international sales dropped by 8.1% in 2021 compared to the 3% annual increase seen between 2021 and 2031. This market's demand and growth will return to pre-pandemic levels after the pandemic is over, which explains the sharp rise in CAGR.
The COVID-19 pandemic has had an impact on manufacturing as a result of decreased product demand. Because of the temporary shutdown of production facilities, there has been a decrease in the availability of finished goods. Due to the high demand for food and beverages, the sectors did, however, recover relatively fast. The market increased as a result of the increasing demand for packaged foods that had been sterilized in order to stop the spread of COVID-19. Additionally, the quarantine restrictions forced people to stockpile a lot of food and drink that would last for a longer time, which boosted the demand for sterile packaging. One of the main contributors to the market's recovery was the strong demand from the medical sector, where manufacturing healthcare items was active to satisfy the expanding medical requirement for infection prevention.
Customers may now switch to entirely PP or PE pouches without experiencing the negative impacts of hot filling on the material thanks to JBT's inventive AsepFlex Linear Pouch Filler technology. According to Martinez, PP or PE pouches are not as robust as those made of aluminum or Oriented Polypropylene (OPP), and as a result, they cannot endure the high temperatures needed to fill the majority of pouches on the market. With aseptic technology, you can disinfect the pouch without exposing it to high temperatures. As a result, aseptic technology is drawing a lot of interest because it also makes it possible to process high-quality natural low-acid items.
Aseptic Flex Bag Market Scope
| | |
| --- | --- |
| Metrics | Details |
| Base Year | 2021 |
| Historic Data | 2020-2021 |
| Forecast Period | 2022-2031 |
| Study Period | 2021-2031 |
| Forecast Unit | Value (USD) |
| Revenue forecast in 2031 | USD 71.2 billion |
| Growth Rate | CAGR of 4.2 % during 2021-2031 |
| Segment Covered | Type, Application, Regions |
| Regions Covered | North America, Europe, Asia Pacific, Middle East and Africa, South America |
| Key Players Profiled | Amcor, Bemis, Sonoco Products, Mondi Group, and Sealed Air |
Key Segments of theShoulder & Neck Massagers Market
By Type Overview, 2021-2031 (USD Billion)
• Vibrating Massagers
• Manual Massagers,
• Impulse Massagers,
• Shiatsu Massagers
• Others
By Application Overview, 2021-2031 (USD Billion)
• Cordless Electric Neck
• Shoulder Massagers
• Corded Electric Neck
• Shoulder Massager
By Regional Overview, 2021-2031 (USD Billion)
North America
• U.S
• Canada
Europe
• Germany
• France
• UK
• Rest of Europe
Asia Pacific
• China
• India
• Japan
• Rest of Asia Pacific
South America
• Mexico
• Brazil
• Rest of South America
Middle East and Africa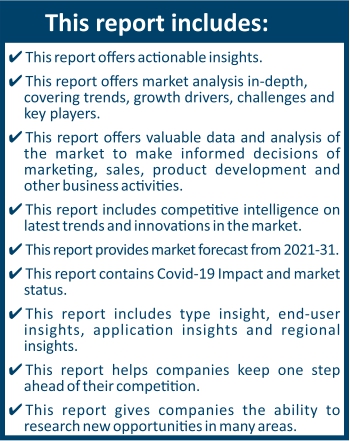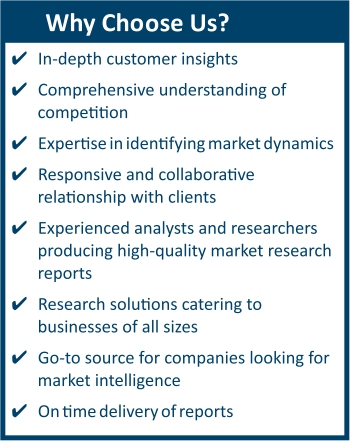 Frequently Asked Questions (FAQ) :
The global Aseptic Flex Bag market size projected to reach 71.2 billion by 2031.