Covid-19 Impact
Supply chains and manufacturing activities for artificial teeth and dental products in India, Italy, Spain, the United Kingdom and the United States have been imposed by the government in recent months in countries such as Brazil, France, Russia, Saudi Arabia, United Arab Emirates and Egypt. Faced with problems in the transportation of raw materials used in the manufacture of artificial teeth, which was interrupted due to lockdown.
It's being expected that by 2028, the Artificial Teeth market cap will hit US$ 4,069.9 Mn at a CAGR growth of about 6.5%.
The outbreak of coronavirus or COVID 19 that began in Wuhan, China, spread throughout the continent and hit various industries around the world. The supply of key denture raw materials such as 3D resin has been severely impacted by forced quarantine and labor and raw material shortages. The connection between regional camps is not smooth, which makes it difficult to transport raw materials between regions. This shortage of raw materials and components is impacting the denture supply chain and manufacturing, and thus the global denture market.
In addition, patients infected with COVID19 infection may be affected by oral candidiasis. Therefore, hospitalized COVID 19 patients using dentures and dental implants are advised to clean daily with a brush containing 0.2% chlorhexidine according to strict oral hygiene protocols for teeth, oral cavity, tongue, dentures, etc. .. Therefore, the increased risk of candida albicans infection and severe candidiasis in COVID 19 patients with dentures and dental implants is expected to impact denture demand in the market.
Zirconium-based Artificial Teeth to Expand Substantially
Advantages such as anti-hypersensitivity, natural hue, and high biocompatibility besides bacteria resistant capacities have helped the zirconium-based artificial teeth segment expand in recent years.
Endosteal Implants Gaining Prominence Owing to Longer Shelf Life
Endosteal implants are installed surgically into the bone structure. It is currently the most preferred means owing to high security and anchoring capabilities. Also, the longevity is longer as opposed to subperiosteal implants.
Dentures, or artificial teeth, are custom-made teeth that are used to replace or restore missing teeth and surrounding tissue. Dental prosthesis is a branch of science that focuses on using various artificial methods to restore oral defects such as missing teeth, soft tissues, and sections of missing teeth. The global denture market is growing at a considerable pace due to an increasing prevalence of oral diseases, an increasing elderly population, an increasing number of diabetics, and an increased awareness of individual dentures.
The rise of a large potential patient base and medical tourism in the Asia-Pacific countries could create opportunities for dental prosthodontic product developers to enjoy high sales and market share growth in the near future. The absence of reimbursement for many dental treatments, on the other hand, may impede market growth in the next years. According to recent survey results by the WHO (World Health Organization) the geriatric population globally is on the rise and as opposed to the previous count of over 524 billion a decade back, the number is expected to topple over a billion by 2050. Several countries in the developed nation bracket such as Japan, Germany, and the US are already identified as aging nations. These dynamics are likely to open up new growth offerings for the global artificial teeth market in the coming years. As a result, one of the key drivers driving the growth of the worldwide artificial tooth market has been recognized as the constant increase in the aging population around the world.
Some of the most critical oral diseases such as gingival inflammation, cancer of the mouth, and other periodontal complications affecting gums and bones surrounding teeth are also catapulting significant progress in the artificial teeth space. According to the World Health Organization, serious periodontal disease was identified in 5% to 20% of persons aged 35 to 44 in 2012, resulting in tooth loss. Also, about 30% of people between the ages of 65 and 74 did not have natural teeth. Therefore, an increase in the number of cases of oral cancer is projected to lead to an increase in demand for artificial teeth over the predicted period.
The artificial teeth market is tremendously growing in the global market. The artificial teeth market is thriving due to its compatibility and ease of manufacture. Acrylic teeth benefit from an increase in the toothless jaw population, an increase in disposable income, and an increased incidence of tooth decay and another periodontal diseases. This is because porcelain is widely used in the denture market. The ease of natural customization is one of the elements fueling the growth of the artificial teeth market.
The artificial teeth market is tremendously growing in the global market. But as growth absorbs it, there are always factors that hinder it. These factors are most often problems associated with inadequate reimbursement and dentures. These are having an impact on the artificial teeth market and may stifle expansion to some extent. According to analysis and monitoring.
The artificial teeth market is tremendously growing in the global market. And as the artificial teeth market grows, there are various other opportunities for progress.
Thus, the market also has excellent growth opportunities, such as increased attention to aesthetic dentistry and large pools of the elderly population. The increase in the toothless jaw population is the main reason for the growth of the artificial teeth market. Acrylic tooth size charts are also provided for adults to view for the convenience of OEE. Tooth loss is caused by tooth loss.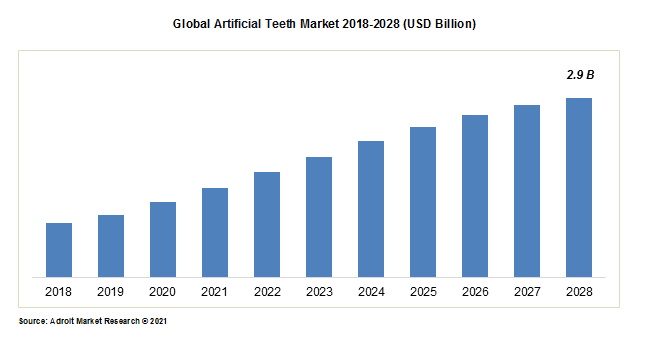 Recent Development
InLab Software 20.0 was introduced to the market by Dentsply Sirona. This software has established the personalization of digital dentures. It turned out to be economically wise and laboratory-oriented.
Carbon and Dentsply have launched a material system and workflow for the Lucitone Digital Print prosthesis. The goal of this collaboration is to present the first prosthesis made of carbon and digitally processed using the DENTSPLY-Sirona material.
Artificial Teeth Market Scope
| | |
| --- | --- |
| Metrics | Details |
| Base Year | 2020 |
| Historic Data | 2018-2019 |
| Forecast Period | 2021-2028 |
| Study Period | 2018-2028 |
| Forecast Unit | Value (USD) |
| Revenue forecast in 2028 | US$ 4,069.9 Mn |
| Growth Rate | CAGR of 6.5 % during 2021-2028 |
| Segment Covered | By Product Type, By Manufacturing Process, By Usage, By End User, Regions |
| Regions Covered | North America, Europe, Asia Pacific, Middle East and Africa, South America |
| Key Players Profiled | Dentsply Sirona Inc., Ivoclar Vivadent Ag, GC America Inc., Kulzer GmbH (Mitsui Chemicals, Inc.), Modern Dental Group Limited, COLTENE Group, VITA Zahnfabrik, Amann Girrbach AG, Formlabs, DIO Corporation, Shofu Inc., and Lang Dental Manufacturing Company, Inc. |
Market Segmentations
Titanium Dental Implant
Zirconium

By Product:
Endosteal Implant
Subperiosteal Implant
Transosteal Implants
Intramucosal
Hospital
Dental Clinic
Academic and Research Institute
Others

By Regions:
Americas
Argentina
Brazil
Mexico
Brazil
France
Italy
Spain
U.K
Germany
China
India
Japan
South Korea

Middle East & Africa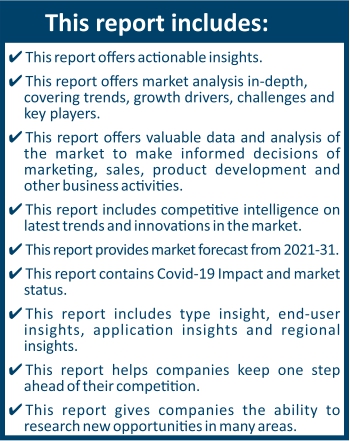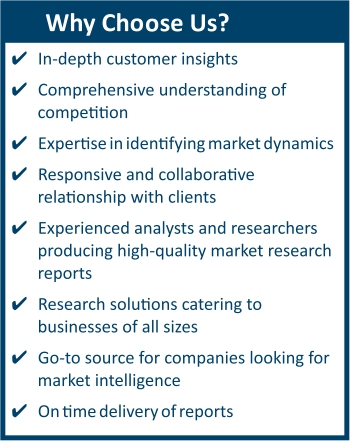 Frequently Asked Questions (FAQ) :
The global artificial teeth market size is expected to reach USD 2.9 billion by 2028.
The artificial teeth market is growing at a CAGR of 7% over the forecast period.
Asia-Pacific dominated the market for artificial teeth market and accounted for the largest revenue share.
The top companies that hold the market share in artificial teeth market are Sirona, Ivokura Vivadent Ag, GC America, Kulzer GmbH (Mitsui Chemicals, Inc.), Modern Dental Group Limited, COLTENE Group, VITA Zahnfabrik, Aman Gilbach AG, Formlabs., Shofu Inc., Lang Dental Manufacturing Company, Inc..
To get latest version of artificial teeth market report can be obtained on demand from the website.