Increasing awareness about aquaponic farms leading to larger scale production of aquaponic crops is driving the global aquaponics market.
Covid-19 Impact & Market Status
Each and every industry in the world has suffered due to the outburst of COVID-19 pandemic. The pandemic has also had a significant impact on the aquaponic business, as covid-19 has caused the worldwide supply chain of agricultural and adjacent industries to malfunction. As a result of the interrupted supply line, raw material acquisition for cultivation, and distribution was impacted. This has a detrimental influence on the cost, expenditure, and risk incurred by farmers, as the majority of farmers relied on revenue from overseas markets such as China and Europe. Plants collected by aquaponics are likely to see a rise in demand as consumer preferences shift away from animal-based diets and toward natural and fresh plant-based meals
The Semi-Fluid Segment Accounted For Highest Market Share
The semi-fluid segment accounted for highest market share of global aquaponics market. Shift towards the organically produced food will propel the market growth. Since aquaponics is devoid of artificial fertilisers and sustainable agricultural chemicals, with fish waste acting as the primary nutrition source for plants, the demand for naturally produced crops is considerable and an unexplored market for new aquaponic farms and aquaponic system suppliers.
The current climatic circumstances place additional strains on agricultural output and, in many cases, impede sustainable vegetation production. As a result, demand for long-term sustainable agriculture approaches such as aquaponics market is expanding across the world. Furthermore, environmental stresses from food production have resulted in losses in biodiversity, and many more. Soil erosion, excessive soil contamination from fertilizer, and limited water availability all contribute to a global importance of green agricultural production techniques.
Furthermore, aquaponics farming avoids the need for additional fertilisers, pesticides, or herbicides as compared to traditional agricultural production processes. Aquaponic farming is thought to utilise around 90% less water than traditional farming and to be capable of growing almost double than the traditional farming. All of these environmental advantages are anticipated to increase demand for aquaponics in the near future.
Pharmaceutical Segment Poised for Rapid Market Growth
Pharmaceutical segment poised for rapid market growth. Constant introduction of technology into the existing aquaponics system is projected to assist farmers in simplifying the process, which will likely increase productivity and offer for faster culture times. For example, a recent study on the construction of an IoT-based aquaponics surveillance system was recently published. The monitoring system used unique sensors to measure each data point, which was subsequently displayed on a system-specific web application. Farmers might successfully control the aquaponics environment using these parameters, potentially increasing productivity and lowering expenses.
All of these revolutionary aquaponics systems have the potential to deliver higher quality veggies with outstanding flavour in huge quantities due to the system's capacity to increase production rate, yield, and minimise growing time. Aquaponics market development is projected to be considerably aided by innovation.
North America Is An Emerging Market Leader In Global Aquaponics Market
Aquaponic farming in North America is predicted to develop exponentially in the next years. North America holds the largest share of the worldwide aquaponics market owing to rising demand for organic foods and the adoption of cutting-edge technology. Such programmes have played a critical role in spreading awareness in the region about sustainable agricultural alternatives such as aquaponics. Furthermore, aquaponics is projected to aid in the rebuilding of the aquaculture industry in the US. The Asia-Pacific region is seeing significant growth and is expected to have the highest CAGR over the projection period. This is due to an increase in the variety of local parks, particularly in developing economies such as India and China. The increased emphasis on the development of the smart cities will create even more advantageous market growth opportunities.
The increasing need of using less chemicals or fertilizers and implementing efficient and scalable method of growing fruits & vegetables without requiring more water and soil is improving the reliance on aquaponics for future farming, furthering the development of global aquaponics market.
Plants and fish are grown in a mutually beneficial sequence in an aquaponics agricultural system. It is one of the sustainable kinds of agriculture in which traditional aquaculture and hydroponics are combined, resulting in the development of fish and plants in a symbiotic environment. In this system, nutrient-rich wastewater is utilised to irrigate a linked hydroponic bed while simultaneously enriching its plant crops. The ongoing recycling and reuse of water in aquaponics systems reduces water waste, making it a more sustainable method of agricultural production in water-stressed locations.
Aquaponics promotes sustainability and provides organic veggies while significantly lowering waste output. Furthermore, the technology enables effective eco-friendly vegetable cultivation, which is projected to be critical to the expansion of the aquaponics sector. Farmers are increasingly adopting aquaponics for growing fresh organic food as consumption of plant foods rises, which is projected to drive the aquaponics market's growth. Furthermore, locally grown veggies are fresh and healthy, taste better, have a longer life span, and incur minimal shipping expenses.
Furthermore, as compared to traditional techniques, aquaponics systems provide higher agricultural yield in less space throughout the year. When compared to traditional agricultural production methods, aquaponics market systems have a lower environmental effect. The primary reasons driving the growth of the worldwide aquaponics market include increased fish consumption, rising demand for organic fruits and vegetables, advancements in urban farming technologies, shrinking arable land areas, and changing climate conditions.
As a result of these circumstances, a rising number of shops are purchasing vegetables grown locally. Furthermore, lengthier shipping and storage durations for veggies degrade their quality, which lowers sales. Moreover, farmers without a significant distribution and retail network may benefit from the growing consumption of organic products, which is expected to boost the aquaponics industry development.
As a result, crop-growing soil does not need to be replaced as regularly, saving farmers both effort / expenses. Furthermore, the aquaponics industry is predicted to develop because to the system's capacity to use significantly less space for producing fish and plants when compared to hydroponics and aquaculture. These factors collectively influence thumping growth of aquaponics. The aquaponics market is expected to be of worth USD 1.57 billion at a CAGR of 12.3% during 2022-2029.
The term "aquaponic" refers to a system that combines hydroponics and aquaculture. The ultimate result is a highly productive and low-maintenance sustainable system that delivers both animal and plant protein without the need of land, water, or other resources. It is a system that enhances the health and the environment while also providing food and income to those in need. Above all, aquaponics is a system that can be tailored to any area and budget.
One of the most fascinating aspects of Aquaponics is its resemblance to a natural environment. Aquaponics refers to the link that exists between plants, water, and aquatic life in streams all over the world. Aquaponics integrates both the components and acts as an environment friendly technique to produce plants. It uses the process of recycling and uses the waste products of the aquatic animals as a fertilizer for the plants.
Aquaculture and hydroponic waste is utilised to augment the fertiliser mixture in the aquaponic system. These aquaculture waste products (fish meal) are utilised as a nutrient-rich fertiliser for hydroponic plants. Water, a by-product of hydroponics, is utilised to hydrate and aerates fish in aquariums. With growing environmental concerns of contemporary agricultural techniques, this kind of food production is becoming increasingly popular furthering the development of global aquaponics market.
Although it is cost effective in the long term, establishing an aquaponics system necessitates a significant investment. On an average, materials, and other equipment for building up the aquaponics growing area can be rather expensive for the commercial establishment of these facilities. While selling the produce grown by leveraging the system can increase profits, the initial large investment required makes farmers hesitant to enter the aquaponics market. The demand for large initial expenditures in the system is expected to continue to be a barrier to the growth of the global aquaponics market.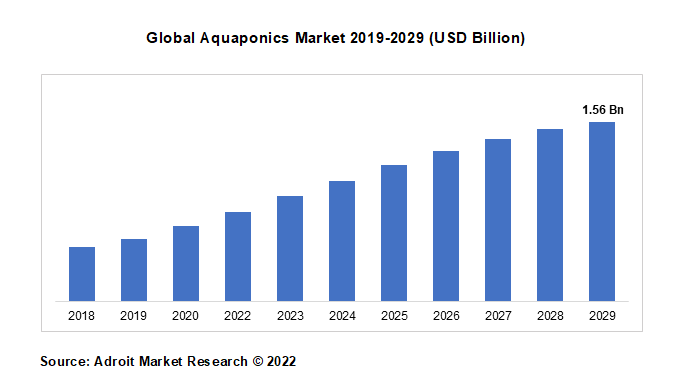 The key global aquaponics market players include The Aquaponic Source, Nelson & Pade Aquaponics, Hapa Farms, Greenlife Aquaponics, Red Ewald Inc, Urban Farms AG, Colorado Aquaponics, and Backyard Aquaponics Limited among others.
Major Developments in The Global Aquaponics Market: A Snapshot
Les Nouvelles Fermes, a French indoor farming enterprise, intends to construct Europe's largest aquaponic farm.
Aquaponics Market Scope
| | |
| --- | --- |
| Metrics | Details |
| Base Year | 2020 |
| Historic Data | 2018-2019 |
| Forecast Period | 2021-2028 |
| Study Period | 2018-2028 |
| Forecast Unit | Value (USD) |
| Revenue forecast in 2028 | USD 1.57 billion |
| Growth Rate | CAGR of 12.3 % during 2021-2028 |
| Segment Covered | Type, Application, Grades, Regions |
| Regions Covered | North America, Europe, Asia Pacific, Middle East and Africa, South America |
| Key Players Profiled | The Aquaponic Source, Nelson & Pade Aquaponics, Hapa Farms, Greenlife Aquaponics, Red Ewald Inc, Urban Farms AG, Colorado Aquaponics, and Backyard Aquaponics Limited among others. |
Key Segments of the Global Aquaponics Market
Type Overview, 2019-2029 (USD Billion)
Semi-Fluid
Powder
Paste
Block Form
Others
Application Overview, 2019-2029 (USD Billion)
Household Food
Pharmaceutical
Commercial
Others
Grades Overview, 2019-2029 (USD Billion)
Food Grade
Healthcare Grade
Feed Grade
Others
Regional Overview, 2019-2029 (USD Billion)
North America
Europe
Germany
France
UK
Rest of Europe
Asia Pacific
China
India
Japan
Rest of Asia Pacific
South America
Mexico
Brazil
Rest of South America
Middle East and South Africa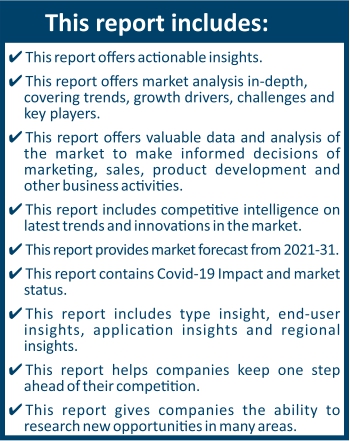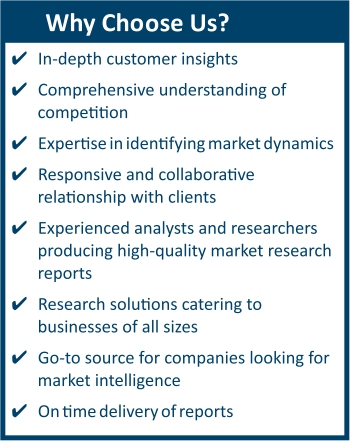 Frequently Asked Questions (FAQ) :
The market value of aquaponics market in 2029 was USD 1.57 billion.
The aquaponics market is growing at a CAGR of 12.3% over the forecast period.
The application of the aquaponics market household food, pharmaceutical, commercial and other.
North America dominated the market for aquaponics market and accounted for the largest revenue share.
The top companies that hold the market share in aquaponics market are Nelson & Pade Aquaponics, Hapa Farms, Greenlife Aquaponics, Red Ewald Inc, Urban Farms AG, Colorado Aquaponics, and Backyard Aquaponics Limited & among others.