With the current geopolitical tensions between nations, there is increased adoption of anti-drone technology on global levels. Safety and security are two top parameters pushing governments, industries, and defense to invest more in advanced anti-drone technology. worldwide deployment of anti-drone systems and technology by both industry and governmental groups to counter illegal activities and national threats are fuelling further growth in the anti-drone industry.
The need for anti-drone technology can be seen in the rising incidence of public violations and illegal border activities. Anti-drone systems facilitate the identification, monitoring, and destruction of unauthorized drones. Global dangers to national security have escalated as a result of the rising usage of these unlawful flying test devices in backyards and through windows. Numerous sensors in these aircraft systems can record audio and video at any time and location. Manufacturers are working harder to limit the use of drones by using anti-drone technology.
The rising popularity of inexpensive, small drones is the main factor driving the demand for anti-drone technologies. The need for anti-drone solutions is being further fuelled by incidents of security breaches by unidentified drones and the usage of drones by terrorist organizations. In addition to the defense industry, homeland security and law enforcement organizations are also purchasing counter-drone devices to prevent unidentifiable drones from infiltrating critical infrastructures.
Anti-drone Technology is a system that can be customized, depending on the demands and objectives of the customer, to include various pieces of equipment and solutions. It is used to stop security breaches in homes, jails, businesses, public spaces, government structures, workplaces, industrial facilities, airports, border security, critical infrastructure, and military sites. Additionally, it assists users in being warned of dubious conduct by third parties and in blocking additional login attempts. To obtain a competitive advantage in the current market environment, players active in the anti-drone market are progressively concentrating on improving the precision, distance, size, and various other functional and structural features of their solutions. A number of market participants are spending a significant amount of money testing several prototypes and enhancing the design features of their anti-drone systems.
During the forecast period, the anti-drone technology market is anticipated to be driven by factors like the surge in unlicensed drone security breaches is projected to have an effect on the development of the anti-drone market. As a result, governments are increasingly using these solutions to spot security breaches and illegal activity. The growing use of anti-drone systems and technologies, as well as the growing use of drones for terrorist activity and other illegal operations globally, are both expected to drive the growth of the anti-drone industry. In addition, the growing government expenditure on the expansion of the aerospace and defense infrastructure has increased concern about the potential security risk of drones.
The Anti-Drone detection technology market is projected to grow over 5 billion at a CAGR of over 20% through the forecast span of 2031.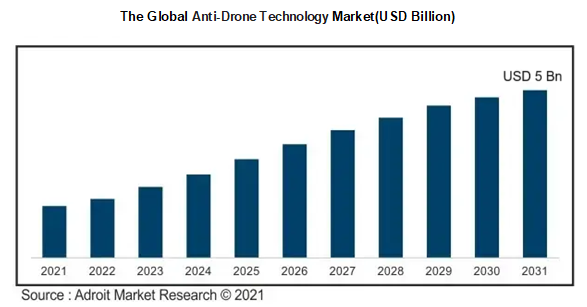 However, Counter-drone systems present a unique set of efficiency, feasibility, legality, and policy challenges. Particularly around airports, the use of anti-drone jamming or uncontrolled UAS detection and countermeasure deployments may cause electromagnetic and radio frequency (RF) interference, which may compromise flight safety and cause problems with air traffic control.
These issues also pave way for opportunities like the adoption of emerging technologies like adaptable and scalable anti-drone systems. Increased private Investment and rising demand for anti-drone systems in military and defense applications are advancing drone technology to develop more compact drones. Additionally, the market will grow as a result of increased geopolitical tensions across nations.
Covid-19 Impact & Market Status
The market has suffered due to the COVID-19 outbreak and spread. The size of the anti-drone market has significantly decreased when taking into account the contributions coming from various industries from distinct categories of providers of the anti-drone value chain, end-users, and distributors. Additionally, limited acquisitions of anti-drone systems from places including Europe, the Mideast, and African regions have been made on the market as a result of COVID-19. The market for drone systems and technology is anticipated to grow post-pandemic with governments increasingly rushing towards securing their regions from illegal threats.
Segment Analysis
Destructive system segment to take the lead
The market's growth is anticipated to be led by the destructive system segment, owing to a substantial budget allocation to the laser system, over the projection period. The destructive system is further broken down into a laser system, electronic countermeasures, and missile effectors. These devices dismantle crucial drone airframe components, causing the drone to fall to the ground. Some low-power lasers are also designed to disable electro-optical sensors that are present in the target region, which will prevent UAV operation.
Detection and Disruption category to hold the largest market share
In 2021, the detection and disruption category captured the highest market share. UAV identification, classification, and detection are the main purposes of the detection and disruption defence mechanism. The UAVs can go through deactivation after identification, categorization, and detection to stop unlawful drones. The first stage in thwarting a potential attack is to outfit monitoring equipment that can not only tell drones apart from other airborne objects, such as airplanes and birds but also identify the type and model of drone in order to warn security and launch defences. The detection systems employ a wide range of methods to find and identify drones, such as radar reflections, the appearance of given photons and their magnetic field, as well as auditory and electromagnetic emissions. These initiatives are a reflection of the rising need brought on by the global rise in security breaches which will further propel the market growth of such devices.
Defence and Military Segment to drive the market.
One of the main factors driving up demand for anti-drone equipment that serves to secure the area by limiting the entry of unauthorized drones is the fast-rising number of terrorists and illicit activities around the world. As a result, more companies are rushing to manufacture more advanced tools to counter this threat. Leading defence companies' rising R&D expenses and the increased deployment of anti-drone systems by various military forces to defend the invaders are the reasons expected to have a substantial impact on the development of the military and defence sector.
Asia Pacific to expect dramatic growth
Asia Pacific and Europe are predicted to have major growth potential owing to the increasing use of inexpensive drones for commercial and military uses as well as the region's increased adoption of drone technology, The market may see opportunities for growth as a result of the growing use of cutting-edge technologies like artificial intelligence and machine learning, as well as the increased focus of regulators and the government on the adoption of strong anti-drone technology and solutions to prevent potential harms from carelessness and misuse.
Additionally, North America is anticipated to be one of the crucial markets for this technology owing to the existence of major anti-drone technology providers in the countries of this region and rising instances of security and safety risks from unidentified drones.
The major players of the Anti-Drone technology are Aerospace companies from Israel, The Lockheed Martin Company, Raytheon Technologies Corporation, Thales Group, QinetiQ Group PLC, Blighter Surveillance Ltd, De tect Inc, Dedrone, Airbus Group SE, Boeing, Northrop Grumman, Drone shield LLC, Liteye systems. Saab AB, Theiss UAV solutions, and SRC Inc among others. The Anti drone technology market is a fast-growing industry due to the growing adoption of technologically advanced systems by the military which can detect drones across a wide range, and prevent and destroy unauthorized drones ensuring safety and security. Additionally, the market for anti-drone products is benefiting from rising demand from the commercial sector as well where private, licensed companies offer speedy package deliveries.
Latest Innovations in the Anti-Drone Technology Market: a Snapshot
• August 2021: At the IDEF 2021, the Turkish company Meteksan Defence unveiled an updated version of their Kapan counter-drone system.
• August 2021 – In order to receive the D4 system (D4S), the first domestic anti-drone system created by the Defence Research and Development Organization, the Indian Armed Forces inked a contract with Bharat Electronics Limited (BEL) (DRDO).
• October 2021: The US Department of Homeland Security purchased several of Drone Sentry-X systems from Drone Shield Ltd, which can offer Counter-UAS (C-UAS) capabilities while in motion.
• May 2022: Drone Shield, announced the deployment of its Drone Sentry solution for coverage of the 2022 IRONMAN Texas triathlon, which will take place in April of that year.
• February 2022: Artillery Systems team of UK MOD rded a contract to SRC Inc.
Anti-Drone Technology Market Scope
| | |
| --- | --- |
| Metrics | Details |
| Base Year | 2022 |
| Historic Data | 2021-2022 |
| Forecast Period | 2022-2031 |
| Study Period | 2021-2031 |
| Forecast Unit | Value (USD) |
| Revenue forecast in 2031 | USD 5 billion |
| Growth Rate | CAGR of 20 % during 2021-2031 |
| Segment Covered | by Type, By Defence Type, by Technology, By End User, Regions |
| Regions Covered | North America, Europe, Asia Pacific, Middle East and Africa, South America |
| Key Players Profiled | The Lockheed Martin Company, Raytheon Technologies Corporation, Thales Group, QinetiQ Group PLC, Blighter Surveillance Ltd, De tect Inc, Dedrone, Airbus Group SE, Boeing, Northrop Grumman, Drone shield LLC, Liteye systems. Saab AB, Theiss UAV solutions, and SRC Inc among others |
Key Segments of the Global Anti-Drone Technology Market
Type Overview (USD Billion)
• Non-destructive System
• Destructive System
Defense Type Overview (USD Billion)
• Drone Detection System
• Drone Detection and Disruption System
Technology Overview (USD Billion)
• Electronic System
• Laser System
• Kinetic System
End-User Overview (USD Billion)
• Government
• Commercial
• Military and Defence
Regional Overview (USD Billion)
North America
• U.S
• Canada
Europe
• Germany
• France
• UK
• Rest of Europe
Asia Pacific
• China
• India
• Japan
• Rest of Asia Pacific
South America
• Mexico
• Brazil
• Rest of South America
Middle East and South Africa
• UAE
• South Africa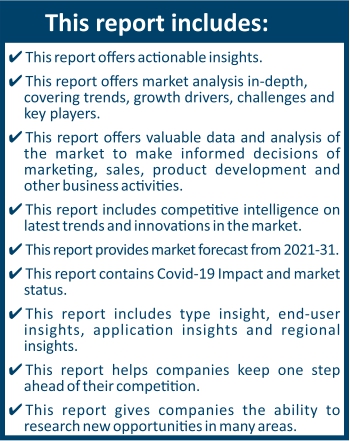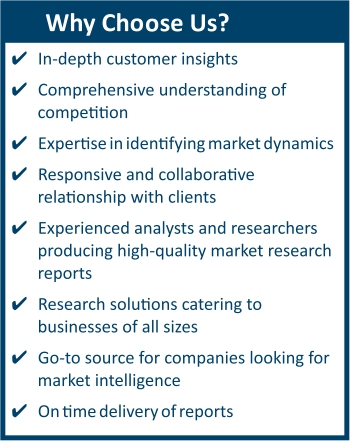 Frequently Asked Questions (FAQ) :
Anti-Drone Technology Market is projected to reach USD 5 billion by 2021-2031, growing at a CAGR of 20 %
The Anti-Drone Technology market is growing at a CAGR of 20 % during the projection period
The key market players listed in the Anti-Drone Technology report are The Lockheed Martin Company, Raytheon Technologies Corporation, Thales Group, QinetiQ Group PLC, Blighter Surveillance Ltd, De tect Inc, Dedrone, Airbus Group SE, Boeing, Northrop Grumman, Drone shield LLC, Liteye systems. Saab AB, Theiss UAV solutions, and SRC Inc among others