The aluminum coils market is enhanced by the increasing demand for these coils in various industries like the automotive industry, the construction industry etc
The global Aluminum Coils market is expected to develop USD 119,868.09 million by 2028, at a compound annual increase in price (CAGR) of 1.76% throughout the forecast period.
Covid-19 Impact & Market Status
Due to travel prohibitions and business closures, the COVID-19 has had a negative impact on economies and businesses in a number of countries. The closure of various plants and factories has had a severe influence on global supply chains, negatively affecting manufacturing, delivery schedules, and product sales in the worldwide market. Most sectors, with the exception of medical supplies and life support items, had been severely hit, and aluminum coils market had also been severely impacted and the growth of the market was hampered due to the reduced demand for aluminum coils during this period as everything came to a standstill.
1000 series in High Demand
There are several different types of aluminum coils series form 1000 series to the 9000 series available in the market. Each series has some specific properties and are used for several different purposes in various industries. The 1000 series has currently earned the highest revenue share in the market and is predicted to continue during the analysis period due to low cost and simple production process. It also consists of the most aluminum content among all the series and is used in most of the industries.
Food and Beverages Industry to earn Highest Revenue
The food and beverage industry consumed the most plates and sheet coils globally and controlled the market. Food and beverage packaging uses aluminum coils because they retain food over extended periods of time and allow for easy labelling. They are also used to effectively package food to protect it from germs and keep it from rotting quickly. The increasing reliance on ready-to-eat meals and beverages will be a major driver of demand for aluminium coils.
Asia-Pacific expected to Dominate
The market for aluminium plates and sheet coils in Asia-Pacific is the largest and fastest growing in the world. Due to its production and consumption capacity, China is the largest contributor to the market. In addition, numerous established car manufacturers are establishing manufacturing facilities in the region, boosting demand for aluminium sheet coils in the region.
North America also earns a significant revenue share in the alternative fuel market, and it is predicted to rise rapidly during the analysis period due to strong demand for these coils in food industry. Most food shops are using these coils for packaging food items in these regions.
They are also being used increasingly in the food industry for packaging food items which is propelling the market forward.
Aluminum sheet coils are created by pressing aluminium between rolls to make it longer and thinner in the direction of movement. It is utilised in truck bodywork in the automotive industry and for insulation in the construction and building industries. Aluminum sheet coils are available in a number of different alloys. Aluminum coils are widely used in the automotive industry, construction industry, aerospace industry, and power generation industry because they are non-corrosive, heat resistant, and have good thermal conductivity.
The aluminium coils market is predicted to grow form USD 98823.65 million to about USD 121977.76 million by 2029 at a Compound Annual Growth Rate (CAGR) of 1.76 percent during the forecast period 2022-2029.
A major factor driving the aluminum coils market is the evident shift toward lighter vehicles, particularly the increased use of flat aluminium goods in vehicles due to the light weight and corrosion resistant properties of aluminum. Aluminium plates and sheet coils are also used extensively in the construction industry, as they give maximum energy efficiency while also being easily recyclable.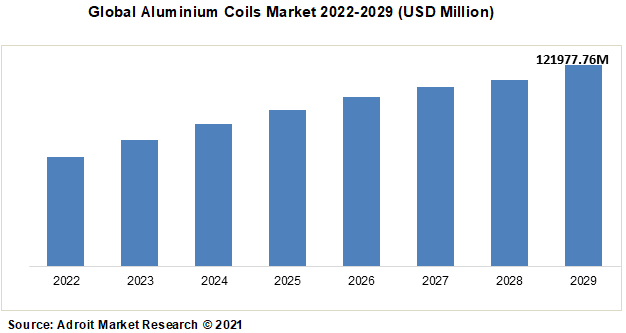 The market has intense competition due to the high demand and consists of several big corporations Aleris, Alcoa, Hindalco-Novelis, Constellium, Norsk Hydro etc.
Latest Innovations in the Aluminum Coils Market: A Snapshot
In January 2021, Alcoa and CPI suggested that they would work even harder to develop renewable energy projects including wind and solar, as well as cutting-edge aluminium smelting plants. Both companies also collaborated on the creation of high-end aluminium industrial parks.
Aluminum Coils Market Scope
| | |
| --- | --- |
| Metrics | Details |
| Base Year | 2020 |
| Historic Data | 2018-2019 |
| Forecast Period | 2021-2028 |
| Study Period | 2018-2028 |
| Forecast Unit | Value (USD) |
| Revenue forecast in 2028 | USD 121977.76 million |
| Growth Rate | CAGR of 1.76% during 2021-2028 |
| Segment Covered | Type, End User , Regions |
| Regions Covered | North America, Europe, Asia Pacific, South America, Middle East and South Africa |
| Key Players Profiled | Alcoa, Hindalco-Novelis, Constellium, Norsk Hydro etc. |
Key Segments of the Aluminium Coils Market
Type Overview, 2022-2029 (USD Million)
1000 series
2000 series
3000 series
4000 series
5000 series
6000 series
7000 series
8000 series
9000 series
End User Overview, 2022-2029 (USD Million)
Food and Beverages
Building and Construction
Automobiles and Transportation
Aerospace and Defence
Industrial and General Engineering
Others
Regional Overview, 2022-2029 (USD Million)
North America
Europe
Germany
France
UK
Rest of Europe
Asia Pacific
China
India
Japan
Rest of Asia Pacific
South America
Mexico
Brazil
Rest of South America
Middle East and South Africa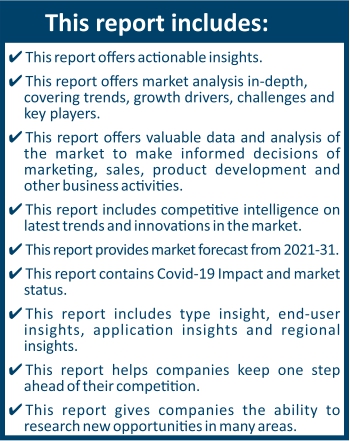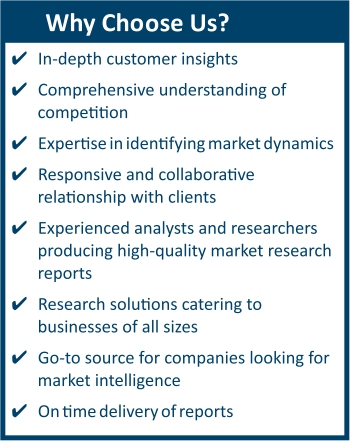 Frequently Asked Questions (FAQ) :
The market value of aluminum coils market in 2029 was USD 121977.76 million.
The aluminum coils market is growing at a CAGR of 1.76% over the forecast period.
Asia Pacific dominated the market for aluminum coils market and accounted for the largest revenue share.
The top companies that hold the market share in aluminum coils market are Alcoa, Hindalco-Novelis, Constellium, Norsk Hydro etc.
To get latest version of aluminum coils market report can be obtained on demand from the website.