The global Aluminum Ammonium Sulfate market is projected to reach US $ 5.9 Bn by 2031, growing at a CAGR of 5 %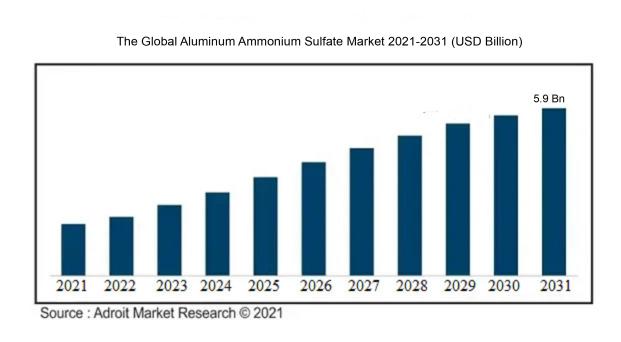 Ammonium sulfate is an inorganic salt which is naturally found in volcanic fumaroles in the form of mascagnite. The production process is a treatment of ammonia, which is a residual from coke ovens and sulfuric acid. Ammonium sulfate is also formed by gypsum post a treatment with ammonium carbonate solution. Ammonium sulfate has high sulfur content making it easy to absorb by plants and compatible with alkaline soils. Aluminum ammonium sulfate is also commonly known as ammonium alum or ammonia alum.
Aluminum ammonium sulfate in nature is a white crystalline double and it comprises of aluminum hydroxide, sulfuric acid and ammonium sulfate. It is low-cost and non-toxic and has found used in many applications. It is widely used in for water purification, deodorants, dyeing, vegetable glues, tanning, and porcelain cement and is a common element in animal repellant spray.
Aluminum ammonium sulfate Market is huge owing to its use in various applications like fertilizers, purifying protein, flame retardants, food additives, and for the creating ammonium salts such as ammonium persulfate. Ammonium sulfate is one of the most widely used nitrogen fertilizers for crop production. Ammonium alum market is also present in pharmaceuticals, chemicals and cattle feed supplements.
The Aluminum ammonium sulfate Market is depended on various factors such as the fertilizer industry and the strict environmental regulations associated to it. Furthermore, ammonium sulfate is produced as a by-product hence the availability is dependent on industrial output rather than demand of fertilizers. Aluminum ammonium sulfate Market size depends on the market developments in caprolactum market, as it is a by-product of caprolactum. Recent growth of caprolactum in Asia Pacific has led to higher availability of Aluminum ammonium sulfate leading to growth of business opportunities in the coming years. Aluminum ammonium sulfate market size is predicted to grow in the regions where there is deficiency of sulfur soils like North America.
Ammonium Ammonium Sulfate Market also finds its presence in medical industry. It is used in many vaccines like hepatitis A, Diphtheria-tetanus-cellular Pertussis and many more. It acts as a booster to the immune system and helps create more antibiotics to avoid diseases. However, the limiting factor is the negative impacts of aluminum ammonium sulfate that may cause irritation in the eyes and lungs. Also there are numerous substitutes like soda alum, chrome alum, potassium alum, and many more available in the market.
The global aluminum ammonium sulfate market segmentation is done by application and form. With respect to applications it is segmented as Food & Beverages, Fertilizers, Detergents, Metal Finishing, Water Treatment and personal care. On the base of product form it can be segmented as Powder, Granules and Liquid. Geographically it can be divided into Latin America, North America, Western Europe, Japan, Eastern Europe, Middle East & Africa (MEA), Asia-Pacific excluding Japan (APEJ).
Some of key players in Ammonium alum market are BASF SE, Honeywell, Domo Chemicals, Amresco Inc and many others.
Segments:
The various segments of aluminum ammonium sulfate Market are,
Applications:
Food & Beverages
Fertilizers
Detergents
Metal Finishing
Water Treatment
Personal Care
By Product form:
By Region:
North America
Latin America

Brazil
Mexico
Rest of Latin America

Europe

Western Europe

Germany
France
U.K
Italy
Spain
Nordics
Benelux
Rest of the Western Europe

Eastern Europe

Poland
Russia
Rest of the Eastern Europe

Asia Pacific excluding Japan (APEJ)

China
India
ASEAN
Australia and New Zealand (ANZ)
Rest of APEJ

Japan
The Middle East and Africa

GCC Countries
North Africa
South Africa
Rest of MEA
Frequently Asked Questions (FAQ) :
The application of the aluminum ammonium sulfate market Food & Beverages, Fertilizers, Detergents, Metal Finishing, Water Treatment, personal care and other.
BASF SE, Honeywell, Domo Chemicals, Amresco Inc are a few major players in aluminum ammonium sulfate market.
The base year for the report is 2018 in aluminum ammonium sulfate market.