New technological virtual tools such as SaaS-based property management solutions, robots, and drones integration to fortify growth in the global Adventure Tourism Market
Covid-19 Impact
The pandemic last year wreaked havoc on the worldwide tourism business. Billions of dollars were lost in revenue, and hundreds of tourism-related companies were forced to close their doors as a result. The market is only just recovering as travel restrictions ease, and people grow less afraid of contracting Covid due to immunizations.
COVID 19, like other sectors, has taken a toll on the Alternative Tourism business, with a more than 28 percent decrease in sales in 2020 compared to 2019.
Tourism suffered greatly as a result of the COVID-19 tragedy in 2020. It severely hampered the expansion of the tourism business. The sector saw a rapid drop in overseas visitors, mobility constraints, and ened health and safety concerns. Together with the country's travel industry, the aviation sector sustained the most damage. Passenger numbers dropped by 95 percent due to volatile border closing and a sharp decline in demand. The hospitality business saw a similar drop in income due to the epidemic. All of this has significantly slowed the expansion of the tourist business, resulting in a significant decline in revenue.
Based on Type
Adventure tourism is expected to experience significant growth for the duration of the forecasted period. The existence of appealing scenery and the availability of a wide range of activities in the country's many towns may be linked to the expansion of the adventure tourism business. Furthermore, intelligent marketing measures are undertaken by industry participants, and a rise in government programmes to encourage tourism drives the worldwide business. Improved social media networking activities, growing popularity of travel blogging and vlogginbg are creating novel growth opportunities for alternative tourism.
Based on Application
In 2020, the 30-41-year-old age group was the most prominent. The development in this sector may be ascribed to the fact that people in this age group are financially secure and have the energy and health to participate in various adventures.
Based on Region
Europe claimed the largest revenue slice in the historical years, before the sudden pandemic. However, in recent years, Asia-Pacific is predicted to increase significantly, with the most significant growth rate during the projection period. Growth in these regions are attributed to the region's improved business climate.
To counter the effects of overtourism, significant investments are stoking mainstream adoption of alternative tourism
Alternative tourism emerged in the late 1970s, as mass tourism reached a tipping point; in reality, it is a reaction to the effects of mass tourism and a need for adventure. Alternative tourism comprises various activities that comply with the values of local populations and experiences. It often entails coexisting with others, traveling at little cost, performing modest artisan work, and shopping at traditional businesses. Alternative tourism has gained large scale adoption to improve economic development across various regional hubs. The confluence of local cultures and beliefs with the novel practices of modern world tourists have catapulted unique tourist experiences, besides sustaining the virtues of ecotourism. These developments are furthering growth in teh global alternative tourism market.
In contrast, tourism has developed some locations. Visitors have selected it to have more potential, such as the Mediterranean coast, Macaronesia, the Caribbean, and southeast Asian regions, where some travelers have settled and even own enterprises. The basic concept of alternative tourism is that tourists get an authentic experience of local culture, people, nature, or mix. Alternative tourism is practiced in locations with a low population density. Alternative tourism is also known by various popular names such as volunteer tourism, natural tourism, responsible tourism, adventure tourism, ecotourism, and ethnic tourism among others.
The market size for alternative tourism is predicted to increase from USD 98 BN in 2022 to nearly USD 113 BN by 2032, with a CAGR of 3% over the 2022–2032 study period.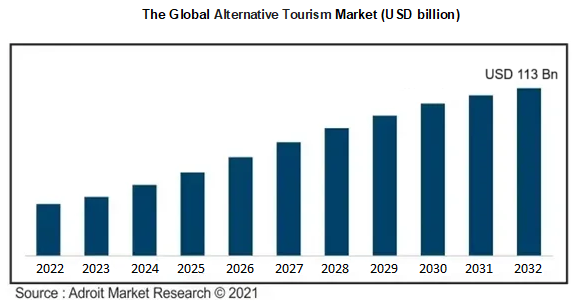 Alternative tourism is intimately linked to the new sustainable development paradigm, widely recognized by NGOs and governments alike. The addition of government funding propels this notion to new s. The popularity of this style of tourism is primarily due to increased knowledge among travelers or tourists, who recognize the need to explore and acquire experience in a variety of settings and appreciate the scenic beauty, learn customs, and discover diverse cultures. Because of the introduction of alternative tourism, ecotourism has acquired significant exposure. Slow but possible economic benefits, environmental safety, rural development, preserving old traditions and customs, exploring various architectural remains of historical significance, involving localities in project development, and so on are essential characteristics of alternative tourism. These factors all contribute to the expansion of the alternative tourism sector.
Latest Innovations: a Snapshot
In India, Wildlife Circuit and Eco Circuit comprise the thematic circuits which have been designed under the protocols of Swadesh Darshan. Ministry of Tourism, India has announced the release of the Draft National Strategy to encourage alternative tourism.
To offset the challenges of Covid-19 on the hospitality and tourism sector, The World Tourism Organization has facilitated an agreement with MUST Travel and Tech to integrate digital tools adoption in tourism for advanced alternative tourism developments.
Alternative Tourism Market Scope
| | |
| --- | --- |
| Metrics | Details |
| Base Year | 2022 |
| Historic Data | 2022-2023 |
| Forecast Period | 2022-2032 |
| Study Period | 2022-2032 |
| Forecast Unit | Value (USD) |
| Revenue forecast in 2032 | USD 113 BN |
| Growth Rate | CAGR of 3 % during 2022-2032 |
| Segment Covered | Type, Application, Regions |
| Regions Covered | North America, Europe, Asia Pacific, South America, Middle East and South Africa |
| Key Players Profiled | Adventure Alternative, Meli Tours, G Adventure, Amphitryon Group, The Travel Company. |
Key Segments of the Global Microgreens Market
Type Overview, (USD Billion)
Eco/Sustainable Tourism
Cultural Heritage Tourism
Adventure Tourism
Application Overview, (USD Billion)
Below 20 Years
20-30 Years
30-40 Years
40-50 Years
Above 50 Years
Regional Overview,(USD Billion)
North America
Europe
Germany
France
UK
Rest of Europe
Asia Pacific
China
India
Japan
Rest of Asia Pacific
South America
Mexico
Brazil
Rest of South America
Middle East and South Africa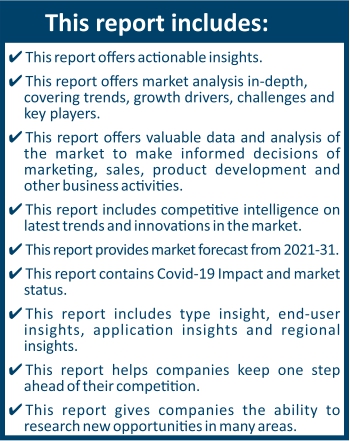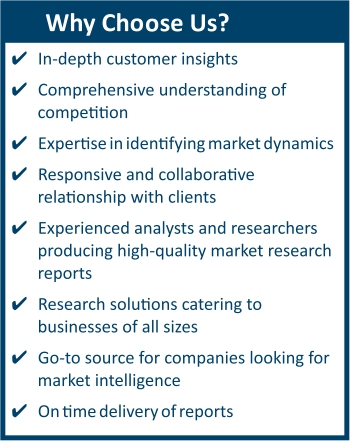 Frequently Asked Questions (FAQ) :
The market value of alternative tourism market in 2028 was USD 402.76 billion.
The alternative tourism market is growing at a CAGR of 16.28% over the forecast period.
The application of the alternative tourism market below 20 years, 20-30 years, 30-40 years, 40-50 years, above 50 years and Other.
Europe dominated the market for alternative tourism market and accounted for the largest revenue share.
The top companies that hold the market share in alternative tourism market are Adventure Alternative, Meli Tours, G Adventure, Amphitryon Group, The Travel Company.