Gene repair therapy is one of the most researched areas to improve alpha-1 antitrypsin deficiency. Novel diagnostic and therapeutic approaches are expected to keep the alpha-1 antitrypsin deficiency treatment market growth proficient
Covid-19 Impact & Market Status
Covid-19 has wreaked havoc on the world economy and supply chain. The majority of markets have been severely impacted, and overall economies have suffered. The changing dynamics owing to the sudden outrage of the Covid-19 pandemic is allowing players to re-evaluate their trusted growth strategies and alter them effectively to suit the current concerns and problem resolving initiatives. Major gaps in supply chain and unforeseen changes are likely to dent growth briefly. However, with the advent of healthcare industry and progress in vaccination drives globally, are poised to ensure the necessary respite from the major growth dip in the global the Alpha 1 Antitrypsin Deficiency Treatment Market Countries are directing their budgets toward healthcare and economic security.
Analysis on the basis of Type
Augmentation Therapy:
Augmentation therapy is a type of treatment that is used to raise alpha-antitrypsin levels in persons who have Alpha-one antitrypsin insufficiency. Human alpha-antitrypsin protein is infused into the patient's veins as part of the treatment. This aids in the replacement of the missing or inadequate enzyme and the prevention of tissue and organ damage.
Bronchodilators:
Asthma conditions and conditions of COPD (chronic obstructive pulmonary diseases) have been long addressed and managed by bronchodilators. Also, other lung conditions are also treated by bronchodilators administration. Bronchodilators can be taken as a tablet or liquid drug, an inhaled powder or spray, an injection or infusion into the veins (intravenously), or a nebulizer solution inhaled via the mouth.
Corticosteroids:
Corticosteroids are steroid medicines that help to relieve inflammation. They accomplish this by reducing immune system activity, which decreases the inflammatory response to damage or irritation in the body's tissues. Various health conditions such as asthma, arthritis, allergies and rashes have been proven to be cured by corticosteroids. Some over-the-counter (OTC) drugs, such as antihistamines and decongestants, also include corticosteroids.
Oxygen Therapy:
Oxygen Therapy is a therapy procedure that involves increasing the quantity of oxygen in the blood by the use of oxygen. People with low oxygen levels or poor tissue perfusion, commonly known as hypoxemia and/or hypotension, may be prescribed it. Oxygen treatment can help patients breathe faster by allowing them to take deeper breaths, which allows their bodies to acquire more energy from each breath they take.
Analysis on the basis of Application
Hospitals:
Treatment for Alpha-1 antitrypsin deficiency is quite common in hospitals. The treatment aids in improving lung function and preventing additional lung damage. Hospitals are also big users of alpha-1 antitrypsin augmentation therapy and other items for Alpha-1 antitrypsin deficient treatment. Because of the increased demand from patients, a lot of hospital pharmacies are stocking up on alpha-one antitrypsin medications.
Specialty Clinics:
The use of Alpha-1 antitrypsin augmentation treatment can assist people with AATD and enhance their quality of life. AATD (Alpha-one antitrypsin deficiency) is essentially a genetic glitch and is recognized by various symptoms such as low levels of protein alpha-one antitrypsin, often resulting in liver malfunctions and emphysema.
Pharmacies:
The availability of oral drugs and self-administration alternatives has increased the usage of alpha-one antitrypsin deficient therapy in pharmacies. Patients will have easier access to these medicines as they become more inexpensive. In addition, as knowledge of the problem has grown in recent years, more people have sought treatment for their condition.
Analysis on the basis of Region
The market for Alpha-One antitrypsin deficiency therapy in North America is expected to rise. The rising frequency of alpha-one antitrypsin insufficiency, more awareness of the condition, and increased desire for innovative therapeutics are all contributing to the market's rise. During the projected period, the augmentation therapy segment is likely to dominate the North American Alpha-One antitrypsin deficiency treatment market. This is owing to the increased incidence of adoption of augmentation medications, which are successful in treating alpha-1 antitrypsin insufficiency. Latin America is an interesting market for pharmaceutical firms to develop remedies because of the high frequency of alpha-one antitrypsin insufficiency. Augmentation therapy, which includes infusing pure human alpha-one antitrypsin into the patient's vein, is the most prevalent method of treatment for alpha-one antitrypsin insufficiency. This treatment is used to replenish the missing protein and protect the body from its negative consequences. Treatments for alpha-one antitrypsin deficiency include bronchodilators, corticosteroids, and oxygen treatment.
The worldwide alpha-1 antitrypsin deficiency (AATD) treatment market is expected to topple over USD 4.12 billion by the end of the forecast period.
High costs and adverse effects connected with treatment alternatives are limiting the market's growth; nevertheless, demand for more effective therapies and more awareness among patients regarding AATD will propel it forward in the next years.
Alpha1-antitrypsin deficiency (AATD) is a hereditary disorder marked by a low or fluctuating quantity of alpha-1 protein produced by the liver. The disease mostly affects the lungs and liver, and it is frequently undetected. The most specific treatment for AATD is augmentation therapy, which consists of several preparations produced from pooled human plasma.
Gaps in development initiatives, deficient funding, slow progress in R&D, as well as high pricing brackets to remain substantial growth inhibitors in the coming years. Market participants in the global Alpha1-antitrypsin deficiency treatment market are striving to introduce corrective measures.
According to Kamada Ltd, a leading developer of augmentation treatment drugs for AATD, about 100,000 persons in the United States suffer with the disease. Improved diagnostic approaches and soaring instances of AATD are likely to remain crucial growth determinants for the global alpha-1 antitrypsin deficiency treatment market throughout the projection timeline.
Furthermore, the alpha-1 antitrypsin deficiency (AATD) augmentation treatment market is growing at a phenomenal rate because to the effective distribution network of top augmentation therapy medication producers.
Respiratory disorders are becoming more common over the world. This is mostly attributable to an older population and increased cigarette smoke exposure. The increased frequency of respiratory disorders is projected to fuel the expansion of this market, since COPD is one of the key indications for adopting alpha-one antitrypsin augmentation treatment. Patients with alpha-one antitrypsin deficiency (AATD) get augmentation treatment in the form of intravenous replacement protein infusions. However, because this treatment is only for patients who have acute exacerbations or respiratory insufficiency as a result of AATD, new and improved treatment alternatives that may be utilised at any stage of the illness are projected to drive market expansion.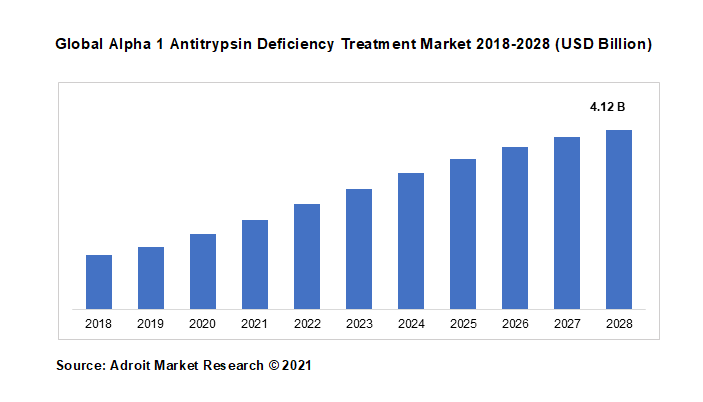 Latest Innovations: Alpha 1 Antitrypsin Deficiency Treatment Market
In early 2022, Inhibrx has received the USFDA nod for orphan-drug designation for its drug candidate INBRX-101 to treat AATD.
Alpha 1 Antitrypsin Deficiency Treatment Market Scope
| | |
| --- | --- |
| Metrics | Details |
| Base Year | 2020 |
| Historic Data | 2018-2019 |
| Forecast Period | 2021-2028 |
| Study Period | 2018-2028 |
| Forecast Unit | Value (USD) |
| Revenue forecast in 2028 | USD 4.12 billion |
| Segment Covered | Type, Application, Regions |
| Regions Covered | North America, Europe, Asia Pacific, Middle East and Africa, South America |
| Key Players Profiled | Pfizer, Baxter, AstraZeneca, Grifols, Teva Pharmaceutical Industries. |
Key Segments of the Alpha 1 Antitrypsin Deficiency Treatment Market
Type Overview, 2019-2029 (USD Billion)
Augmentation Therapy
Bronchodilators
Corticosteroids
Oxygen Therapy
Application Overview, 2019-2029 (USD Billion)
Hospitals
Speciality Clinics
Pharmacies
Regional Overview, 2019-2029 (USD Billion)
North America
Europe
Germany
France
UK
Rest of Europe
Asia Pacific
China
India
Japan
Rest of Asia Pacific
South America
Mexico
Brazil
Rest of South America
Middle East and South Africa
Frequently Asked Questions (FAQ) :
The market value of alpha 1 antitrypsin deficiency treatment market in 2029 was USD 4.12 billion.
The application of the alpha 1 antitrypsin deficiency treatment market hospitals, speciality clinics, pharmacies and Other.
North America dominated the market for alpha 1 antitrypsin deficiency treatment market and accounted for the largest revenue share.
The top companies that hold the market share in alpha 1 antitrypsin deficiency treatment market are Pfizer, Baxter, AstraZeneca, Grifols, Teva Pharmaceutical Industries.
The base year for the report is 2021 in alpha 1 antitrypsin deficiency treatment market.