The global Alginate market size is expected to reach close to USD 1,195 million by 2029 with an annualized growth rate of 5.02% through the projected period.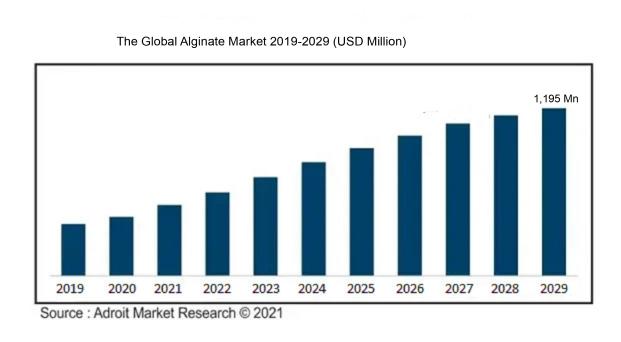 Alginates are kind of hydrocolloids that are extracted from brown seaweed. Seaweeds are classified in green, brown and red based upon its pigmentation. Alginic acid is a hydrophilic colloidal polysaccharide from the brown seaweed and is also known as alignate. Alginate is popular as a thickening and gelling agent. It is used in textile, food, dyeing, and pharmecituals and in cosmetic industry. Also it is used as a binder for welding rods and in producing animal feed.
Corporations innovate latest products to attract buyers and increase profitability. Considerable investments by alginate manufacturing companies and national governments to help facilitate the growing of seaweed processing are likely to help the industry growth. The growing market demand for seaweed for processing other products like carrageenan gum, might cause scarcity in the raw material source. The number of suppliers of seaweed is high hence the profit margin is low and resultant market competition is high. Apart from the cost the harmful side effects caused by the use of alginate, also might hamper the market growth.
Food and beverage industry is the major contributor in the Alginic acid market. This is mainly due to the permits being given by regulatory agencies including FDA and European Commission to it. Furthermore, recent years have seen an increase in domestic consumption and increased demand in convenience foods, and the growth in consumption of exotic foods. Alignate is used in pharmaceutical industry for manufacturing controlled drugs owing to its great product features. The alginate market size has a considerable share of bakery and confectionaries. Here alginate is used in emulsifiers in peanut butter, salad dressings, chocolates and frozen desserts.
With respect to textile and paper industry alginic acid is used as in the dying and printing process and furthermore control the viscosity of the final product. In the Pharmaceutical sector alginate is also used to produce tablets, liquid medicine and dental treatments.
Different product types of Alginate are majorly due to the raw materials used during formation. Global Alginate Market comprises of all three types of blocks including MM, MG and GG. The gel formation characteristics are due to the molecular appearance and structure. Alginates with large number M groups and possess a flat-ribbon type structure that helps it as a high gelling properties. Due to this, high M type products are used in wound care applications in the pharmaceutical industry.
Alginate market size is segmented into Type, Product, Application and region. Based on type the alginate market is divided into High M and High G. On the basis of Product, Sodium, calcium, potassium, propylene glycol and others. The Alginic acid market is segmented on the basis of application as Food, Pharmaceuticals, Industrial, paper and textile industry and others. On the basis of Region it is further segmented into North America, Europe, Asia Pacific, Central & South America and Middle East and Africa.
Key player in the alginic acid market are DuPont, Qingdao Liyang Seaweed Industrial Co.,Ltd, Prestige Brands, Inc., KIMICA Corporation, Cargill, Qingdao Rongde Seaweed Co., Ltd., IncorporatedShandong Jiejing Group Corporation and many others.
Segments:
The various segments of Alginate market are,
By Type:
By Product:
Sodium
Calcium
Potassium
Propylene Glycol
By Application:
Food
Pharmaceutical
Industrial
By Region:
Frequently Asked Questions (FAQ) :
The application of the alginate market Food, Pharmaceutical, Industrial and other.
DuPont, Qingdao Liyang Seaweed Industrial Co.,Ltd, Prestige Brands, Inc., KIMICA Corporation, Cargill, Qingdao Rongde Seaweed Co., Ltd., IncorporatedShandong Jiejing Group Corporation are a few major players in alginate market.
The base year for the report is 2018 in alginate market.