The global Algae Protein market worth USD 1.05 billion by 2028, growing at a CAGR of 6%
The global algae protein market is likely to expand substantially with growth projections nearing USD 1.2 billion by the year 2028 at an estimated CAGR of 7.5% over the forecast years 2018 to 2028. The rapid succession in the market growth can be attributed to the drastic shift in consumer preferences showcasing strong inclination to replace animal-based products with plant-based nutrition packed foods.
Rapid progress in the pharmaceutical and nutraceutical industries are estimated to stoke high potential growth in the global algae protein market. However, challenges such as production limitations owing to high sensitivity as well as high pricing of algae protein are likely to cut short full potential growth trajectory in the forecast years.
Further, soaring demand for dietary alternatives catering the consumer needs for a desired amount of protein is also encouraging new forms of plant-based protein products in the market. Growing sense of health and stability and fitness-oriented lifestyle are guiding consumer decisions to choose naturally-derived functional foods and health supplements speeding up the demand for such superior quality and nutrition rich food products ultimately driving the market scope in global algae protein market.
Algae based proteins are extracted from several different varieties of algae naturally found in the ecosystem such as microalgae that consists of blue-green algae along with other varieties and seaweed which comprises of red algae, brown algae and green algae. These plant-based protein sources are among the highest protein contributors with a range of 40% to 60% of protein content level.
Blue-green and green algae are some of the most predominantly used algae to derive proteins which are ultimately processed into final products in the form of capsules or powders, pastes and liquid formulations. Algae protein have gained popularity with increasing awareness of their high protein content, outstanding nutritional capabilities and a very robust amino acid profile adding an array of applications of the product.
Algae is a broad class of aquatic plants encompassing large number of eukaryotic algal species that are uniquely known for presence of chlorophyll however, unlike conventional plant characteristics, these group of aquatic organisms lack vascular tissues, true stems or leaves and roots. Algae are found across freshwater as well as saltwater emerging as a potential alternative to traditional sources of protein.
Algae typically grow naturally in the aquatic ecosystem however with growing demand and knowledge of their protein-packed nature, they are now being cultivated on a large scale with heavy dependency on the availability of desired climatic conditions and sir moisture content. For instance, warm climate may hamper cultivation of larger volumes of green algae due to the evaporation of water which prohibits formation of thicker layer of algae.
On the other hand, moisture content is a critical factor in the development of high-quality algae as it provides the necessary minerals and nutrition to the aquatic plant. Additionally, unprecedented climate change affects salinity level of freshwater which can annihilate the entire layer of algae.
Global algae protein market players are firmly placed alongside the surging number of new entrants bringing along with them a new suit of concepts and methodologies for production of algae disrupting the conventional methods used to derive nutritional content from the organism. Rising threat of young industry players along with the consistent developments in processing and production techniques resulting in up gradation of the market leading to market consolidation.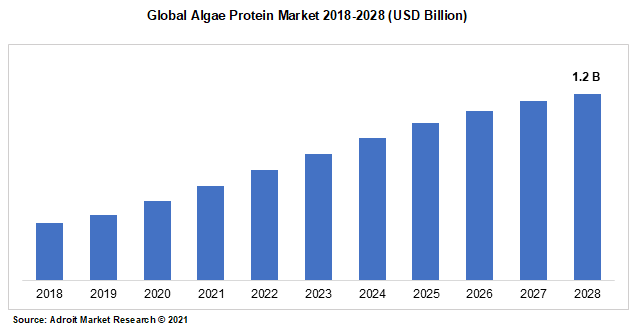 The major players of the global algae protein market are Earthrise Nutritional, ENERGYbits, Prairie Naturals, Corbion, Far East Bio-Tec, Vimergy LLC, Cyanotech Corporation, E.I.D-Parry Limited, Rainbow light, Heliae Development, Nutrex Hawaii, Phycom Microalgae, Roquette Klotze, and NOW Foods. The algae protein market comprises of large scale processing players with local establishment and the global market players. Also, the previously recognized market players are introducing an array of novel strategies and innovative production techniques for enhancing the product development strategies thus ensuring competitive advantage in the global market.
Algae Protein Market Scope
| | |
| --- | --- |
| Metrics | Details |
| Base Year | 2020 |
| Historic Data | 2018-2019 |
| Forecast Period | 2021-2028 |
| Study Period | 2018-2028 |
| Forecast Unit | Value (USD) |
| Revenue forecast in 2028 | USD 1.2 billion |
| Growth Rate | CAGR of 7.5% during 2021-2028 |
| Segment Covered | Product Type, Source, Application, Regions |
| Regions Covered | North America, Europe, Asia Pacific, Middle East and Africa, South America |
| Key Players Profiled | Earthrise Nutritional, ENERGYbits, Prairie Naturals, Corbion, Far East Bio-Tec, Vimergy LLC, Cyanotech Corporation, E.I.D-Parry Limited, Rainbow light, Heliae Development, Nutrex Hawaii, Phycom Microalgae, Roquette Klotze, and NOW Foods. |
Key Segments of the Global Algae Protein Market
Product Type Overview, 2018-2028 (USD Billion)
Source Overview, 2018-2028 (USD Billion)
Application Overview, 2018-2028 (USD Billion)
Dietary/Nutritional Supplements
Food & Beverage Products
Animal Feed
Regional Overview, 2018-2028 (USD Billion)
North America
Europe
Germany
France
UK
Rest of Europe
Asia Pacific
Japan
India
China
Rest of Asia Pacific
South America
Brazil
Mexico
Rest of South America
Middle East & Africa
Reasons for the study
Fundamental goal of the study is to offer an absolute survey on the global algae protein market with conclusive takeaways allowing you to stay ahead of the rest of market
Maintain your competitive identity amidst the innovations driven by leading market players with a view of enhancing the opportunistic landscape of the market.
What does the report include?
This document on the global algae protein market comprises of qualitative and quantitative markers, complete with elaborate assessment of the growth propellants and restraints, besides identifying new opportunities that are shaping growth prognosis of the global algae protein market.
The report incorporates detailed assessment of the top competitors both existing and prospective within the framework along with their strategic initiative focusing on product development.
The study covers market forecast followed by qualitative quantitative analysis of the product-based, source-based and application-based market segments. Also, the key geographies of the market are assessed based on similar analytical methodologies.
Accurate market sizes and actual shares of each of the above-mentioned market segments have been provided in the report.
Who should buy this report?
The study on global algae protein market puts forth an all-inclusive assessment of verifiable information crucial for the market participants including producers, suppliers, processing companies and consumers.
Stakeholders and equity firms along with investors seeking complete information and in-depth knowledge of the future outlook of the global algae protein market
Researchers, analysts, agriculture and marine biologists and botanical scientists seeking valuable insights shaping the global algae protein market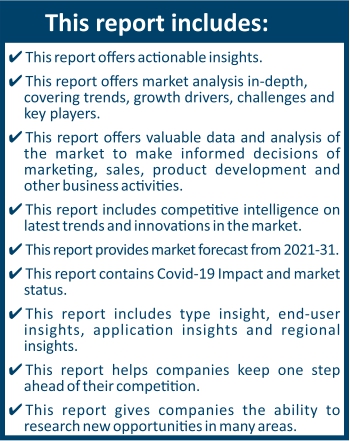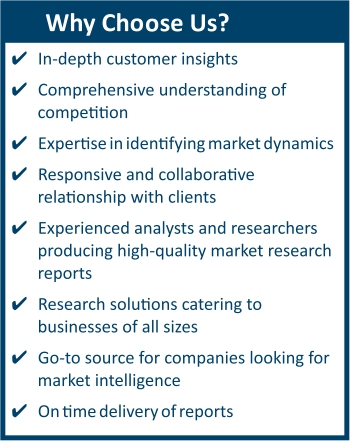 Frequently Asked Questions (FAQ) :
The application of the algae protein market food & beverage products, dietary/nutritional supplements, animal feed
The algae protein market is growing at a CAGR of 7.5% over the forecast period.
North America dominated the market for algae protein market and accounted for the largest revenue share
Drastic surge in the consumption of protein-based food and beverage products worldwide with growing health awareness and rapidly changing lifestyle trends are fuelling the growth of the global algae protein market throughout the forecast period. With increasing adoption of healthy and fitness focused lifestyle habits, millennials are drawn to a nutrition oriented diet regime, relatively early in life driving the demand for food component showcasing nutritive capabilities thus fuelling large scale adoption of algae proteins.
Regular consumption of algae proteins help achieve weight loss, control and manage diabetes, reduce anxiety and fatigue, reduce stress, heart diseases, and attention deficit hyperactivity disorder (ADHD) along with a wide range of other health concerns. Awareness about the above mentioned health benefits of algae proteins among consumers globally are likely to bode well with an opportunistic growth prognosis of the global algae protein market.
Ability of algae to help scale the nutrient profile of value-added products, boosting the immunity and many other benefits of algae consumption has fuelled the growth of the global algae protein market during the forecast years.
In addition, increasing concerns of the food and beverage industries due to the rapidly surging greenhouse gases, declining quality of life and hampered biodiversity due to excessive meat production have shifted focus on sustainability of food production thereby expanding the scope for global algae protein market expansion. The trend is likely to spill over even in the forthcoming projected timeline as well. Algae is also popularly used across pharmaceutical and nutraceutical industry as it is a good source of omerga-3 fatty acids and vitamin B12. Favorable growth opportunities in the these verticals are likely to catapult further growth in the global algae protein market in the coming years.
Product Type Segment
Based on the type of products, the market is split into spirulina and chlorella. Spirulina algae protein segment led to revenue maximization in the past and is likely to spearhead the algae-derived protein market over the forecast years owing to the highly robust profile of protein content making spirulina an appealing source of plant-based protein.
Nutraceutical companies, pet food mnaufcaturers and F&B players are extensively integrating spirulina into their products due to higher vitamins and minerals concentration, rich protein content and easy digestibility associated with structural composition of algae. Chlorella is also expected to witness sustainable growth over the forecast years owing to its macro and micro-nutrient profile.
Source Segment
In terms of source of protein, the market is compartmentalized into freshwater and marine. The freshwater source segment accounted for the largest global revenue during the historic years with large-scale companies developing their own algae production systems by constructing ponds and in-house aquatic systems solely dedicated for cultivating algae.
Marine algae segment offering two types of algae, macroalgae and microalgae are popularly used across nutraceutical industry owing to its strong nutritive capabilities contributing to an exponential rise in the CAGR of the marine algae segment over the forecast years.
EID Perry, Cyanotech Corporation are among other algae protein developers that are have invested in photobioreactors and in-house water bodies using freshwater for cultivating algae.
Application Segment
Based on application, the market is sectioned into dietary/nutritional supplements and food and beverage products and animal feed. The dietary supplements and nutraceutical segment holds a dominant position in the global revenue share and is expected to experience significant growth during the forecast years primarily due to the surging domestic consumption of nutraceuticals and supplements enhancing the demand. Increasing sales and production of spirulina and chlorella based dietary supplements in the form of capsules, tablets, pastes or liquid formulations and powders is boosting the segment growth. Animal feed and food and beverage product segments are also expected to grow at an optimum rate with increasing initiatives among manufacturers.
Regionally, the global algae protein market is predominantly robust across the North American geographic landscape projected to continue dominating the global revenue share over the forecast with larger number of dietary supplement providers and food product manufacturers driving extensive product development initiatives and research and development activities to implement advanced production techniques and novel approach.
Increasing health and fitness awareness and rising consumption of protein or supplement bars and protein shakes coupled with surging adoption of sustainable product development strategies are fuelling the growth of the algae protein market in North America.
Europe displays a robust demand for aquafeed with a vast expanse of marine aquaculture industry in countries including Denmark, Norway, and Ireland. Asia Pacific is also expected to grow exponentially over the forecast years with rapidly surging domestic demand for naturally derived, plant-based ingredients coupeld with increasing export activities.