The demand for the airport passenger steps market has several causes. The airport passenger traffic has been increasing steadily over the past few years, reaching a record 7.6 billion passengers in 2021. This growth is expected to continue, reaching 8.2 billion by 2031. With more passengers comes the need for more efficient and effective ways to move them through the airport. A safe and effective way to transport a lot of passengers through an airport terminal is passenger steps.
The increase in air travel has also led to an increase in the number of private aircraft. Private jets are now used for both personal and business travel, and their popularity is only expected to grow in the coming years. This increase in private air travel means that there is a need for products and services that can accommodate this growth. Airport passenger steps are an essential part of any private jet terminal, providing a safe and efficient way to board and disembark passengers.
There is more competition between airports as a result of economic globalization. Airports are now vying for passengers' and airlines' business. Airports must provide excellent customer service in order to draw in and keep consumers. Airport passenger steps play an important role in providing this level of service, as they help to ensure a smooth and efficient flow of passengers through the terminal.
When it comes to air travel, the airport is the most important hub. That's why ensuring the smooth running of operations at airports is critical. Using the passenger steps in airports is one way to accomplish this. Airport passenger steps are used to board and disembark passengers from aircraft. They are an essential piece of equipment at any airport. There are two main types of airport passenger steps – towable and self-propelled. Towable airport passenger steps are attached to the aircraft via a towbar. They are then pulled by the aircraft to the required position. Self-propelled airport passenger steps, on the other hand, have their own power source, usually a battery or an electric motor. This means they can be moved around without being attached to an aircraft.
There are several benefits of using airport passenger steps: They help keep things moving smoothly at airports by reducing congestion and minimizing delays. They improve safety by providing a safe and easy way for passengers to get on and off aircraft. They help reduce wear and tear on aircraft, as they minimize the need for passengers to use stairs or ladders to get on and off the plane. Overall, airport passenger steps offer a number of advantages that make them essential pieces of equipment at any busy airport.
An airport passenger step is a set of movable stairs that helps passengers board and disembark an aircraft. There are two types of airport passenger steps: towable and self-propelled. Towable airport passenger steps are those that need to be towed by a vehicle, such as a baggage tractor, to the side of the aircraft. Self-propelled airport passenger steps, on the other hand, have their own set of wheels and can be moved around without any assistance.
The global airport passenger steps market was valued at USD 1.21 billion in 2021 and is expected to reach a value of USD 1.53 billion by 2031, at a CAGR of 2.81%during the forecast period (2021–2031).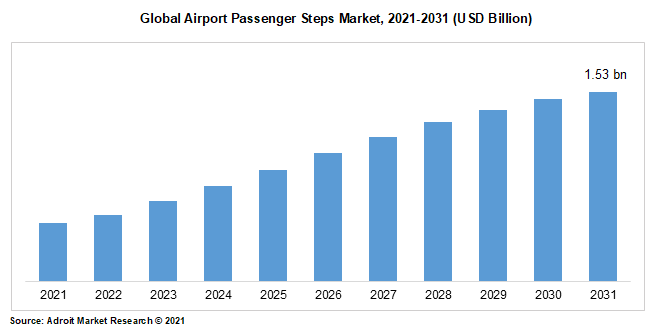 The market for airport passenger steps is experiencing some restraints in its expansion. These include strict safety laws, hefty ownership costs, and a lack of standards.
Stringent safety regulations: Aviation is a highly regulated industry and there are stringent safety requirements for all airport equipment. This includes airport passenger steps, which must meet strict safety standards set by international organizations such as the International Civil Aviation Organization (ICAO).
High cost of ownership: Airport passenger steps are capital-intensive pieces of equipment with a high cost of ownership. The total cost of ownership, which also includes ongoing maintenance and repair expenses, encompasses more than just the initial purchase price.
Lack of standardization makes it challenging for airlines to compare equipment from various manufacturers because there is no international standard for airport passenger steps. Due to the absence of standardization, it is difficult for new competitors to establish themselves in the market. However, because of continual technical advancements, the business is expected to expand in the next years. The key players in the airport passenger steps market are JBT Corporation, ThyssenKrupp AG, Airbus S.A.S., and Guldner GmbH.
Segment Analysis
The self-propelled airport passenger steps segment forms the major portion of the market
The segment of self-propelled airport passenger steps is anticipated to grow at the highest CAGR during the review period, owing to the features offered by these steps, such as easy maneuverability, smooth operation, and low noise levels.
The private aircraft application Segment to be on top of the market
The application segment of private aircraft is projected to grow at a rapid pace during the assessment period, due to the increasing demand for air travel among individuals for both leisure and business purposes.
America will command the market
Due to the presence of significant competitors and the rising need for air travel, North America is anticipated to maintain its top spot in the global market for airport passenger steps during the length of the forecast.
Covid-19 Impact & Market Status
The COVID-19 pandemic has had a significant impact on the airport passenger steps market, with a decrease in demand for both new and used equipment. The decrease in air travel due to the pandemic has resulted in many airlines suspending operations or reducing their fleet size, leading to a surplus of airport passenger steps. Prices for both new and old equipment have considerably decreased as a result of this. While the pandemic has had a negative impact on the market in the short term, it is expected that demand will rebound as the global economy recovers. The growth of the low-cost carrier (LCC) segment is also expected to boost demand for airport passenger steps over the forecast period.
Latest Innovations in the Global Airport Passenger Steps Market: A Snapshot
• In December 2019, Merit Medical Systems Inc. announced it had completed the acquisition of Quirem Medical B.V., which is a Netherlands-based company that manufactures and develops interventional oncology products.
• In November 2019, Cook Medical Inc. introduced an endovascular balloon occlusion device with a new design, called the Cook Xpedition Balloon Occlusion Device, at the Radiological Society of North America (RSNA) Annual Meeting in Chicago, Illinois. The device has been designed to provide temporary complete arterial or venous occlusion during interventional procedures.
• In March 2020, Cardinal Health Inc. acquired Vyaire Medical's respiratory business for USD 1 billion in cash to expand its portfolio of integrated offerings for anesthesia providers and hospitals worldwide.
Airport Passenger Steps Market Scope
| | |
| --- | --- |
| Metrics | Details |
| Base Year | 2022 |
| Historic Data | 2020-2021 |
| Forecast Period | 2022-2031 |
| Study Period | 2020-2031 |
| Forecast Unit | Value (USD) |
| Revenue forecast in 2031 | USD 1.53 billion |
| Growth Rate | CAGR of 2.81% during 2021-2031 |
| Segment Covered | Type, Application, Regions |
| Regions Covered | North America, Europe, Asia Pacific, South America, Middle East and Africa |
| Key Players Profiled | JBT Corporation, ThyssenKrupp AG, Airbus S.A.S., and Guldner GmbH. |
Key Segment of Global Airport Passenger Market
By Type Overview 2021-2031, (USD Billion)
Towable Airport Passenger Steps

Self-propelled Airport Passenger Steps
By Application Overview 2021-2031, (USD Billion)
Passenger Aircraft

Private Aircraft
By Region Overview 2021-2031, (USD Billion)
North America
Asia Pacific
China

India

Japan

Rest of Asia Pacific



South America
Mexico

Brazil

Rest of North America
Europe
Germany

France

UK

Rest of Europe
Middle East and Africa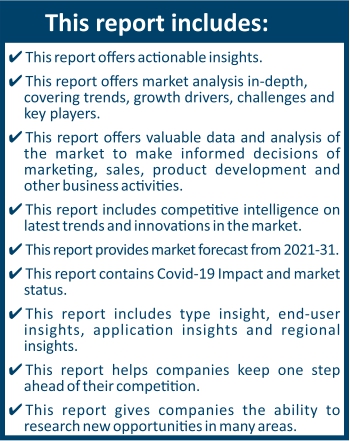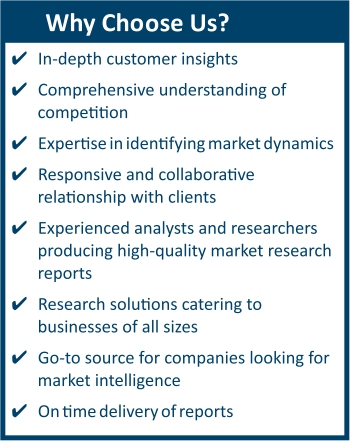 Frequently Asked Questions (FAQ) :
Airport Passenger Steps Market is projected to reach USD 1.53 billion by 2031, growing at a CAGR of 2.81%