Airport lights are typically used to illuminate the runway at night or when visibility is poor. Airport lighting can help pilots find take-off, runway, and touchdown zones, as well as other places and obstructions on the airfield.
The global Airport Lighting market worth USD 213 million by 2028, growing at a CAGR of 8.95%
Covid-19 Impact
Covid-19 has had an impact on market dynamics, competitiveness, and the global supply chain. Revenues fell in 2020 and are predicted to rise steadily beginning in 2021. Companies that optimize their operations and strategies will outlive and outperform their rivals. Following an early evaluation of the pandemic's commercial ramifications and the subsequent economic crisis, the Taxiway Lighting Systems segment's growth is revised to a 5.4 percent CAGR for the following seven years.
As a result of the COVID-19 pandemic, airport passenger traffic declined by more than 60% in 2020 and by around 50% in 2021. This has had a considerable impact on airport operator income, which is projected to limit expenditures in airport lighting system upgrading. This is predicted to have an immediate influence on market growth.
Prior to the pandemic, the commercial airport lighting industry was driven by the development of new airports and the upgrading of existing airport infrastructure all over the world to handle increased passenger traffic. Once the effects of the epidemic have gone, this component is projected to continue to drive the market.
The greatest airport lighting market is projected to continue in North America.
During the predicted period, there will be a considerable number of commercial and military airports, as well as a strong emphasis on energy efficiency and low running costs. Asia Pacific is predicted to develop at the quickest rate during the next five years. Due to existing and planned airport infrastructure projects, emerging nations, especially China and India, are likely to boost demand for airport lighting systems in the Asia-Pacific area during the next five years.
The US market is anticipated to be worth $154.7 million, while China is expected to increase at a pace of 9% per year.
The airport lighting industry in the United States is anticipated to be worth $154.7 million. China, the world's second biggest economy, is predicted to reach a market size of US$181 million by 2028, indicating a 9 percent CAGR between 2018 and 2028. Japan and Canada are two additional notable geographic markets, with 3.1 percent and 5.3 percent growth rates anticipated respectively. In Europe, Germany is predicted to increase at a CAGR of roughly 3.7 percent.
The Apron Lighting Systems category is predicted to increase at a 4.9 percent annual pace.
The global Apron Lighting Systems segment's 4.4 percent CAGR is predicted to be driven by the United States, Canada, Japan, China, and Europe. These regional markets, which had a total market value of US$76.6 million in 2018, will have expanded to US$103.7 million by the conclusion of the research period. China will remain one of the fastest growing regional markets in this category. The Asia-Pacific market is predicted to reach US$114.3 million by 2028, led by nations such as Australia, India, and South Korea, while Latin America is expected to rise at a 5.9 percent CAGR over the same time period.
Increased focus on reducing energy consumption, increase in research and development activities, and increase in the country's economic growth are among the major factors driving the market growth. Furthermore, the surge in the transition to solar-powered and electric LED technology would generate new possibilities for airport lighting market manufacturers during the projected period of 2018-2028.
However, an increase in visibility issues as a result of inclement weather is a major factor acting as a restraint and will pose a further challenge to the growth of the airport lighting market during the forecast period. By 2028, the global airport lighting market is expected to reach $850 million.
The growing emphasis on reducing energy consumption and carbon emissions in airports is causing airport operators to shift their focus away from traditional incandescent lights and toward solar-powered LEDs. This is projected to boost the growth of the commercial airport lighting market over the forecast period.
The global commercial airport lighting market is being driven by the development of new airports, rising demand for commercial aircraft, and the demand for energy-efficient lighting. However, the growth of this market is being hampered by factors such as a lack of management, disagreement among airport authorities, and insufficient funds. Airport authorities face challenges in managing airport lights efficiently and effectively in order to meet cost-cutting goals.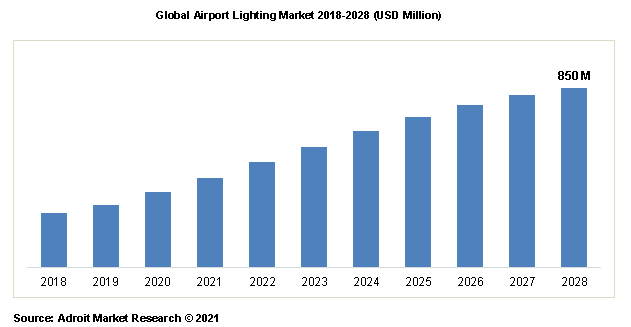 Existing players as well as new players interested in entering the commercial airport lighting market can benefit from the market's attractive growth opportunities. Increased demand for commercial aircraft and air traffic in India, China, Russia, and Africa are pushing new players into the commercial airport lighting sector. Emerging economies are likely to provide more profitable growth prospects in the global commercial airport lighting market than industrialized ones with mature infrastructure.
Raw material suppliers, component manufacturers, light manufacturers, original component manufacturers, and airport owners are all part of this market's supply chain. Some of the most important lighting manufacturers for commercial and military airports: Honeywell International, Inc. Carmanah Technologies Corp. Vosla GmbH, ATG Airports, Abacus Lighting, and ADB Airfield Solutions. The key strategies used by the key players to gain a competitive advantage in the market are new product development and mergers and acquisitions.
Recent Developments in the Global Airport Lighting Market:
The Airports Authority of India (AAI) announced in August 2021 that it had installed a state-of-the-art Precision Approach Lighting System (PALS) on the runway of Thiruvananthapuram International Airport to improve landing safety.
Mariehamn Airport announced in July 2021 that more than 130 lights in the runway lighting system had been replaced with environmentally-friendly LED lighting. The new LED lighting uses about a third of the energy that the previous lights did.
In March 2021, TKH Airport Solutions announced the availability of a new product family of raised airfield ground lights. The new 797-series is distinguished by its low energy usage, IP69 rating, individually controlled circular navigation light, and heated front glass.
The Hali-Brite LED rotating beacon will be installed at Florida's Boca Raton Airport (BCT) in March 2021, making it the first navigation aid of its kind to be approved for use at public airports by the FAA. The new beacon produces more light than standard rotating metal halide beacons.
Airport Lighting Market Scope
| | |
| --- | --- |
| Metrics | Details |
| Base Year | 2020 |
| Historic Data | 2018-2019 |
| Forecast Period | 2021-2028 |
| Study Period | 2018-2028 |
| Forecast Unit | Value (USD) |
| Revenue forecast in 2028 | USD 213 million |
| Growth Rate | CAGR of 8.95 % during 2021-2028 |
| Segment Covered | type, position, technology, Regions |
| Regions Covered | North America, Europe, Asia Pacific, Middle East and Africa, South America |
| Key Players Profiled | Honeywell International Inc., ADB SAFEGATE, ABB, vosla GmBH, Avlite, Carmanah, Eaton, atg airports limited, Avionics Group and HELLA GmBH & Co. KGaA |
Key Segments
Type Overview, 2018-2028 (USD Million)
Runway Lighting Systems
Taxiway Lighting Systems
Apron Lighting Systems
Position Overview, 2018-2028 (USD Million)
In-Pavement/Inset Lights
Elevated Lights
Precision Approach Path Indicator
Regional Overview, 2018-2028 (USD Million)
North America
Europe
Germany
France
UK
Rest of Europe
Asia Pacific
China
India
Japan
Rest of Asia Pacific
South America
Mexico
Brazil
Rest of South America
Middle East and South Africa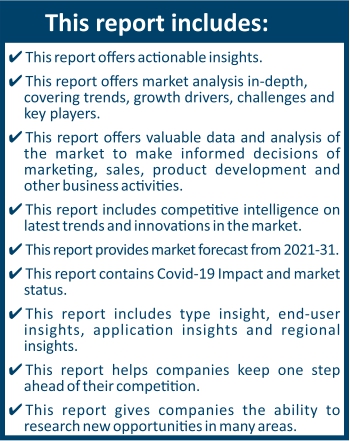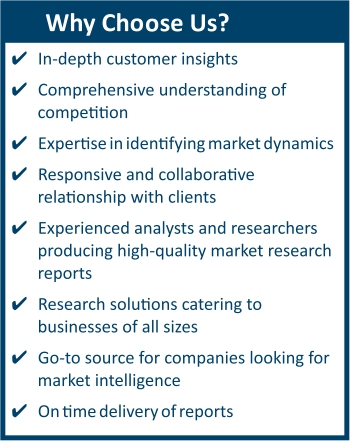 Frequently Asked Questions (FAQ) :
The market value of airport lighting market in 2028 was $850 million.
Asia-Pacific dominated the market for airport lighting and accounted for the largest revenue share.
The base year for the report is 2020 in airport lighting market.
The top companies that hold the market share in airport lighting market are Honeywell International, Inc. Carmanah Technologies Corp. Vosla GmbH, ATG Airports, Abacus Lighting, and ADB Airfield Solutions.
To get latest version of airport lighting market report can be obtained on demand from the website.