AI can improve everyday tasks or exercises as well as logistics, administration, maintenance, training, and personal management in regular military operations. With less scope for mistakes, enhanced precision, speedy decision-making, and less human dependency it offers a heavy reduction in the workload of soldiers. The development of new intelligent technology may accelerate decision-making processes, enabling military leaders to make more effective offensive or defensive judgments during conflicts.
The need for AI-based security systems to protect against intrusion, and increasing cyber threats has become very crucial with the currently growing geopolitical turn of events. The classification and the technology applied determines how successful the military is. In addition to preventing unauthorized access to these networks and data, artificial intelligence may identify patterns in intrusions to enhance strategy. Due to the extreme level of security and the importance of this data, there are numerous military cyber threats all around the world. As a result, governments routinely stress the importance of protecting these defense systems and plans using Artificial Intelligence.
Artificial intelligence in the Military has the potential to save lives if used wisely. To better prepare them for battle, soldiers go through rigorous training and simulations. Such systems are capable of making quick decisions, spotting risks, and protecting confidential information. With the right training, military personnel can learn the knowledge and practical skills required to do their tasks securely. Furthermore, they can practice without actually using any weapons, which saves money and lowers the possibility of injury from an untrained handler. By employing simulations, soldiers can practice assembling, repairing, and using their equipment. These robots' value to human defense is immeasurable, and they will continue to develop to new s in the future.
Artificial Intelligence in the Military is the use of a combination of various technologies to identify, sense, and act, on potential threats. With the help of a number of technologies, machines may eventually be able to detect, understand, act, and learn at levels of intelligence comparable to those of humans. The integration of AI with ongoing military operations could advance routine tasks or exercises as well as logistics, administration, maintenance, training, and personal management. In a military artificial intelligence arms race, two or more states compete to equip their armed forces with the preferred artificial intelligence (AI). The development of new intelligent technology may accelerate decision-making processes, enabling military leaders to make more effective offensive or defensive judgments during conflicts. In order to improve real-time battlefield decision-making, artificial intelligence will hasten the development of a dynamic autonomous system.
One of the key drivers of growth is the rising worldwide expenditures on military forces. During the forecast period, the market is anticipated to be driven by factors like the rapid adoption of Unmanned Vehicles, worries about the likelihood of mistakes in difficult combat situations, implantation of integrated technologies like AI, cloud computing, quantum computing, robotic surgical systems, and growing cyber threats. The incorporation of quantum computing is expected to act as a game-changer owing to its capabilities of processing large data sets, faster recognition, speedy decision-making, and more precision. Defense forces can find solutions through the application of quantum computing in AI-based systems like quantum cryptanalysis, which uses the technology to decrypt encoded data. In order to prevent data leakage during military communications, quantum key distribution technology (QKD) is used. These innovations are anticipated to expand the market for artificial intelligence in the military.
The AI in Military technology market is projected to grow over 16 billion at a CAGR of over 10% through the forecast span of 2031.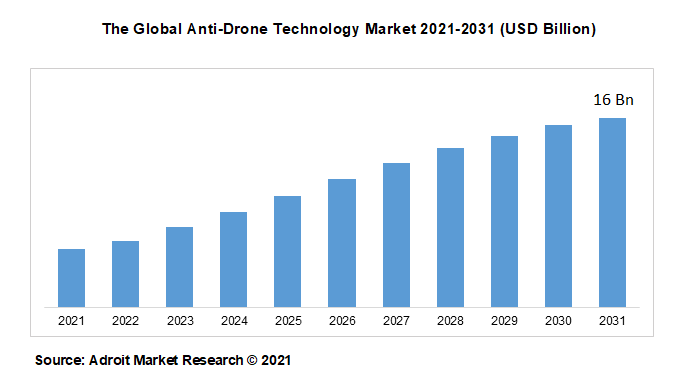 However, this technology also has its downside. The growth is anticipated to be significantly constrained by its safety risks. There are concerns over the absolute dependence on robotic systems as some think human supervision is essential. Secondly, the cost is a major factor. Artificial intelligence systems are extremely expensive since they require hefty design and operation costs. Additionally, AI-based systems are still in the early stages of development, so there is always a chance that a decision will be made incorrectly in a complex combat scenario. Military groups continue to believe that human oversight of AI-based systems is necessary. These elements may reduce the demand for artificial intelligence in the worldwide military market.
Covid-19 Impact & Market Status
The COVID-19 epidemic has had an impact on economies all around the world and has created numerous problems, yet artificial intelligence in the military sector has continued to grow visibly. This can be attributed to both the supply and demand in the industry, as leading manufacturers like Lockheed Martin, Northrop Grumman, IBM, and others continue to invest heavily in developing artificial intelligence capabilities, and governments continue to invest significantly in acquiring these frameworks. This can be attributed to governments becoming more aware of the potential for further improved capabilities that these AI systems offer in terms of the defence arsenal as the global AI arms race heats up. Even if artificial intelligence for the military was a commercial success, the scarcity of raw materials from the suppliers as a result of a supply chain collapse put a halt to the overall output. However, once the government loosens the strict restrictions it is believed that the market will perform well.
Segment Analysis
Software segment to lead the market
This market can be divided into three subcategories based on the products it offers: services, software, and hardware. Complex processes are carried out by software that is placed in computer systems. It analyses the information gathered from hardware systems to produce a thoughtful and well-informed response. During the forecast period, growth in the software subsegment is anticipated.
Logistics and transportation to hold the largest market share
AI facilitates decision-making about supply, transportation, communications, and other issues.AI in military logistics can cut down on manual labor and transportation expenses. Additionally, it enables the military to identify contradictions and foresee failures. Predictive analytics powered by AI can help transportation service providers optimize delivery schedules and route planning. AI also has the ability to facilitate vehicle and ridesharing, decreasing traffic congestion and enhancing parking. As AI facilitates traffic flow, it can also cut fuel consumption from idle vehicles, enhance air quality, and facilitate urban planning. These drivers will accelerate the growth of the artificial intelligence technology market over the forecast period.
Space segment to drive the market.
Platform-based subcategories of this market include ground, marine, airborne, and space. The integration of artificial intelligence with military satellites enables high-resolution photography, threat identification, and tracking. AI integration with space platforms enables efficient communication between satellites and ground-based control centers. The sub-segment for space is expected to expand during the projection period.
North America to dominate the market
When analyzing the military market in North America, the U.S. and Canada are the two main countries taken into account. Due to increased demand for A.I. advancements by countries nearby, this region is expected to dominate the market in the forecast period. This industry is driven by the United States, which is investing more money in artificial intelligence systems to maintain its military superiority and counter the threat that could affect computer companies. With the government starting to modernise the defence industry, the United States wants to gain a strategic advantage over other nations. As a result, it plans to increase its military spending on artificial intelligence. Artificial intelligence in the military market in the Asia-Pacific region is anticipated to establish in terms of Annual Growth Rate in the global market, be required to increase enhancement, and be widely adopted in expanded nations like China and India.
These issues also pave way for opportunities like the adoption of robust AI frameworks and highly sophisticated integrated technology. The Military Artificial Intelligence (AI) Market is driven by a growth in cyber threats, which causes artificial intelligence to become more prevalent in militaries. The expansion of Big Data is the primary driver of market growth, and AI aids in the detection and processing of data that aid in timely decision-making. Additionally, the market will grow as a result of increased investments in AI and infrastructure development.
The major players of Artificial Intelligence in the Military market are Raytheon Technologies corporation, Boeing, Northrop Grumman, BAE Systems, Spark Cognition Inc., Rafael Advanced Defence Systems Ltd, Lockheed Martin Company, Charles River Analytics, Inc, International Business Machine Corporation, General Dynamics Corporation among others. AI in the military market is a fast-growing industry due to the growing adoption of Autonomous Unmanned Vehicles, reduced human dependence, Robotic systems, and new technologies like Quantum Computing enabling the Military to make safer, timely, and precision-based decisions.
Latest Innovations in the Artificial Intelligence in Military Market: a Snapshot
• Feb 2021: BAE Systems launches a new data labeling service and a suite of cutting-edge artificial intelligence capabilities on the Amazon Web Services (AWS) Marketplace for GovCloud.
• October 2021: BM and Raytheon Technologies form a strategic partnership to create cutting-edge artificial intelligence, cryptography, and quantum technologies.
• Jan 2021: The U.S. Air Force granted Soar-Tech a contract to develop intellectual specialist preparing capabilities and programmed discourse acknowledgment on the side of the Force Warning and Control System (AWACS) task.
• December 2020: Boeing (U.S.) completes testing five elite autonomous replacement aircraft with the ability to 'assist' the aircraft's brain in understanding, examining, and communicating with various stages throughout missions.
AI in Military Market Scope
| | |
| --- | --- |
| Metrics | Details |
| Base Year | 2021 |
| Historic Data | 2020-2021 |
| Forecast Period | 2022-2031 |
| Study Period | 2021-2031 |
| Forecast Unit | Value (USD) |
| Revenue forecast in 2031 | 16 billion |
| Growth Rate | CAGR of 10 % during 2022-2031 |
| Segment Covered | by Type, By Application, By Platform, By Technology, Regions |
| Regions Covered | North America, Europe, Asia Pacific, Middle East and Africa, South America |
| Key Players Profiled | Raytheon Technologies corporation, Boeing, Northrop Grumman, BAE Systems, Spark Cognition Inc., Rafael Advanced Defence Systems Ltd, Lockheed Martin Company, Charles River Analytics, Inc, International Business Machine Corporation, General Dynamics Corporation among others. |
Key Segments of the Global AI in Military Market
Type Overview, 2021-2031 (USD Billion)
Software

Hardware

Services
Application Overview, 2021-2031 (USD Billion)
Surveillance

Logistics and Transport

Battlefield Healthcare

Combat Simulation
Platform Overview, 2021-2031 (USD Billion)
Technology Overview, 2021-2031 (USD Billion)
Machine Learning

Advanced Computing

AI Systems
Regional Overview, 2021-2031 (USD Billion)
North America
Europe
Germany

France

UK

Rest of Europe
Asia Pacific
China

India

Japan

Rest of Asia Pacific
South America
Mexico

Brazil

Rest of South America
Middle East and South Africa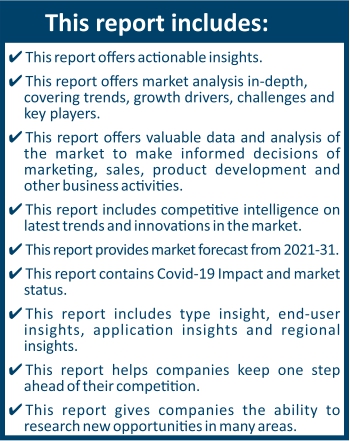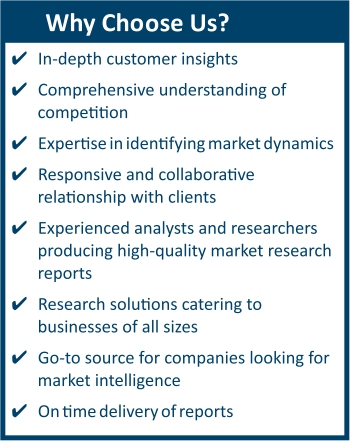 Frequently Asked Questions (FAQ) :
AI in Military Market is projected to reach by , growing at a CAGR of 10 %
The AI in Military market is estimated to grow at a CAGR of 10 %
Key companies covered in the AI in Military market are Raytheon Technologies corporation, Boeing, Northrop Grumman, BAE Systems, Spark Cognition Inc., Rafael Advanced Defence Systems Ltd, Lockheed Martin Company, Charles River Analytics, Inc, International Business Machine Corporation, General Dynamics Corporation among others