People have found their digital usage to be unpleasant as a result of an increase in cyber threats as they are beginning to lose confidence in the security and privacy of their online activities. AI improves this experience by offering an extra layer of security. Because high-end deployments require greater accuracy and quicker response times, advanced biometric technologies like behavioral biometrics, palm vein biometrics, and AI-powered biometrics are gaining popularity.
The Data-driven security protocols are developed using AI-enabled biometrics. Increasing cyber threats has become a cause of concern for companies, business, and government agencies across the globe. AI-enabled biometrics can accurately confirm a person's identity based on their physiological and behavioral characteristics. To create an authentication system that can defend devices against cyberattacks and stop fraudulent actions, AI and biometrics can be coupled.
Protecting a company's and its customer's data and privacy requires being able to employ artificial intelligence to automatically detect and respond to data breaches. For companies of any size, AI biometric authentication offers another defense against a data leak. Furthermore, according to IBM's analysis, businesses will spend less money using AI security platforms when they use them properly. To create the solution that is greatest for your corporation, it is crucial to comprehend the situation and speak with industry specialists.
Biometrics is the measuring and statistical examination of a person's distinctive physical and behavioral traits. It is mostly used for access control, identification, and for locating people who are being watched. Access control and security are frequently handled by biometric technologies in commercial and governmental institutions. Globally, governments have taken a significant interest in biometric applications and are actively supporting advanced research initiatives in companies that provide biometrics. The usage of AI-enabled biometrics is rising since they improve every part of the identity lifecycle, which is what is primarily driving this increase.
AI-enabled biometrics are used to prevent security threat conflicts. The adoption of voice biometrics by businesses, notably in the BPO industry, has increased the size of the global biometrics market. Leaders in the biometrics market are focusing on implementing cutting-edge facial recognition software to fulfill the needs of various industrial verticals. One of the key drivers of growth is the rising global smartphone adoption and biometric systems becoming more and more integrated with Internet of Things devices. Additionally, the market is anticipated to increase as financial institutions increasingly employ contactless biometrics solutions to secure financial transactions globally. In order to reduce maintenance expenses, contactless biometrics technology enables longer operation intervals with fewer consumables and less cleaning.
The AI in the Biometrics technology market is projected to grow over 130 billion at a CAGR of over 13% through the forecast span of 2031.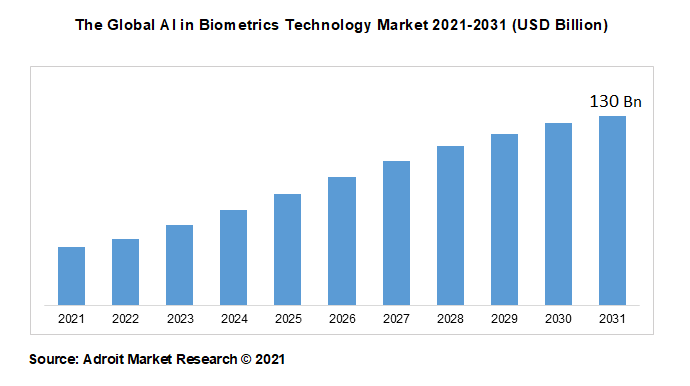 However, this technology faces some challenges. High installation costs are one of the biggest problems behavioral biometrics companies confront on a worldwide scale. The initial cost of implementing behavioral biometrics has increased quickly as a result of continual technological advancements, which discourages end users from investing in these solutions. This is particularly common in developing countries because educational institute funds cannot support this technology. Even in industrialized countries, many businesses have very modest cybersecurity budgets, which can impede the adoption of mobile authentication systems based on behavioral biometrics.
Covid-19 Impact & Market Status
The Covid-19 epidemic has shifted attention to the incorporation of cutting-edge technologies across a range of end-use industries, including AI, IoT, and machine learning. For instance, small businesses in the healthcare industry have begun to invest in R&D and AI technology to provide precise and affordable medical assessments. Investment in AI-enabled biometrics to provide thermal screening and stop the potential spread of Covid is expected to have a beneficial effect on the biometrics business as a result of Covid-19. In developed economies like the US, Canada, and China, the use of contactless technologies is increasing, which is expected to promote the growth of the market for AI-enabled.
Segment Analysis
Fingerprint recognition to lead the market
It is anticipated that the fingerprint recognition segment would dominate the global market. The growth of touchless fingerprint technologies, the common use of fingerprint sensors for biometric authentication throughout consumer electronics, the increased use of biometric authentication in government facilities, the upsurge in identity threats, and other factors all contribute to the growth of the fingerprint recognition sub-segment. Government & Defence segment to hold the largest market share It is anticipated that the government & defense segment would dominate the global market. In legal and technical environments, authorities have historically employed biometrics for criminal, civil identification, military access control, and other purposes Organizations like the Federal Bureau of Investigations (FBI) and Interpol have been using biometrics in criminal investigations for years. Today, law enforcement agencies all around the world often use biometrics to identify criminals.
A mobile segment to drive the market.
During the projected period, it is anticipated that the mobile sub-segment will develop at the fastest rate. Boosting the intelligence of mobile devices is what is driving the use of mobile biometric technology. In the past several years, the majority of smartphone manufacturers have introduced devices with biometrics. While the focus is currently on fingerprint identification technology, advanced biometric technologies for the face, voice, iris and other body parts are also becoming more popular.
North America to dominate the market
As a result of the presence of multiple well-known firms that cater to the demands for biometric solutions in the defense and law enforcement sectors, the U.S. currently dominates the market.
Asia Pacific is expected to continue to grow its market share and become the fastest-growing market. The BFSI industry has generated the majority of demand, largely fuelled by an increase in digital payments in several of the region's economies. Biometrics market companies are concentrating on seizing chances in China, South Korea, and India.
These issues are resolved by behavioral biometrics technology, which employs machine learning to spot patterns. Mobile banking has quickly grown in popularity as more people with bank accounts for mobile devices. The urgent necessity to stop cyberattacks has sped up the implementation of behavioral biometric technologies.

The major players of AI in Biometrics technology are Aware Inc, Fulcrum Biometrics, Innovatrics, Precise Biometrics, SUPREMA Inc, IDEMIA, HID Global Corporation, IDEX Biometrics ASA, Voice Biometrics Group, NEC Corporation, thales, Ayonix Corporation, FUJITSU, Cognitec Systems GmbH, Gemalto NV, NUANCE, Leidos among others. The AI in Biometric market is a fast-growing industry due to the development of potential functions of artificial intelligence and machine learning technologies which will enhance the market for biometric technology in the future. Such technologies are projected to quickly permeate biometrics applications in e-commerce, mobile banking, and online purchasing platform.
Latest Innovations in the AI in Biometrics Technology Market: a Snapshot
• November 2022: IDVoice Speaker Recognition Technology of ID R&D is Integrated by TECH5 with T5-Digital ID
• October 2022: A new AI Act compromise redefines the requirements for biometric recognition.
• Feb 2020: BioCatch, purchased Aimbrain. In order to improve fraud detection and provide enterprises and users with a seamless and safe digital experience.
• June 2020: The Occupancy Monitor and the Temperature Kiosk were two new products that the US-based IoT network start-up Qopper introduced to assist retail and commercial companies in safely reopening when COVID-19 limitations were lifted.
• April 2020: Fulcrum Biometrics, LLC, acquired by Fujitsu Frontech North America.
AI in Biometrics Technology Market Scope
| | |
| --- | --- |
| Metrics | Details |
| Base Year | 2021 |
| Historic Data | 2020-2021 |
| Forecast Period | 2022-2031 |
| Study Period | 2021-2031 |
| Forecast Unit | Value (USD) |
| Revenue forecast in 2031 | 130 billion |
| Growth Rate | CAGR of 13 % during 2022-2031 |
| Segment Covered | By Technology, By Component, By End-user, Regions |
| Regions Covered | North America, Europe, Asia Pacific, Middle East and Africa, South America |
| Key Players Profiled | Aware Inc, Fulcrum Biometrics, Innovatrics, Precise Biometrics, SUPREMA Inc, IDEMIA, HID Global Corporation, IDEX Biometrics ASA, Voice Biometrics Group, NEC Corporation, thales, Ayonix Corporation, FUJITSU, Cognitec Systems GmbH, Gemalto NV, NUANCE, Leidos among others |
Key Segments of the Global AI in Biometrics Technology Market
Technology Overview, 2021-2031 (USD Billion)
Face Recognition

Fingerprint Recognition

Iris Recognition

Voice Recognition

Palmprint and Vein Recognition
Component Overview, 2021-2031 (USD Billion)
Mobile

PC

Payments

Access
End-User Overview, 2021-2031 (USD Billion)
Government & Defence

Healthcare

BFSI

Consumer Electronics

Retail & E-Commerce

Transport

Visa and Logistics
Regional Overview, 2021-2031 (USD Billion)
Europe
Germany

France

UK

Rest of Europe
Asia Pacific
China

India

Japan

Rest of Asia Pacific
South America
Mexico

Brazil

Rest of South America
Middle East and South Africa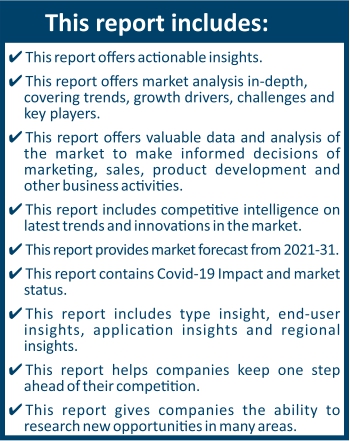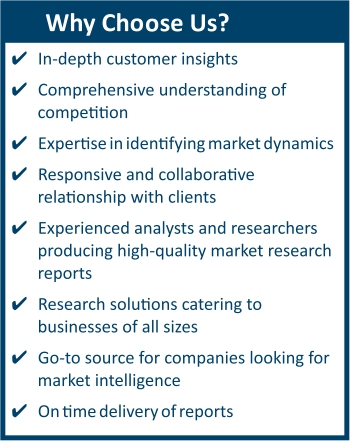 Frequently Asked Questions (FAQ) :
The global AI in Biometrics Technology market size projected to reach by USD 130 billion
The AI in Biometrics Technology market is growing at a CAGR of 13 % during the projection period
The top leaders analyzed in the AI in Biometrics Technology market study are Aware Inc, Fulcrum Biometrics, Innovatrics, Precise Biometrics, SUPREMA Inc, IDEMIA, HID Global Corporation, IDEX Biometrics ASA, Voice Biometrics Group, NEC Corporation, thales, Ayonix Corporation, FUJITSU, Cognitec Systems GmbH, Gemalto NV, NUANCE, Leidos among others