Global agriculture robots and drone industry size was valued at USD 4.79 billion in 2017. The global agricultural robots and drones market is expected to reach USD 56.02 billion by 2025. The growth is driven by an increase in technological adoption in agricultural industry, a decrease in farm labor in recent years as a result of urbanization and growing demand for food around the world.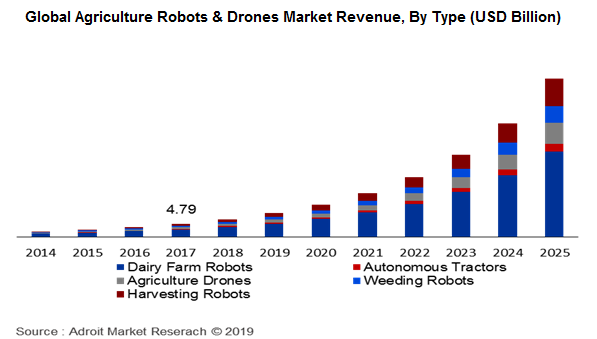 Moreover, the demand for agricultural robots and drones is expected to grow exponentially because of the rising population and increasing gap between supply and demand for food production. This has led the scientists to innovate new technologies and methods for automating the agricultural activities such as harvesting, ploughing, fruit picking, sowing seeds, monitoring, and milking.
The established companies that manufacture agricultural machinery are acquiring the technology-based companies to come up with more advanced robots that can do the work of humans by filling the gap of shortage of farm labor. For instance, in September 2017, Deere & Company signed an agreement to acquire Blue River Technology that works on machine learning technology which helps farmers in optimizing their fieldwork.
The venture capital companies are shifting towards agriculture industry as it is witnessing strong growth and return on investments are high. They are finding many startups that are developing agriculture robots such as weeding for removing waste plants and fruit picking harvesters. For instance, EcoRobotix, a company that was founded in 2011 and manufactures weeding robots had raised USD 11.0 million in series B financing. BASF, Capagro Venture Capital along with private financing partner had closed the deal with Ecorobotix.
Agriculture Robots and Drone Market Scope
| | |
| --- | --- |
| Metrics | Details |
| Base Year | 2019 |
| Historic Data | 2017-2018 |
| Forecast Period | 2020-2025 |
| Study Period | 2015-2025 |
| Forecast Unit | Value (USD) |
| Revenue forecast in 2025 | USD 56.02 billion |
| Growth Rate | CAGR of 10% during 2021-2028 |
| Segment Covered | Type, Regions |
| Regions Covered | North America, Europe, Asia Pacific, Latin America, Middle East & Africa |
| Key Players Profiled | 3D Robotics, Inc., Case IH, DeLaval Inc., Festo AG & Co. KG, Kinze Manufacturing, senseFly (Parrot Group), AgEagle Aerial Systems, FarmBot Inc., Robotnik, AgJunction, Inc., Agribotix LLC, Beijing UniStrong Science & Technology Co., Ltd., L'Avion Jaune, Gamaya SA, and Pix4D. |
Key Segments of the Global Agriculture robots and drone Market
Type Overview, 2015-2025 (USD Million)
Dairy Farm Robots
Autonomous Tractors
Agriculture Drones (UAV)
Weeding Robots
Harvesting Robots
Regional Overview, 2015-2025 (USD Million)
North America
Europe
Asia Pacific
Latin America
Middle East & Africa
Reasons for the study
The purpose of the study is to give an exhaustive outlook of the global agricultural robots & drones market industry.
We have been following the commercial drones market. Agricultural drones sector has been gaining immense importance, as a key fragment of the overall commercial drones market.
Growing world population and ever-growing food demand have driven the agricultural sector all across the world. Hence, new sustainable techniques are required to meet food demand. All in all, robotics has always been a viable option for the replacement of human labor. Also, various software technologies when integrated with advanced robotics produce optimum results in terms of efficiency.
While conducting research on the commercial drones at regional and country level, we noticed that the use of drones is not limited to developed economies such as the US, but also have started mushrooming in developing economies who have large and medium-sized farms and a proper regulatory body at the place.
What does the report include?
The study on the global agricultural robots and drones market includes qualitative factors such as drivers, restraints, and opportunities
Additionally, the market has been evaluated using the value chain and Porter's Five Forces' analysis
The study covers the qualitative and quantitative analysis of the market segment on the basis of type and region. Moreover, the study provides similar information for the key geographies.
Actual market sizes and forecasts have been provided for all the above-mentioned segments
The study includes the profiles of key players in the market with a significant global and/or regional presence
Who should buy this report?
This study is suitable for industry participants and stakeholders in the agriculture robots and drone market. The report will benefit:
Executives of agriculture robots and drone manufacturing companies
Managers within financial institutions looking to publish recent and forecasted statistics pertaining to agricultural robotics
Venture capitalist looking into investing capital
Government organizations, regulatory authorities, policymakers and financial organizations looking for innovative solutions in the field of agriculture
Analysts, researchers, educators, strategy managers, and academic institutions looking for insights into the market to determine future strategies
Agriculture is a trillion dollar industry, which represents ~ 10% of the global GDP and employing huge number of people from the worldwide working population. The industry was affected by many factors from the last few decades such as climate changes, human cultures, and evolution of technology. The agriculture market as a whole consists of a wide variety of crops, farming equipment's, pesticides, fertilizers and type of sand for cultivations. With the changing time, technology has impacted the industry in many ways by changing the traditional ways of farming and cultivations. However, all types of farming still rely on the surrounding environment for irrigation and cultivations.
When it comes to technology evolution a lot has changed in the agriculture industry which has its own positive and negative impact. Positives effect such as an increase in crop production, productivity and cost savings, negative effects such as soil erosion, kills useful insects that protect crops, and lack of proper knowledge about how to use technology in the agriculture sector.
According to the United Nations, the world's population is forecasted to reach 9 billion people by 2050. It is expected that agricultural consumption will be increased by 70% by 2050 Also, factors such as unfavorable weather conditions and lack of skill in many regions will be on the rise, which impedes agricultural productivity. On the flipside, the good news is that many technologies are being invented and brought together to revolutionize agricultural sector for countering the obstacles.
Emerging Technologies such as drones, robots, and the Internet of Things (IoT) are significantly impacting the productivity in agricultural activities including fruit picking, crop spraying, harvesting, seeding, and others. According to the Association for Unmanned Vehicle Systems International (AUVSI), agricultural drones are expected to acquire 80 percent of the commercial Unmanned Aerial Vehicles (UAV) market and has potential to create more than 100,000 jobs in the US itself. Unmanned Aerial Vehicles (UAV) such as drones are used for precision agriculture, coupled with the use of Big Data for data processing and affordable cloud-based computing to provide aerial monitoring, inspection, and intelligence gathering.
Agricultural robots are electro-mechanical machines containing sensors, control systems, power supplies and software which work together to automatically operate and perform agricultural activities. The tasks that agricultural robots perform include harvesting, pruning, seeding, sorting, packing and others.
Automatic Milking Systems (AMS) or dairy farm robots have been deployed for milk harvesting to reduce human labor. Dairy farm robots deliver greater flexibility of milking time and frequency than traditional milking systems allowing farmers to shift their focus to other areas farm management. These robots are assisting farmers to monitor milk production, milk quality and milk characteristics at individual (cow) level. Additionally, these robots can be integrated with the smart collar worn by the cows which help to monitor cow's activity, health status, rumination which assists in oestrus detection and early detection of disorders & diseases. Owing to the above value-added benefits, farmers have observed an increase in their milk production and are likely to invest in milking robotics, thus driving the growth of robots in the agriculture sector. Dairy farm robots market was valued at USD 2.78 billion in the year 2017 and is expected to grow at a CAGR of 35.2% during the forecast period.
Moreover, mobile dairy farm robots provide an option combining grazing and automatic milking. These stand-alone sheds offer facility for washing, drying and milking the animals, and can be moved to areas where cows are grazing. This process of collection of milk of grass-fed milking animals primarily based on the pasture they are situated is reducing the cost, time and labor, where the milking animals are spread over the large area, thus many dairy farmers are considering to invest in these mobile milking robots. Demand for organic pasture milk is projected to rise, owing to which farmers are likely to shift towards mobile dairy farm robots as they help in maintaining economies of scale.
Driverless tractors are involuntary navigating vehicles that use a global position system (GPS) to guide the agriculture machinery. They have the capability of driving itself in the absence of the drivers. Overlapping during the course of seeding is one of the main reasons for increasing the economics of scale. Auto-steer will assist farmers in overcoming the overlaps thus reducing labor cost as well as machinery. Additionally, other benefits include reduced inward drift implementation, accurate placements of seeds which reduces direct cost and permit more land area to be planted thus increasing the yield. Owing to which farmers are likely to invest in auto steering tractors as they offer more optimization by altering the production process. Driverless tractors were valued at USD 218.1 million in the year 2017 is expected to grow at a CAGR of 37.8% during the forecast period.
North America held the largest market share in agricultural robots and drones in 2017and is expected to maintain its position during the forecast period. The United States was leading the way in agriculture automation. The people here are well educated about the new and emerging products and the adoption rate of this technologically advanced products are increasing. According to the USDA's Economic Research Service, in 2013, the farm size in the US had grown 5 to 10 times larger due to the technological advancements as it allows a single farmer to operate and manage more acres.
The Asia Pacific is expected to be the fastest growing region as the land for cultivation in terms of area is high. The developed countries such as Japan and Korea are already using this robot in the agriculture industry. Moreover, China produces one-fourth of the world's total grain and feeds one-fifth of the world population with Chinese government backing agricultural development since 1978. Hence, the market for agricultural robots is growing rapidly in these regions as larger farms drive development and adoption of large-scale automation.
The agriculture drones market is expected to witness exponential growth rate in the coming years owing to many benefits associated with it. European countries have the most number of small and mid-sized farms which is suitable for using Unmanned Aerial Vehicles (UAV) also known as drones. Drones are relatively cheap and very easy to use for a various number of a type such as mapping, scouting, water management, dusting, and others. Though there are few barriers including regulations in the US and Europe. Japan, on the other hand, have regulations in place from over a decade and use unmanned helicopters to perform 90% of the nation's aerial crop spraying.
As of 2017, the global market for agriculture robots and drones is concentrated with a limited number of players. However, there are many startups and already established companies from the agriculture sector are collaborating and acquiring with domestically established companies. Funds raised by the startups to produce multiple types of autonomous robots for agriculture market and also there is numerous investment coming from venture capitals. The major players in the market are Pix4D, 3D Robotics, Inc., Gamaya SA, Case IH, L'Avion Jaune, DeLaval Inc., Beijing UniStrong Science & Technology Co., Ltd, Festo AG & Co. KG, Agribotix LLC, Kinze Manufacturing, AgJunction, Inc, senseFly SA (Parrot Group), Robotnik, AgEagle Aerial Systems, and FarmBot Inc.