With the development of the aviation industry, growth of the new airports, to keep the management environment healthy, aviation consulting services have occupied a place of utmost importance. The primary goal of the market of such industries is cutting down aerospace operating costs for maximum revenue growth. Such firms are continuously creating new solutions to address the control and management issues of aviation industries and help them to take financial decisions.
Covid-19 Impact:
Global outbreak of COVID-19 and lockdown situations kept a great impact on this sector as same as other consultancy sectors. This time, government of many countries stopped international flights to stop the spread of coronavirus. Therefore, the demand fell and accordingly it hampered aviation consulting sectors primarily. Even when some flights started to fly for emergency purposes, very few people boarded for travelling to other places that time. Hence, for the aviation consultancy sectors, it was not a very good time. But they didn't stop their innovations. They hoped that everything will soon come back to normal and for the passengers, keeping in mind the covid-19 protocols, they devised many plans, used modern technologies to run different public centered campaigns, grow revenue and cope up with that scenario. That's why after covid, when everything came back to normal, they again started to grow rapidly. They also gave importance to provide other side services as well as aviation consultancy and helped as much as possible.
Mcskinsey & Company Leading with their World Class Consultancy Services
For the overall improvement and development of the aviation sectors, budgeting and finance control becomes a necessary viewpoint for the decision makers. Therefore nowadays, in the dynamic scenario of enterprise behaviour and competitive scenario, top consulting services have been developed to achieve their objectives easily, and therefore they are providing a wide range of valuable services. Digital Marketing, Enhanced Predictive Analytics, Sales Strategies, Next gen Productivities for Operation Transformation – Consulting Sectors are thus helping the aviation sectors by providing so many services even without what has been mentioned. But, presently for the intelligence leadership, Mcskinsey & Company has been able to attract many of the B2B clients with their performance and providing a strong helping hand to them to change the business scenario.
North America Holding a Dominant Market as an Aerospace Consulting Service Provider
There have a numerous consulting firms mixed with big and growing industries in this sector and have been spread all around the world. Among all, by Region, North America is currently leading in terms of Aerospace consultancy. Roland Berger, BCG, Bain & Company – all are providing significant impact in the aviation industry. Beside of that, other countries are not also left behind in consultancy services. Maine Pointe, FTI Consulting, Next Continent, PA Consulting Group from Europe, Kearney, Analysys Mason, Strategy&, Arthur D Little from Middle East – These companies are also responsible for boosting the growth of Global aerospace consulting service Market.
Consultancy Service Market is facing a new Era of Development
With the continuous growth of several consultancy firms, use of AI, Machine Learning tools in Automation, Digital Promotions, Customer Acquisition, better operational SaaS products, the market is going to see a huge growth in terms of market cap in the coming years. There happened many major developments in this market including confirmation, product dispatching, composed endeavors, better encryption with enhanced data safety protocols, financial control and budgeting, and many more.
Improvements of Modern Technologies, Increased number of passenger's, services charge and modified tax affects are compelling a sector to grow as a helping hand for aviation industries. These consultancy services act with the decision makers on solving complex aviation problems and help them giving same, sometimes high-quality services cutting down the operational cost. Also developing the airport as net zero environment conscious, pollution free and healthy platform, consulting services are also making several plans and are taking significant steps toward keeping airport area eco-friendly.
Because of the availability of wide range of services from Aviation Consulting Sectors, usage is growing rapidly. There have many benefits for the aerospace industry to go for those consulting services. As generally the consultants possess many years of experience in the aviation industry, they help those sectors in making business plans, adopting new business strategies, airport sponsorship and a lot of other areas too. They also provide advice in financial accounts and in capital programming. As these consulting services have been working as an add-on structure for the overall development in aviation, the market cap of it is growing at a faster pace. It's being expected that by 2029, the market cap will hit $6.75 B I.e a CAGR growth of about 9.5%.
Growing demand for doing structural development of aviation sectors, surviving in the strong competitive environment, generate maximum revenue, transferring Marketing and promotional loads to focus on the real areas have been acting as main drivers for the market growth of such industry. Besides, increased number of passengers, demand of quality maintenance is pushing the industry growth.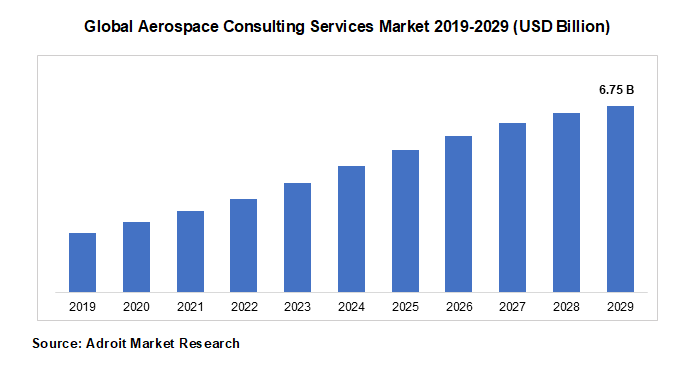 There are many companies ready to beat each other in Global aerospace Consulting service market. Among the major key players, Mott Macdonald, AeroLogistix, Black & Veatch, IBM Services, Mcskinsey & Company, Ramboll Group, Bain & Company, BCG, FTI Consulting etc. are leading in this role.
Recent Innovation sin the Global Aerospace Consulting Service Market: a Snapshot
Mott Macdonald has recently appointed Richard Risdon as Europe and UK managing director. It has also gave appointment to James Harries as executive chair and Cathy Travers as managing direct. It is being hoped that young employment can perform lots of value additions in the company.
FTI Consulting is continuously expanding its financial services in North America and therefore two managing directors were hired for this role. Sepideh Rowland has been hired as the senior managing director and Gabriel Hidalgo as managing director.
Alton aviation consultancy has recently opened a new office in the Middle East to extend their operations. Rafi Kasparian has been the managing director in Alton of Middle East. They have opened their new office now in Dubai. It's being expected that this will grow the Alton global consultancy market as well as the whole global aerospace consulting market in the coming future.
Aerospace Consulting Service Market Scope
Metrics

Details

Base Year

2021

Historic Data

2019-2020

Forecast Period

2022-2029

Study Period

2019-2029

Forecast Unit

Value (USD)

Revenue forecast in 2028

$6.75 b

illion

Growth Rate

CAGR of 9.5 % during 2021-2028

Segment Covered

Type, End- User, Regions

Regions Covered

North America, Europe, Asia Pacific, Middle East and Africa, South America

Key Players Profiled

Mott Macdonald, AeroLogistix, Black & Veatch, IBM Services, Mcskinsey & Company, Ramboll Group, Bain & Company, BCG
Key Segments of the Global Aerospace Consulting Services Market:
Type Overview, 2019-2029 (USD Billion)
Quality Monitoring
Investment Assessment
Permitting & Compliance
Auditing
Others
End-User Overview, 2019-2029 (USD Billion)
Aviation Industries
Airports
Others
Regional Overview, 2019-2029 (USD Billion)
North America
Europe
Germany
France
The UK
Rest of Europe
The Asia Pacific
China
India
Japan
Rest of Asia Pacific
South America
Mexico
Brazil
Rest of South America
The Middle East and South Africa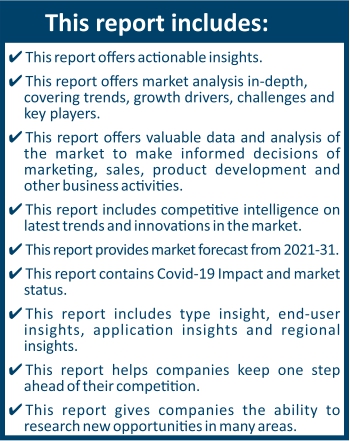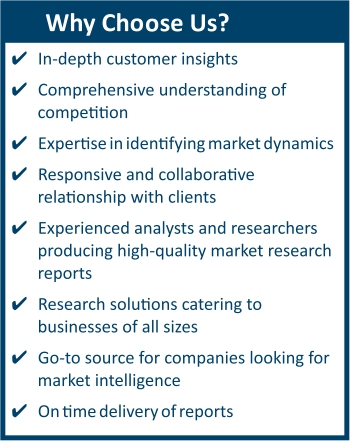 Frequently Asked Questions (FAQ) :
Geographically, the North America region will dominate market
Top players covered in the Aerospace Consulting Service market report are Mott Macdonald, AeroLogistix, Black & Veatch, IBM Services, Mcskinsey & Company, Ramboll Group, Bain & Company, BCG, etc.
Aerospace Consulting Serviceanticipated to grow at a CAGR of 9.5% during the forecast period 2019 to 2029