The global market size was worth USD 3.61 billion in 2018 and is projected to witness significant growth over the projected period. Activated charcoal plays an important role in environmental recovery and purification by virtue of its adsorbent nature. It is extensively used in food & beverage, water treatment, pharmaceuticals, and air purification. Growing environmental regulations coupled with a rising focus on sustainability, activated charcoal is expected to gain importance over the coming years.
It is produced from carbon-rich sources, coconut husks, coal, and wood. The porous structure followed by unique physical properties makes activated charcoal widely used adsorbent in the market. The expansive surface area of activated charcoal allows to capture and hold undesirable materials and impurities is expected to increase its adoption in water treatment and air purification applications. Activated charcoal is available in different grades and is frequently used in soil remediation, medical products, air purification, water purification, decaffeination, pharmaceutical products, gold recovery, automotive products, food & beverages, and metal finishing.
The global Activated Charcoal market is anticipated to increase at a 5.4% CAGR to reach value USD 4.50 billion in 2028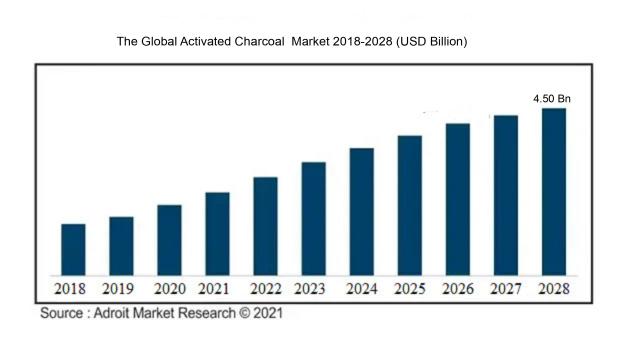 Increasing concerns for clean water followed by supportive governmental regulations in developed economies such as Europe, Japan, and North America is expected to result in market expansion in the coming years. For instance, in 2011, the Environmental Protection Agency (EPA) delivered a law (MATS rule) to restrict restricting air pollutants and mercury released by numerous power plants, which in turn is projected to increase activated charcoal market reach over the forecast period. In addition, implementation of Biocidal Products Regulation (BPR) in Europe has forced manufacturers to implement silver impregnated activated carbon. Furthermore, FDA approval of activated charcoal for medical products is expected to open new avenues for the activated charcoal market.
Activated Charcoal Market Scope
| | |
| --- | --- |
| Metrics | Details |
| Base Year | 2022 |
| Historic Data | 2018-2019 |
| Forecast Period | 2022-2028 |
| Study Period | 2018-2028 |
| Forecast Unit | Value (USD) |
| Revenue forecast in 2028 | USD 4.50 billion |
| Growth Rate | CAGR of 5.4 % during 2018-2028 |
| Segment Covered | By Type, By Application, Regions |
| Regions Covered | North America, Europe, Asia Pacific, Middle East and Africa, South America |
| Key Players Profiled | Osaka Gas Chemicals Co., Ltd. (Japan), Donau Carbon GmbH (Germany), Cabot Corporation (U.S.), PURAGEN ACTIVATED CARBONS (U.S.), CARBOTECH AC GMBH (Germany), Kuraray Co., Ltd. (Japan), KUREHA CORPORATION (Japan), Activated Carbon Technologies (Australia), Silcarbon Aktivkohle GmbH (Germany), Ingevity (U.S.), Iluka Resources (Australia), James Cumming & Sons (Australia) |
Key segments of the global activated charcoal market
Type Overview
Powdered

Granular

Extruded

Others
End Use Overview
Water treatment

Air purification

Food & beverage

Pharmaceutical

Others
Regional Overview
North America

Europe

Germany

France

UK

Rest of Europe

Asia Pacific

China

Japan

India

Rest of Asia Pacific

South America

Middle East & Africa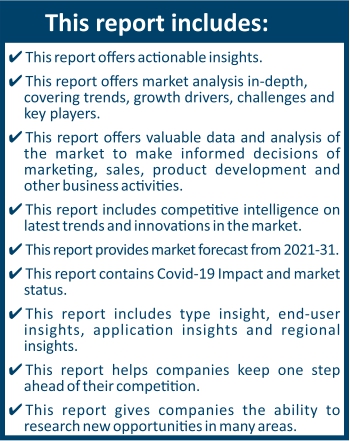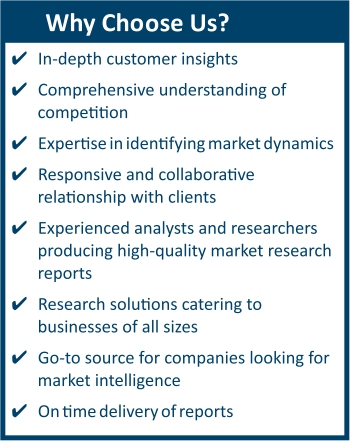 Frequently Asked Questions (FAQ) :
The global activated charcoal market size is expected to reach USD 6.68 billion by 2025.
Calgon Carbon Corporation, Cabot, Jacobi Carbons, Carbotech, and KURARAY are a few major players in activated charcoal market.
To get latest version of activated charcoal market report can be obtained on demand from the website.
Driving factors for activated charcoal:
Coal-based power plants are major sources of toxic and undesired gas emissions. The Mercury and Air Toxics Standards (MATS), a Clean Air Act approved by U.S. Environmental Protection Agency (EPA) has set regulations to track the amount of toxic gases and mercury released by these power plants. Growing implementation of Activated Carbon Injection (ACI) in the U.S. and Europe to address mercury emission is expected to increase activated charcoal market expansion.
Growing demand for clean drinking water is expected to push demand for activated charcoal. Rising investment in drinking water infrastructure in developing countries such as India, China, and Brazil is expected to increase demand for activated charcoal. For instance, in 2015, the Government of India launched the National Water Quality Sub Mission (NWQSM) to solve problems related to contamination of drinking water sources. The ultimate aim of the program was to tackle quality issues and provide clean drinking water in nearly 28,000 habitations, which are impacted by fluoride, arsenic, and other groundwater contaminations.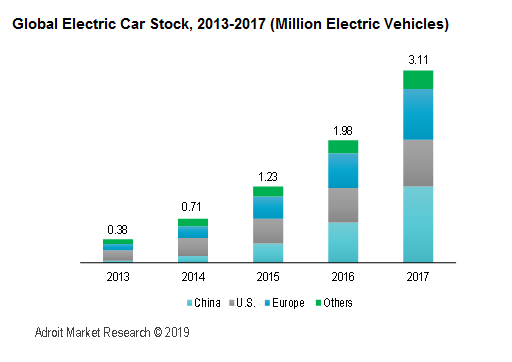 Importance of activated charcoal in the automotive industry:

Powdered activated carbon (PAC) is used to enhance battery performance in hybrid electric vehicles. World plug-in vehicles deliveries were more than 2 million units in 2018, which was 60% higher than in 2017. The emergence of electric vehicles is anticipated to increase the market concentration of activated charcoal over the coming years.
Activated charcoal is extensively used in evaporative emission control canisters. Low-density activated charcoal is used in canisters to reduce toxic emissions and adsorb vapors from fuel systems. In addition, specially crafted activated carbon pads or granular activated carbon (GAC) is used to remove odors in the passenger compartment and purify the air quality.
Increasing consumption of sweeteners, vegetable oils, alcoholic beverages, fruit-based beverages, and food additives is expected to spur the activated charcoal market for food & beverage industry. The fermentation process used in alcoholic beverages leads to congeners as a byproduct, which is responsible for unpleasant indications of hangovers. Activated charcoal is extensively used to remove these compounds to create pure alcohols.
The global activated charcoal market is segmented on the basis of type and application. On the basis of type, the market is segmented into powdered, granular, extruded including other types of activated charcoal such as carbon fiber cloth, chop or tow, or specialized shapes and moldings.
On the basis of type, powdered activated charcoal is estimated to maintain its dominance in the global activated charcoal market with a greater market share. The segment accounted for >44% of the global market share in 2018. Powdered activated charcoal is one of the form of activated charcoal which is made by crushing the ground carbon particles. It is the finest form of activated carbon with granular size ranging between 0.15-0.25 mm diameters.
Powdered activated charcoal, or PACs, offer several advantages as compared with their counterparts such as lesser processing cost and greater flexibility in operations. The small size of powdered activated charcoal makes them ideal for the usage in water/fluid applications. They are used as filters in water treatment operations. They are employed in removing organic compounds and separating chlorine from water. This form of activated is widely used in the pharmaceutical industry where they are used to for purification of raw materials used in the process. They are well suited for color removal, organic impurities and proteins as well. Thus, powdered activated charcoal finds suitability for a vast number of applications, especially water treatment, owing to which the segment is projected to witness incremental growth with CAGR of 9.3% during the forecast period.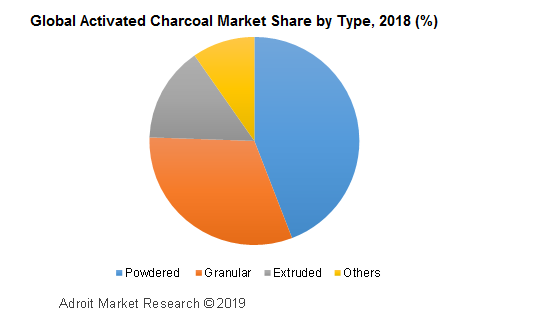 Owing to its physical properties, activated charcoal is suitable for several industry verticals such as water purification, air quality treatment, food & beverages, industrial processes, pharmaceuticals, automotive, soil remediation, metal finishing, gold recovery among others. Water treatment is the major end use of activated carbon and the consumption in this vertical was more than 700 kilo tons in 2018.
In water treatment processes, activated charcoal is used in filters which removes several organic compounds, thereby, making the water free from impurities and suitable for discharge. Activated charcoal is also widely used for air treatment at industrial as well as consumer scale. Charcoal filters are used in exhaust fans and air conditioning units for purifying the air. Application of activated charcoal in the food industry includes purification, removal of smell, decolorization, and turbidity prevention among others. China is among the top users of food grade activated carbon in the activated charcoal market. The growth of these end-use industries is expected to consequently drive the global activated charcoal market over the forecast period.
The research study on the global activated charcoal market is further segmented into key regions and countries namely: North America, Europe, Asia Pacific, South America, and Middle East & Africa. Asia Pacific region is projected to dominate the global activated charcoal market with a market share of ~45% in 2018. The region is further projected to fast-paced growth with no signs of slowing down during the forecast period. The remarkable growth in demand in the region is supported by the increasing demand for activated charcoal in China followed by India. This increase in demand is owing to the rapid increase in industrial sector coupled with notable growth in population in the region which has led to a severe crisis for potable water.
In August 2017, China announced a successful launch of 8,000 water clean-up initiatives with investment around USD 100 billion for wastewater treatment. The water crisis in China has created significant business opportunities for water treatment companies. Significant investments are being done, especially in Northern China, where desalination and recycling of water are done to cope with the water shortage. Water treatment giants are making significant investments in order to exploit market opportunities.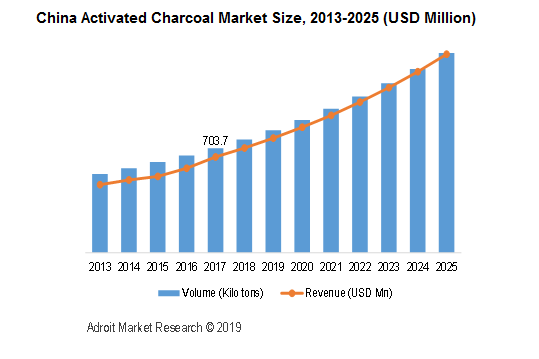 For instance, in March 2014, Unilever acquired a major stake in Chinese water purification company Qinyuan Group Co. in order to expand its customer base in a high potential market place. In March 2015, the Aquatech China, an expo focused on introducing technological solutions for obtaining clean water was held in Shanghai which was seen as a business opportunity for water treatment companies.
Overall, water shortage crisis is projected to provide a significant opportunity for the water treatment industry, which in turn, will augment the demand for activated charcoal in the region. Other regions, specifically North America and Europe, are projected to witness stable growth over the forecast period.