End-user applications such as the mining industry to catapult rapid adoption and growth of the global abrasion resistant steel plate market
Covid-19 Impact & Market Status
Due to mandated lockdowns and demand-supply disruptions, the COVID-19 pandemic has had an impact on production. In FY2022, the current coronavirus pandemic will have a considerable influence on the market. The worldwide market's posture will be harmed by the force majeure of Abrasion Resistant Steel production units across geographies. From mid-2021 onwards, the market is predicted to increase at a normal rate.
MAS400 AR Abrasion Resistant Steel:
MAS400 AR Abrasion Resistant Steel This steel grade is available in cut lengths and heavy plates of various thicknesses, with high weldability for a variety of applications, including mining machines.
MAS450 AR Abrasion Resistant Steel:
With a hardness of 450 Brinell and carbon content of 0.26 percent, MAS450 AR Abrasion Resistant Steel is widely used in the earthmoving industry. This martensitic steel has excellent formability and mechanical property retention following profiling and processing, making it ideal for abrasive situations.
MAS500 AR Abrasion Resistant Steel:
While all of their abrasion resistant grades are unsuitable for heat treatment, MAS500 maintains high physical integrity throughout welding and shaping operations, allowing complicated components to be fabricated with superior abrasion resistance.
Analysis on the basis of Region
In the past, APEJ has led the global wear resistant steel plate market, and it will continue to do so in the future. By the conclusion of the projected year, the area is on track to generate an absolute $ opportunity of US$ 4.7 billion.
Together, China and India will account for more than half of regional demand, propelling the worldwide market in terms of value and volume. North America and Europe, which are predicted to develop rapidly through 2029, are closely followed by APEJ.
AgriTech 2030, Europe's vision for the future of advanced agricultural machinery, predicts a surge in demand for wear-resistant steel plates over the forecast period. Manufacturers in the region are also pursuing industry-specific products and production expertise, as well as a wide range of preprocessing options and mergers and acquisitions, all of which will contribute to the growth of Europe's steel construction industry, which will have an impact on the wear resistant steel plate market.
Features of improved lifespan are one of the primary factors favoring rapid adoption of abrasion-resistant steel plates across industries such as heavy machinery
Steel Plate with Abrasion Resistance Steel is used to create a wide range of items, including sheets and plates. Their properties, on the other hand, change depending on the extra elements that have been added to them. Abrasion Resistant Steel Plate is a high carbon alloy plate that is resistant to abrasion. It's formable thanks to the alloy, and it's toughened thanks to the high carbon content. Due to the inclusion of carbon, Abrasion Resistant Steel Plate has decreased strength while increasing hardness and toughness. They're employed in applications that work in high-wear, abrasion-prone conditions, where abrasion is the most common cause of failure.
Buckets, dump liners, conveyors, construction attachments, ballistic plates, and body armor all employ Ar Steel Plate. The tempering and quenching processes produce abrasion-resistant material. This procedure reduces brittleness and changes the grain structure to improve toughness in the Wear Resistant Plate. These plates are quenched when they are heated to a high temperature and then quickly cooled by immersing them in water. Tempering these Abrasion Resistant Plates is done by warming the quenched plate and letting it cool to room temperature. This causes the crystal structure produced during quenching to dissolve.
Because of its long-life duration, abrasion-resistant stainless-steel plates are utilized in plants, construction, and machinery. Cold bending capabilities and high weldability are provided by a low brine hardness. Abrasion-resistant plate with a high brine hardness is beneficial in applications that are prone to wear and tear. The usage of these plates at temperatures above 250 degrees C is not recommended by Ar Plate Suppliers. Furthermore, these plates are employed in mining, quarrying, and earthmoving applications.
These Abrasion Resistant Wear Plates have a maximum service temperature of 80 percent of their melting point. Corrosion-resistant sheets can be applied to these plates at times. Crushers, cutting edges, excavators, hoppers, chutes, and feeders all employ Quard steel plates.
The Brinell scale (26–600) is used to determine the hardness of industrial steel. It assesses a material's resistance to impact forces. Steel alloys near the top of the scale are among the hardest-designed metals on the planet, providing higher wear resistance at the expense of ductility and strength. More malleable steels with greater tensile strengths, on the other hand, are more prone to abrasion resistance.
The alloying content of industrial steels must be continuously monitored in order to achieve an appropriate connection between mechanical hardness and ductility. Increased carbon content is typically connected with improved material strength and hardness; however, this is dependent on the steel grade's additional alloying elements. Ultra-high-carbon steel grades, for example, with carbon levels ranging from 0.60 to 0.70 percent can have hardness values as low as 187 Brinell.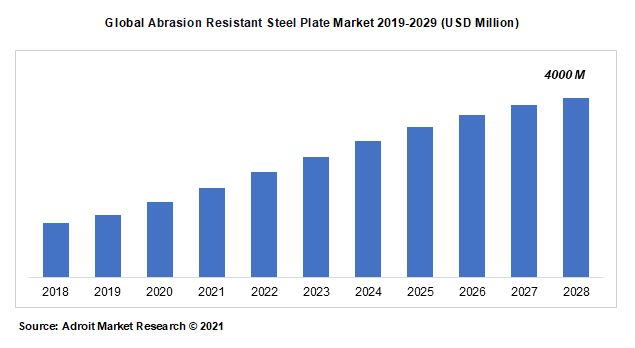 Abrasion Resistant Steel Plant Market Scope
| | |
| --- | --- |
| Metrics | Details |
| Base Year | 2020 |
| Historic Data | 2018-2019 |
| Forecast Period | 2021-2028 |
| Study Period | 2018-2028 |
| Forecast Unit | Value (USD) |
| Revenue forecast in 2028 | USD 4000 million |
| Growth Rate | CAGR of 4.50 % during 2021-2028 |
| Segment Covered | Type, Application, Regions |
| Regions Covered | North America, Europe, Asia Pacific, Middle East and Africa, South America |
| Key Players Profiled | SSAB, JFE, Dilinger, Essar Steel Alogma, Nippon Steel. |
Key Segments of the Abrasion Resistant Steel Market
Type Overview, 2019-2029 (USD Million)
High-Carbon Alloy Steel
Low-Carbon Alloy Steel
Application Overview, 2019-2029 (USD Million)
Mining Industry
Power Plants
Others
Regional Overview, 2019-2029 (USD Million)
North America
Europe
Germany
France
UK
Rest of Europe
Asia Pacific
China
India
Japan
Rest of Asia Pacific
South America
Mexico
Brazil
Rest of South America
Middle East and South Africa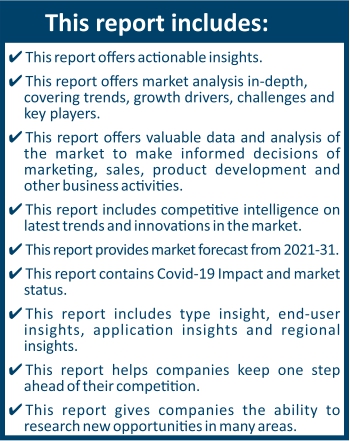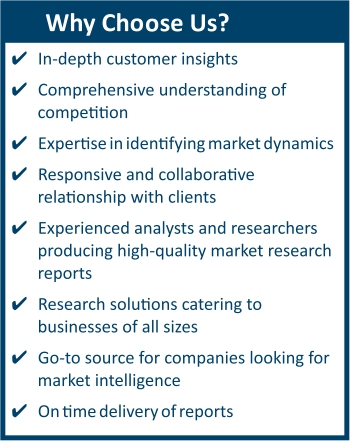 Frequently Asked Questions (FAQ) :
The market value of abrasion resistant steel plant market in 2029 was USD 4000 million.
The abrasion resistant steel plant market is growing at a CAGR of 4.50% over the forecast period.
North America dominated the market for abrasion resistant steel plant market and accounted for the largest revenue share.
The top companies that hold the market share in abrasion resistant steel plant market are SSAB, JFE, Dilinger, Essar Steel Alogma, Nippon Steel.
To get latest version of abrasion resistant steel plant market report can be obtained on demand from the website.