The adoption of 3D technology for diverse applications such as films and games, cultural heritage and solutions museum upkeep, and the manufacture of drones and robots has increased the importance of these. In recent times, industries such as automotive industry and construction sector are fast embracing 3D reconstruction software solutions.
The 3D Reconstruction Software Market is expected to reach USD 1,864.26 Million during the forecast period at a 14.1% CAGR.
Covid-19 Impact & Market Status
Like many other businesses, 3D reconstruction industry has also suffered a significant impact. This is due to significant disruptions in their manufacturing and supply chains as a result of various precautionary lockdowns and other restrictions imposed by governments throughout the world.
With pandemic restrictions taking a backseat, and governments across the world encouraging back-to-normal initiatives, 3D reconstruction software space is expected to experience a growth fillip in the coming years.
The expansion of 3D reconstruction technology in the entertainment sector for video games and theatrical films is expected to fuel market growth throughout the projected period. The market for 3D reconstruction technology is expected to rise in tandem with the growing need for medical imaging.
Furthermore, technological advancements are expected to support the market for 3D reconstruction technology growth. A considerable rise in the technological sector is however identified as a significant threat and is likely to stem growth in the global 3D reconstruction software market in the coming years.
This extended research, which is offered as a free extract, also comes with the option to upgrade to premium features, which include extensive historical, current, and future data. A revised and updated pricing model for production and launch prices has also been added to the global 3D Reconstruction Technology Market research. The report includes additional content to help decision-makers gain a better understanding of the industry, as well as up-to-date estimates that take into consideration the current economic situation and the impact of COVID-19.
3D Reconstruction Software Held Largest Market Share in 2020
This software converts two-dimensional (two-dimensional) photos into a three-dimensional model. The key benefit of this technology is that it can transform anything from real life to virtual reality by using computational intelligence and algorithms to portray the reconstruction process.
Based on Photographs and Video Segment Poised For Rapid Market Expansion
This sort of reconstruction software uses videos collected by cameras to create a detailed three-dimensional map or to draw/render models based on images provided.
Three-Dimensional Scanning Segment Experienced Rapid Market Growth
This sort of software is mostly used in the medical profession to produce a three-dimensional model utilizing a variety of scanning technologies such as laser scanners, structured light scanners, photogrammetry, and so on.
Films & Games Application Segment Accounted for Highest Market Revenue
Films & Games: This type of reconstruction software is widely used in the film and gaming industries due to its capacity to build high-quality models that can be used for visual effects, revisualization, scene reconstruction, and other applications.
Printing: This application is mostly used to build replicas or models from existing data that can be exported as an STL file format and then printed on any type of FDM (fused deposition modeling) printer, such as the Makerbot Replicator, Ultimaker, and others.
North America is expected to have the greatest share
North America is expected to emerge as the most growth-oriented regional hub and this is largely backed by a growing entertainment industry. Leading filmmakers are incessantly incorporating 3D reconstruction software elements to improve the visual appeal.
Increased investment in the rise of rapid prototyping is creating chances for the 3D Reconstruction Solutions market to grow in the projected timeline. Untapped market potential, as well as greater consumer awareness, are likely to be highlighted in the industry. 3D reconstruction comprises the process of reconstructing a 3D scene aligning with either single or multiple views.
3D reconstruction is a computer-assisted method of recreating an object in a virtual three-dimensional (3D) environment. This can be accomplished in a variety of ways, but it typically entails the use of input data such as two-dimensional (2D) pictures or scanning of the actual thing.
The advancement of 3D construction technology has enabled the creation of complex virtual worlds in a variety of end-use applications, including media and entertainment, healthcare, and the construction industry. 3D reconstruction technology advancements are currently showing promise for a range of dynamic future applications.
This 3D reconstruction can be altered or used in a variety of ways, including medical applications, law enforcement reconstructions, and even the development of 3D visuals for cinema and television. 3D reconstruction solutions capture the appearance and shape of a real thing and utilize them to create 3D models from a set of photographs.
To stoke novel developments in image processing, 3D reconstruction software is witnessing acceptance across activities comprising medical research, telemetry, VR, remote sensing besides others.
Companies may now visualize recommended product ideas in the form of 3D models without needing to develop a physical prototype thanks to powerful 3D reconstruction technology. In addition, 3D reconstruction technology enables users to create goods at any stage of creation, saving money and time.
The appearance, shape, and motion of an item have a significant influence on 3D reconstruction technology acceptance in a variety of applications, including healthcare, entertainment, and autonomous systems. Businesses and customers are now looking out for smartphone app access across devices which also is a significant growth stimulator in the 3D reconstruction software market.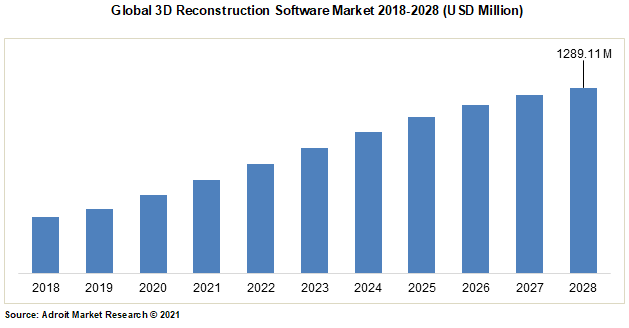 The major players operating in the 3D reconstruction technology market are Pix4D SA, Agisoft, Capturing Reality s.r.o., Autodesk Inc., Bentley Systems, Photometrix Photogrammetry Software, Incorporated, PMS AG, Intel Corporation, Vi3DIM TECHNOLOGIES, Skyline Software Systems, Koninklijke Philips N.V., Airbus S.A.S., PhotoModeler Technologies, and Vi3DIM TECHNOLOGIES among others.
Latest Innovations in the Global 3D Reconstruction Software Market: a Snapshot
It was included in INtel's RealSense portfolio The SR305 is a self-contained coded light camera that provides a low-cost depth solution for a wide range of 3D reconstruction applications. The Intel RealSense SDK 2.0, which is open-source, makes development and programming easier.
IN October 2019, Pix4D revealed new products to refurbish its product portfolio under the brands Pix4Dreact and Pix4Dsurvey to further improve the company's 3D reconstruction software solutions.Pix4Dsurvery bridges the gap between photogrammetry and CAD software by allowing for integration based on user-defined custom attributes and layers, whilst Pix4Dreact allows for speedier mapping for emergency responses.
3D Reconstruction Software Market Scope
| | |
| --- | --- |
| Metrics | Details |
| Base Year | 2020 |
| Historic Data | 2018-2019 |
| Forecast Period | 2021-2028 |
| Study Period | 2018-2028 |
| Forecast Unit | Value (USD) |
| Revenue forecast in 2028 | USD 1,864.26 Million |
| Growth Rate | CAGR of 14.1 % during 2021-2028 |
| Segment Covered | by Components, Deployment, Application, End-User, Type, Regions |
| Regions Covered | North America, Europe, Asia Pacific, Middle East and Africa, South America |
| Key Players Profiled | Leica Camera AG, Simactive Inc., Propeller Aerobotics PTY Ltd., Shenzhen 3DOE Technology Co. Ltd., Dronedeploy, 4dage Co. Ltd., Thermo Fisher Scientific, Autodesk Inc., Photomodeler Technologies, Intel Corporation |
Key Segments of the Global 3D Reconstruction Software Market
Type Overview, 2018-2028 (USD Million)
Based on Images and Video
3D Reconstruction Software
Based on 3D Scanning
Application Type Overview, 2018-2028 (USD Million)
Films & Games
Culture Heritage and Museum
3D Printing, Drones and Robots
Others
Regional Overview, 2018-2028 (USD Million)
North America
Europe
Germany
France
UK
Rest of Europe
Asia Pacific
China
India
Japan
Rest of Asia Pacific
South America
Mexico
Brazil
Rest of South America
Middle East and South Africa
Frequently Asked Questions (FAQ) :
The market value of 3D reconstruction software market in 2029 was USD 1289.11 million.
The 3D reconstruction software market is growing at a CAGR of 7.3% over the forecast period.
The application of the 3D reconstruction software market culture heritage and museum, films & games, 3D printing, drones and robots and other.
North America dominated the market for 3D reconstruction software market and accounted for the largest revenue share.
The top companies that hold the market share in 3D reconstruction software market are Pix4D SA, Agisoft, Capturing Reality s.r.o., Autodesk Inc., Bentley Systems, Photometrix Photogrammetry Software, Incorporated, PMS AG, Intel Corporation, Vi3DIM TECHNOLOGIES, Skyline Software Systems & among others.