Global 3D printing powder market accounted for a market value of USD nearly 391 million in the year 2019 and is projected to grow at a CAGR of more than 21% over the forecast period. A large part of the 3D printers that are presently available in the global market are based on powders not filaments.
The size of the global market for 3D Printing Powder is expected to reach US$ 13.22 Bn. by 2029, expanding at a compound annual growth rate (CAGR) of 32.8%.
3D printing powder is digitally controlled layering used to create a 3D model from the powder supplied to 3D printers. Key materials used in the 3D printing powder is stainless steel, steel, titanium alloys, aluminum alloys, nickel and super alloys of chromium. In 3D printing powder of various kinds, some pure metals such as palladium, platinum, silver and gold are also used.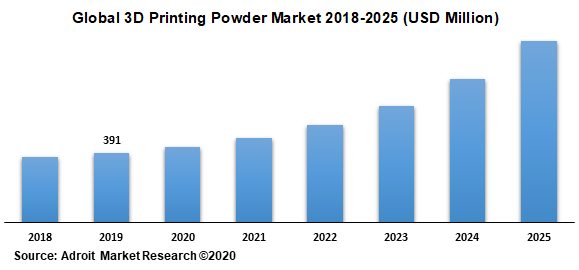 3D printing powders have a characteristic packing density and specific morphology that ensure uniformity and good flow in 3D printing of different objects. 3D powder form and particle size vary significantly on the basis of the final specifications and technology of manufacturing. Much of the available 3D printing powder is spherical in shape, and the particle sizes or the diameter ranges from 50 μm to 150 μm.
Key Segment Of The 3D Printing Powder Market
by Form, 2022-2029 (USD Million)
• Powder
• Filament
by Technology, 2022-2029 (USD Million)
• Powder Bed Fusion
• Directed Energy Deposition
• Binder Jetting
• Metal Extrusion
• Others
by Metal Type, 2022-2029 (USD Million)
• Titanium
• Nickel
• Stainless Steel
• Aluminum
• Others
by End-Use Industry, 2022-2029 (USD Million)
• Aerospace & Defense
• Automotive
• Medical & Dental
• Others
Regional Overview, 2022-2029 (USD Million)
North America
• US
• Canada
Europe
• Germany
• France
• UK
• Rest of Europe
Asia Pacific
• China
• India
• Japan
• Rest of Asia Pacific
South America
• Mexico
• Brazil
• Rest of South America
Middle East and South Africa
Frequently Asked Questions (FAQ) :
The market value of 3d printing powdert market in 2025 was USD 1 billion
Europe dominated the market for 3d printing powder market and accounted for the largest revenue share.
The major contenders in the global 3d printing powder market Sandvik Materials Technology, GKN Hoeganaes Corporation, Carpenter Technology Corporation, LPW Technology Ltd., Arcam AB, Hoganas AB, Arkema, EOS GmbH Electro Optical Systems, 3D Ceram, Lithoz GmbH, GKN PLC
In recent years the demand for 3D printed products has also swelled with the rapid growth of the 3D industry. Aerospace and defense industry is one of the major users of 3D printing powder material such as airbuses, missiles, engine parts, etc. Application of 3D material ensures excellent strength and longevity of the finished products. also helping in weight-reduction of the substrate on which it is being used and quick production of products based on new designs.
The printer's interior is heated just under the powder melting point of your choosing. And the printer spreads out an incredibly fine powder film. The bits hit by the laser are now fused while the rest remain loose powder. A new layer of fresh powder passes across the surface with a roller after printing a sheet. The effect is a large block of powder that has printed (sintered) models in it after printing is done.
In terms of type the global 3D printing powder is segmented into metal, plastic, and ceramic. Similarly, in terms of application the global 3D printing powder market is divided into aerospace & defence, healthcare, automotive, and others. Aerospace & defence is the biggest application area of 3D printing powder and is projected to show similar trend over the forecast period. However, as the automation is taking place at a faster pace, automotive sector is projected to show fastest growth over the forecast period.
In terms of geography, the global 3D printing ceramic is segmented into North America, Europe, Asia Pacific, Central & South America, and Middle East & Africa. North America is projected to lead the global market owing to advancement in the technology and presence of key industrial players.

Key players operating in this market comprises of Sandvik Materials Technology, GKN Hoeganaes Corporation, Carpenter Technology Corporation, LPW Technology Ltd., Arcam AB, Hoganas AB, Arkema, EOS GmbH Electro Optical Systems, 3D Ceram, Lithoz GmbH, GKN PLC