Owing to benefits such as Skilled personnel are expensive to hire in industrialized countries, especially in Europe. Furthermore, professionals with knowledge and understanding are needed for unique and odd shapes and sizes. Due to the high labour costs, the total cost of the project increases. However, printing 3D concrete allows the construction of complex buildings cost-effectively and without errors. A 3D printer can produce intricately shaped structures in huge volumes while utilising less labour.
Covid-19 Impact & Market Status
3D concrete printing technology has benefited from the global impact of COVID-19. Construction losses have been severe due to a lack of workers and other employees. In spite of this, the technology of 3D printing has proven to be a boon in such a time of crisis. As an example, 3D-printed quarantine booths manufactured by Winsun Building Technique Co., Ltd. are being used for infection isolation in Rizhao, Shandong and Xianning, Hubei. The booths are constructed using recycled industrial waste and other construction materials, and they are designed to withstand extreme environmental conditions, including wind and earthquakes. These booths have three times stronger concrete walls compared to conventional booths.
Fragments are Robotic Arms and Gantry Systems
Based on printing type, the global 3D printed concrete market is segmented into clothing, robotic arms, and gantry systems. Gantry systems are anticipated to gain their market share at a rate of 109.4%. Gantry systems are a motorized linear assembly of rails and frames for mounting printers. Larger items can be printed with gantry systems than with robotic arms. Building construction involves gantry systems. Gantry systems are used in the construction of multi-family housing in Denmark, Italy, China and the United States. As 3D concrete printing technology advances and construction projects use 3D printing more frequently, the market for gantry system printers is predicted to expand rapidly.
Powder-Based and Extrusion-Based Fragments.
The global 3D concrete printing market is classified by technique, the fragments are extrusion-based and power based. A CAGR of 109.7% is forecast for the extrusion-based section of the market. 3D printers are controlled by software such as AutoCAD or SolidWorks that utilizes extrusion-based signs. 3D printer routes are specified actions on the use of these printers and they are capable of printing various mixes with low and high flow characteristics. Additionally advantageous to them are the design and construction's structural, architectural, and environmental qualities. As technology for printing concrete and other materials advances, 3D concrete printing will increasingly adopt this technique. Thus, these components combine to broaden the global market.
Residential, Commercial and Infrastructure are the End Use
The second-largest share will be held by the commercial section. As our understanding of 3D printing technology grows, we are facilitating its use by contractors and builders. In December of this year, Apis Cor, the provider of his 3D printing services, built his two-story office in Dubai. A gypsum-based end-use sector has been developed by Apis Cor for use in printing walls. This end-use sector has the capability of withstanding extreme environmental fluctuations. As a result, more people are expected to utilize 3D printing in the commercial sector as 3D printing becomes more widely used in the construction of significant infrastructure.
Most certainly, the North American Will Dominate the Market
The North American concrete 3D printing market is witnessing significant growth due to the innovation phase of the market. As technology advances and obstacles such as poor finish and lack of technical competence are overcome, it is expected to expand rapidly in the global market. As a result, the majority of the income earned will be accounted for by the United States. Additionally, it is anticipated that the market would grow due to the use of cutting-edge 3D concrete printing techniques. The North American concrete 3D printing market is experiencing significant growth due to the innovation phase of the market.
As a leader in the field of 3D concrete printing, Apis Cor works closely with various other organizations and businesses to create new 3D projects. In addition, it displays prototypes at various events to raise awareness of its technology. In addition to educating visitors about the advantages of 2D printing and connecting them with possible customers, MudBots showcases its 3D printing concrete material at various technology and end-use shows targeted at the construction industry. As with several other exhibitions, Apis Cor has presented its work to the public in the past. As well as participating in NASA contests, the company has also participated in third-party contests involving 3D printing.
To improve building efficiency, safety, and quality, 3D printing uses robotics as opposed to conventional bricklaying. 3D concrete printing enables computer-controlled robots to construct 3D structures for buildings and other infrastructure. The printer's path is programmed using programmes like SolidWorks or AutoCAD.
It is anticipated that developed countries' urbanisation and uptake of cutting-edge technology will provide the significant market potential for 3D concrete printing. Additionally, as builders learn more about the advantages of 3D printing, they are swiftly changing their tastes to favour this technology on a variety of projects. The global market is greatly expanded as a result. For example, in December 2019, construction companies ICON and New Story raised funding to build 50 3D-printed homes for low-income residents in Mexico.
Because more people are constructing new homes and remodelling existing ones, there is also a substantial amount of waste produced by manual construction. Wastes from the construction of pillars, slabs, and walls are frequently made of concrete. When printing concrete in three dimensions, 3D printing uses a nozzle through which the concrete is accurately measured and put, eliminating waste. As a result, decreasing waste generation and the price of concrete during building will promote global market expansion. These factors work in concert to drive the global 3D Concrete Printer market, which is projected to increase at an annualised pace of 106.7% from 2017 to 2029 and reach USD 290.65 billion.
Buildings and construction-related components are created using cementitious 3D construction printing (3DCP), a type of additive manufacturing. It makes use of cutting-edge 3D printing technology, sophisticated machinery, and cutting-edge concrete mixtures to produce complex and individualised designs, shapes, and buildings. The nozzle of the printing apparatus deposits layers of 3D-printed concrete on top of previously pumped layers until the required structure is created. As 3D concrete printing has gained popularity in the construction sector lately, it is assisting in streamlining the entire process, cutting costs overall, minimising material waste, increasing productivity, saving time, and enhancing building quality.
3D concrete printing can be used for digital construction on-site and prefabrication of concrete pieces. The Construction Industry 4.0 is being shaped by new technologies. Introducing the necessary changes to building practices through digitization and automation is a promising approach. The construction industry has a lack of competent workers and low productivity. 3D concrete printing is anticipated to increase in popularity as design and planning procedures are purposefully automated, along with the construction process itself.
However, in order to set up a 3D concrete printing service, there is a significant initial investment required. The high cost of 3D printers is primarily due to AutoCAD and SolidWorks, the two programs that run them. Moreover, conventional concrete can't be used for 3D printing because it's not sold on the market. Due to variations in cement composition across different geographical areas and applications of 3D concrete printing, there are many barriers to the market for 3D concrete printing.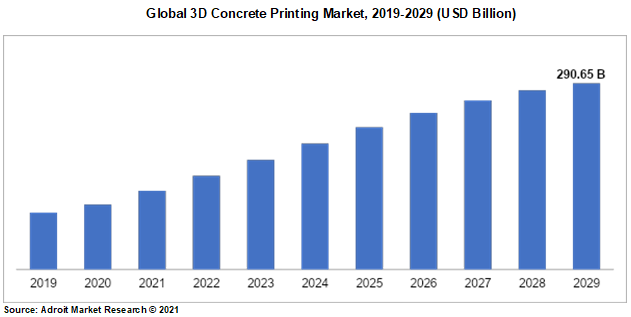 Apis Cor, Cobod International A/S, CyBe Construction, D-Shape, Heidelbergcement AG, LafargeHolcim, Sika AG, Skanska, Yingchuang Building Trchnirue Co., and XtreeE are major players in the global concrete 3D printing market. Due to growth opportunities, these markets are adopting strategies such as product launches and business expansions to better serve the specific 3D printing market.
Latest Innovations in the Global 3D Concrete Printing Market: A Snapshot
In August 2021, Skanska intends to use 3D-printed concrete in its construction of HS2, the USD147 billion high-speed rail system being constructed in the United Kingdom. Rather than shipping prefabricated slabs or mixing and pouring concrete on site, Skanska, Costain, and Strabag will use a technique called "Printfrastructure" to print concrete buildings on site.
As part of its collaboration with Sika, Pikus Concrete will commercialize 3D concrete printing technology in the construction industry on May 2020 in order to tap its immense potential. Sika technology has been incorporated into Pikus' first 3D concrete printer in Lehi, Utah. The business is focusing on implementing the technology as part of its initial construction project.
3D Concrete Printing Market Scope
| | |
| --- | --- |
| Metrics | Details |
| Base Year | 2022 |
| Historic Data | 2020-2021 |
| Forecast Period | 2022-2030 |
| Study Period | 2020-2030 |
| Forecast Unit | Value (USD) |
| Revenue forecast in 2030 | USD 4,986,793.7 thousand |
| Growth Rate | CAGR of 100.7% during 2021-2030 |
| Segment Covered | Construction, Material Type, Regions |
| Regions Covered | North America, Europe, Asia Pacific, South America, Middle East and Africa |
| Key Players Profiled | COBOD International A/S,,Yingchuang Building Technique (Shanghai) Co.Ltd.(Winsun),,XtreeE,,Apis Cor,,WASP S.r.I,,CyBe Construction,,Sika AG,,MX3D,,Contour Crafting Corp.,,ICON Technology, Inc.,,Constructions-3D |
Key Segments of the Global 3D Concrete Printing Market
Printing Type Overview, 2019-2029 (USD Billion)
Gantry System
Robotic Arm
Technique Overview, 2019-2029 (USD Billion)
Extrusion-Based
Powered-Based
End-User Overview, 2019-2029 (USD Billion)
Residential
Commercial
Infrastructure
Regional Overview, 2019-2029 (USD Billion)
North America
Europe
Germany
France
UK
Rest of Europe
Asia Pacific
China
India
Japan
Rest of Asia Pacific
South America
Mexico
Brazil
Rest of South America
Middle East and South Africa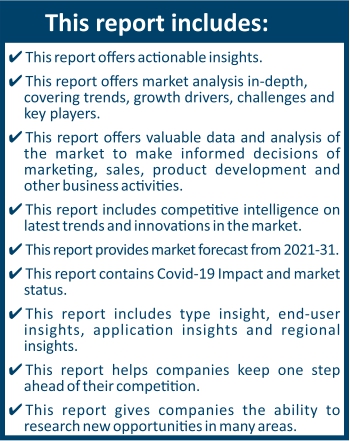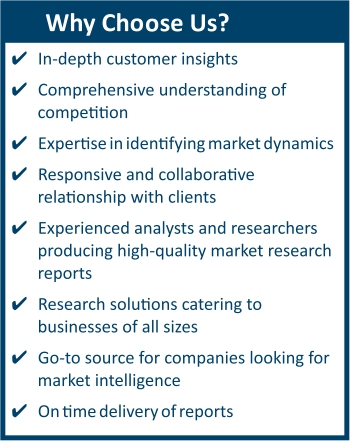 Frequently Asked Questions (FAQ) :
The market value of 3d concrete printing market in 2029 was USD 290.65 billion.
The 3d concrete printing market is growing at a CAGR of 106.7% over the forecast period.
The top companies that hold the market share in 3d concrete printing market are Apis Cor, Cobod International A/S, CyBe Construction, D-Shape, Heidelbergcement AG, LafargeHolcim, Sika AG, Skanska, Yingchuang Building Trchnirue Co., and XtreeE & among others.