Kombucha originated in Northern China and was initially prized for its healing properties. Kombucha soon penetrated Japan and Korean markets owing to its increased preference among consumers due to rising health benefits associated with it. Also, with the improvement in trade policies and trade route expansions, most notably in Germany and Russia, the drink started global preference by the end of 20th century. Since then, kombucha is being widely used across the globe due to increasing demand for probiotics as well as functional beverages with energizing taste.
So, what is kombucha? Kombucha is a type of tea which is fermented by adding a "starter tea" (also a previously fermented kombucha) along with a portion of SCOBY (symbiotic culture of bacteria and yeast). This mixture is then left to ferment depending on the required taste.
Over the past few years, kombucha has become tremendously famous across the world, thanks to social media. Consumers have been sharing their experiences of kombucha on social media platforms like Pinterest, Facebook, Twitter, and Instagram. Consumers are sharing stories of how kombucha made them mentally and physically healthier. The picture is one such example of the popularity of kombucha on Instagram.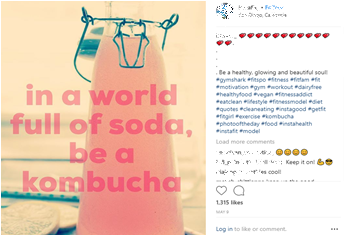 Presently, there are several brands of kombucha available in supermarket, hypermarkets, drug stores, as well as through online shopping. KeVita, GT's Kombucha, Humm Kombucha, Revive, Buchi, and Kosmic are some of the popular brands available in the market.
Despite its commercial availability, some people prefer brewing the drink at home to suit their own taste and need. Majority of the brands available in the market today started out as home brewing experiments, which later expanded to a commercial scale, with sales for some companies crossing borders into other continents.
Why is kombucha so popular? Kombucha has gained tremendous popularity over the last two decades. A drink that has already been around for centuries, kombucha revived its fame, especially in North America and Europe. The high probiotic content in the drink has been one of the main reasons contributing to its growing popularity. Probiotics have gained popularity and quick adoption over the past few years as they are generally safe and have very few side-effects.
Probiotics offer various benefits including treating Irritable bowel syndrome, inflammatory bowel disease (IBD), infectious diarrhoea (caused by viruses, bacteria, or parasites), and antibiotic-related diarrhoea. In addition, they also help in treating skin conditions such as eczema, maintain urinary & vaginal health, prevent allergies & cold, and maintain overall oral health.
During the process of fermentation, the bacteria and yeast form a mushroom-like blob on the surface, which is why kombucha is also known as "mushroom tea". This blob is a living symbiotic colony of bacteria and yeast (SCOBY) and can be used to ferment new kombucha.
So, how does the global kombucha industry look like? The global kombucha market size was estimated to be around USD 1.2 billion in 2017 and is expected to grow at a 13% CAGR between 2018 and 2025. Research shows that the global non-dairy fermented drinks market is expected to grow at an average of 5-5.5% over the same projected period. This implies that the global kombucha sales are likely to be much higher (more lucrative) than the other products already available in the market. This spells good news for the existing players as well as those who want to enter the commercial space.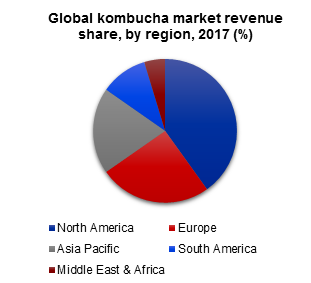 Bifurcating the market into different regions, we expect Asia Pacific to be the fastest developing region within the global kombucha market growing at 13.7% CAGR between 2018 and 2025. This growth is despite the fact that almost every country in the region has its own local drink. For instance, buttermilk and coconut water are available all across India, Japan's Mugicha (a tea-like drink) and Genmaicha, China's tieguanyin (tastes somewhere between green and black tea) and Jiuniang (soup-like dish with rice wine) are some of the popular drinks in each of these countries. Nonetheless, the sales in these three emerging economies is expected to grow significantly over the next few years, primarily due to the preference of consumers (preferably youth) for a variety of exotic drinks. Health benefits imparted by this drink is an added bonus to its "near-exotic" label. China and India are each expected to grow above 14.5% CAGR over the next seven years.
Organic vs. inorganic? The global sales for organic kombucha have been the highest historically and this dominant trend is expected to persist for the next few years. Consumer preference for fresh products with the least amounts of added artificial ingredients has propelled the sales of kombucha and this trend is expected to continue over the next few years. Rising consumer awareness of "organic" products as they have a higher nutritional content is expected to further propel the global organic kombucha market sales over the next few years.
On the other-hand, global inorganic kombucha market growth is likely to be steady. Although the popularity of organic foods & beverages is huge, their penetration is low with consumers often opting for non-organic products owing to their lower cost and availability.
Original vs. flavored? The global original kombucha market sales amounted to USD 350.2 million in 2017. It has no flavors added and is made with a basic process using fermented tea. The taste of original kombucha differs from company to company. However, it contains the least amount of sugar and has a tart-like taste along with less fizz.
The original kombucha is popular among consumers who have a high awareness regarding the intake of sugar. Rising fad of diets that focus on weight loss by reducing the intake of sugar is likely to favor the demand for original kombucha.
At present, there is a broad range of flavored products available in the market with infused herbs, spices, fruits, and flavors. Consumer preference for flavored kombucha drinks is expected to drive the sales of this segment over the forecast period.
Offline vs. online sales? In 2017, online retailers accounted for a little over 20% of the global kombucha market sales. Online retailers have a larger inventory with few interruptions in the supply-chain. Consumers often turn to e-tailers when they do not find their products in supermarkets or convenience stores. With the rise in the number of online shoppers, online retailers are anticipated to witness a boost in their sales.
Who leads the competition? GT's Kombucha, KeVita, Humm Kombucha, The Hain Celestial Group, and Reed's Inc. were the top performers within the global kombucha industry in 2017. These companies have a global presence and have been undertaking various strategic steps to increase their visibility in the market. Product portfolio development was the most adopted strategy followed by acquisition among the active market players in the kombucha market between 2016 and 2018.
Product launches by the leading companies since 2016
Company

Recent news

KeVita

In August 2017, KeVita announced the addition of two new flavors to its Master Brew Kombucha line: Blueberry Basil and Roots Beer

In September 2016, KeVita introduced three new Master Brew Kombucha flavors to its line-up. The new flavors are Dragonfruit Lemongrass, Mango Habanero and Citrus

GT's Kombucha

In January 2018, GT's Living Foods launched a limited-edition kombucha for the winter season available till 31st March. Pure Love features organic raw kombucha with a blend of blood orange, dried rose buds and petals, dried hibiscus flowers and rose water.

In September 2017, GT's Living Foods launched a limited-edition kombucha for the fall season called as Living in Gratitude

In June 2017, GT's launched limited-edition Kombucha called Liberty – a sweet summer blend that's more than just a seasonal flavor

The Hain Celestial Group

In July 2016, BluePrint announced the launch of a new line of certified USDA organic Kombucha Drinks