The Breast Prosthesis market is expected to grow at a CAGR of 6.70% to reach in .
Breast prosthesis is an artificial breast form that replaces all or portion of the removed breast shape. Most breast prostheses are produced from a thin film of smooth silicone gel. They are shaped to resemble the breast or portion of a breast's natural form. A mastectomy or a broad local excision (removal of a lump and some adjacent tissue) is most commonly deployed in breast surgery. Basic breast prosthesis types include full or standard prosthesis, shell prosthesis, partial or shaped prosthesis, stick-on prosthesis. The complete or standard prostheses have different backrests intended to go directly against the wall of the chest where all breast tissue was removed. Partial or shaped prosthesis produced from the same silicone material is viewed as the most complete prosthesis and worn inside the bra thus filling the breast outline.
The global breast prosthesis market size is valued at USD 124.1 billion in 2020. This can be ascribed to the increase in prevalence of breast cancer among women population. According to the American Cancer Society, in 2018, 266,120 new cases of invasive breast cancer cases were diagnosed in women, in the U.S. alone. According to the Breast Cancer Organization, approximately 1 in 8 women will develop invasive breast cancer over her lifetime in the U.S. In addition, the availability of custom breast forms of various shapes, colors, materials and occasion attracts females to opt for breast prosthesis.
Breast prosthesis come at an average pricing of minimum USD 199 to maximum USD 499, which is a cheaper alternative to breast reconstruction and implants. Often women that are not ready for another surgery post mastectomy may opt for breast prosthesis. Furthermore, manufacturers and lingerie boutiques are coming up with post-mastectomy bras, wigs, and other accessories to promote self-confidence in the patients, thereby creating awareness and further demand for breast prosthesis. In developing nations, government initiatives to encourage awareness and rehabilitation of breast cancer will increase the market growth. Government has set up helpline numbers to find vendors with licensed breast form fitters and designers. Additionally, effective reimbursement scenarios are creating market opportunities through government and private insurers. Thus, the market is driven by technological development in the manufacturing of prosthesis leading to a lifelike feeling.
Breast Prosthesis Market Scope
| | |
| --- | --- |
| Metrics | Details |
| Base Year | 2020 |
| Historic Data | 2018-2019 |
| Forecast Period | 2021-2028 |
| Study Period | 2018-2028 |
| Forecast Unit | Value (USD) |
| Revenue forecast in 2028 | USD 124.1 billion |
| Growth Rate | CAGR of 9.1% during 2021-2028 |
| Segment Covered | Product, Shape, Regions |
| Regions Covered | North America, Europe, Asia Pacific, South America, Middle East & Africa |
| Key Players Profiled | Allergan Inc., American Breast Care, Arion Laboratories, Amoena Medizin-Orthopädie-Technik GmbH, Anita Dr. Helbig GmbH, ContourMed, Inc, Hans Biomed, Silimed, Jodee Post Mastectomy, Nearly Me Technologies LLC, Nicola Jane, Sientra, Inc., and Trulife Breastcare (Trulife Group) among others. |
Key Segments of the Global Breast Prosthesis Market
Product Overview, 2019-2028 (USD Million)
Silicone Breast Prosthesis
Polyfill Foam Breast Prosthesis
Shape Overview, 2019-2028 (USD Million)
Round Breast Prosthesis
Asymmetrical Breast Prosthesis
Swimming Prosthesis
Partial Prosthesis
Others
Regional Overview, 2019-2028 (USD Million)
North America
Europe
UK
Germany
France
Rest of Europe
Asia Pacific
China
Japan
India
South Korea
Rest of Asia Pacific
South America
Brazil
Mexico
Rest of South America
Middle East and Africa
Saudi Arabia
UAE
Rest of Middle East and Africa
Reasons for the study
The purpose of the study is to give an exhaustive outlook of the global breast prosthesis market
To evaluate the impact of increased demand for breast prosthesis owing to large incidence of breast cancer. Major companies are therefore striving to offer innovative solutions coupled with the latest technological advancements to address the increasing demand.
What does the report include?
The study on the global breast prosthesis market includes qualitative factors such as drivers, restraints, and opportunities
The study covers a qualitative and quantitative analysis of the market segmented based on product, and shape. Moreover, the study provides similar information for the key geographies.
Actual market sizes and forecasts have been provided for all the above-mentioned segments.
The study covers the competitive landscape of existing/prospective players in the breast prosthesis industry and their strategic initiatives for product development.
Who should buy this report?
This study is suitable for industry participants and stakeholders in the global breast prosthesis market.
The report will benefit executives of breast prosthesis manufacturing companies that are engaged in spreading knowledge about benefits of it on overall women aesthetics
Managers within the industry looking to publish recent and forecasted statistics about the global breast prosthesis market.
Government organizations, regulatory authorities, policymakers, and organizations looking for investments in trends of the global breast prosthesis market.
Analysts, researchers, educators, strategy managers, and government institutions looking for insights into the market to determine future strategies.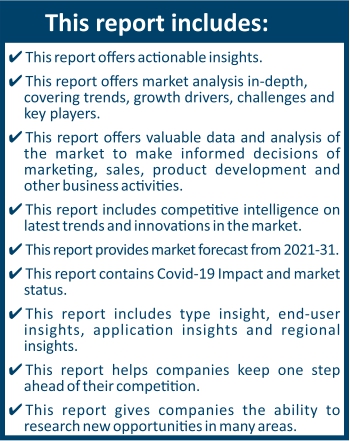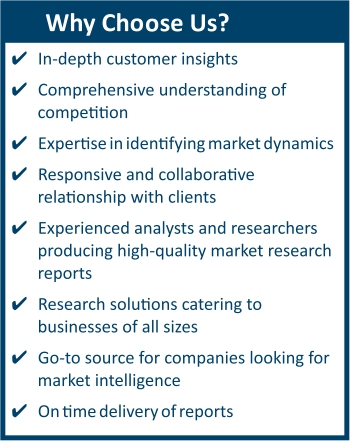 For the patients that do not opt for breast reconstruction, use of breast prosthesis can assist them in regaining the look and feel they had before mastectomy, reduction, reconstruction, cystectomy and lumpectomy. The off the shelf, convention breast prostheses are either made from silicone or foam and are available in several shapes and sizes. These prostheses are either adhered to the chest wall or are tucked inside pocketed bra or camisole to keep them in place. Additionally, custom breast prostheses can be created to give the users more natural appearance matching the natural contours, skin colour and therefore delivering more symmetrical look and better feel. Technological advancement has led to newer changes in the field of breast prostheses. For instance, the FastScan system is a portable 3D scanner making a real time digital scan of the chest area. This method offers better results for post mastectomy and lumpectomy fitting and solutions for unbalanced reconstruction.
Another example is the Radiant Impressions custom implants by TruLife. Their custom implants are weigh less than the conventional silicone implants and are offered in several colours (30) to match the customer's skin tone. Another prominent benefit of custom prosthesis is the availability of custom contour areolas and nipples. These features are fabricated so as to match the intended colour, shape and size of the remaining nipple or as desired by the user. Similar solutions are also available for patients undergoing bilateral reconstruction.
Insurance coverage for adoption of breast prostheses is also improving. Typically, an insurance coverage offers a minimum two to twelve special mastectomy bras every year, one light weight prosthesis twice a year and a new silicone prosthesis every one to two years. Some of the insurance policies also offer benefits in custom prosthesis. Most of the mastectomy plans offer lifetime benefits, irrespective the time period since the surgery.
Product Segment
Based on product, the market is bifurcated into silicone breast prosthesis and polyfill foam breast prosthesis. In 2020, the silicone breast prosthesis segment accumulated the maximum market share of over 56% and is anticipated to retain its dominance through the forecast period. Higher cost, better look and feel, greater product life, and wider consumer base are the key factors attributed to the dominance of the breast prosthesis market. Silicone breast forms have a natural tissue like feel in the clothing, and come in several shapes and sizes to approximate any breast type. It combines layers of silicone of different densities to mimic the breast of an older woman, whereas firmer silicone gel can be used to mirror the breast density of a younger woman. The expensive versions of silicone breast prostheses can also mimic the motion of natural breast tissue.
On the other hand, non-silicone form i.e. polyfill foam breast prostheses are a cheaper alternative to silicone prosthesis. These are also viewed as temporary prostheses to be worn for shorter durations. Lesser costs and less volume consumed are the prime attributes for the lower market share of this segment. Additionally, it is estimated that the market growth of polyfill foam breast prostheses shall remain stable due to its imperative position in initial rehabilitation of recovering patients after surgery.
North America dominated the global breast prosthesis market with USD 56.6 million in 2020. Developed healthcare structure and people's elevated consciousness of breast prosthesis is a key driving factor for the market. Due to the elevated incidence of breast cancer and better diagnosis and therapy of breast cancer, the US arose as the biggest market in North America. Increasing numbers of cosmetic boutiques providing custom breast shapes and an effective reimbursement structure also help the development of the industry.
The U.S. breast prosthesis market was observed as the most mature and largest market globally throughout the forecast period. Increasing prevalence of breast cancer is one the major factors responsible for high demand for breast prosthesis in the United States accompanied with high awareness associated with the post mastectomy challenges faced by patients. Thus, overall growing prevalence of breast cancer is expected to assist the growth of the U.S. breast prosthetics market.