The global automotive refinish coatings market size was worth USD 6.48 billion in 2017 and is likely to grow on account of increasing vehicle repair and maintenance activities. Growing inclination of consumers towards aesthetic appeal of vehicles is another key factor driving the progression of the automotive refinishing industry.
Growth in the number of vehicle fleet across the globe is also a key factor to propel the need for automotive refinish coatings over the next few years. Likewise, the rising number of accidents coupled with consumer behavior to invest in repairing the minutest abrasions to vehicles is also likely to drive growth.
The global Automotive Refinish Coatings market is projected to reach US$ 10.7 Bn by 2031, growing at a CAGR of 5.4%
Automotive refinish coating is a type of protective coating that is used on vehicles to enhance its appearance and improve durability. In addition to this, coatings protect the vehicle from harsh weather conditions such as UV radiation and foreign particles that settle on the surface of the vehicle.
Acrylic, alkyd, polyurethane, epoxy, and titanium dioxide, which are used in the automotive refinishing industry, are derived from petrochemicals. Over the course of time, it has been observed that the price of petrochemicals has fluctuated notably, especially when the prices fell during 2015 and 2016. This price fluctuation, in turn, has impacted the profit margins of manufacturers resulting in interruptions in supply-demand of the finished product. This factor is expected to restrain the global automotive refinish coatings market development.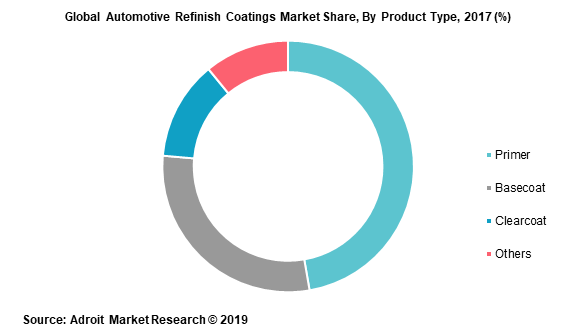 Primer, basecoat and clearcoat are some of the majorly used products in the automotive refinishing industry among which clearcoat is expected to witness the fastest growth within the global automotive refinish coatings market. Clearcoat accounted for over 35% of the automotive refinish market share in 2017, on the basis of both volume and value. Clearcoat is applied to the vehicle body as a surface finishing element which is able to provide the desired visual appeal and optimal surface protection to the vehicle. The rise in vehicle maintenance activities has propelled the demand for clearcoat or topcoat.
Polyurethane coating resins dominated the global automotive refinish coatings market share accounting for 45.8% of the volume in 2017. The multifunctional attributes of PU resins such as fast curing, ease of application and compatibility with water-based and solvent-based systems, makes the product a highly favored precursor in the automotive refinishing industry.
In terms of technology, waterborne coatings are gaining significant prominence due to its eco-friendly properties. This trend is mainly prevalent across developed regions such as Europe and North America due to strict environmental regulations for VOC (Volatile Organic Compounds). However, solvent-borne coatings are expected to continue its dominance, though with less margin, owing to high market penetration and consumption in Asia Pacific. Solvent-borne and waterborne coatings together are expected to account for 91.7% of the revenues generated in 2025.
In terms of volume, North America and Europe together accounted for 39.2% of the global automotive refinish coatings market in 2017. However, the global automotive refinishing industry is anticipated to be dominated by Asia Pacific over the forecast period due to factors such as increasing consumer expenditure for vehicle maintenance & repair, and positive growth in automotive sales in the region. Increased sales coupled with government support for the automotive industry, especially in India and China, is anticipated to boost the demand for vehicle sales.
An evaluation of the landscape of the global automotive refinish coatings industry reveals that the market is concentrated with the presence of international companies that account for a significant share in the global market sales. Top players include Axalta Coating Systems, PPG Industries, BASF, AkzoNobel, and Sherwin-Williams which accounted for over 50% of the global automotive refinish coatings market share in 2017.
However, the strong presence of numerous local players in the global automotive refinishing industry is estimated to considerably impact the industry in coming years. Production capacity expansion and development of new product formulations is the key strategy followed by the ability of global manufacturers to withstand the overall market competition. For instance, in November 2017, BASF SE expanded its Victorian automotive refinish technology distribution center in order to expand its consumer bases in Australia. Furthermore, in April 2018, Axalta Coating Systems commenced operations at a new manufacturing plant in Gujarat, India for manufacturing coatings and automotive parts for the commercial vehicles segment.
Automotive Refinish Coatings Market Scope
| | |
| --- | --- |
| Metrics | Details |
| Base Year | 2022 |
| Historic Data | 2021-2022 |
| Forecast Period | 2022-2031 |
| Study Period | 2021-2031 |
| Forecast Unit | Value (USD) |
| Revenue forecast in 2031 | US$ 10.7 Bn |
| Growth Rate | CAGR of 5.4 % during 2022-2031 |
| Segment Covered | By Material Type, By Product Type, Regions |
| Regions Covered | North America, Europe, Asia Pacific, South America, Middle East and Africa |
| Key Players Profiled | Axalta Coating Systems, LLC, 3M Company, AkzoNobel N.V., PPG Industries, Inc., The Sherwin-Williams Company, Dow Inc., Nippon Paint Holdings Co., Ltd., Kansai Paint Co., Ltd., Covestro AG, KAPCI Coatings, NOVOL Sp. Z o.o., KCC Corporation, Bernardo Ecenarro S.A., SEM Products, Inc., Sheboygan Paint Company, Cresta Paint Industries Ltd. |
Key Segments Of The Global Automotive Refinish Coatings Market
Product Type Overview, 2014-2025 (Kilo Tons) (USD Million)
Primer
Basecoat
Clearcoat
Others
Resin Type Overview, 2014-2025 (Kilo Tons) (USD Million)
Alkyd
Acrylic
Polyurethane
Others
Technology Overview, 2014-2025 (Kilo Tons) (USD Million)
Solvent-borne
Waterborne
UV-cured
Vehicle Type Overview, 2014-2025 (Kilo Tons) (USD Million)
Passenger cars
Commercial vehicles
Regional Overview, 2014-2025 (Kilo Tons) (USD Million)
North America
Latin America
Europe
Asia Pacific
Middle East & Africa
Reasons for the study
The study assesses the dynamics and movement of the global automotive refinish coatings market across various geographies
While studying the automotive paints market, we observed that automotive refinish coatings is an indispensable part of the automotive industry in which significant developments have been taking place
We also observed that the due to increasing vehicle maintenance and repair activities, the demand for refinish coatings is on the rise
The number of local manufacturers entering the global automotive refinish coatings market has been on the rise over the past few years, thus, making this product a favorable business opportunity, especially in fast growing marketplaces such as Asia Pacific and Latin America
What does the report include?
The study on the global automotive refinish coatings market includes qualitative factors such as drivers, restraints, and opportunities
Additionally, the market has been evaluated using the value chain, PESTLE analysis and Porter's Five Forces' analysis
The study covers qualitative and quantitative analysis of the market segmented on the basis of product type, resin type, technology and vehicle type. Moreover, the study provides similar information for the key geographies.
Actual market sizes and forecasts have been provided for all the above-mentioned segments
The study includes the profiles of key players in the market with a significant global and/or regional presence
Who should buy this report?
The report on the global automotive refinish coatings market is suitable for all the players across the value chain including coating resin suppliers, automotive refinish coatings manufacturers, distributors, suppliers and retailers
Venture capitalists and investors looking for more information on the future outlook of the global automotive refinish coatings market
Consultants, analysts, researcher, and academicians looking for insights shaping the global automotive refinish coatings market