The global white mineral oil (petroleum) market reached USD 1.47 billion in 2018. Low aromatic and sulfur content, and better hydrophobicity and compatibility with other fluids are the key product properties of white oil. As a consequence, white mineral oil is utilized in several industries that include pharmaceutical, personal care, textile, food processing, polymers, and other niche sectors.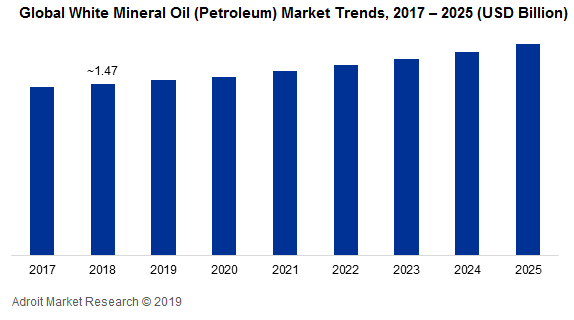 Pharmaceutical, polymers, and textile sectors have been the significant end-users that have influenced white mineral oil market trends over the recent years. Prominent players in the industry offer various product grades based on the end-use. For instance, Calumet Specialty Product Partners, L.P., a US based company offers medical / pharmaceutical product grades under brands such as Peneteck and Drakeol. Active ingredient carriers, laxatives, gelatin capsule lubricants, and topical ointments are the major pharmaceutical applications targeted by the company.
Application dynamics, consumption, dominance of manufacturers, and the intensity of rivalry are the factors that govern the competitiveness of the white oil market. Several global players are currently operating in the white oil market. The global white mineral oil market depicts significant fragmentation, owing to the presence of a significant unorganized sector in the market. Prevalence of competition among well-established providers and numerous establishments in developing regions has intensified the market rivalry over the recent years.
Vertical integration across the white oil market value chain is expected to increase the intensity of rivalry during the forecast period. Sinopec Corporation, Petro Canada, Royal Dutch Shell N.V., and Sonneborn, Inc. are a few of the fully integrated players operating in the value chain. Furthermore, there is a significant presence of different regional market players especially those that are based in India, China and other developing countries. This scenario is expected to intensify the market rivalry and ultimately the overall competitive environment for white oil in the next couple of years.
White Mineral Oil (Petroleum) Market Scope
| | |
| --- | --- |
| Metrics | Details |
| Base Year | 2019 |
| Historic Data | 2017-2018 |
| Forecast Period | 2020-2025 |
| Study Period | 2015-2025 |
| Forecast Unit | Value (USD) |
| Revenue forecast in 2025 | USD 1.47 million |
| Growth Rate | CAGR of 3.2% during 2021-2028 |
| Segment Covered | End-user, Regions |
| Regions Covered | North America, Europe, Asia Pacific, South America, Middle East & Africa |
| Key Players Profiled | ExxonMobil, Petro-Canada, Sonneborn, Inc., and Sinopec Corporation |
Categorization of global white mineral (petroleum) oil market:
End-user Overview, 2015-2025 (Kilo Tons) (USD Million)
Personal care
Pharmaceutical
Adhesives
Polymers
Agriculture
Food
Textile
Others
Regional Overview, 2015-2025 (Kilo Tons) (USD Million)
North America
Europe
Asia Pacific
Latin America
Middle East & Africa (MEA)

Saudi Arabia
South Africa
Reasons for the study
The study emphases on the white oil market dynamics and its penetration across industry verticals.
Market growth of cosmetics & personal care, pharmaceutical, and polymers, and application of white mineral oil in these sectors are the key trends analyzed
Consumer awareness coupled with the overall spending patterns on personal care products were studied to analyze growth driving patterns. This further helped us to track trend variations in each region.
Geographic presence, product brands, and grades offered by major players and presence of several local players are some of the parameters studying in order to evaluate the overall market competitiveness
The effect of regulations governing the use of synthetic based skin care and hair care products in Europe have also been taken into account for understanding their impact on the growth of the white mineral oil market
What does the report include?
The global white mineral oil (petroleum) market report is a holistic study comprising:
In-depth qualitative analysis on the market drivers, restraining factors, and opportunities
Evaluation of the industry by using the industry value chain and Porter's Five Forces analysis models
Impact of political, socio-economical, technological, environmental, and legal factors on the market via PESTEL analysis
Actual market sizing and forecast estimates by application and region
Who should buy this report?
The audience that would benefit from purchase of this holistic market research study include industry players and investors operating in the areas of oil refining, upstream and downstream petrochemicals, pharmaceutical, personal care & cosmetics, and polymer processing sectors. The report will highly benefit:
Company executives working in the petrochemical manufacturing and distribution areas
Regional heads and managers that are seeking new opportunities and ventures for entering potential markets
Financial managers, investors, and venture capitalists looking to gauge forecast and trends pertaining to the mineral oil industry
Analysts, researchers, educationalists, strategy planning heads, and academic institutions looking to understand the white mineral oil market dynamics
Government authorities, regulatory organizations, etc.
Raw material supply, product manufacturing, product distribution & marketing, and end-use / application industries are the main components or stages that together make up an industry value chain. Value addition occurs at every stage of the chain, which further impacts various aspects of the product such as performance features, price trends, and most essentially its usage or consumption in the end-user industry.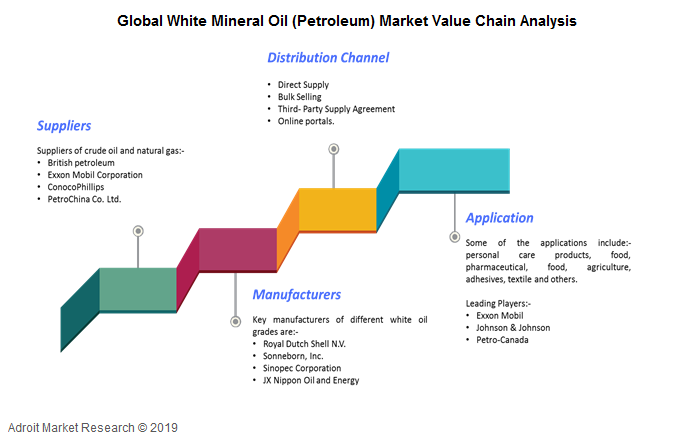 Natural gas and crude oil feed stocks are the key precursors of white mineral oil. These precursors are further processed to produce white mineral oil grades. Some of the major raw material suppliers include PetroChina Co., Ltd., ConocoPhillips, and Total S.A. Technical, medical, food, and cosmetic grades of white mineral oil are commercially available in the global market. The formulations of these grades vary in terms of chemical properties such as viscosity, purity, and constituency of the medium. Sinopec Corporation, Nynas AB, JX Nippon Oil & Energy Corporation, Royal Dutch Shell N.V., Petro-Canada, and Sonneborn, Inc., are some of the prominent market players that offer comprehensive white oil product portfolio comprising varied grades targeted at specific application sectors.
Moderate degree of backward integration exists in the global value chain. Major raw material manufacturers are also engaged in the production and supply of white oil grades. Companies such as British Petroleum, Petro-Canada, Exxon Mobil Corporation, and Royal Dutch Shell N.V. are a few of the oil & gas suppliers that have vertically integrated business operations. The industry participants distribute white mineral oil through various modes of distribution that include direct supply, bulk sale, third-party supply agreements, and e-commerce portals. Sonneborn Inc. Sinopec Corporation, and JAX, Inc. distribute & advertise their products through direct selling and bulk sale in the global marketplace. Paraffin Oil, and STE Oil Company, Inc. are a couple of players engaged in the online or e-commerce product supply.
White oil, also known as white mineral oil, is one of the key ingredients used in the formulation of various personal care products. Petroleum jelly, body lotions, baby oils, moisturizing creams, cosmetics, cold creams, and hair care products actively consume white mineral oil. Personal care has been one of the prominent applications of white oil which is further expected to drive the market growth over the years ahead.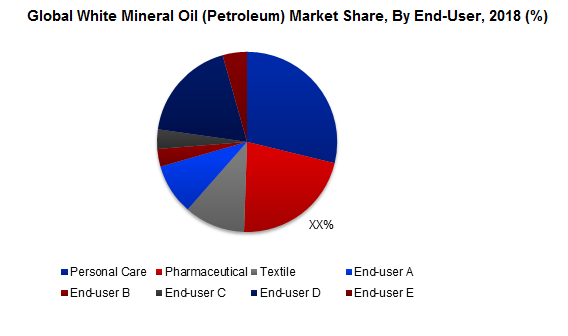 Personal care is a diverse market that is anticipated to witness robust growth, owing to rapid expanse of the consumer base especially in Asia Pacific countries such as China, India, Malaysia, Singapore, and Vietnam. Furthermore, increase in the consumer disposable incomes, rise in personal health and hygiene awareness, and significant consumption of cosmetics, hair care products, and skin care products are other growth-enhancing factors that are likely to support the development of the personal care industry. In terms of revenue, the global market for personal care is likely to reach nearly USD 600.0 billion by 2025.
White oil is utilized during the processing of personal care products, owing to its chemical inertness, high purity, lubricity, and good moisture barrier aspects. Furthermore, white oil is also blended with other hair oil formulations such as coconut oil and other vegetable oils, owing to their inert nature and compatibility with other chemicals and oils. Hence, the growth of the global personal care industry is expected to boost the consumption of key processing ingredients including white oil in the future.
White oil is used as an additive or blended as a base material for the processing of pharmaceutical products such as laxatives, ointments, internal lubricants, and emollients. White oil possesses good anti-bacterial properties and are chemically stable when processed with other synthetic products. Due to superior blending characteristics, white oil is consumed extensively in pharmaceutical applications. Hence, the growth of the pharmaceutical market is expected to propel the demand for white oil in the future.
Asia Pacific and North America held noteworthy white mineral oil (petroleum) market shares in 2018. Presence of numerous regional players, rapidly developing personal care and pharmaceutical sectors, and expanding consumer base are the major white mineral oil (petroleum) market trends witnessed in the Asia Pacific region.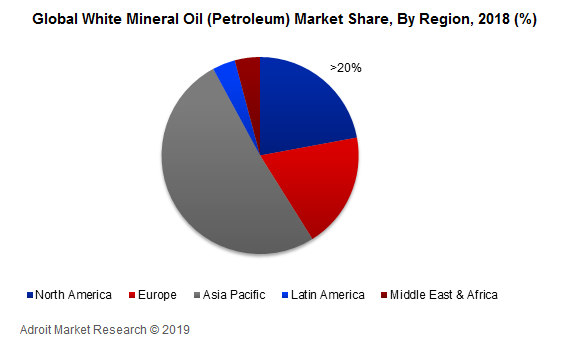 North America accounted for more than 20% of the total white mineral oil (petroleum) market share in 2018. Rising requirements for low density and fast-setting bonding products in the North American paper & paperboard and packaging sectors, has led to an increase in the production of hot melt adhesives. This scenario is considered to be one of the majorly driving white mineral oil (petroleum) market trends in the region. Market presence of leading cosmetics and personal care companies such as, Unilever, Maybelline, Proctor & Gamble, and Johnson & Johnson is another important factor that is expected to support the growth of the white mineral oil market size in North America.
Especially in countries like India & China, the use of cosmetic and beauty care products for females is increasing exponentially. Additionally, these are the most populous countries having more number of young people. The use of sunscreen, and anti-aging products is also very popular in these countries. More than 170 enterprises have entered into China's cosmetics market. Regional demography supported by wide white mineral oil consumption in major and niche application sectors and improved economic status of key countries are some of the socio-economic factors that are expected to boost the market dynamics by 2025. This positive scenario is expected to reflect in increasing revenue of Asia Pacific white mineral oil market during the forecast period.
India is actively spending on the natural gas and oil exploration facilities so as to reduce reliance on the imports and quench the growing energy demands. Therefore, the country looks forward in deriving its various sub product through oil exploration. These factors are expected to drive the market growth by 2025.