Web Hosting is a service that allows individuals and organizations to post a web page or website onto the internet. A web host provides the services and technologies which are needed for the webpage or website to be viewed on the internet. All these websites are stored in a special computer called servers. The hosting companies offer various type of services such as website builders, VPS, shared, collocated, dedicated, and cloud hosting which further help to host user's websites.
The global Web Hosting Services market is anticipated to increase at a 15.2% CAGR to reach value 183.05 in 2027
The global web hosting market is expected to reach 216.59 Billion USD by 2025 on account of rapid penetration of internet which has brought a tremendous increase in digitalization rate across the globe. The rapid development of e-commerce and the growing demand for promotional platforms by entrepreneurs in different domains are major drivers of the global web hosting services market. Due to digitalization growth, startups have emerged majorly with web existence which is likely to expand in 2025. Five related technologies such as big data, Internet of Things (IoT), cloud technology and Artificial Intelligence, have modernized almost all sectors across the globe and drive major productivity improvements.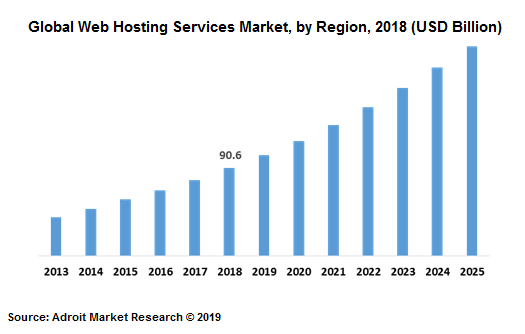 Features such as storage, database support, shell access, language support, site backup, and free AdWords have ensured to improve the performance, scalability, and flexibility of websites performance. Such features are expected to fuel the market over the forecast period. Services such as shared hosting, dedicated hosting, VPS hosting, cloud hosting are gaining momentum pertaining to raising awareness for data security and need for backup.
The leading giant in the web hosting domain is GoDaddy which ruled the industry for twenty plus years. Being first web host and domain registrar for most of the user, GoDaddy has 8,000 employees around the world and boasts more than 77 billion domain names under management. The company also owns the popular Host Europe Group and managed hosting leader Media Temple, specializes in user-friendly and affordable shared hosting and domain registrations.
Web Hosting Services Market Scope
| | |
| --- | --- |
| Metrics | Details |
| Base Year | 2019 |
| Historic Data | 2017-2018 |
| Forecast Period | 2020-2025 |
| Study Period | 2015-2025 |
| Forecast Unit | Value (USD) |
| Revenue forecast in 2025 | USD 90.64 billion |
| Growth Rate | CAGR of 13.25% during 2021-2028 |
| Segment Covered | Product, Application, Regions |
| Regions Covered | North America, Europe, Asia Pacific, Middle East & Africa, South America |
| Key Players Profiled | Amazon Web Services, AT&T, Dreamhost, Earthlink, Equinix, Google, Endurance International Group, GoDaddy, Justhost, Exabytes, SiteGround, A2 Hosting, Hostinger, Vodien, IP Server One, Shinjuru, Fast Comet, Future Forecast |
Key Segments of the Global Web Hosting Services Market
Product Overview, 2015-2025 (USD Billion)
Website Builders

Shared Hosting

Dedicated Hosting
Application Overview, 2015-2025 (USD Billion)
Public Websites

Intranet Services

Others
Regional Overview, 2015-2025 (USD Billion)
North America
Europe
Asia-Pacific
South America
Middle East & Africa
Frequently Asked Questions (FAQ) :
The web hosting services market is growing at a CAGR of 13.25% over the forecast period.
The application of the web hosting services market Public Websites, Intranet Services and other.
The top companies that hold the market share in web hosting services market are Amazon Web Services, AT&T, Dreamhost, Earthlink, Equinix, Google, Endurance International Group, GoDaddy, Justhost, Exabytes, SiteGround, A2 Hosting, Hostinger, Vodien, IP Server One, Shinjuru, Fast Comet & among others.
Web hosting is an internet hosting that enables individuals and businesses to make their online presence in the form of a website, accessible to the public via the internet. A website requires two things to be hosted or to become accessible to everybody i.e. Web space and bandwidth. Website files, HTML codes, images and everything else is stored in web space and in the web hosting industry, bandwidth denotes the amount of data, which can be transferred to and from a server or a website. It is the allocated internet bandwidth, which makes a website manageable and accessible to everybody online. The higher the bandwidth leads to better network services, connection, and system. Bandwidth requirements are directly proportional to the numeral of visitors, visiting the site. More hits on websites mean more bandwidth is required. Global web hosting market was valued at USD 78.40 billion in 2017 and is projected to grow at a CAGR of 13.3% during the forecast period.
Dedicated web hosting typically offers an exclusive server along with builds and maintains the server, which further eliminates a business upfront cost. Dedicated web hosting guarantees maximum uptime for the user's website by providing more stability and reliability. These factors further enhanced performance and security than any other hosting services like shared or VPS. This service is mostly preferable by large running e-commerce sites such as Amazon, Alibaba that requires SSL for credit card processing. Dedicated web hosting is anticipated to grow at CAGR 9.4% during the forecast years.
A large enterprise has invested heavily in web hosting services as these services have assisted them to manage their large business in the simplest and efficient way. Large enterprises require to manage huge traffic and web space to manage an extensive database.
Product Type
Based on product type, global web hosting services market has three categories which include website builders, shared hosting and dedicated hosting. Website builders are projected to reach USD 139.50 Billion in the year 2025 and expected to grow at CAGR of 14.8%. The major factors which drive website builders include lack of technical knowledge, the need for online portals of small businesses and self-service approach. Site builders are able to tackle full-featured commercial websites that can get thousands of page views per month. Website builders have gained major traction as they are user-friendly and easy to use.
Application
On the basis of application segmentation of global web hosting services market, categories include public websites, intranet services, and others. Public Websites is projected to reach USD 118.43 Billion in the year 2025 and expected to grow at CAGR of 13.3%.
North America is likely to experience substantial growth and held the almost 50.0% market share of global web hosting services in the year 2018. Canada and U.S. are expected to drive the growth of the web hosting services market in North America due to the presence of giant and established key players like Web Services, Amazon Web Services, EarthLink Inc., AT&T Inc., DreamHost Inc., Equinix Inc., and Google, Inc. among others. Also, due to the considerable shift towards the adoption of cloud-based applications and drastic fall in the usage of native applications in the region, the web hosting service market is likely to exhibit immense growth in the forthcoming years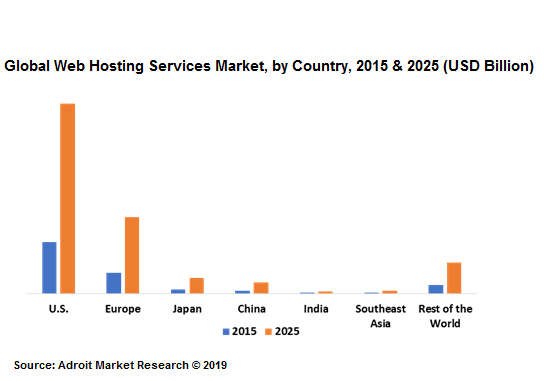 Europe market for web hosting services is expected to grow at a considerable CAGR. Most of the North American and European government organizations are expanding their IT budgets due to outdated IT infrastructure, which is observed to be higher than any other segment. For instance, lots of government organizations like NHS in the UK demanded billions to improve and safeguard their infrastructure following cybersecurity attacks such as Wanna Cry. Its hosted Internet Protocol telephony and unified communications as a service market have maintained a strong growth rate that is creating growth opportunities and value for businesses for service providers.
In Asia-Pacific region, web hosting services market is anticipated to grow at a significant growth rate during the forecast period owing to the amalgamation of enterprise demand for domestic sourcing requirements and managed hosted private cloud environments in the region. Digitalization has offered tremendous opportunities for Southeast Asian Countries, such as the growth of reasonable and economic products and services, opening up possibilities to develop social welfare, and tremendous growth in industries such as (IT & Telecom, Retail, and Healthcare. Tourism has increased the number of travel agency in the country. These companies attract tourist through their website. Hence, this website must be appealing and flexible at the time of high traffic in order to expand the customer base. Further, to make the website attractive, and traffic free these companies prefer to take assistance from web hosting companies.