The global vector graphics software market is poised to witnesses stellar growth in the projected forecast span, 2021-2028 reaching over USD 500 million by 2028, at a CAGR of 6%. The global vector graphics industry has grown exponentially as a result of the growing benefits of vector graphics and the development of e-commerce advertising. However, the incompatibility in resolution of vector graphics has resulted in a moderately resistive market growth int the past years. Market players are significantly investing towards improving the resolution of the visuals and picture quality for multi-device viewing. The main market potential is the use of artwork in e-commerce advertising efforts. Furthermore, the current technology that is gaining popularity for premium and customized goods such as easy data visualization, geometric forms, flat icons and drawings, social slide decks, and others has sparked the trend in the global vector graphics software market. The COVID-19 epidemic has had a significant influence in increasing the market share of e-artwork, online gifting, and other products. The epidemic is driving a surge in electronic material consumption as people spend more time at home and in their communities. The transition from traditional media to online vector graphics during the COVID-19 shutdown period has had a beneficial influence on the global vector graphics software industry. End-users will choose products that fit the criteria of a specific activity. Furthermore, the diversity of options available to the customer has resulted in strong rivalry among the participants, thus triggering competitive participation among established market players as well as new participants to focus on strategic market expansion schemes.
Vector graphics are created using mathematical formulae. A vector graphic is composed of a sequence of tiny dots joined together to form lines and images. Adobe Illustrator, Corel Draw, and Macromedia Freehand are the most well-known vector graphics programs. Line painting, drawings, and needlework are common uses for vector graphics. The benefits of utilizing vector graphics have led to its use in a variety of sectors. Vector graphics are very smaller compared to raster images as they hold considerably less data. Because they can be scaled up and down without compromising image quality, they are more flexible than raster pictures. Because vector graphics feature smoother lines than pixel-based raster images, they perform better with straight lines and sweeping curves. Because vector-based images do not have a set number of dots, they may be extended to a larger size while maintaining image quality. When a raster picture is enlarged, it becomes blocky, or "pixilated." When a vector graphic is enlarged, the boundaries of each object stay clean and smooth. As a result, vector graphics are ideal for logos that may be as tiny as a business card or as huge as a billboard. Various Flash animations employ vector graphics as they scale better and take up less space as compared to bitmap images.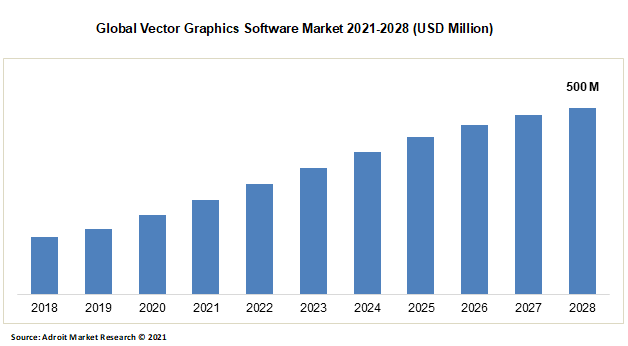 The competitive landscape displays the overall ranking of leading competitors in the global vector graphics software market based on a variety of criteria such as market positioning, product portfolio, market presence, employee strength, strategic initiatives, sales, and so on. The market is competitive, with numerous creative competitors challenging established players' supremacy. This development has benefited the company's product line expansion and market growth. In order to enhance their market presence and geographical reach, these companies place specific emphasis on enhancing product quality by using contemporary and unique processes.
Some of the major players operating in the global vector graphics software market are Adobe Illustrator, CorelDRAW, Sketch, Affinity, Snappa, Xara, Inkscape, DesignEvo, Lake Ventures, Inc., Artboard, Gravit Designer, and Vector Magic. Adobe Inc., formerly known as Adobe Systems Incorporated, is a software company. Professionals, marketers, knowledge workers, application developers, businesses, and consumers use the company's tools and services to create, manage, optimize, manage and interact with fascinating content and experiences.
Vector Graphics Software Market Scope
| | |
| --- | --- |
| Metrics | Details |
| Base Year | 2020 |
| Historic Data | 2018-2019 |
| Forecast Period | 2021-2028 |
| Study Period | 2018-2028 |
| Forecast Unit | Value (USD) |
| Revenue forecast in 2028 | USD 500 million |
| Growth Rate | CAGR of 6% during 2021-2028 |
| Segment Covered | Type, Application, Regions |
| Regions Covered | North America, Europe, Asia Pacific, Middle East and Africa, Latin America |
| Key Players Profiled | Adobe Illustrator, CorelDRAW, Sketch, Affinity, Snappa, Xara, Inkscape, DesignEvo, Lake Ventures, Inc., Artboard, Gravit Designer, and Vector Magic. |
Key Segments of the Global Vector Graphics Software Market
Type Overview, 2021-2028 (USD Million)
Application Overview, 2021-2028 (USD Million)
Large Enterprises
Medium-Sized Enterprise
Small Enterprises
Regional Overview, 2021-2028 (USD Million)
North America
Europe

France
UK
Germany
Rest of Europe

APAC

China
Australia and New Zealand
Japan
Rest of APAC

MEA

UAE
Saudi Arabia
South Africa
Rest of MEA

Latin America

Mexico
Brazil
Rest of Latin America
Reasons for the study
To assess the value of the vector graphics software market in terms of regional dominance.
To research the vector graphics software market's present trends, potential, and participation in the overall industry.
This report contains detailed information about the region/countries, key players, current trends and their analyses, product type, applications, and other background data.
The research contains in-depth information about the market's drivers, restraints, and future prospects for Vector Graphics Software.
This study includes information on both historical data analysis and projected period analysis.
What does the report include?
A thorough examination of the parent and successor markets
Extensive market segmentation based on trends, growth, and historical and projected data.
The report's scope includes a market strategic analysis of future prospects, individual growth trends, and contributions from key sub-market stakeholders.
There are also profiles of major industry players, strategic perspectives, market positioning, and an evaluation of necessary capabilities.
Who should buy this report?
For a better understanding of the market circumstances and market valuation, the report also offers details on comprises share and size.
The evaluation of competitive dynamic factors yields a complete market picture.
In-depth industry analysis, sales research, and manufacturing expertise shed light on the market's future scope and growth rate.
The report contains regional and country-specific trends, as well as data on export and import activities.
Some of the major drivers of this industry are rising internet and smartphone adoption, as well as comparatively improved economic performance. The global e-commerce advertising sector has been growing in many categories. It is anticipated to double by 2028, surpassing textiles to become the world's largest e-commerce market. Amazon, a million-dollar international operator, entered the Indian market with the expansion of the majority of segments. The growth of e-commerce ads in recent years has increased customer inclination towards online retail. Furthermore, internet penetration in emerging economies increased from 4% in 2007 to 52% in 2019, with a 24 percent increase during the same period. The introduction of vector graphic artwork in e-commerce has already democratized the purchasing sector, enabling small merchants and breaking down go-to-market hurdles for insurgent marketing campaigns for companies. This is a significant potential for global vector graphics software market companies to enter and grab the e-commerce sector.
Type Segment
The cloud-based segment is anticipated to grow with the highest market share over the forecast period. The market for cloud-based vector graphics software offers several advantages to expanding organizations. It mostly saves time and reduces expenses. No one may alter or tamper with any data stored in the cloud with the purpose of misusing it. Because of the significant risk of new competitors entering the industry, cloud-based computing is becoming increasingly affordable. Cloud-based solutions are significantly less expensive in terms of both upfront expenses and monthly fees per user. Clients have become more financially accommodating as a result of various pricing structures Cloud-based vector graphics software segment is poised to reach over 200 million market revenue by 2028.
Application Segment
In recent years the small and medium sized enterprises garnered the highest revenues. Emerging companies are creating solutions and refining their value propositions in response to the market economy. Client acquisitions are possible for vector graphics software companies and their most typical go-to-market strategy. Many smaller and regional suppliers lack the necessary expertise base, resulting in a bigger setback. On the other hand, numerous companies are working on cloud-based solutions that can be integrated into the market architecture. These enablement solutions allow providers to introduce product offerings to their consumers more quickly while sharing risk with the client partner. Like the historical years, the SMEs segment is likely to continue its dominance, amassing over 70% of the revenue share by 2028.
Because of the increased amount of human resources involved in vector graphic creation, the vector graphics software market in North America has grown considerably well in recent years. Furthermore, IT spending on creating software, including vector graphics design, is anticipated to reach $599 million in 2021, representing a 13.2 percent increase over the previous year. Worldwide IT expenditure fell in 2020 as a result of the COVID-19's economic impact. Growth in global expenditure is expected to return in the vector graphic software market in 2021.Following North America, Europe is also expected to emerge as a potential growth hub in the coming years.