The US aerosol market demand stood at 3,887.0 million units in 2017 and is expected to grow significantly in the coming years due to the increasing penetration of aerosol products in personal care, household items, automotive, food processing, and paints & coatings industry. The development of these sectors is a prime factor contributing towards development of the US aerosols market in the future.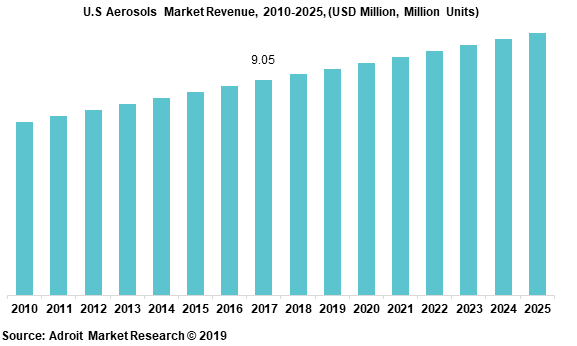 Aerosols is defined as a mixture of solid or liquid particles in a gaseous medium. After the discovery of aerosols in the 1940s, it was quickly adopted in several applications across numerous end use industries. Aerosols can be found in products such as hair sprays, deodorants, hair mousses, shaving gels, insecticides, air fresheners, and surface cleaning sprays among several others.
Among the major applications of aerosols, personal care & cosmetics segment contributed highest revenues generated in 2017 which was worth USD 5.33 billion. The penetration of aerosols in this segment is bound to grow due to the increasing use of deodorants, dry shampoos, moisturizers, hair styling sprays, mousse, shaving creams, and makeup extenders.
Long working schedules and stressful lifestyle of the working population has led to increase in consumers spending more on beauty products. Additionally, as aerosols make spraying easier, it is now used in more and more products. Recently, consumers in the US are more inclined towards organic and natural products and this is presenting more opportunities for the market to grow further.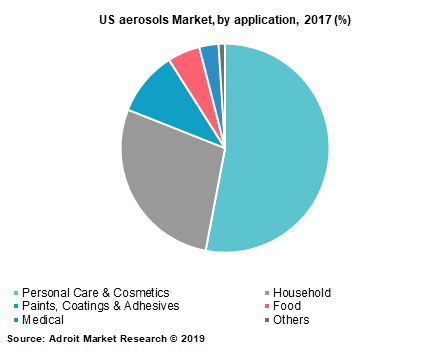 Aerosols are majorly used in household products. It's consumption in 2017 was 1,178.4 million units. This segment displays higher growth over others. Numerous aerosol products such as air fresheners, polishes, window cleaners, fly sprays, foaming aerosols, and disinfectant cleaners fall under the application segment of this market. Increasing consumer expenditure on household products is anticipated to boost the demand for aerosols over the coming years.
Materials play a critical role in designing of aerosol cans. Compatibility with packed products, corrosion resistance, barrier properties, mold-ability, and recyclability are some of the important features considered while making aerosol products. Aluminum, steel, plastic, and glass have been the materials used for manufacturing aerosol cans. Of these, steel and aluminium are the most extensively used raw materials in aerosol can manufacturing also due to their high tensile strength, lightweight, susceptibility to extreme environmental conditions, and recyclability. In 2017, 3.76 billion aluminum and steel cans were consumed in household, personal care & cosmetics, food, and paints & coatings sector.
US aerosols market is highly fragmented with the presence of wide variety of players competing in the market. Procter & Gamble Company, Unilever, Henkel AG & Co. KGaA, AkzoNobel N.V. and S.C. Johnson & Sons are some of the leading industry participants. These companies are focused on increasing their market share in the country by expanding their product offerings. For instance, in May 2016, Tide launched purclean, an eco-friendly detergent produced at zero manufacturing cost. This product launch has set a new standard for eco-friendly detergents.
A notable trend within the market has been mergers & acquisitions and with Unilever acquiring Dollar Shave Club in July 2017, it is growing further. Dollar Shave Club was a North American company manufacturing male grooming products. This strategy will help Unilever in expanding its sales and strengthening its position in the North American market. Similarly, in December 2017, Unilever acquired Schmidt's Naturals, a company specializing in personal care products. This fast growing product category helped in the growth of its existing product portfolio of US deodorants and enhanced its presence in this product category.
The expansion of the US aerosol market is likely to be driven by ongoing product innovation and increasing penetration of eco-friendly spray products. Companies have been observing rising sales over the past few years and undertaking strategies to stay abreast with the competition.
Key segments of the US aerosols market
Packaging Material Overview, 2010-2025 (Million Units) (USD Million)
Aluminum
Steel
Plastic
Glass
Application Overview, 2010-2025 (Million Units) (USD Million)
Personal Care & Cosmetics
Household

Air Care
Surface Cleaners
Fabric & Leather Care
Others

Paints, Coatings & Adhesives

Building & Construction
Automotive & Industrial
Others
Reasons for the study
The study assesses the dynamics and movement of the US aerosols market across various geographies
Aerosols find application across several industry verticals especially in personal care, cosmetics and household segment.
We observed that US is one of the major market for personal care industry with increasing adoption for new aerosol based products. Players are introducing new products to stay abreast of the consumer demand.
Since past few years, US has been witnessing rise in household expenditure which in turn is anticipated to boost the demand for aerosol products. Overall, the US currently provides lucrative business opportunity for manufacturers and distributers across the value chain
What does the report include?
The study on the US aerosols market includes qualitative factors such as drivers, restraints, and opportunities
Additionally, the market has been evaluated using the value chain, PESTEL and Porter's Five Forces' analysis
The study covers qualitative and quantitative analysis of the market segmented on the basis of packaging type and application.
Actual market sizes and forecasts have been provided for all the above-mentioned segments
The study includes the profiles of key players in the market with a significant presence in the US Market
Who should buy this report?
The report on the US aerosols market is suitable for all the players across the value chain including raw material suppliers, component suppliers, aerosols manufactures, product filling distributors, suppliers, retailers, and packaging companies
Venture capitalists and investors looking for more information on the future outlook of the US aerosols market
Consultants, analysts, researcher, and academicians looking for insights shaping the US aerosols market