The global thoracic drainage devices market was valued at USD 649.24 million in 2019. The development of the market for thoracic drainage devices is motivated by factors such as increased preference for minimally invasive surgery, a high prevalence of cardiovascular diseases and a rise in spontaneous pneumothorax burden. A strong growth rate is caused by a rise in demand for minimally invasive surgeries compared to traditional procedure.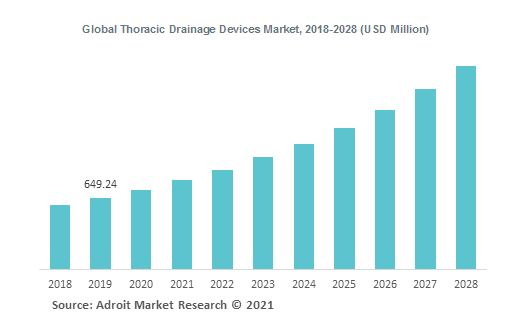 These procedures often typically have similar results to conventional open surgery, along with major advantages, such as lower chance of complications, shorter duration of stay, and lower recovery time. In addition, lowering the treatment costs associated in undertaking a minimally invasive surgery was also an instrumental factor driving demand development relative to normal surgical procedures.
Key segments of the global thoracic drainage devices market
Product Overview, 2018-2028 (USD Million)
Thoracic Drainage Systems
Thoracic Drainage Kits
Pleural Drainage Catheters
Trocar Drains
Others
Application Overview, 2018-2028 (USD Million)
Cardiac Surgery
Oncology & Pain Management
Thoracic Surgery & Pulmonology
General Intensive Care Emergency Medicine
Others
Regional Overview, 2018-2028 (USD Million)
North America
Europe

Germany
United Kingdom
France
Rest of Europe

Asia Pacific

China
Japan
India
Rest of Asia Pacific

Latin America

Brazil
Mexico
Rest of Latin America

Middle East & Africa
Reasons for the study
Increasing Government Support for the Pharmaceutical & Biotechnology Industry
Growth in Biopharmaceutical Industry
What does the report include?
The study on the global thoracic drainage devices market includes analysis of qualitative market indicators such as drivers, restraints, challenges and opportunities
Additionally, the market competition has been evaluated using the Porter's five forces analysis
The study covers qualitative and quantitative analysis of the market segmented on the basis of Product, Technology, Application. Moreover, the study provides similar information for the key geographies.
Actual market sizes and forecasts have been provided for all the considered segments
The study includes the profiles of key players in the market with a significant global and/or regional presence
Who should buy this report?
The report on the global thoracic drainage devices market is suitable for all the players across the value chain including raw material suppliers, thoracic drainage devices providers, pharmaceutical and medical device manufacturers, distributors, suppliers and retailers
Venture capitalists and investors looking for more information on the future outlook of the global thoracic drainage devices market
Consultants, analysts, researchers, and academicians looking for insights shaping the global thoracic drainage devices market
The report's authors predict exciting possibilities for growth in the demand for thoracic drainage products, with relevant opportunities emerging in developing countries. In view of the prowess of technology, the move from traditional surgical methods to minimally invasive surgical approaches by clinicians has expanded the need for thoracic drainage devices in a wide variety of applications. Among the applications, market players should concentrate on designing technologies exclusively for oncology and pain relief applications to increase their devices' infiltration rate.
Business majors turn to portfolio diversification in the fragmented world and merger & acquisition practices to remain active in the market for thoracic drainage products. Becton, Dickinson, and Company, for example, unveiled the PleurX catheter device January 2017. In addition, industry participants can harness the scope of online platforms to enter and exploit supply opportunities in new markets.
The global market is segmented on the basis of product and application. The product segment is further broken down to thoracic drainage systems, thoracic drainage kits, pleural drainage catheters, trocar drains, others. The application segment is broken down into cardiac surgery, oncology & pain management, thoracic surgery & pulmonology, general intensive care emergency medicine, others. Thoracic and pulmonary conditions are very widespread and, relative to other disorders, the incidence of these conditions is growing and this pattern is projected to continue throughout the forecast era. The U.S. as per Census and the Thoracic Surgery Community, there were some 4,500 cardiothoracic surgeons treating more than 600,000 cases in 2015,
On the basis of region, the global market is classified into North America, Europe, Asia Pacific, Central & South America, and Middle East and Africa. Because of high healthcare infrastructure quality and the simple availability of advanced technologies in this area, North America is projected to dominate the industry. This is largely due to the growing prevalence of chronic diseases and higher spending on healthcare in countries in the region. The U.S. industry is also influenced by expanded use of recently introduced technologies and expensive cardiovascular surgical care insurance policies. Germany is a significant contributor to Europe's demand for thoracic drainage products. In the Asia-Pacific, the demand for thoracic drainage devices is emerging steadily, led by developing countries. The Asia Pacific demand for thoracic drainage devices is powered by growing understanding of cardiovascular diseases and spending on health care.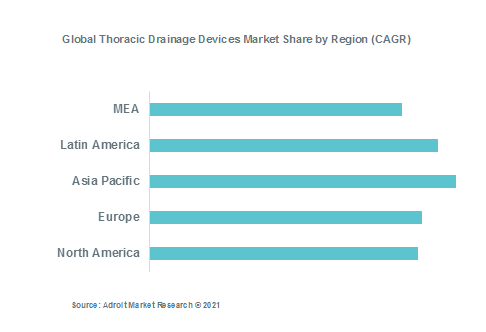 Key Players in the market include C. R. Bard, Inc. (BD), MAQUET Holding B.V. & Co. KG (Getinge AB), Smiths Medical (Smiths Group plc), Teleflex Incorporated, Vygon SA, Medtronic, Cook Medical, Utah Medical Products, Inc., ATMOS MedizinTechnik GmbH & Co. KG, Sinapi Biomedical, Rocket Medical plc., and many more.