The worldwide Testing, Inspection, and Certification (TIC) market was valued at USD 222.35 billion in 2020, and is expected to increase at a CAGR of 5.21 percent from 2021 to 2028, to reach USD 324.32 billion by 2028. Inspection, verification, testing, and certification services, as well as associated support tasks such as auditing, consulting, and training, are provided by companies. These services are designed to boost productivity, assist local manufacturers in meeting international standards, manage risk, and enhance the quality, safety, and compliance of a company's goods and services. Testing, inspection, and certification's major purpose is to guarantee that the health, safety, and quality requirements are met. Inspection, verification, testing, and certification services are provided by testing, inspection, and certification firms to help local manufacturers boost productivity and conform to worldwide standards.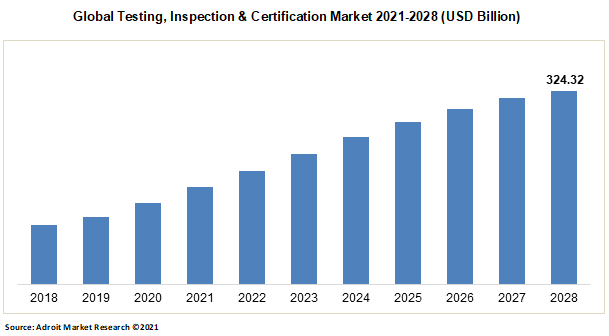 The key causes for this surge in demand include an increasing need for security, a boom in the criminal trade of counterfeit and pirated goods, advances in networking and communication technology, regulatory requirements imposed by governments, and a desire for outsourced TIC services. The research on the global testing, inspection, and certification (TIC) market provides a comprehensive analysis of the industry. The study examines main market segments, trends, drivers, limitations, the competitive landscape, and other key market factors in depth. In the coming years, the growing sensitivity of various governments toward a cleaner environment, favorable initiatives, rules, and regulations in sectors such as healthcare and automotive, and the rapid adoption of digital technologies to radically transform TIC services are expected to contribute to the growth of the testing, inspection, and certification market. However, as trades and businesses become more globalized, different local norms and standards are likely to create hurdles to product acceptance on a worldwide scale. As a result, there are conflicts between local and international norms, limiting market expansion.
In the midst of the COVID-19 pandemic, the market is growing due to the use of modern technologies in the industrial, healthcare, and consumer electronics sectors, as well as the development of new services and solutions like as virtual inspections, visual inspections, and remote audits. TIC services are used in pharmaceutical, diagnostics, medical devices, clinical research, and digital health applications, particularly in the healthcare industry, where they have been at the vanguard in the fight against the COVID-19 pandemic. Pharmaceutical firms are working on medications, antidotes, and vaccinations to combat the infection. Companies are even developing novel diagnostic and treatment services for COVID-19 infection. Various nations invest vast sums on the treatment of their populations as well as vaccine research and development. Major research initiatives are being directed by highly qualified doctors, scientists, biologists, medical specialists, nurses, and other life sciences professionals all around the world. The COVID-19 epidemic has made several nations realize that their healthcare expenditures are insufficient. They must raise their expenditure to protect the world's people from the current crisis and future disasters. To create investments, development, and jobs, life sciences businesses must collaborate closely with multiple authorities and politicians through empowered working groups.
SGS, Bureau Veritas, Eurofins Scientific, Intertek, Dekra, TUV SUD, TÜV Rheinland, Applus, DNV GL, and ALS Worldwide, among others, are significant participants in the global Testing, Inspection, and Certification (TIC) market. The top five firms in the world control around 15% of the market.
Key Segments of the Global Testing, Inspection and Certification Market
Type Overview, 2013-2023 (USD billion)
Testing
Inspection
Certification
Source Overview, 2013-2023 (USD billion)
Application Overview, 2013-2023 (USD billion)
Consumer Goods
Food & Agriculture
Oil & Gas
Construction
Chemicals
Mining
Machinery
Transportation
Automotive
Power Generation
Government Services
Marine
Healthcare
Others (Finance, Process, etc.)
Regional Overview, 2013-2023 (USD billion)
North America
Europe
Germany
UK
France
Russia
Italy
Rest of Europe
Asia-Pacific
China
Japan
Korea
India
Southeast Asia
Rest of Asia Pacific
Middle East & Africa
Reasons for the study
The aim of the study is to provide a comprehensive view of the global testing, inspection, certification market industry.
The segmentation by type, by source, by application of the global testing, inspection, and certification market is revealed in this report. The testing segment has gained immense importance and acts as a key segment of the testing, inspection, certification market for generating revenues.
During research on the testing, inspection and certification services on a global level, we noticed that the use of the testing segment is expanding and being more often used by companies as their primary feature.
What does the report include?
The study on the global testing, inspection, certification market covers factors including driving and restraining factors as well as opportunities
Moreover, the market has been assessed using the value chain and PEST analysis
The study covers qualitative analysis of the market segmented on the basis of type, source, application, and region. Moreover, the study provides comparable information for key geographies.
Actual market data and projections have been given for all the above-mentioned segments
The study includes the profiles of key players in the market with a significant global and/or regional presence
Who should buy this report?
This study is apt for industry members and shareholders in the global testing, inspection and certification industry, who want an in-depth insight into the market. The report will benefit:
Executives of testing, inspection, and certification that are engaged in the testing and certification services.
Venture capitalists and investors
Financial & government organizations and regulatory bodies & policymakers
Individual researchers, educators, analysts & strategy managers following the market and seeking insights to predict future strategies
The pandemic of COVID-19 has wreaked havoc on the testing, inspection, and certification (TIC) industry. Due to adoption of lockdowns by various national governments, manufacturing and industrial activity have decreased in numerous regional geographies. However, because of the increasing need for healthcare services and related items, such as medical supplies, the healthcare segment saw considerable TIC practices. People's increasing need for safe and adequate quality food items prompted the consumer goods sector to embrace TIC techniques during the epidemic. The inspection category is expected to provide the industry with a lot of possibilities. This is due to an increase in supply chain activities in nations like Switzerland, Japan, Germany, and Norway, which allows for the implementation of inspection techniques. Furthermore, the consumer products industry contributes to the inspection segment's segmental expansion. National governments and international authorities have imposed stringent rules on the quality of cosmetics, electrical and electronic products, sports and at leisure wear, and textiles and footwear, allowing these industries to deploy an effective inspection ecosystem.
In the worldwide certification TIC category, the infrastructure and construction application segment had the biggest revenue share. This might be ascribed to the infrastructure and construction sector's substantial usage of certified materials and technology. Regional governments' ongoing attempts to improve transit safety measures contribute to the transportation segment's market growth. The U.S. Transit Safety and Security Division, for example, offer certificates that aid with market penetration.
In 2017, testing services accounted for more than 65 percent of the global market for testing, inspection, and certification. The testing services are used to assess the services and goods' performance and features. The expansion of this market can be attributed to customers' growing worries about the safety and quality of items. Market titans are being compelled to protect their brand by maintaining product quality and adhering to government rules and standards as aware consumerism grows. In addition, the implementation of a number of regulatory criteria for product quality and safety is boosting market growth.
The market is divided into North America, Europe, Asia Pacific, and the Rest of the World, according to Geographical Analysis. Testing, inspection, and certification are predicted to have the biggest market share in North America. The presence of major TIC players and the emergence of several start-ups in the region, rising demand for organic and processed foods, organizations' increasing focus on meeting regulatory and compliance requirements, early adoption of the latest technologies, and government investments in technological advancement all contribute to the region's large share of the regional market. The Asia-Pacific region, on the other hand, is expected to grow quickly throughout the forecast period. APAC market growth is expected to be driven by factors such as growing consumer electronics demand, improved consumer awareness of quality, and an increase in the number of TIC start-ups supported by government funding.